Forty-five years ago this week, Project Apollo—the effort to set American boots on the surface of the Moon—rose from the ashes of despair and triumphantly flew an 11-day mission in low-Earth orbit. Apollo 7 astronauts Wally Schirra, Donn Eisele, and Walt Cunningham launched atop a mammoth Saturn IB rocket from Cape Kennedy's Pad 34 on 11 October 1968, to undertake a thorough shakedown of the most complex piloted vehicle then in existence. As recounted in yesterday's history article, the mission's engineering success had been tempered somewhat by a spell of head colds and a rather testing relationship between the astronauts and Mission Control. It was a situation which would prove legendary and which remains controversial to this day.
None of the alleged testiness was apparent on the third day of the mission, 13 October, when Schirra, Eisele, and Cunningham performed the first live televised event from a U.S. manned spacecraft. The event was the first of seven scheduled TV transmissions, timed to occur as Apollo 7's orbital path passed over the Corpus Christi, Texas, and Cape Kennedy, Fla., ground stations. The crew opened the first telecast with a sign which read "From the lovely Apollo room, high atop everything," then aimed their camera through the window as they passed above New Orleans and over Florida. Later transmissions included tours of the command module, demonstrations of the Exer-Genie, and explanations of how food was prepared in space and how dried fruit juice was reconstituted with water. All in all, the telecasts were well-received and the astronauts enjoyed them, telling viewers to "Keep Those Cards and Letters Coming In, Folks" … and offering Schirra a chance to gain revenge on Deke Slayton by asking him, live, if he was a turtle. After the flight, these "Wally, Walt and Donn Shows" proved so popular that the astronauts won a special Emmy award.
By 12 October, Apollo 7 had drifted about 70 miles from the Saturn IB rocket's S-IVB second stage. The crew's task was to re-rendezvous with it. This was not as straightforward as it had been on Project Gemini, since the command module lacked a rendezvous radar and the astronauts were unable to read their range and closing velocity to the target. However, wrote Schirra in his autobiography, Schirra's Space, "we made it through the rendezvous, with each of us aging about a year," and Apollo 7 edged to within 60 feet of the spent rocket stage. The maneuver proved quite traumatic, with no clear awareness of their closing motions, and the S-IVB itself was spinning throughout like an angry whale. Sixty feet was close enough, before moving away.
The final days of what Apollo Program Director Sam Phillips lauded as "the perfect mission" were marred by the worsening head colds. Schirra's, indeed, had materialised 15 hours after launch, forcing him to admit that he had "gone through eight or nine Kleenexes," so he had to endure it for most of the 11-day mission. (He also took Actifed, to which he became so attracted that he helped sell it on TV commercials after leaving the astronaut corps.) Years later, Walt Cunningham would blame Schirra's cold on a dove-hunting trip that the Apollo 7 crew took in a rainy Florida shortly before launch. "Wally was kind of a General Bull Moose complex," Cunningham told the NASA oral historian. "What's good enough for Bull Moose is good enough for the world. So, when Wally had a cold, everybody had to be miserable." A head cold anywhere is miserable, but in the pressurized confines of a spacecraft, it proved much more so, and Eisele and Cunningham quickly succumbed.
Physician Chuck Berry advised them to take aspirin and decongestant tablets and, as re-entry neared, they began to worry that the build-up of pressure whilst wearing their helmets might burst their ear drums. During his days at test pilot school, Schirra had made a short flight with a head cold and "almost busted an ear drum." The choice he now faced on Apollo 7—not wearing a helmet or running the risk of lifelong hearing loss—was a no-brainer.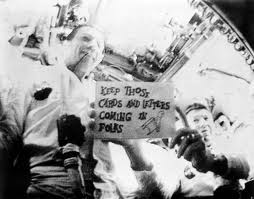 Deke Slayton explicitly ordered the crew to wear their helmets, but Schirra refused, agreeing only to keep them stowed in case of emergencies. There were, admittedly, contingencies options in place for returning home without suits, perhaps in the event of contamination, but after almost 11 days it seemed unlikely that cabin pressure would fail during re-entry.
Each astronaut took a decongestant pill an hour before hitting the atmosphere and endured no major problems. As the command module's pressure was raised to conditions approximating normal sea-level, Schirra, Eisele, and Cunningham performed the Valsalva maneuver—holding their noses, closing their mouths, and vigorously exhaling through their nostrils—to keep their middle ears equal to the increasing cabin pressure. In doing so, they avoided ruptured ear drums … but aroused the wrath of flight controllers. All three men would be "tarred and feathered" for their insubordination during the mission. Schirra had already announced his retirement from NASA, but Eisele and Cunningham would never fly again.
In spite of the criticisms levelled at them in the wake of Apollo 7, both Eisele and Cunningham were considered for backup roles on future missions. The former had already been assigned to serve as the backup command module pilot on Apollo 10. For Tom Stafford, the commander of that mission's prime crew, writing in his autobiography, We Have Capture, Eisele's assignment was little more than "a temporary step into oblivion." Cunningham, on the other hand, would work for several years on the Skylab program and trained for a time as backup commander for its first mission. He "wanted to fly again," wrote Deke Slayton in his autobiography, Deke, co-authored with Michael Cassutt. "In spite of the flight operations opinion that he shouldn't, I wasn't going to rule him out. But it was a numbers game."
Despite the success of Apollo 7, there was also something different about Wally Schirra. "I had changed over the span of time that encompassed my three flights," Schirra wrote in his autobiography. "As the space program had matured, so had I. I was no longer the boy in scarf and goggles, the jolly Wally of space age lore." He steadfastly refused to allow Apollo 7 to be jeopardised by what he perceived to be the influence of "special interests"—scientific or political—and declared that he "would not be an affable fellow when it came to decisions that affected the safety of myself and my two mates."
As the mission approached its scheduled end on 22 October 1968, after 11 days, it established itself as the second-longest manned flight to date, surpassed only by the 14-day Gemini VII. With 163 orbits under their belts, Schirra, Eisele, and Cunningham jettisoned their service module and the cone-shaped command module re-entered the atmosphere. Shortly thereafter, descending beneath three red-and-white parachutes, it dropped into the Atlantic Ocean, just southeast of Bermuda, after a mission of 10 days, 20 hours, nine minutes, and three seconds. Apollo 7 splashed down at 7:11:48 a.m. EDT, just a handful of miles from the recovery vessel, the aircraft carrier U.S.S. Essex.
Heavily bearded, tired, and unsteady on their feet, the astronauts had all lost weight, but their humor remained intact. Deke Slayton, aboard the Essex, admitted to having "a few words in private" with Schirra, not so much about his own behavior, but about his effect on Eisele and Cunningham. Others were less complimentary. Chris Kraft is said to have announced that nobody from Apollo 7 would ever fly into space again. "I made the selections," admitted Slayton, "but I wasn't going to put anybody on a crew that Kraft's people wouldn't work with. Not when I had other guys."
In a year which had seen the steady rise of the hippie movement in America and protests ranging from civil rights to the war in Vietnam and outrage over the murders of Martin Luther King and Bobby Kennedy, NASA's public affairs officer Paul Haney knew precisely why the bearded Schirra and his crew had been so irritable. "Something happens to a man when he grows a beard," Haney joked. "Right away, he wants to protest!"
This is part of a series of history articles, which will appear each weekend, barring any major news stories. Next week's article will focus on the 20th anniversary of STS-58, a controversial shuttle science mission in October 1993, during which the first killing and dissection of animals was performed in space.
Want to keep up-to-date with all things space? Be sure to "Like" AmericaSpace on Facebook and follow us on Twitter: @AmericaSpace