After last week's weather-hampered launch attempts out of the Space Coast, Mother Nature is presenting a kinder face for Thursday's pre-dawn flight of a many-times-flown Falcon 9 booster from storied Space Launch Complex (SLC)-40 at Cape Canaveral Space Force Station. Liftoff of the B1069 core—making the seventh flight of her career and her third so far in 2023—is targeted for 3:31 a.m. EDT Thursday, laden with a "stack" of 56 Starlink internet communications satellites for emplacement into low-Earth orbit.
In readiness for tomorrow's early-hours launch, the Autonomous Spaceport Drone Ship (ASDS), "A Shortfall of Gravitas", put to sea out of Port Canaveral last Saturday, bound for a recovery position some 410 miles (660 kilometers) offshore in the Atlantic Ocean. This youngest member of SpaceX's drone ship fleet entered service in August 2021 and is readying for her 35th Falcon 9 "capture" and her ninth this year.
A pair of T-0 points exist tomorrow morning, the first at 3:31 a.m. EDT and a second at 5:12 a.m. EDT, followed by a trio of backup opportunities on Friday at 3:05 a.m. EDT, 4:46 a.m. EDT and 6:27 a.m. EDT. Weather for both days is almost ideal, with a 95-percent probability of acceptable conditions, tempered only by a "not very likely" outside chance of violating the Cumulus Cloud Rule.
"A dry and stable air mass remains in place over Florida and this trend will continue through the end of the week," noted the 45th Weather Squadron at Patrick Space Force Base in its L-2 update, issued yesterday. "This will result in mostly clear skies during the overnight hours, with no chance for precipitation.
"There could be a few cumulus clouds around that may pose a weather concern, but that scenario is not very likely," the 45th added. "In the event of a 24-hour delay, nearly identical weather conditions will prevail across the Space Coast area. Dry and stable conditions will persist across the area and will limit weather conditions for the backup day."
Flying SpaceX's first mission of May is the six-times-used B1069 core, which flew most recently on St. Patrick's Day to deliver the dual-stacked SES-18 and SES-19 geostationary satellites to orbit on behalf of Luxembourg-based telecommunications provider SES. She also flew the Falcon 9 fleet's 200th fully successful mission a month before.
B1069 entered SpaceX's burgeoning booster fleet in December 2021. Almost lost after her first flight in a hair-raising ASDS touchdown, she underwent substantial repairs—including a brand-new suite of Merlin 1D+ first-stage engines—and went on to fly three missions in 2022, lofting 54 Starlinks to orbit in August, Eutelsat's Hotbird 13F geostationary-bound communications satellite in October and 40 broadband-providing satellites in December for London, England-based OneWeb.
Following launch, B1069 will power the 230-foot-tall (70-meter) Falcon 9 uphill for the first 2.5 minutes of flight, her nine Merlin 1D+ engines delivering about 1.5 million pounds (680,000 kilograms) of thrust. She will then separate from the stack and descend back to Earth, guided by entry and landing "burns" and her suite of hypersonic grid-fins, to alight on ASOG's deck, marking her sixth total drone ship landing.
Meanwhile, the single Merlin 1D+ Vacuum engine of the booster's upper stage will fire for six minutes to deliver the 56 Starlink satellites into orbit, with deployment anticipated about 64 minutes into the flight. This will be SpaceX's 14th dedicated Starlink flight of 2023 and pending the success of tomorrow's launch, a total of 674 of these flat-packed internet communications satellites will have been launched since January.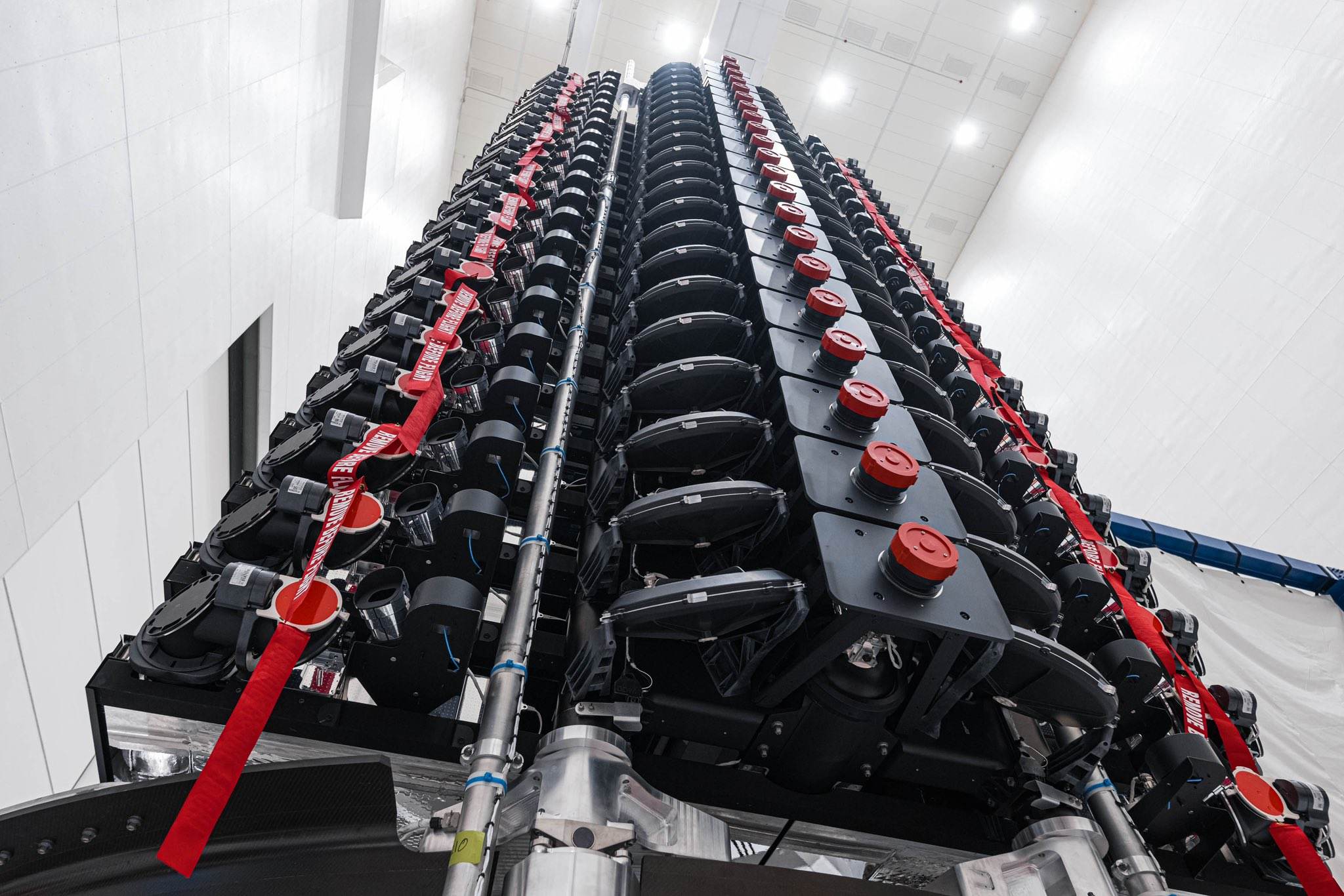 Since May 2019, more than 4,300 production-design Starlinks have been launched into orbit, facilitating high-speed and low-latency internet provision across more than 50 sovereign nations and international markets spanning North and South America, Europe, Asia, Oceania and Africa. In the last few weeks alone, Haiti, Ecuador and El Salvador have officially signed up to Starlink.