Weather conditions look generally favorable for SpaceX's eighth Falcon 9 mission of November, currently targeted to occur from storied Space Launch Complex (SLC)-40 at Cape Canaveral Space Force Station, Fla., during an expansive "window" that opens at 11:01 p.m. EST Tuesday and closes at 2:59 a.m. EST Wednesday. Veteran B1067—which first flew back in June 2021 to lift the CRS-22 Cargo Dragon for a month-long research stay at the International Space Station (ISS)—becomes the sixth member of the fleet to reach a 15th launch in under a year.
The 45th Weather Squadron at Patrick Space Force Base is currently predicting 90-percent odds that Mother Nature will play ball near the start of tonight's expansive window but may deteriorate to around 75-percent favorability at the end. "A small chance for Atlantic showers will continue into Tuesday," it noted in a Monday update, "before the approaching system brings a cold front into the Florida Panhandle Tuesday evening.
"A lack of significant moisture return will limit the shower potential ahead of the front, however mid- and upper-level clouds will begin overspreading the area through the late evening and overnight hours on Tuesday," the 45th continued. "For the primary launch window, the initial cloud cover is expected to be too high and cold for concern at window open, but chances will increase for warmer clouds to move in further into the window, posing an increasing Thick Cloud Layers concern."
In readiness for tonight's launch—the eighth Falcon 9 to fly inside November's first three weeks—the Autonomous Spaceport Drone Ship (ASDS), "A Shortfall of Gravitas", put to sea out of Port Canaveral on Saturday, bound for a recovery position about 390 miles (630 kilometers) offshore in the Atlantic Ocean. It will also mark B1067's 15th landing on a drone ship and her tenth on the deck of ASOG.
Having entered the Falcon 9 fleet in June 2021, this booster went on to deliver eight astronauts from the United States, Germany and Italy to the space station on Crew-3 in November 2021 and Crew-4 in April 2022, followed by the CRS-25 Cargo Dragon the following summer. Added to that list, B1067 lofted a geostationary communications satellite for Turkey—which helped set a new record (now broken) between pairs of Falcon 9 launches at less than 16 hours—and a pair of O3b mPOWER broadband satellites.
Other payloads included the Hotbird 13G communications satellite, 266 Starlink low-orbiting internet communications satellites and in June the Satria Very High Throughput Satellite (VHTS), built by Thales Alenia Space for Indonesia's Pasifik Satelit Nusantara (PSN). Her Hotbird 13G launch last November marked the first time that SpaceX achieved 50 Falcon 9 missions in a single calendar and in January, her 56-strong Starlink "stack" tipped the scales at 38,400 pounds (17,400 kilograms) to become the heaviest Falcon 9 payload ever orbited at that time.
Aboard tonight's mission are a further 23 Starlinks, pushing to over 1,800 the total number of these flat-packed internet communications satellites launched so far in 2023. Deployment is scheduled about 65 minutes after liftoff.
As a network, Starlink facilitates high-speed and low-latency internet provision to over 60 sovereign nations and international markets in North and South America, Europe, Asia, Oceania and Africa. So far in November, Europe's Georgia, Africa's Benin and Asia's Maldives have joined the network.
The Starlink "V2 Mini" satellites, first flown in February, boast three to four times greater "usable" bandwidth than earlier Starlink iterations. To date, 35 V2 Mini stacks have flown in 2023.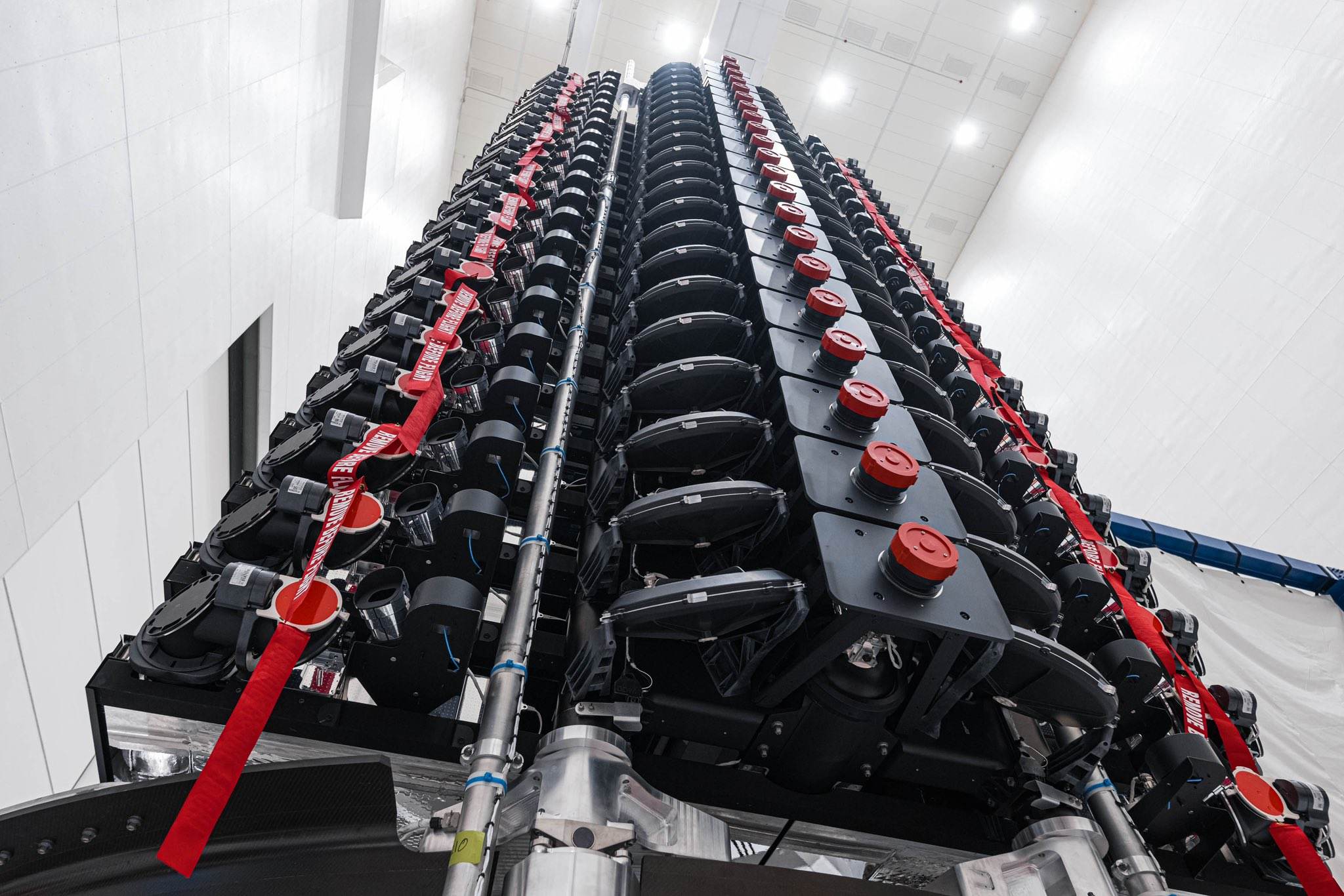 "V2 Minis include key technologies—such as more powerful phased-array antennas and the use of E-Band for backhaul—which will allow Starlink to provide 4x more capacity per satellite than earlier iterations," SpaceX explained. "Among other enhancements, V2 Minis are equipped with new argon Hall thrusters for on-orbit maneuvering."
Florida-based intercity operator Brightline adopted Starlink on its trains earlier in 2023, the first passenger rail service in the world to do so. Additionally, El Salvador's Ministry of Education has begun integrating Starlink capability into its schools to help close the digital divide between urban and remote rural communities and 50 Rwandan schools are now connected via Starlink's high-speed internet service.