SPACE STATION WEEKLY UPDATE March 30 – April 5, 2015 — As the three new crew members of Expedition 43 settled in last week, ongoing science and research studies continued onboard the International Space Station (ISS). Preparations for an upcoming cargo delivery—along with robotics, fuel, and stem cell and biological studies—all took place at the orbiting laboratory.
Since the ever-increasing amount of debris circling the Earth is an ongoing threat to spacecraft in orbit, astronauts on the space station are working on an investigation that will demonstrate to researchers the ways in which robots in space could be multi-functional, working on scheduled tasks and bringing old satellites back to life that are still remaining in orbit after originally being deemed non-functional. NASA astronaut Terry Virts and ESA (European Space Agency) astronaut Samantha Cristoforetti worked on the Robotic Refueling Mission Phase 2 (RRM-Phase 2) last week, installing pertinent parts on the slide table currently located in the Japanese Experiment Module (JEM) airlock.
RRM-Phase 2 is scheduled for deployment in April 2015. The ISS is being used to test the ability to provide service to the satellites using robots, as part of a partnership between NASA and the Canadian Space Agency. The information learned from this study could potentially prolong the usability of hundreds of satellites currently in orbit by refueling and reusing them. This would lead to decreased costs to the owners of the satellites since the need to send up new replacements would be reduced or diminished, and, ultimately, to a slower growth rate for orbital debris. In the future, this study's results could prove useful to engineers creating new means of refueling spacecraft remotely from the ground with robots.
Cristoforetti also worked on the ESA's Stem Cell Differentiation (SCD) study by getting the Kubik module ready. Kubik houses automatic gravity experiments that use seeds, cells, and animals as their subjects inside of a temperature-controlled incubator or cooler with removable inserts. Researchers hope to figure out the way in which human mesenchymal stem cells, which control the maintenance of bone mass—critical to bone repair—react to spending long periods of time in microgravity.
When the last three Expedition 43 crew arrived at the ISS on March 27, they brought the hardware required for the SCD investigation. Installation into the Kubik will take place soon, followed by the module being powered on to begin the experiment. Scientists will look for ways to lessen the effects of microgravity on bone density, and information from this study could also be used on Earth to help people experiencing bone loss.
The FLEX-2 Binary-Droplet Arrays test is slated for its final procedures this week. Virts put a new manifold bottle in the Combustion Integrated Rack for the test. According to NASA, this investigation burns small droplets of fuel to study the spherical characteristics of burning fuel droplets in space by examining the way interactions of droplets in a fuel spray affect soot formation, flame extinction, burning rate, flame shape, size, and color.
The ultimate goal is to create more dynamic engines that create less pollution. Gaining insight into the way these processes work may help future engineers create safer spacecraft. It also may lead to higher fuel efficiency in engines on Earth that run off of liquid fuel.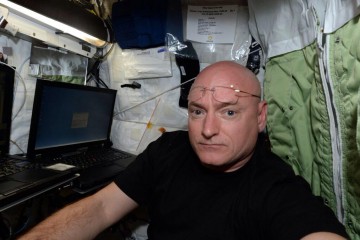 Virts also worked on preparations for the first commercial cargo delivery of Expedition 43 under NASA's Commercial Resupply Services (CRS) contract. On April 13, 2015, SpaceX is scheduled to launch their Falcon-9 rocket with the Dragon spacecraft out of Space Launch Complex-40 at Cape Canaveral, Fla. Virt's work included pre-packing gear that will eventually be loaded onto Dragon for return to Earth at the conclusion of its mission.
When NASA astronaut Scott Kelly began his One-Year stay (342 days) upon his arrival to the ISS on March 27, 2015, the Twins study started. Doctors are trying to grasp the ways in which the human body reacts and changes during long-duration stays in space. The Twins study is a set of 10 individual investigations that will all come together to use the data and analysis as one large integrated research team. The research will show the less-noticeable effects and changes that happen during time spent in space contrasted with living on Earth by observing the brothers who share the same genetics. Biological samples from Kelly's body will be measured against those also taken from his twin brother (former NASA astronaut Mark Kelly).
The three newest Expedition 43 members—comprised of Kelly, as well as cosmonauts Gennady Padalka and Mikhail Kornienko—have been orienting themselves to the space station since their arrival. Virts helped them become acquainted with emergency hardware. They also donned emergency masks while working with ground controllers on communication training, and worked on a variety of other activities to get used to their surroundings on the ISS.
Eye checks for several members of the crew continued this week as part of the Prospective Observational Study of Ocular Health in ISS Crews (Ocular Health) investigation. For this study, ocular coherence tomography is used to create a comprehensive 3-D image of the retina and interior of the eyes. In the past, spaceflight has sometimes impaired vision in astronauts upon their return to Earth. Data collected on the visual health of the crew members during spaceflight will be compared with measurements taken once they are back on Earth. Changes that are presumed to take place due to intracranial pressure due to the effects of microgravity on the visual, vascular, and central nervous systems will also be analyzed, as well as the length of time restoration of the astronauts' visual health takes once they are back on the ground.
Want to keep up-to-date with all things space? Be sure to "Like" AmericaSpace on Facebook and follow us on Twitter: @AmericaSpace
Missions
»
ISS
»
Soyuz TMA-M
»
TMA-16M
»