At 2:43 p.m. EST today (Thursday, 21 January), NASA astronaut Scott Kelly—incumbent skipper of the International Space Station (ISS), as Commander of Expedition 46—and his Russian crewmate Mikhail Kornienko will pass 300 days in orbit, as they press toward a total mission duration of almost a full year away from the Home Planet. Launched aboard Soyuz TMA-16M from the Baikonur Cosmodrome, last 26/27 March, Kelly and Kornienko were joined for their first six months by Russian cosmonaut Gennadi Padalka and have since seen the arrival and departure of nine spacefarers, including representatives of Italy, Japan, Kazakhstan, Denmark, and, most recently, the United Kingdom. In passing 300 days aloft, Kelly becomes the first American in history to have spent such an extreme period of time, continuously, in space. By the time he and Kornienko land, six weeks hence, they will have positioned themselves within the Top 20 most experienced spacefarers in the world.
As of today, Kelly and Kornienko are about 88 percent of the way through their (almost) one-year mission aboard the space station and continue to press ahead with a full plate of scientific and biomedical research. Yesterday (Tuesday), Kelly worked on collecting blood and urine samples and took ultrasound and blood pressure measurements for the Cardio Ox and Twins Study experiments. Sponsored by NASA's Human Explorations Mission Directorate (HEOMD), the former seeks to determine whether biological markers of oxidative and inflammatory stress are elevated during after spaceflight and if this poses an increased, long-term risk of atherosclerosis in astronauts. Meanwhile, the latter—outlined in a previous AmericaSpace article by Emily Carney—consists of 10 medical and biological experiments and involves parallel testing on Kelly's identical twin brother, Mark, who is himself a veteran astronaut.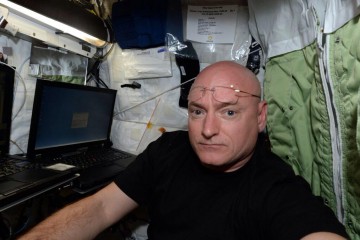 As Kelly and Kornienko head into the opening of their 11th month in orbit, next week, they can reflect upon a truly dramatic period spent away from loved ones on Earth. When they arrived at the ISS in late March 2015, they became the second half of Expedition 43, under the command of NASA astronaut Terry Virts, whose crew also included Russian cosmonaut Anton Shkaplerov and Italy's first woman in space, Samantha Cristoforetti. Their opening weeks ran exceptionally smoothly and the six-strong increment welcomed SpaceX's Commercial Resupply Services (CRS)-6 Dragon in mid-April and prepared for the arrival of Russia's Progress M-27M cargo ship at the tail end of that same month. Unfortunately, a launch vehicle failure doomed the Progress—which re-entered the atmosphere to destruction shortly afterwards—and the resultant investigation caused a number of other missions, including the piloted Soyuz TMA-17M, which employed a similar booster, to be postponed. With Soyuz TMA-17M pushed from late May until the end of July, it was highly undesirable to bring Virts, Shkaplerov, and Cristoforetti home as planned on 14 May and leave the ISS at a reduced manpower of three crew members for more than two months.
In response, Virts' increment was extended by four weeks, thereby narrowing the gap at reduced capability, and when his crew finally returned to Earth aboard their Soyuz TMA-15M spacecraft on 11 June, they had accrued almost 200 days in space, marking the second-longest mission of the ISS era and cementing Cristoforetti's credentials as holder of the record for the longest single spaceflight ever undertaken by a woman. Padalka then took command of the ISS, leading Expedition 44. The records continued to fall like ninepins: Gennadi Padalka, who was already one of the world's most seasoned spacefarers at the start of his flight, eclipsed fellow cosmonaut Sergei Krikalev's 803-day career accomplishment on 28 June and became the new record-holder for the longest period of time cumulatively spent in space. By the time he returned home in September, Padalka had accrued 878 days across five missions, representing about 2.4 years of his life.
However, disaster and success proved close bedfellows. On the very day that Padalka broke Krikalev's record, SpaceX's CRS-7 Dragon—carrying the first of two International Docking Adapters (IDAs) for Commercial Crew use—was lost when its Falcon 9 v1.1 booster disintegrated at high altitude, a little more than two minutes after liftoff. Fortunately, the hiatus in capability was relatively brief, with Russia's Progress returning successfully to flight in July and the Soyuz TMA-17M crew of Russian comonaut Oleg Kononenko, U.S. astronaut Kjell Lindgren, and Japan's Kimiya Yui arriving at the station on 22 July. Under Padalka's command, Expedition 44 continued, with Soyuz TMA-18M arriving in early September, with Russian cosmonaut Sergei Volkov, Kazakhstan's Aidyn Aimbetov (replacing Spaceflight Participant Sarah Brightman), and Denmark's first man in space, Andreas Mogensen.
On 11 September, having transferred command of the ISS to Kelly to herald the start of Expedition 45, Padalka returned to Earth with Aimbetov and Mogensen aboard Soyuz TMA-16M, whilst Volkov remained aboard through the second half of the one-year mission. In doing so, Kelly became the first American to command as many as two increments aboard the space station—having previously led Expedition 26 from November 2010 through March 2011—and later surpassed two national and empirical U.S. endurance records. In the middle of October, he exceeded fellow astronaut Mike Fincke's 381-day cumulative achievement for the greatest amount of time spent aloft by an American citizen, whilst at the end of that same month he also passed Mike Lopez-Alegria's 215-day achievement for the longest single mission in U.S. spaceflight history.
Together with Lindgren, Kelly performed his first career EVA on 28 October, spending more than seven hours tending to a range of external upgrades and maintenance tasks, before executing a second spacewalk on 6 November to restore the cooling system of the P-6 truss to its pre-2012 configuration. At about the same time, the Expedition 45 crew commemorated 15 years of continuous habitation of the ISS and pressed on with their ambitious program of biomedical and scientific research. In anticipation of an increased level of visiting vehicle traffic in December—including the return to flight of Orbital ATK's Cygnus resupply craft and the maiden voyage of Russia's Progress-MS cargo ship—it was decided to bring the Soyuz TMA-17M crew of Kononenko, Lindgren and Yui home on 11 December, a couple of weeks sooner than originally manifested. That said, the steely crew worked at full capacity until the very end, with Lindgren overseeing the successful capture and berthing of Cygnus, less than two days before he returned to Earth.
With the departure and safe landing of the Soyuz TMA-17M crew, Kelly, Kornienko, and Volkov formed the core of the "new" Expedition 46 and were joined in short order by the Soyuz TMA-19M crew of Russian cosmonaut Yuri Malenchenko, NASA astronaut Tim Kopra and Britain's Tim Peake on 15 December. No sooner had the new arrivals settled in than Kopra was called upon, with Kelly, to execute an "Unplanned EVA" on 21 December to secure Canada's Mobile Transporter (MT) at a worksite on the expansive Integrated Truss Structure (ITS), ahead of station operations in support of Progress-MS. A quiet Christmas—in which Kelly became the first American to spend three festive seasons aloft—and New Year were followed by the announcement that Kopra and Peake would support U.S. EVA-35 to remove and replace a failed Sequential Shunt Unit (SSU) on the station's 1B power channel, located on the S-6 truss. The SSU had failed in mid-November 2015 and on 15 January Kopra and Peake ventured outside and installed a replacement without incident. They pressed ahead with a number of other tasks, but were ultimately required to return early to the airlock, when a water bubble was detected in Kopra's helmet.
As Kelly and Kornienko pass 300 days in space at 2:43 p.m. EST today, perhaps both will reflect on the fact that they are only the seventh and eighth humans in history to have spent such an extreme period of time, continuously, in space. Aboard Russia's Mir space station, cosmonaut Yuri Romanenko was first to do so, in early December 1987, prior to his return to Earth a few weeks later, after a then-record-breaking 326-day mission. This achievement did not stand for long, for barely a year later, Vladimir Titov and Musa Manarov became the first people to endure a full Earth-year in orbit, securing almost 366 days by the time they landed safely in December 1988. More recently, Sergei Krikalev spent 310 days in space between May 1991 and March 1992—having unexpectedly been called upon, following the collapse of the Soviet Union, to support a pair of six-month, back-to-back increments aboard Mir—and a similar accomplishment was made by cosmonaut Sergei Avdeyev, who recorded 379 days in space from August 1998 through August 1999. And, of course, there is Valeri Polyakov, who still holds the record for the longest single mission ever undertaken in human history: He spent almost 438 days in orbit from January 1994 through March 1995.
From today, Kelly and Kornienko have a little under six weeks remaining before their own return to terra firma. According to Novosti Kosmonavtiki, the next SpaceX Dragon (CRS-8) and Orbital ATK Cygnus (OA-6) will both fly in mid-to-late March, with an EVA from the Russian Orbital Segment (ROS) planned for 3 February, involving Malenchenko and Volkov. Additionally, the OA-4 Cygnus is expected to be robotically detached from the space station in late January, wrapping up more than seven weeks affixed to the Earth-facing (or "nadir") port of the Unity node.
Current plans call for Kelly to transfer command of the ISS over to Tim Kopra—who will lead Expedition 47 through early June—and return to Earth on 1/2 March aboard Soyuz TMA-18M, with Volkov and Kornienko. Touchdown of the three men on the desolate steppe of Kazakhstan is planned for 10:33 a.m. local time on the 2nd (11:33 p.m. EST on the 1st), which should produce a total duration for Kelly and Kornienko of 340 days, 8 hours, and 50 minutes, and more than 5,400 orbits of the Home Planet. When added to their previous spaceflight experience (180 days for Kelly, 176 days for Kornienko), this will give both men over 500 days in orbit, positioning them in 17th and 18th places on the list of the world's most seasoned space travelers. As for Volkov, who wraps up a 181-day stay aboard the ISS during Expeditions 44, 45, and 46, his total from this and two previous long-duration missions will place him slightly ahead of Kelly and Kornienko in about 10th place.
Be sure to "Like" AmericaSpace on Facebook and follow us on Twitter: @AmericaSpace
Missions
»
ISS
»
Missions
»
ISS
»
Soyuz TMA-M
»
Missions
»
ISS
»
Soyuz TMA-M
»
TMA-16M
»