Yesterday, April 20, at 6:02pm local time, Florida Today published a breaking story by Emre Kelly, with photos by one of their photojournalists, Craig Bailey, of dark, acrid, orange smoke rising from Cape Canaveral Air Force Station, the first indication that there had been an accident there.
Bailey had been coincidentally covering another assignment, and not long after breaking the story with Kelly, NASA Administrator Jim Bridenstine confirmed via Twitter that there had in fact been an anomaly, and it was during a SpaceX static test fire of the Crew Dragon test article's Super Draco abort engines at their Landing Zone-1.
The cause of the April 20 Crew Dragon anomaly is currently unacknowledged publicly yet by SpaceX or Elon Musk, who answers questions often but has thus far remained silent about the test.
SpaceX did, however, offer comments to Kelly following his inquiries, stating that they completed initial tests successfully, and that the anomaly occured during a final test:
In a short video released by Twitter user @Astronut099 following the explosion, it appeared pretty clear the vehicle was the Demo-1 article which recently flew a flawless un-crewed orbital flight test to and from the International Space Station for NASA (this was later confirmed by Kelly).
The video has since been removed, but began appearing on numerous YouTube channels shortly after (below).
Its next flight was to be on a critical in-flight Ascent Abort Test from Kennedy Space Center pad 39A this summer, launching atop a reused Falcon 9 rocket and proving it can safely abort a crew away from a failing rocket during the launch ascent, before NASA puts the first astronauts onboard on the Demo-2 mission.
And while it is easy to assume any of a thousand different possibilities about what happened, it's currently unclear what exact testing SpaceX was doing when the failure occured. It's possible, for example, based on the test video, that the Super Dracos may not have even fired yet before the explosion, hinting at a leak or rupture in a pressurized tank somewhere which could cause fuel to mix in an unintended way.
The engines use hypergolic fuels which ignite spontaneously when mixing, eliminating the need for an ignition source of any kind.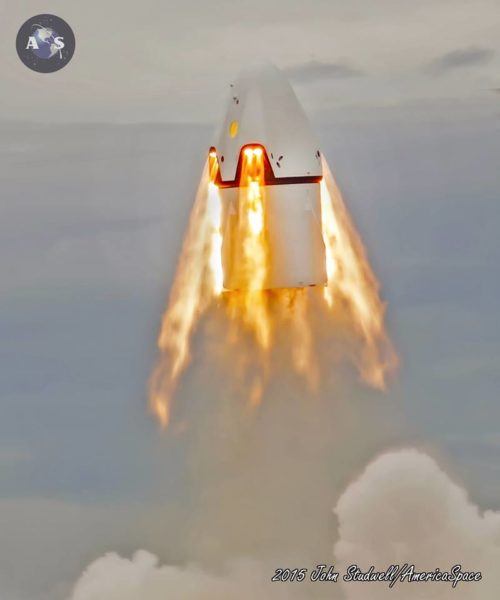 Yesterday's anomaly is obviously a major set-back for NASA's Commercial Crew program to return human spaceflight to U.S. shores by the turn of the decade, launching astronauts to and from the International Space Station and eliminating America's dependence on Russia, but just how big of a set-back is at this time unknown.
When an issue arose during a June 2018 hot-fire test of Boeing's Starliner crew capsule abort system during engine shut-down, the resulting delay significantly delayed the first planned launch of the Starliner atop a ULA Atlas-V rocket to late 2019 or early 2020.
The April 20 explosion was not the first time that the Super Draco engines have experienced an anomaly either, but they have been tested hundreds, if not thousands of time already.
During the May 6, 2015 pad abort test, one of the four Super Draco clusters on the Dragon 2 had sub-par performance, causing the craft's guidance and control to throttle-down the opposite cluster to avoid asymmetrical thrust. The resulting loss of thrust meant that there was barely sufficient enough energy to prevent the test article from an undesired landing upon Cape Canaveral beach.
However, such failures in testing come with the territory, when such complex systems are intentionally stressed to and in excess of their limits in countless failure scenarios, to understand where the limits are and establish safety margins accordingly, before putting crews onboard
We will update as information becomes available.
.
.
.
.