SpaceX is targeting just past sunset Saturday for its sixth Falcon 9 launch of July, as the organization shared images of its next Starship "stack" on the pad at Boca Chica, Texas, and a triple-barreled Falcon Heavy in the hangar at Cape Canaveral, being readied for launch later this month. Liftoff of the B1076 core—making her sixth flight—is scheduled to occur from storied Space Launch Complex (SLC)-40 at Cape Canaveral Space Force Station, Fla., at 7:34 p.m. EDT, with three additional T-0 points later tonight.
Aboard the booster for the 49th Falcon-class mission of 2023 (inclusive of two Falcon Heavy launches in mid-January and late April) are 22 Starlink "V2 Mini" internet communications satellites, bringing to over 1,200 the total number of these miniature flat-packed spacecraft lifted to low-Earth orbit so far this year. Deployment of the Starlink stack is anticipated about 65 minutes after tonight's launch.
SpaceX is tracking four launch opportunities to get this next mission off the ground, the first of which opens at 7:34 p.m. EDT and is followed by three others between 9:15 p.m. and 10:56 p.m. Another four backup options are available on Sunday, the first slated to open at 7:09 p.m. and the last aimed at 10:31 p.m.
That broad swathe of T-0 points is just as well, for the weather picture appears rather dicey over the weekend. "Abnormally high moisture content throughout the atmospheric column will continue through the weekend," noted the 45th Weather Squadron at Patrick Space Force Base in its L-1 update, issued Friday, with an incoming trough passing through the Eastern U.S. expected to suppress the Atlantic surface ridge-axis.
"This will strengthen and deepen the offshore flow locally and keep the sea-breeze pinned near the coast, enhancing the shower and storm threat during the late afternoon and early evening hours this weekend," the 45th added. "Additionally, a weak surface boundary sagging south into Southern Georgia is likely to allow further pooling of moisture across Central and Northern Florida by Sunday, resulting in somewhat higher coverage of showers and storms locally."
All told, this presents an "above-normal" likelihood of weather violations, "particularly during the front end of each window, when active thunderstorms and their associated cloud cover are likely to be in closer proximity to the pad". Those thunderstorms are expected to diminish or move off the coast later in the evening, presenting a 30-40-percent chance of acceptable weather early in Saturday and Sunday's launch windows, improving to 80-85-percent-favorable towards the end.
Key factors include potential violations of the Cumulus Cloud Rule, the Anvil Cloud Rule and the Surface Electric Fields Rule. Offshore weather for B1076's recovery by the Autonomous Spaceport Drone Ship (ASDS), "Just Read the Instructions"—which left Port Canaveral last Wednesday, bound for a position about 390 miles (630 kilometers) offshore in the Atlantic Ocean—looks likely to be nominal for both days.
Earmarked to fly tonight's mission is B1076, the first Falcon 9 booster to make a fifth launch in 2023, having entered service last November to deliver the CRS-26 Cargo Dragon for a six-week berth at the International Space Station (ISS). More recently, she lifted 40 broadband satellites uphill for London, England's OneWeb in the second week of January, followed by the first 21-strong batch of Starlink V2 Mini birds in late February, the heavyweight Intelsat 40e geostationary communications satellite—co-manifested with NASA's Tropospheric Emissions: Monitoring of Pollution (TEMPO) payload—in early April and a second V2 Mini load in the third week of May.
This impressive tempo of flights saw B1076 execute four drone-ship landings and a single on-point touchdown at the Cape's Landing Zone (LZ)-1. She was also responsible for completing the 30th Falcon 9 flight of 2023 and the hundredth consecutive successful booster landing since SpaceX's last landing failure, more than two years ago.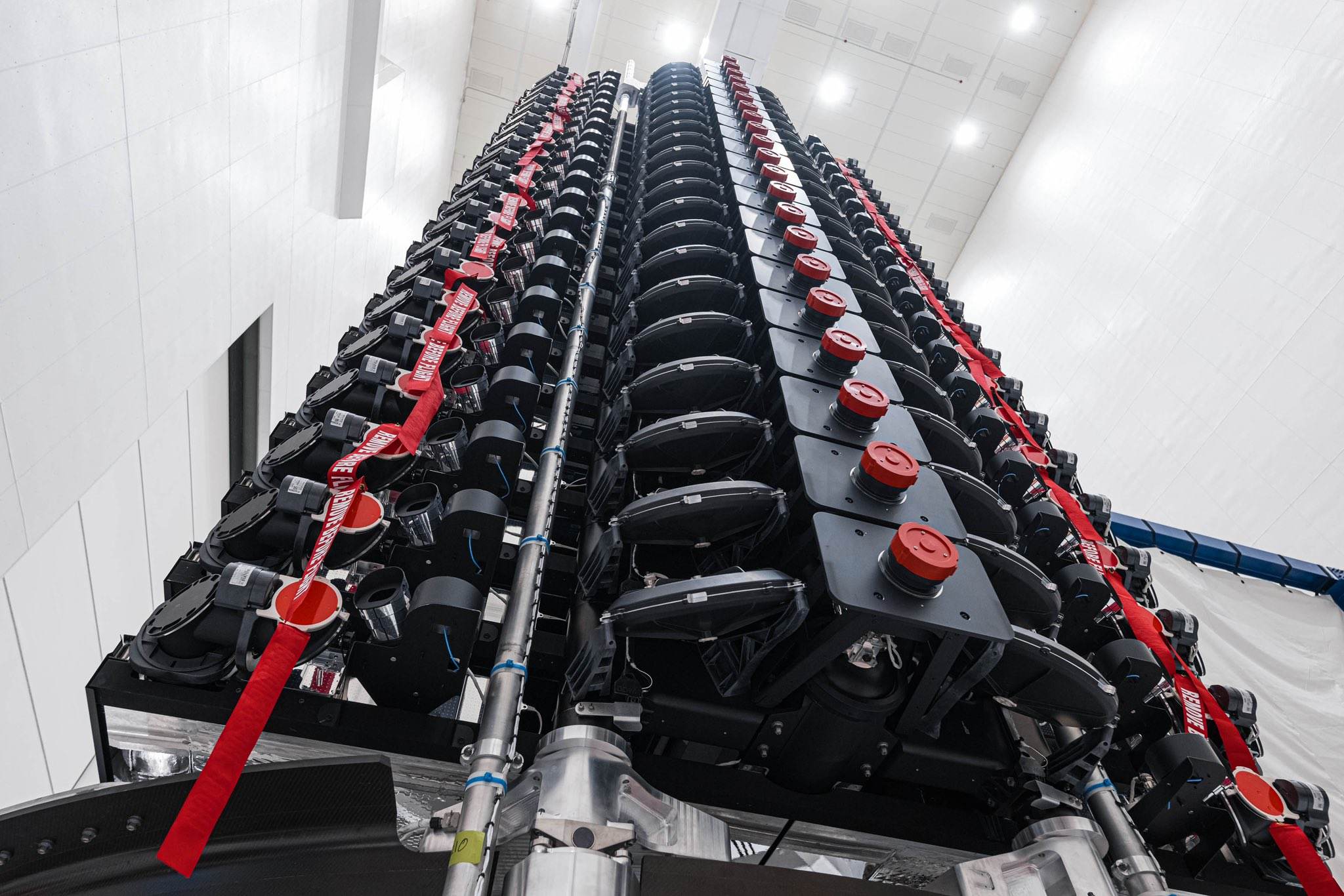 Aboard the Falcon 9 tonight will be the year's seventh batch of downsized "V2 Mini" Starlinks, which boast three to four times greater "usable" bandwidth than their earlier iterations. "V2 Minis include key technologies—such as more powerful phased-array antennas and the use of E-Band for backhaul—which will allow Starlink to provide 4x more capacity per satellite than earlier iterations," SpaceX explained. "Among other enhancements, V2 Minis are equipped with new argon Hall thrusters for on-orbit maneuvering."
As a network, Starlink facilitates high-speed and low-latency internet provision across 59 sovereign nations and international markets in North and South America, Europe, Asia, Oceania and Africa. Just last week, it was announced that Kenya has signed up the network, becoming the fourth African nation—after Nigeria, Rwanda and Mozambique—to have done so this year alone.
Florida-based intercity operator Brightline adopted Starlink on its trains earlier in 2023, the first passenger rail service in the world to do so. Additionally, El Salvador's Ministry of Education has begun integrating Starlink capability into its schools to help close the digital divide between urban and remote rural communities and 50 Rwandan schools are now connected via Starlink's high-speed internet service.
With tonight's launch marking the 49th Falcon-class launch of 2023, all eyes are now on the end of the month as SpaceX aims to break through the 50-flight barrier. Last year, it took the Hawthorne, Calif.-headquartered organization until early November to reach 50 launches; and in 2021, SpaceX achieved "only" 31 flights across an entire calendar year. Fifty orbital-class launches by the close of 2023's seventh month equates to a flight every 4.2 days, a substantial uptick over last year's personal-best-beating achievement of 5.9 days.
On Friday, SpaceX shared images of 2023's third Falcon Heavy being readied in the horizontal integration facility near historic Pad 39A at Florida's Kennedy Space Center (KSC). It is targeting liftoff later this month, carrying the 20,000-pound (9,200-kilogram) Jupiter-3 Ultra-High-Density Satellite (UHDS) on behalf of EchoStar, Corp.
Built by Maxar and set to be redesignated EchoStar-24 when in orbit, the giant satellite will showcase miniaturized electronics, solid-state amplifiers and a high-efficiency antenna architecture for "more concentrated capacity over high-use areas". The satellite, whose high-efficiency Ka-band antennas will enable data-throughput rates of up to 500 gigabits per second, departed Maxar's facility in Palo Alto, Calif., late last month and arrived at the Cape on the final day of June.
This upcoming mission will make 2023 the first year on record to see as many as three Falcon Heavies head uphill; following the triple-barreled booster's inaugural outing back in February 2018, it achieved its first two-flight year with a pair of launches in April and June of 2019. A three-year down time then ensued, before the vehicle returned to operational service last fall and so far in 2023 it has lifted the highly classified USSF-67 for the U.S. Space Force and the powerful ViaSat-3 Europe, Middle East and Africa (EMEA) geostationary communications satellite for ViaSat, Inc.
Two more Falcon Heavies are slated to fly in October, the first targeting launch early that month, with NASA's Psyche spacecraft on a journey to explore the metal-rich asteroid of the same name. Originally scheduled for June, the Psyche launch was pushed back to October, following the late delivery of the spacecraft's flight software and testing equipment.
The second will lift the Space Force's classified USSF-52 to orbit, which reportedly weighs in the region of 14,000 pounds (6,350 kilograms). Contracts worth $130 million for its launch were awarded to SpaceX in June 2018, with early expectations that the mission might fly as soon as September 2020. However, a change in requirements was announced by the Department of Defense in August 2021, in which the USSF-52 contract was adjusted to $149.2 million and launch correspondingly slipped, firstly to the second half of 2022 and eventually into the early fall of 2023.
Elsewhere, at Starbase in Boca Chica, Texas, Booster Nine—targeted to lift a Starship/Super Heavy stack later this year on the program's second integrated test flight—was transported to the pad late last week for tests ahead of launch. It will lift Ship 25 on a transatmospheric Earth orbital flight, closely mirroring the trajectory envisaged for the unsuccessful first integrated test last April.
As reported earlier this year by AmericaSpace, the fallout from April's much-publicized test included dramatic damage to the launch pad and the failure of three of the 33 Raptor engines within seconds of clearing the tower. The 394-foot-tall (120-meter) booster powered out of Starbase under an estimated 16.7 million pounds (4.5 million kilograms) of thrust, the highest liftoff impulse of any orbital-class vehicle in history.
Three more Raptors, which are fed by liquid methane and liquid oxygen, also went out later in April's ascent, before the entire stack began to tumble a couple of minutes into the flight and was remotely destroyed by the Range Safety Officer (RSO). According to AmericaSpace's Mike Killian, writing in the last week of April, the absence of a flame trench—difficult to install at Boca Chica, due to the shallow nature of the local water-table—was expected to be one area of focus in the Federal Aviation Administration's (FAA) mishap investigation, expected to last weeks or months.