With the dust and the damage having barely settled following last week's inaugural test flight of the fully integrated Starship/Super Heavy "stack", out of Boca Chica at Texas' southernmost tip, SpaceX is readying for a trio of launches from the West and East Coasts of the United States this week, as it aims to close out April with as many as seven orbital missions. The year's second Falcon Heavy is set to rise from historic Pad 39A at Florida's Kennedy Space Center (KSC) on Wednesday evening, bookended by a pair of "single-stick" Falcon 9s out of Vandenberg Space Force Base, Calif., early Tuesday, and from Cape Canaveral Space Force Station, Fla., as soon as Friday.
Spearheading this impressive line-up, unsurprisingly, is the Heavy, which for its sixth overall outing—and its third mission in only six months—will fly in an expendable capacity, due to the high-energy requirements of its geostationary-bound primary payload. For Wednesday's flight, which is aiming for an approximately hour-long "launch window", opening at 7:29 p.m. EDT, that payload will be the first of three heavyweight ViaSat-3 ultra-high-capacity broadband satellites, co-manifested with smaller payloads for Indonesia's Pasifik Satelit Nusantara (PSN) and San Francisco, Calif.-based Astranis Corp.
Weather for Wednesday remains the key watch item, however, with only a 30-percent likelihood of acceptable conditions. According to the 45th Weather Squadron at Patrick Space Force Base, an "active weather week" for the Spaceport will bring upper-level disturbances and "at least a chance" for showers and storms every day, particularly in the afternoon, due to heating and sea-breeze development.
"An upper-level disturbance will arrive on Wednesday, kicking off some of the highest storm chances of the week as a surface front stalls across North Florida," the 45th noted in its Sunday update. "Storms may move inland with the East Coast sea-breeze in the afternoon on Wednesday, however westerly steering flow will bring activity back towards the Spaceport into the primary launch window during the evening."
Conditions are not expected to be much kinder on Thursday, with the Cumulus Cloud Rule, Lightning Rule and Surface Electric Fields Rule identified by the 45th as potential violating factors. The Probability of Go (PGo) on Thursday is only 40 percent.
The brand-new B1068 "core" will be flanked by a pair of veteran side-boosters, which have already cut their teeth with nine prior missions between them. B1052 and B1053 entered service back in April and June of 2019, serving as side-boosters for a pair of back-to-back Falcon Heavy launches, the first of which lofted Saudi Arabia's large Arabsat-6A geostationary communications satellite whilst the second delivered the multi-faceted Space Test Program (STP)-2 payload on behalf of the Department of Defense.
But with B1053 having since enjoyed a spacious down-time ahead of her third Heavy duty, B1052 was reconfigured into a "single-stick" Falcon 9 booster. She went on to fly five times between January and September of last year, transporting 152 Starlink low-orbiting internet communications satellites, an Italian radar-imaging satellite for the Italian Space Agency (ASI) and South Korea's first voyage to the Moon.
Originally slated to launch late last year, the triple-barreled Heavy finally arrived on Pad 39A earlier this month and underwent a customary Static Fire Test of her 27 Merlin 1D+ engines on the 13th. For undetermined reasons, SpaceX elected to forego an opening T-0 opportunity on 18 April, initially pushing the launch back to No Earlier Than (NET) Monday 24th and ultimately Wednesday 26th.
Although neither the center core nor the side-boosters are set to be retrieved on this mission, the Falcon Heavy's fairing-halves will be. In support of this goal, the recovery vessel Doug—named in honor of former NASA astronaut and Demo-2 Commander Doug Hurley—put to sea on Saturday.
The heavyweight nature of the payload for this mission demands that for the first time in the Heavy's career, the entire vehicle will be expended. On its most recent flights in January and last November, the center core was expended, but the side-boosters were recovered and completed synchronized touchdowns right alongside each other on Landing Zones (LZ)-1 and 2 at Cape Canaveral Space Force Station.
And on the Heavy's three prior launches between February 2018 and June 2019, the side-boosters completed picture-perfect LZ landings, whilst their cores were targeted to alight on the deck of the Autonomous Spaceport Drone Ship (ASDS), located offshore in the Atlantic Ocean. Unfortunately, two of those cores failed to land on the ASDS, with the April 2019 launch of Arabsat-6A the only occasion so far that SpaceX has intentionally and successfully recovered the core and side-boosters from an entire Falcon Heavy stack.
Tipping the scales at almost 13,000 pounds (6,000 kilograms), the primary payload is the first of three ViaSat-3 ultra-high-capacity broadband satellites, built by Boeing and with a communications payload furnished by Carlsbad, Calif.-headquartered ViaSat, Inc. The giant satellite—which will extend 144 feet (44 meters) between the tips of its solar arrays when fully deployed in orbit—will be injected into near-Geostationary Earth Orbit (GEO) for an anticipated 15 years of operational service.
Each member of the ViaSat-3 series will provide over one terabit per second (Tbps) of network capacity to deliver a global broadband capability with enough bandwidth for affordable, high-quality internet and video-streaming services. The satellite aboard the Wednesday's Falcon Heavy mission is dubbed ViaSat-3 Americas and, as its name implies, will provide coverage over North America, whilst two follow-ons will fly a United Launch Alliance (ULA) Atlas V to cover Europe, the Middle East and Africa (EMEA) and an Arianespace Ariane 6 to cover Asia and the Pacific (APAC).
ViaSat contracted the ViaSat-3 Americas launch to SpaceX in October 2018, with an original expectation that it would fly in 2020-2022. However, inevitable delays arose in the wake of the worldwide march of the COVID-19 coronavirus pandemic, as well as contractor and supply-chain issues.
Payload integration and performance testing was completed at ViaSat's Tempe, Ariz., factory in mid-2021, after which it was shipped to the Boeing facility in El Segundo, Calif., for integration into the satellite "bus" last October. Late last November, the Final Integrated Satellite Test (FIST) was completed and the satellite arrived on the Space Coast aboard an Antonov An-124 heavy airlifter for pre-flight processing last month.
According to ViaSat, the selection of the Heavy was made on account of its capacity to emplace the satellite extremely close to its targeted orbital location, about 700 miles (1,100 kilometers) below geostationary altitude. This will enable it to commence In-Orbit Testing (IOT) very quickly, rather than spending months maneuvering to its optimum position, at the expense of on-board propellant.
Although ViaSat-3 Americas is by far the largest payload aboard the Falcon Heavy, Wednesday's mission also includes a small High Throughput Satellite (HTS) called Arcturus, which has been built by San Francisco, Calif.-based Astranis Corp. Weighing about 660 pounds (300 kilograms), it is equipped with a Ku-band HTS communications payload to provide Alaska with a 7.5-gigabits-per-second data capacity.
And Gravity Space's 48-pound (22-kilogram) G-Space-1 payload will also be aboard the Falcon Heavy. This 16U CubeSat hosts a group of experiments for a range of customers, including Indonesia's Nusantara H-1A Ku-/Ka-band communications payload and "Orbit Guard", a Space Situational Awareness (SSA) payload to track objects using next-generation machine-learning vision capabilities.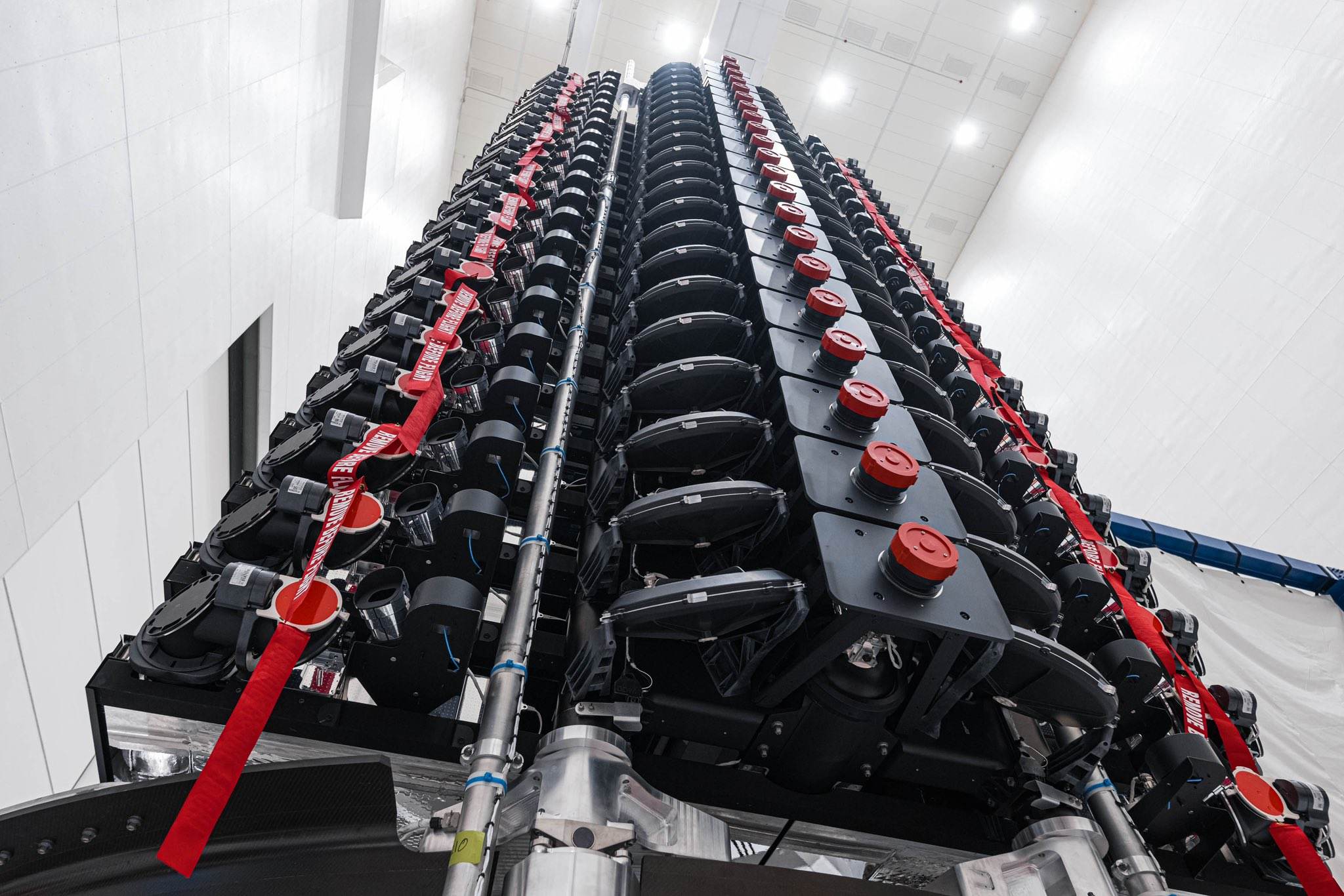 Ahead of the Falcon Heavy's launch, perhaps as soon as Tuesday, a single-stick Falcon 9 may fly out of Space Launch Complex (SLC)-4E at Vandenberg, laden with the year's 13th "stack" of Starlink low-orbiting internet communications satellites. In support of the launch, the West Coast ASDS, "Of Course I Still Love You", departed Port of Long Beach over the weekend, bound for a recovery position more than 390 miles (630 kilometers) offshore in the Pacific Ocean.
If the mission flies tomorrow, it will mark the first occasion that SpaceX has launched three times out of Vandenberg in a single calendar month. Two previous flights—the inaugural Tranche-0 of the Transport and Tracking Layer (TTL) for the Space Development Agency (SDA) at the start of April and the 51-payload Transporter-7 "rideshare" mission at mid-month—have already added to a growing cadence of activity from the mountain-ringed West Coast launch site since the beginning of 2023.
Closing out this dramatic "Launch Week", perhaps as soon as Friday, another Falcon 9 is primed to fly from storied Space Launch Complex (SLC)-40 at Cape Canaveral Space Force Station, carrying a second of three batches of O3b mPOWER broadband satellites, destined for emplacement into a 5,000-mile-high (8,000-kilometer) Medium Earth Orbit (MEO). Built by Boeing on behalf of Luxembourg-headquartered SES, O3b mPOWER consists of a network of high-throughput, low-latency satellites, destined for emplacement into Medium Earth Orbit (MEO), at a mean altitude of 5,000 miles (8,000 kilometers).
Based in design upon Boeing's all-electric 702 "bus", the satellites will generate around 30,000 fully reshapeable and electronically steerable beams, which can be dynamically shifted in real time to serve customers across a multitude of markets, ranging from telecom and cloud to communications-on-the-move and government. Boeing was selected by SES in September 2017 to build an initial seven O3B mPOWER satellites, with another four subsequently added to the contract in August 2020.
When operational, O3b mPOWER pledges connectivity services ranging from 500 Mbps to multiple gigabits of data per second to a single user.
"SES' O3b mPOWER system is a true game-changer and will transform the way people think about connectivity," said Ruy Pinto, chief technology officer at SES. "Delivering performance above all, O3B mPOWER will offer connectivity services to government organizations and enterprises based in the most remote regions. In times of natural disasters, when networks are disrupted, O3B mPOWER's low-latency services can quickly restore critical communications networks."
With two O3b mPOWER satellites having already been launched by SpaceX last December, this upcoming mission will carry another pair into orbit. Boeing delivered the second pair of satellites to the Cape late last month, where they entered pre-flight processing ahead of integration aboard the Falcon 9 payload fairing.
The dual halves of the fairing—emblazoned with SES and mPOWER livery—were closed for flight late last week. And in the weekend's second ASDS departure, the East Coast-based drone ship "Just Read the Instructions", left Port Canaveral on Sunday, for a recovery pick-up point about 430 miles (690 kilometers) offshore in the Atlantic Ocean.