SpaceX has scrubbed its fifth Falcon 9 launch of July at T-5 seconds, as the Hawthorne, Calif.-headquartered organization draws ever nearer to its 50th flight of the year. Seasoned veteran B1071—making her tenth mission and her fourth outing of 2023—was targeting liftoff from Space Launch Complex (SLC)-4E at fog-enshrouded Vandenberg Space Force Base, Calif., at 10:25 p.m. PDT Tuesday, laden with the first 15 Starlink "V2 Mini" satellites ever flown from the West Coast.
When she does eventually fly, she will become the second Falcon 9 to have launched as many as ten times out of mountain-ringed Vandenberg. In readiness for tonight's launch, the Autonomous Spaceport Drone Ship (ASDS), "Of Course I Still Love You", departed Port of Long Beach last weekend, bound for a recovery position about 400 miles (640 kilometers) offshore in the Pacific Ocean.
B1071 logged nine treks to space between February 2022 and last month, becoming the first long-term, dedicated "Vandenberg Falcon". Although several prior Falcon 9s had flown from SLC-4E, they had done so only a couple of times, or had alternated between the West and East Coasts; B1071 has spent her entire career to date at Vandenberg.
She first delivered a pair of highly classified payloads uphill for the National Reconnaissance Office in February and April of last year, before launching the SARah-1 radar-imaging surveillance satellite for Germany's Armed Forces in June 2022. And beginning in July 2022—her quickest flight-to-flight turnaround to date, at 34 days—she went on to fly 199 Starlink internet communications satellites into low-Earth orbit on four dedicated missions.
On one of those missions, last 5 October, she set a new record (with Dragon Endurance and Crew-5) for the shortest interval—now broken—of seven hours and ten minutes between a pair of Falcon 9 flights. And on her most recent flight, last month, with the 72-payload Transporter-8 "rideshare" haul, she smoothly executed SpaceX's 200th fully successful landing of a first-stage booster.
All told, this wizened "Old Guard" of SpaceX's Vandenberg fleet has lifted 290 large and small satellites for reconnaissance, communications, technology demonstrations, Earth observations, education and amateur radio. And last December she launched the Surface Water and Ocean Topography (SWOT) mission, a collaborative scientific venture between NASA and the French Space Agency, to investigate surface-water altitudes with centimeter-levels of precision.
Having flown six times last year and three times thus far in 2023, B1071 has already cemented her credentials as one of Vandenberg's frequent-flyers, sitting just behind her sister B1063 which wrapped up her 11th launch from the West Coast earlier this month. And with five on-point touchdowns apiece at Landing Zone (LZ)-4 and atop the expansive deck of OCISLY, she currently holds the record for the booster with the highest number of "solid-ground" landings at Vandenberg.
Originally targeting liftoff at 9:40 p.m. PDT Tuesday, SpaceX initially identified a second T-0 point at 10:30 p.m., followed by a pair of backup opportunities at 9:09 p.m. and 10:00 p.m. Wednesday. Heading into Tuesday's launch campaign it was announced that teams were instead aiming for a 10:25 p.m. launch.
Enshrouded in heavy fog, a factor not uncharacteristic of Vandenberg, B1071 was barely visible in the gloom as she transitioned into "startup" at T-60 seconds and her on-board flight computers assumed primary command of the countdown. The Launch Director issued his customary "Go for Launch" at T-45 seconds and the count continued until a dramatic "Abort" call echoed over the net at T-5 seconds.
SLC-4E's sound-suppression water had already come online, flooding the pad with water to reduce the reflected acoustical energy at liftoff, but none of B1071's nine Merlin 1D+ engines ignited before the abort was called. The Launch Director came onto the net in the moments following the scrub to announce the abort and to declare that the vehicle was safe and propellant offloading would shortly commence.
At the time of writing, no new T-0 point had been established. However, SpaceX previously reported that it has two more opportunities on Wednesday night at 9:09 p.m. PDT and 10:00 p.m. PDT.
The upcoming mission will be the 15th Falcon 9 flight since January, continuing a record-breaking 2023 which last month surpassed 2022 to become Vandenberg's most-flown year from the West Coast. Four boosters—including "newcomer" B1075—have lofted 11 Starlink batches, two multi-payload Transporter hauls, communications satellites for OneWeb and Iridium NEXT and the inaugural members of "Tranche 0" of the Transport and Tracking Layer (TTL) for the Space Development Agency (SDA).
Aboard B1071 is the first 15-strong stack of "V2 Mini" satellites to fly from Vandenberg, the sixth batch of these downsized Starlinks to have been orbited since February. The Minis boast three to four times greater "usable" bandwidth than earlier Starlink iterations.
"V2 Minis include key technologies—such as more powerful phased-array antennas and the use of E-Band for backhaul—which will allow Starlink to provide 4x more capacity per satellite than earlier iterations," SpaceX explained. "Among other enhancements, V2 Minis are equipped with new argon Hall thrusters for on-orbit maneuvering."
As a network, Starlink facilitates high-speed and low-latency internet provision across 59 sovereign nations and international markets in North and South America, Europe, Asia, Oceania and Africa. Yesterday, it was announced that Kenya has signed up the network, becoming the fourth African nation—after Nigeria, Rwanda and Mozambique—to have done so this year alone.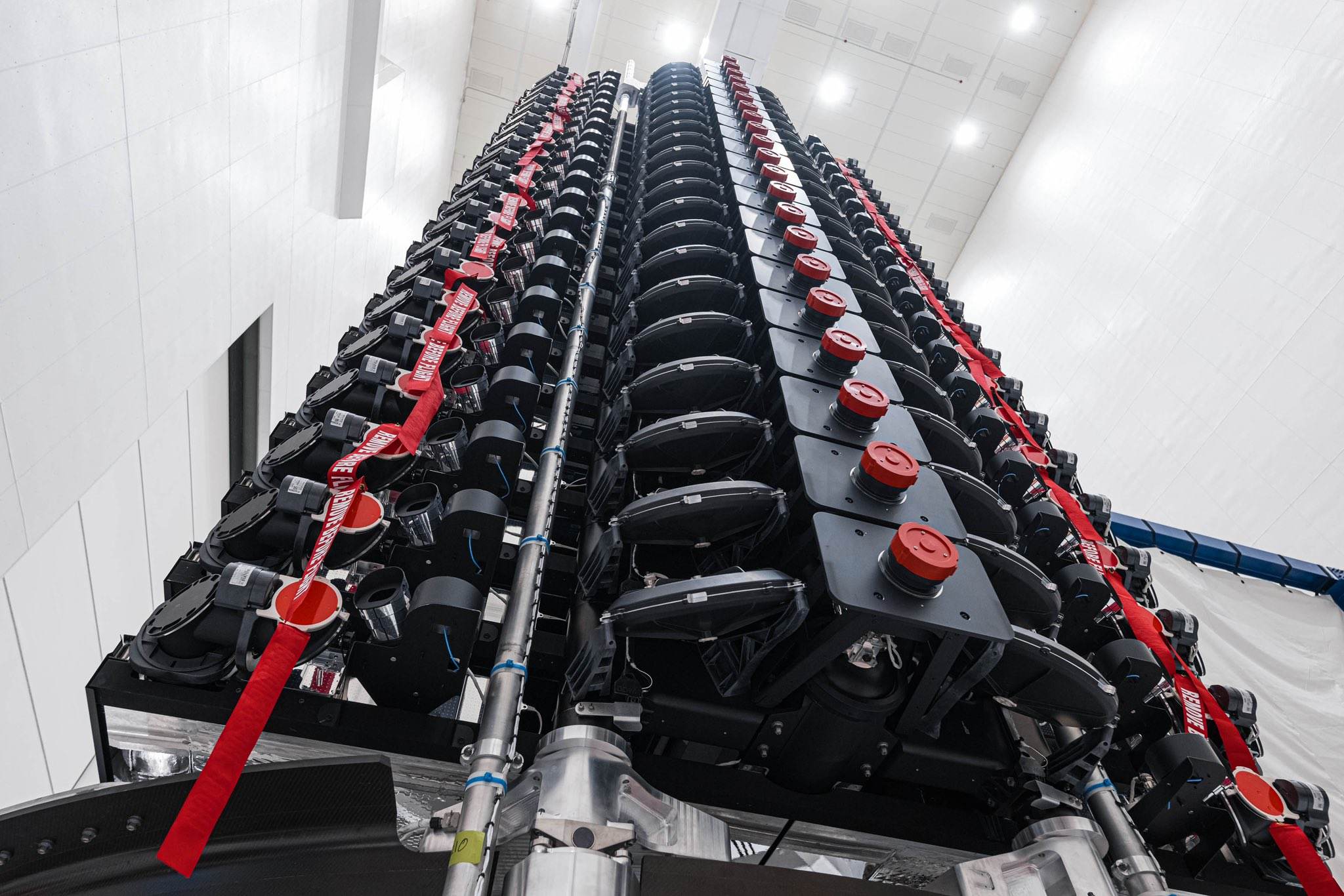 Florida-based intercity operator Brightline adopted Starlink on its trains earlier in 2023, the first passenger rail service in the world to do so. Additionally, El Salvador's Ministry of Education has begun integrating Starlink capability into its schools to help close the digital divide between urban and remote rural communities and 50 Rwandan schools are now connected via Starlink's high-speed internet service.