A shifting game of musical rockets is set to play out across the East and West Coasts in the coming days, as a veteran Falcon 9 smoothly took flight at 6:13 p.m. EST Monday from storied Space Launch Complex (SLC)-40 at Cape Canaveral Space Force Station, Fla., laden with 21 downsized Starlink "V2 Mini" low-orbiting internet communications satellites. However, following the last-minute scrub of Crew-6 in Monday's pre-dawn darkness, and a 24-hour postponement of another Falcon 9 from Vandenberg Space Force Base, Calif., until no earlier than Tuesday morning, SpaceX has missed out on scoring three launches in a record-breaking span of only 13 hours.
Original plans called for Crew-6—with the three-times-used Dragon Endeavour set to transport NASA astronauts Steve Bowen and Warren "Woody" Hoburg, together with Russian cosmonaut Andrei Fedyayev and Sultan Al-Neyadi of the United Arab Emirates (UAE) on a six-month International Space Station (ISS) expedition—to launch atop the brand-new B1078 core from historic Pad 39A at Florida's Kennedy Space Center (KSC) at 1:45 a.m. EST Monday. However, just two minutes and 12 seconds before liftoff, an ominous "Hold, Hold, Hold" call was heard over the air-to-ground countdown net.
According to NASA, mission teams elected to stand down from Monday's launch attempt "to investigate an issue preventing data from confirming a full load of the ignition source" for B1078's suite of nine Merlin 1D+ engines. Both the first and second stages of the Falcon 9 use Triethylaluminum-Triethylboron (TEA-TEB) as an igniter.
Since Crew-6 was aiming for an "instantaneous" T-0, the hold necessitated an immediate scrub, as teams initially realigned for a backup launch opportunity at 1:22 a.m. EST Tuesday. The Falcon 9's propellant load of liquid oxygen and a highly refined form of rocket-grade kerosene (known as "RP-1") was offloaded, the launch abort system was disarmed and the Crew Access Arm (CAA) was promptly swung into place alongside Dragon Endeavour's hatch to allow Bowen and his men to disembark.
With weather conditions for Tuesday looking distinctly unfavorable on the Space Coast, NASA and SpaceX quickly decided to forgo the backup attempt. Wednesday had already been removed from consideration, owing to its unsuitability from a trajectory and rendezvous standpoint, and 12:34 a.m. EST Thursday was selected as the revised No Earlier Than (NET) target, "pending resolution of the technical issue preventing Monday's launch".
For a while, that left two other Falcon 9 missions previously scheduled for Monday—one using the twice-used B1076 from the Cape at 1:38 p.m. EST, the other riding the 11-times-flown B1061 core from Vandenberg less than an hour later at 11:31 a.m. PST, both laden with Starlink cargoes—hanging under a rather large question mark. SpaceX noted later on Monday that it was standing down B1061's launch "due to unfavorable weather conditions" on the West Coast, which were already predicted at only 30-percent acceptable.
Instead, the Vandenberg mission and its 51-strong Starlink haul was realigned for a backup opportunity at 11:38 a.m. PST Tuesday. In support of this launch, the Autonomous Spaceport Drone Ship (ASDS), "Of Course I Still Love You", had put to sea out of Port of Long Beach last Saturday, bound for a recovery position about 400 miles (640 kilometers) offshore in the Pacific Ocean.
More than 2,300 miles (3,800 kilometers) to the east, at the Cape, despite the disappointment of the Crew-6 scrub, hope was kindled that B1076 might yet fly on Monday, marking SpaceX's sixth flight of February. Its launch time was shifted several hours to the right, in response to "a space weather concern", before settling on a new T-0 of 6:13 p.m. EST.
Oddly, SpaceX added that the "priority" nature of Crew-6 might prompt a further delay to B1061's Vandenberg mission. This is in spite of the fact that both launches were already scheduled more than a day apart and from different coasts of the United States.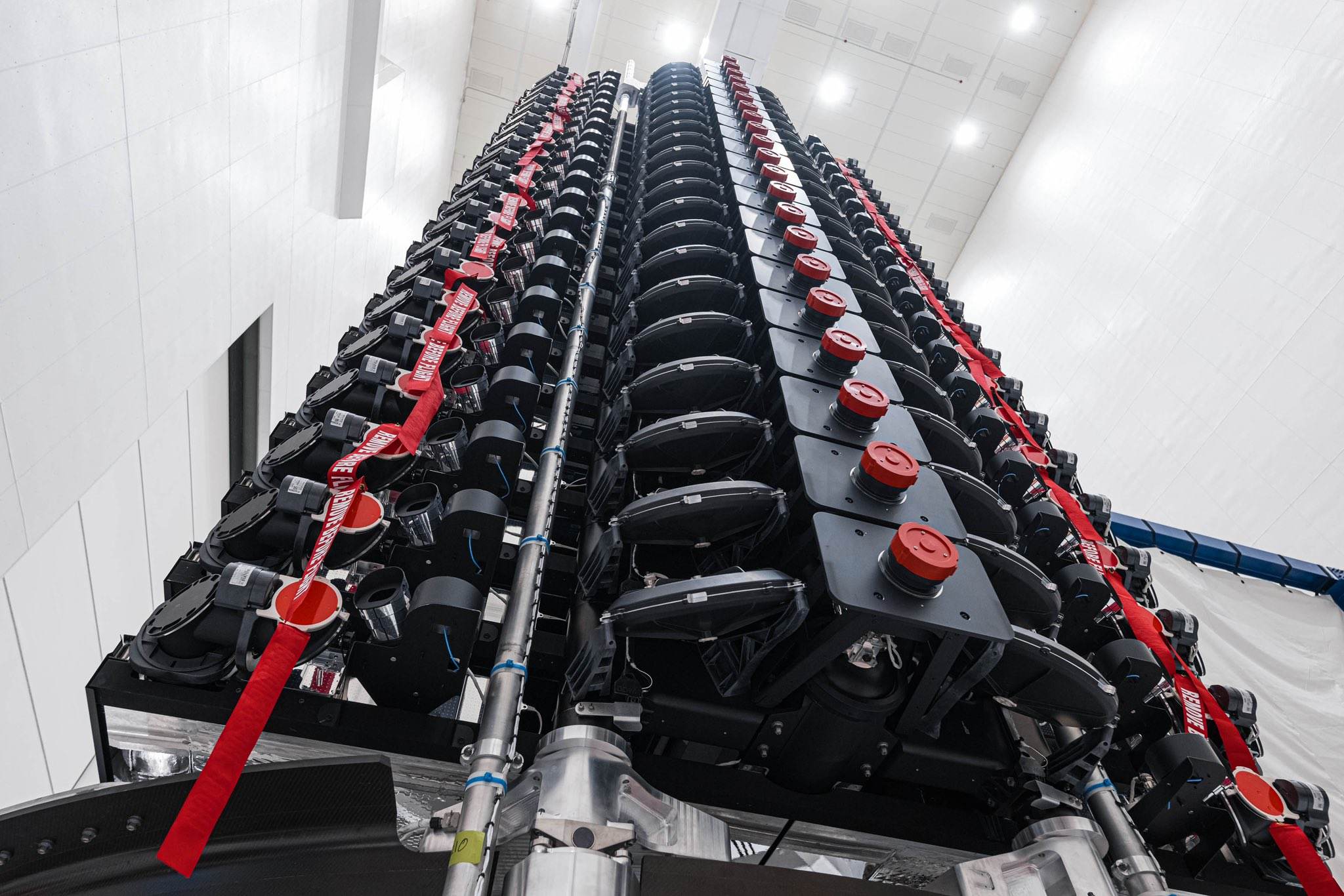 Weather for Monday evening on the Space Coast was expected to remain highly favorable, with a 90-percent probability of acceptable conditions for B1076's third rise to space in three months, tempered only by a slight risk of violating the Cumulus Cloud Rule. And for the sixth time in 2023's second month, the roar of a Falcon 9's nine Merlin 1D+ engines reverberated across the marshy landscape right on time, as a further 21 Starlinks headed uphill right on the cusp of sunset.
Between May 2019 and earlier this month, a total of 3,979 production-design Starlinks have been launched into orbit, facilitating high-speed and low-latency internet provision across 50 sovereign nations and international markets spanning North and South America, Europe, Asia, Oceania and Africa. In February alone, Iceland, Rwanda and the Philippines have officially signed up to Starlink.
But tonight's launch, with 21 new satellites, allowed SpaceX to hit its magical 4,000th flown Starlink right on the nose. And the new downsized arrivals are colloquially termed "V2 Mini", with three to four times greater "usable" bandwidth than their predecessors.
"They represent a step forward in Starlink capability," SpaceX explained in a Sunday tweet. "V2 Minis include key technologies—such as more powerful phased-array antennas and the use of E-Band for backhaul—which will allow Starlink to provide 4x more capacity per satellite than earlier iterations.
"Among other enhancements, B2 Minis are equipped with new argon Hall thrusters for on-orbit maneuvering," it was added. "Developed by SpaceX engineers, they have 2.4x the thrust and 1.5x the specific impulse of our first-gen thrusters. This will be the first time that argon Hall thrusters are operated in space."
After boosting the Falcon 9 uphill for the first 2.5 minutes of flight, B1076 returned home to a pinpoint landing on the East Coast drone ship, "A Shortfall of Gravitas", situated offshore in the Atlantic Ocean. Having now flown three times—lofting the CRS-26 Cargo Dragon to the space station last November and 40 broadband internet satellites to near-polar orbit for London, England-based OneWeb last month—B1076 has now completed a pair of ASDS landings and a single touchdown on solid ground.
With B1076 gone, the turn came for the single Merlin 1D+ Vacuum engine of the Falcon 9's second stage, which burned for six minutes to insert the 21-strong Starlink V2 Mini stack into orbit. As this AmericaSpace was being prepared, the payload was due to be deployed about 64 minutes after launch.
In the meantime, the weather outlook for a trio of upcoming Crew-6 launch attempts on 2-4 March looks generally favorable for Thursday (90-percent) and Friday (70-percent), with a noticeable downturn on Saturday (only 40 percent). A high-pressure system is expected to create "moderate winds" around Thursday's 12:34 a.m. EST launch attempt, with a strong low-pressure area "progressively enhancing" winds from Florida through to the Mid-Atlantic States on Thursday and Friday. Additionally, booster recovery weather is low-moderate on Thursday and Friday, but is classified as "high" on Friday.