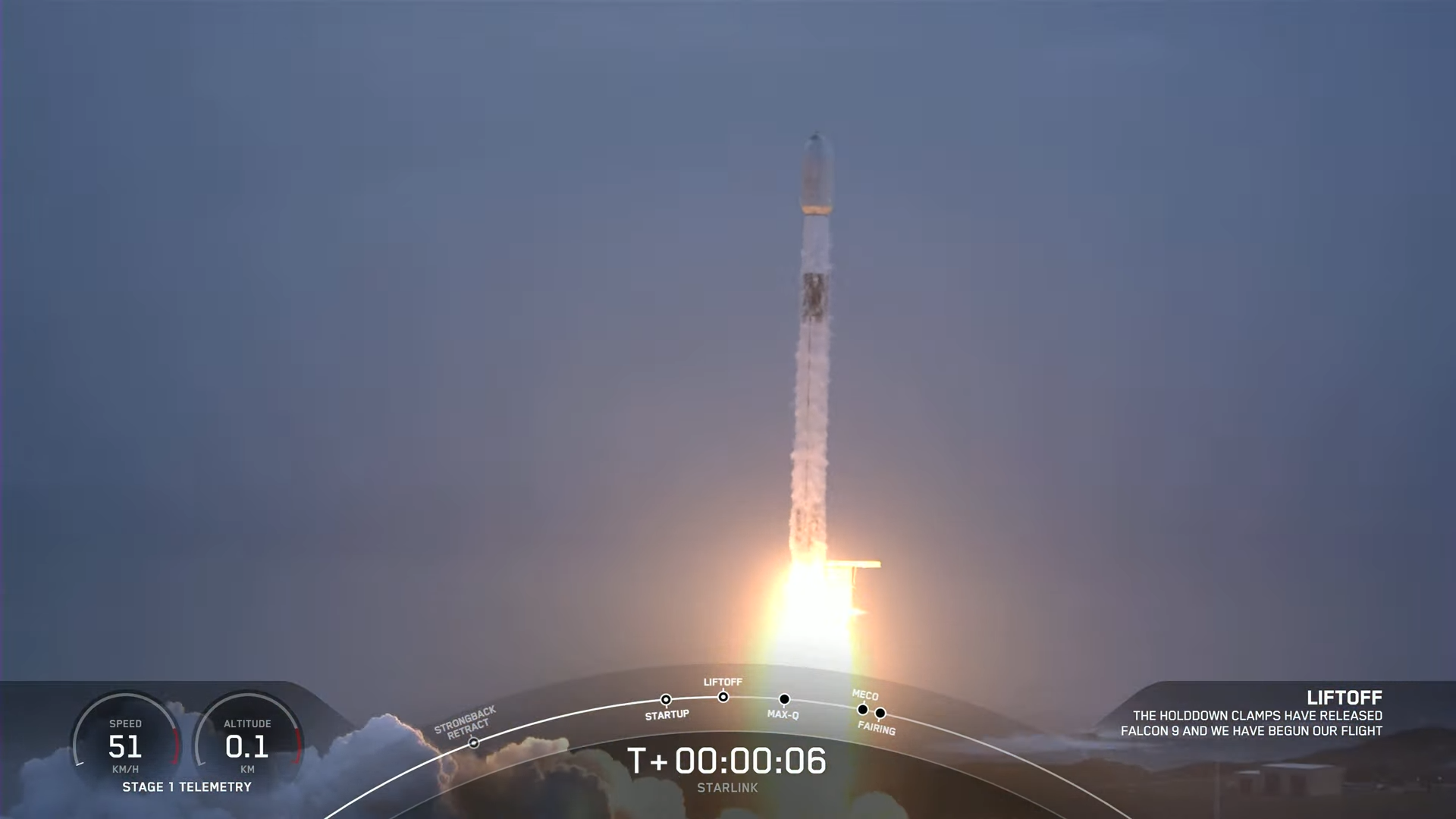 SpaceX kicked off an ambitious raft of West Coast launches several days later than planned on Thursday, as a brand-new Falcon 9 booster rose from Space Launch Complex (SLC)-4E at Vandenberg Space Force Base, Calif., laden with 2023's first "stack" of Starlink low-orbiting internet communications satellites. The B1075 core—whose opening launch attempt overnight on 9/10 January came to nought, due to poor weather and lashing rainstorms—finally took flight at 7:43 a.m. PST (10:43 a.m. EST) and returned eight minutes later to alight on the deck of the Autonomous Spaceport Drone Ship (ASDS), "Of Course I Still Love You", situated offshore in the Pacific Ocean.
This morning's flight was the 33rd launch of a Falcon 9 from Vandenberg since September 2013. And although SpaceX's West Coast mission tempo has ebbed and flowed over the years, 2022 closed as its most-flown to date, with a record-setting 13 launches, which more than doubled its earlier achievement of six flights back in 2018.
All told, Vandenberg has seen SpaceX deliver 75 Iridium NEXT global mobile communications satellites, in eight "batches" between January 2017 and January 2019. And a total of 546 Starlinks were lofted on 11 missions between September 2021 and this morning.
Added to that list, Falcon 9s have flown out of the West Coast with Taiwanese and Argentinian Earth-imaging satellites, Spain's first reconnaissance satellite and the multi-payload SmallSat Express. Other missions included Canada's three-spacecraft Radarsat Constellation Mission (RCM), several highly classified payloads for the National Reconnaissance Office and the Double Asteroid Redirection Test (DART) to explore the asteroid Didymos and impact its tiny companion, Dimorphos.
In readiness for launch, the West Coast-based Autonomous Spaceport Drone Ship (ASDS), "Of Course I Still Love You" (OCISLY), was towed out of Port of Long Beach over the weekend of 7/8 January, bound for a recovery position in the Pacific Ocean. But the opening launch attempt on the evening of Monday 9th did not prove the charm, as stormy weather battered the California Coast and rain lashed the Los Angeles area.
Monday's original T-0 at 8:15 p.m. PST (11:15 p.m. EST) was duly missed, as SpaceX monitored poor weather that never seemed to creep higher than 30-percent favorable. Teams realigned for a revised T-0 at 9:35 p.m. PST Monday (12:35 a.m. EST Tuesday), but ultimately had little option but to stand down for the night.
Additional complications appeared to involve the Falcon 9 herself. SpaceX cited a need "to take a closer look at data from second stage", which forced a lengthier delay: firstly to Wednesday 11th, then to Saturday 14th "to allow additional time for pre-launch checkouts".
T-0 was pushed back another day to Sunday 15th, before "unfavorable recovery weather conditions"—coupled with 15-foot (4.5-meter) waves in the Pacific—and high winds across Central and Southern California prompted yet another slippage to 7:23 a.m. PST (10:23 a.m. EST) on Thursday 19th. Yesterday, OCISLY put to sea from Port of Long Beach, bound for her targeted recovery position offshore, having been recalled back to port after last week's scrubbed attempts.
Despite having T-0 nudged slightly to the right, today's launch proved charmed and B1075 sprinted away from the mountain-ringed SLC-4E at 7:43 a.m. PST (10:43 a.m. EST). Eight minutes later, she returned smoothly to OCISLY's deck, as the Merlin 1D+ Vacuum engine of the Falcon 9 second stage executed a six-minute "burn" to deliver the Starlink stack to orbit.
Twenty-nine minutes after liftoff, another 51 Starlinks were officially added to SpaceX's launch tally, bringing the total number of these flat-packed internet communications satellites flown since May 2019 to 3,715. Today's batch are destined for emplacement into an orbit 350 miles (570 kilometers) high, inclined 70 degrees to the equator.
Last month, SpaceX noted that it had surpassed one million active Starlink subscribers worldwide. This represents a four-fold increase over this same time last year.
The network currently provides connectivity across 45 sovereign nations and worldwide markets spanning North and South America, Europe, Asia and Oceania. It saw emergency provision furnished to Ukraine in February 2022 and the flight of a pair of FIFA World Cup match balls to and from space last October.
SpaceX releases precious little by way of a definitive flight schedule and—as today's mission amply demonstrated—Starlink launches can appear on the manifest at relatively short notice. But there are several notable payloads set to head uphill from Vandenberg in 2023, including two launches of "Tranche 0" of the Transport and Tracking Layer of low-latency, high-capacity connectivity satellites for the Space Development Agency (SDA).
Tranche 0 will form the basis of an eventual "constellation" of 300-500 low-orbiting experimental satellites to furnish ground-based warfighters with "assured, resilient, low-latency military data and connectivity worldwide", together with Wide Field of View (WFOV) infrared sensors for infrared missile tracking. Launch services contracts for Tranche 0 were signed with SpaceX in January 2021 for an estimated total value of $150.45 million.
A pair of "passive" SARah reflector satellites, flying on behalf of the German military, are expected to launch around mid-year to join the SARah-1 radar-imaging surveillance platform, launched out of Vandenberg last June. And four years after what was thought to be its last Iridium NEXT launch, another Falcon 9 will rise from Vandenberg carrying "up to five" of Iridium's remaining ground-spare satellites.
"The spare satellites have no utility to us on the ground," explained Iridium CEO Matt Desch, in remarks made last September. "We built extra satellites as an insurance policy and with SpaceX's stellar track record, we look forward to another successful launch, which will position us even better to replicate the longevity of our first constellation."
Moving deeper into the fall, a Falcon 9 will fly a pair of Arctic Satellite Broadband Mission (ASBM) spacecraft into highly elliptical orbits, ranging from a perigee of 5,000 miles (8,000 kilometers) to an apogee of 27,000 miles (43,000 kilometers), inclined 63.4 degrees to the equator. Flying on behalf of Space Norway, the ASBM twins will provide voice and data communications coverage at much higher latitudes than are currently feasible with existing geostationary-orbiting assets.