No sooner has the dust, smoke and noise cleared from Saturday's rousing pre-dawn launch of Dragon Endurance and her four-person, four-nation Crew-7 team—Commander Jasmin Moghbeli of NASA, Denmark's Andreas Mogensen, Satoshi Furukawa of Japan and Russian cosmonaut Konstantin Borisov—and teams are resetting and realigning for two more missions out of the Space Coast, the first as early as tonight. A three-times-used Falcon 9 is targeting liftoff from storied Space Launch Complex (SLC)-40 at Cape Canaveral Space Force Station, Fla., as early as 9:05 p.m. EDT tonight, with a United Launch Alliance (ULA) Atlas V also set to fly at 8:34 a.m. EDT Tuesday from neighboring SLC-41 with the highly classified NROL-107 Silent Barker payload for the National Reconnaissance Office.
Flying tonight's mission is B1080, which entered service back in May to lift Dragon Freedom and her Ax-2 crew of Commander Peggy Whitson, Pilot John Shoffner and Mission Specialists Ali Al-Qarni and Rayyanah Barnawi on a nine-day research expedition to the ISS. As well as including a pair of astronauts for Saudi Arabia, the all-private flight made history by its inclusion of the first Saudi female spacefarer.
B1080 logged a second launch early last month, when she delivered Europe's Euclid deep-space observatory uphill. In readiness for her third mission, the Autonomous Spaceport Drone Ship (ASDS), "Just Read the Instructions", put to sea out of Port Canaveral last weekend, bound for a recovery position offshore in the Atlantic Ocean.
For tonight's opening launch attempt, SpaceX is currently tracking four T-0 points between 9:05 p.m. EDT and 11:04 p.m. EDT, with weather predicted to be around 95-percent favorable. "Unseasonably dry conditions will persist through the launch window," noted the 45th Weather Squadron in a Friday update.
"With little moisture to tap into, northeasterly flow will bring only very isolated low-topped showers over the Space Coast," it was added. All told, that is expected to induce only a slight possibility of a violation of the Cumulus Cloud Rule.
A 24-hour delay to Sunday evening should see weather drop to around 80-percent-favorable, thanks to the anticipated development of a low-pressure system in the western Caribbean region and elevated chances of showers and onshore winds. Tomorrow's outlook includes four T-0 points between 8:40 p.m. EDT and 10:39 p.m. EDT.
Aboard B1080 for her third mission will be 22 "V2 Mini" Starlink satellites, set to be deployed about 65 minutes into tonight's flight. This will mark the 34th batch of these flat-packed, low-orbiting internet communications satellites to flown so far this year, which now totals over 1,300 Starlinks emplaced in orbit since the start of 2023.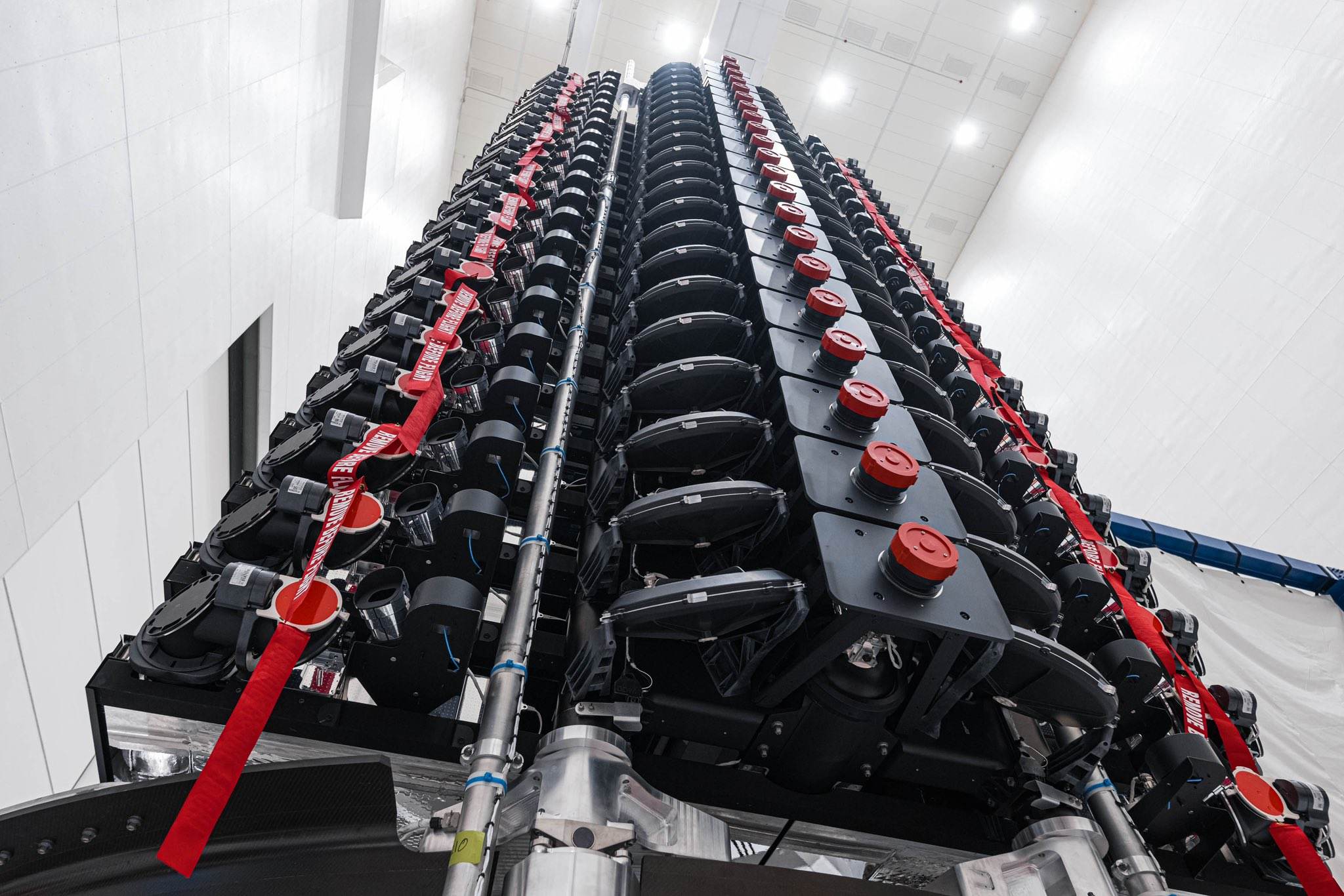 As a network, Starlink facilitates high-speed and low-latency internet provision to over 60 sovereign nations and international markets in North and South America, Europe, Asia, Oceania and Africa. Last month alone, Cyprus, Guatemala, Kenya, Malaysia and Malawi have signed up to the network and the Bahamas came online earlier in August.
Florida-based intercity operator Brightline adopted Starlink on its trains earlier in 2023, the first passenger rail service in the world to do so. Additionally, El Salvador's Ministry of Education has begun integrating Starlink capability into its schools to help close the digital divide between urban and remote rural communities and 50 Rwandan schools are now connected via Starlink's high-speed internet service.
Closing out August will be ULA's second mission of 2023—and its first Atlas V flight of the year—carrying the highly secretive NROL-107 Silent Barker payload for the National Reconnaissance Office, thought to be a Situational Awareness satellite destined for emplacement into near-geosynchronous orbit. Original plans called for NROL-107 to fly in Fiscal Year 2022, although last fall a delay until the end of 2023 appeared likely. According to original contracts, awarded by the Air Force in February 2019, this flight—part of a three-launch, $441.76 million deal with ULA—has also slipped substantially from its placeholder of the second quarter of Fiscal Year 2022 to the third quarter of 2023.
"Silent Barker is designed to detect and maintain custody of space objects," explained ULA. "Silent Barker will provide the capability to search, detect and track objects from space-based sensors for timely custody and event detection.
"Surveillance from space augments and overcomes existing ground-sensor limitations with timely, 24-hour, above-the-weather collection of satellite metric data, only possible with a space-based sensor," it continued, "and then communicates its findings to satellite operators, analysts and other mission users."
Last month, the Atlas V Common Core Booster (CCB) was stacked inside SLC-41's Vertical Integration Facility (VIF) and the five Graphite Epoxy Motor (GEM)-63 strap-on boosters were added to the stack. At liftoff, the boosters and the CCB's Russian-heritage RD-180 engine will generate over 2.3 million pounds (1.4 million kilograms) of thrust to lift the Atlas V and its Silent Barker payload airborne.
More recently, a countdown rehearsal was conducted at SLC-41 in mid-August and last week the payload—encapsulated inside its 17.7-foot-diameter (5.4-meter) fairing—was added to the Atlas V, topping off the rocket at 196 feet (59.7 meters) tall. And on Thursday, ULA teams completed the Launch Readiness Review (LRR) and verified their commitment to proceed with Silent Barker's opening launch attempt at 8:34 a.m. EDT Tuesday. Rollout of the Atlas V to the pad was completed Friday.
Weather for Tuesday's opening launch attempt is currently about 65-percent favorable, deteriorating to just 40 percent in the event of a 24-hour slip to Wednesday. "The weather will become quite active next week, as an area of low pressure moves into the Gulf of Mexico," the 45th reported on Friday, with an increased storm chance.
"The National Hurricane Center has given the system a 70-percent of development in the next seven days," it ominously concluded. "While there is still disagreement among the global models regarding the position, timing and intensity of this potential storm, the general consensus is that the storm will approach Florida's west coast.
"By Tuesday morning, most of the models have the system to our southwest, somewhere in the Eastern Gulf," the 45th cautioned. "The main concerns will be any showers that develop from outer bands and anvil clouds blowing off from the main area of convection in the Gulf."