SpaceX has wrapped up October as its third back-to-back nine-launch month of the year, following Monday's successful 7:20 p.m. EDT liftoff of a veteran Falcon 9 booster from storied Space Launch Complex (SLC)-40 at Cape Canaveral Space Force Station, Fla. Aboard the mission was a 23-strong Starlink "batch" of internet communications satellites, destined for emplacement into low-Earth orbit.
Flying last night's mission was B1077, one of only a handful of boosters so far to have logged as many as seven launches in 2023. She entered service last October to lift Dragon Endurance and her Crew-5 complement of NASA astronauts Nicole Mann and Josh Cassada, Japan's Koichi Wakata and Russian cosmonaut Anna Kikina for their five-month International Space Station (ISS) increment.
Since then, she picked up a full plate of 2023 missions, launching over a hundred Starlinks on three flights between March and last night, plus the U.S. Space Force's latest Block III Global Positioning System (GPS) spacecraft in January, the geostationary-bound Inmarsat 6-F2 and Galaxy-37 communications satellites and the most recent Cargo Dragon to the ISS. Having seen so much action, B1077 is responsible for almost a tenth of the year's record-setting 74 (and counting) Falcon 9 missions so far.
Her octet of flights saw her last October form half of a pair of boosters which established a new record—now broken—of just nine hours and ten minutes between two Falcon 9 flights. And in March, she closed out SpaceX's first-ever eight-launch month.
In readiness for the eighth flight of her career, the Autonomous Spaceport Drone Ship (ASDS), "Just Read the Instructions", put to sea out of Port Canaveral last week, bound for a recovery location about 390 miles (630 kilometers) offshore in the Atlantic Ocean. Launch was originally targeted two nights ago, with no less than eight discrete T-0 points between 7:45 p.m. and 10:47 p.m. Sunday, but the countdown was automatically halted—after the Launch Director (LD) had issued a "Go for Launch"—at T-30 seconds.
That proved a pity, for the Space Coast's weather was remarkably fine on Sunday, trending towards 85-percent favorability, with an improvement to around 90 percent for Monday. According to the 45th Weather Squadron at Patrick Space Force Base, a surface ridge extending across the southeastern United States was expected to weaken by Monday, bringing a reduced risk of local winds, but retaining the primary weather concern of onshore-moving cumulus clouds.
Heading into a 24-hour turnaround, a further eight backup opportunities to close out October extended from 7:20 p.m. through 10:22 p.m. Monday, with deployment of the 23-strong Starlink stack expected 65 minutes into the mission. And without further ado, B1077 sprang from SLC-40 into the post-sunset darkness on the opening T-0 point of Monday evening, powering uphill under the 1.5 million pounds (680,000 kilograms) of thrust from her nine Merlin 1D+ engines.
It was SpaceX's ninth launch of October, counting eight "single-stick" Falcon 9 flights and a triple-barreled Falcon Heavy, which earlier in the month lofted NASA's Psyche spacecraft on a multi-year trek to a potato-shaped, metal-rich asteroid of the same name. Having passed its first eight-launch month in March, the Hawthorne, Calif.-headquartered launch services organization has flown nine times apiece in August, September and now October, bringing to 78 the total number of missions, including four Heavies.
That equates to a launch every 3.88 days, a substantial uptick on last year's average of a mission every 5.9 days. And with 2022 having closed out on a record 61 flights, the running total so far makes it not unreasonable to expect as many as 94 launches before the New Year's Eve bell next tolls.
Sixty-five minutes after last night's flight, the 23 miniaturized "V2 Mini" Starlinks—totaling some 40,600 pounds (18,400 kilograms)—were successfully deployed, bringing to more than 1,700 the total number of these flat-packed internet communications satellites orbited so far this year. As a network, Starlink facilitates high-speed and low-latency internet provision to over 60 sovereign nations and international markets in North and South America, Europe, Asia, Oceania and Africa.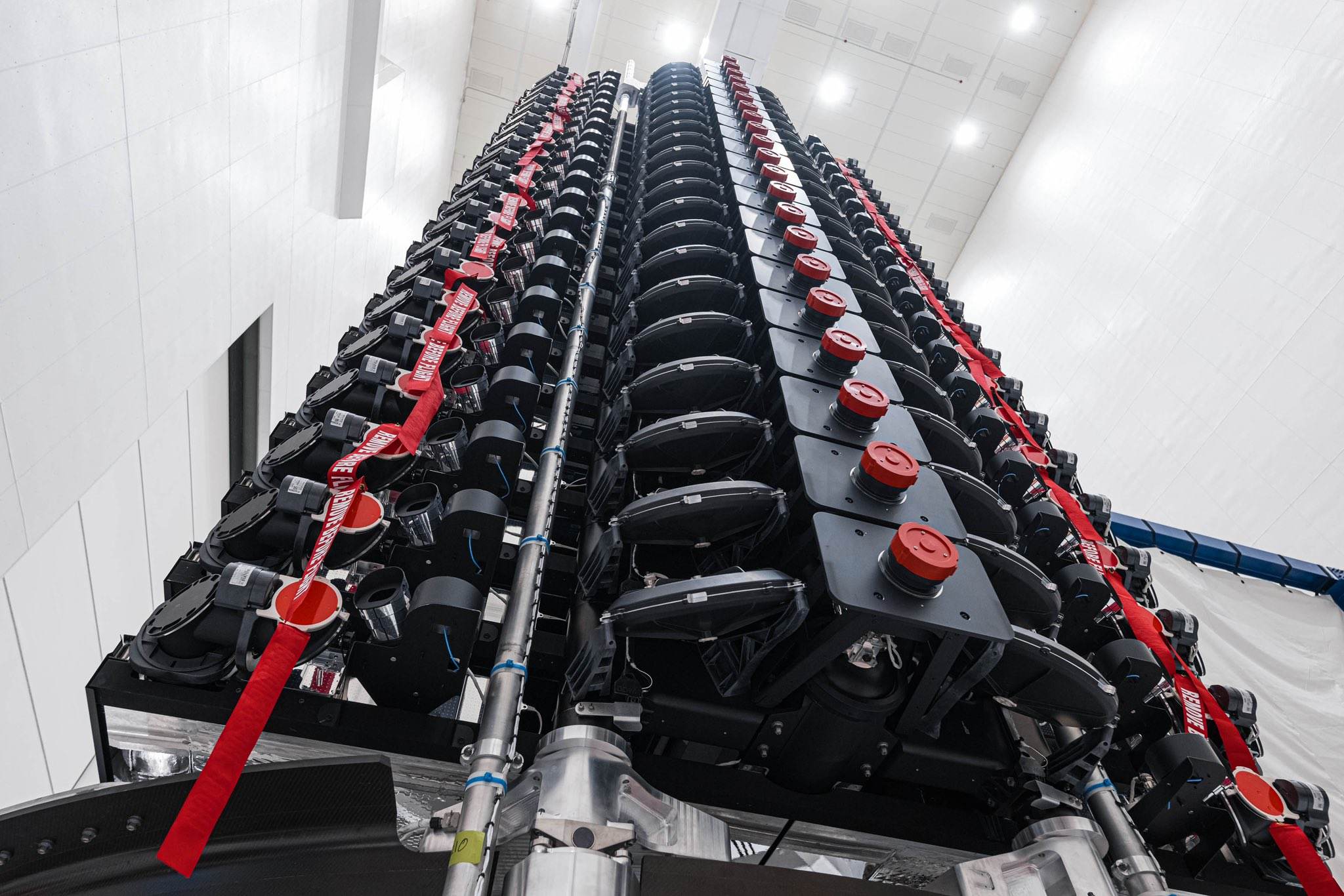 The Starlink V2 Minis, first flown in February, boast three to four times greater "usable" bandwidth than earlier Starlink iterations. "V2 Minis include key technologies—such as more powerful phased-array antennas and the use of E-Band for backhaul—which will allow Starlink to provide 4x more capacity per satellite than earlier iterations," SpaceX explained. "Among other enhancements, V2 Minis are equipped with new argon Hall thrusters for on-orbit maneuvering."
As a network, Starlink facilitates high-speed and low-latency internet provision to over 60 sovereign nations and international markets in North and South America, Europe, Asia, Oceania and Africa. The Bahamas came online in August and Zambia became the sixth African nation to sign up to the network earlier this month.
Florida-based intercity operator Brightline adopted Starlink on its trains earlier in 2023, the first passenger rail service in the world to do so. Additionally, El Salvador's Ministry of Education has begun integrating Starlink capability into its schools to help close the digital divide between urban and remote rural communities and 50 Rwandan schools are now connected via Starlink's high-speed internet service.
As SpaceX heads into November, its busy manifest shows no sign of abating, with the multi-payload Transporter-7 mission slated from Vandenberg Space Force Base, Calif., and a group of flights from the Space Coast, including the Space Force's highly classified USSF-52 atop a Falcon Heavy, a pair of O3b mPOWER broadband satellites for Luxembourg-based SES and the next Cargo Dragon to the ISS on Sunday.