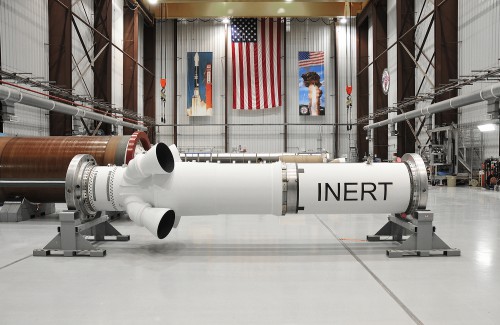 CAPE CANAVERAL, Fla — Preparations to send the first Orion Multi-Purpose Crew Vehicle into orbit has passed yet another milestone on the road to launch. The spacecraft's launch abort motor was delivered to NASA's Kennedy Space Center in Florida. Given that the Exploration Flight Test (EFT-1) will be an unmanned test flight, the motor has been filled with inert propellant.
This Launch Abort System (LAS) will be virtually identical to the real thing in every other way. These engines are used to pull the capsule away from the launch vehicle in case of an accident involving the launch vehicle. The LAS is only able to pull the crew away either on the launch pad or on ascent. After Orion reaches orbit, the LAS is jettisoned.
As it will not have a crew, NASA technically does not require the EFT-1 version of Orion to have a LAS. However, it will serve NASA's objectives of simulating the weight of an actual Orion spacecraft, as well as the aerodynamic forces it undergoes on ascent.
"As a former NASA astronaut, and as a leader at ATK who is responsible for providing this motor for the launch abort system, I'm keenly aware of the requirements around safety. This system is enabling greater levels of safety than we've ever seen before," said Charlie Precourt, a four-time shuttle astronaut who currently serves as ATK's vice president and general manager of the company's Space Launch Division. "Our motor is designed to instantaneously provide around 400,000 pounds of thrust to lift the Orion capsule and crew safely away from the launch vehicle in the event of an abort."
NASA currently has the EFT-1 mission scheduled to take place no-earlier-than September 2014. This mission, however, will be dramatically different from the "normal" mode of orbital transportation that Orion is planned to use. EFT-1 will be launched atop a United Launch Alliance Delta IV Heavy rocket from Cape Canaveral Air Force Station's Space Launch Complex 37 in Florida.
EFT-1's main mission is to test out the viability of the Orion MPCV—more precisely, it's heat shield. To do this, the spacecraft will travel more than 3,600 miles away from Earth. Upon its return, the spacecraft will be traveling at an estimated 20,000 miles per hour (32,187 kilometers per hour). In some ways, the data collection that is being conducted on this flight harkens back to the early days of the Apollo Program. Similar data analysis was conducted on the unmanned Apollo 4 mission.
After this flight, the Orion MPCV will use NASA's new Space Launch System, or "SLS," to reach orbit. This massive rocket resembles a mix between the enormous Saturn V rocket and the space shuttle in its fully-stacked configuration.
If all goes according to plan, after EFT-1 there will be two additional test flights of the LAS before it is put to the ultimate test—a manned mission, currently slated to take place in 2020.
This version of the LAS was ground-tested in 2008 and flight-tested in 2010. During the flight test, known as Pad Abort 1, or "PA-1," a LAS lofted Orion some 6,000 feet into the skies above White Sands Missile Range in New Mexico.
Measuring some three feet in diameter, the LAS is more than 17 feet tall. According to a press release issued by ATK, this abort motor employs turn-flow rocket manifold technology.
"Our launch abort motor is critical to ensuring safety, allowing for a greater reduction in risks for crewed flights," Precourt said. "ATK is proud to be a part of the Orion EFT-1 team. This is an important milestone for America's new human exploration program, which includes Orion and the Space Launch System, with a heavy-lift capability to take crew and cargo on missions to the Moon, asteroids and eventually Mars."
NASA's current plan is to empower private space companies to handle access to destinations in low-Earth orbit (primarily the International Space Station), while the space agency journeys to points beyond the orbit of Earth. These include the Moon, asteroids, and, potentially, Mars.
NASA, through firms such as ATK, has decades of experience in developing launch abort systems, such as the one that will be used on EFT-1. To date, no commercial company has launched any astronauts and only one company, SpaceX, has been able to send its unmanned Dragon spacecraft to the space station.