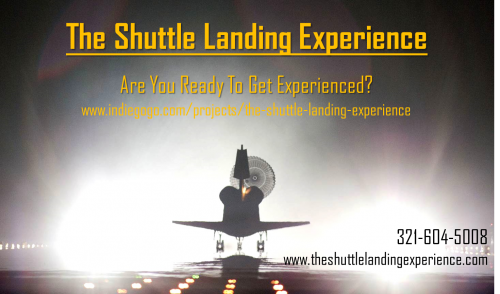 The Shuttle Landing Experience, helmed by pilot John Godfrey, has opened an Indiegogo campaign to raise awareness of its goal: to provide anyone with the experience of space-age technology at an affordable price. 
The Shuttle Landing Experience allows its participants to dress in a flight suit and descend just 100 feet over the shuttle landing strip, just like an astronaut. Three different levels are offered, depending on how much of an astronaut you are. Flights start at only $49 and originate from Arthur Dunn Airpark in Titusville on Florida's beautiful Space Coast, just miles from NASA's Kennedy Space Center.
The campaign will run through July 15. Those who contribute can receive a variety of perks, including Shuttle Landing Experience patches, mugs, polo shirts, and flights. For more information, visit www.indiegogo.com/projects/the-shuttle-landing-experience. The Shuttle Landing Experience is an opportunity fans of the shuttle program won't want to miss!
This is a paid advertisement for The Shuttle Landing Experience.
Want to keep up-to-date with all things space? Be sure to "Like" AmericaSpace on Facebook and follow us on Twitter:@AmericaSpace