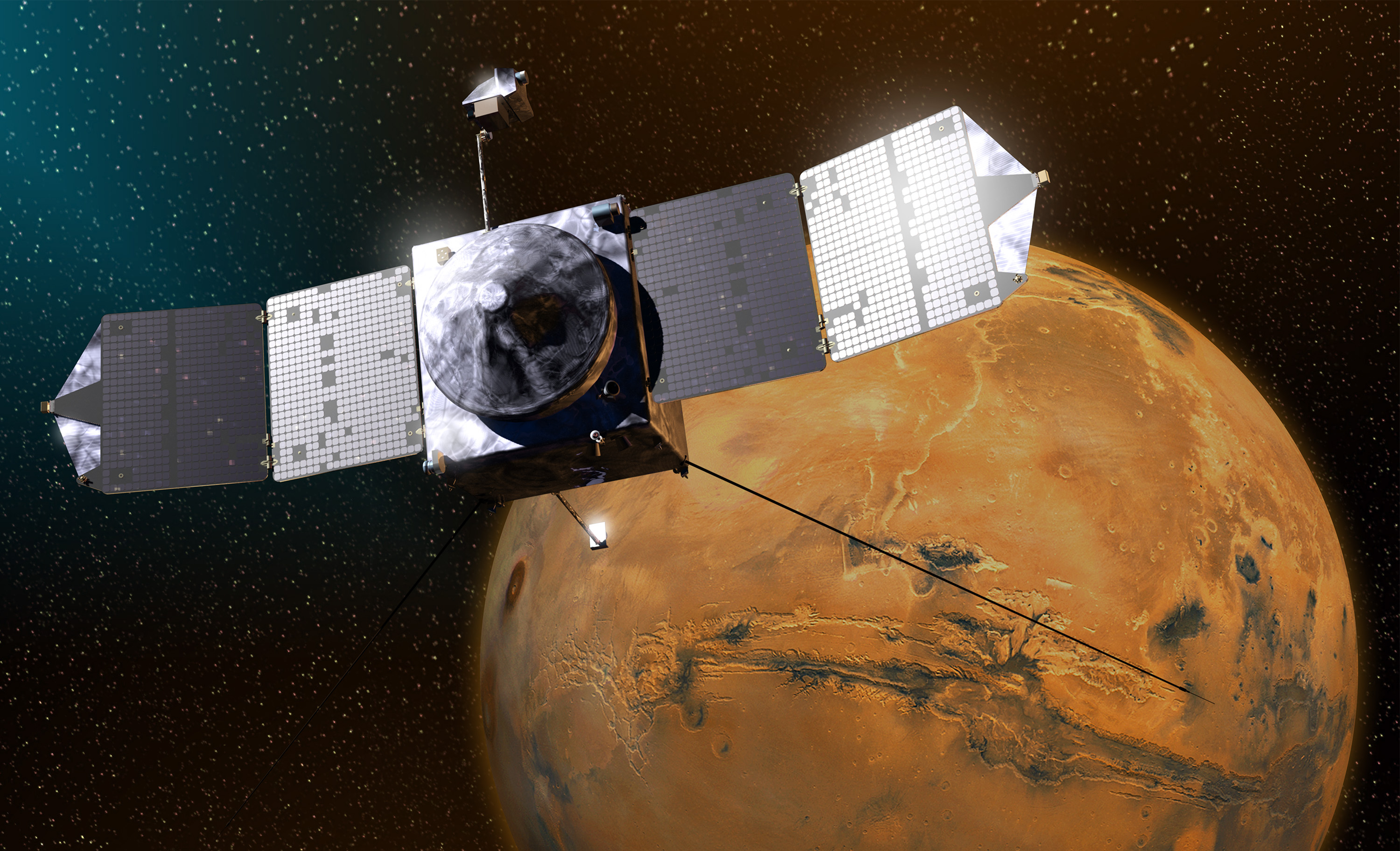 After a decade of hard work and intricate preparations and an interplanetary voyage of over 700 million kilometers (400 million miles), NASA's newest Mars orbiter, MAVEN, has completed its commissioning phase and transitioned over to start its full on science mission to investigate the planet's astrobiological potential over the eons.
"The MAVEN spacecraft completed its commissioning activities on November 16 and has formally begun its one-year primary science mission," said MAVEN principal investigator Bruce Jakosky, of the Laboratory for Atmospheric and Space Physics at the University of Colorado, Boulder, in a mission update.
The $671-million MAVEN spacecraft's goal is to study Mars' upper atmosphere in detail for the very first time by any spacecraft and to explore the mechanisms of how the planet lost its atmosphere and water over billions of years as well as determine the rate of atmospheric loss.
Scientists will use these loss rate observations to correlate when the Red Planet underwent dramatic climate change and transitioned from its ancient, water-covered past to the cold, dry, dusty world it has become today.
MAVEN, which stands for the Mars Atmosphere and Volatile Evolution spacecraft, achieved orbit around the Red Planet on Sept. 21, 2014, after successfully completing the crucial Mars Orbit Insertion (MOI) thruster braking maneuver following a 10-month journey from Earth.
Following MOI, MAVEN was initially in a 35-hour highly elliptical capture orbit at a 75-degree inclination and a periapsis of 236 miles (380 km).
During the six-week long commissioning phase, all the science instruments were activated and painstakingly checked out and calibrated, instrument booms and caps were deployed, and the orbit was gradually adjusted and lowered with seven additional thruster firings to its final 4.6-hour science mapping orbit.
"Spacecraft commissioning, in what the MAVEN team called its "transition phase", included adjusting the orbit to get into its science orbit, deploying the booms that hold a number of the instruments away from the spacecraft, ejecting the Neutral Gas and Ion Mass Spectrometer (NGIMS) instrument cover, turning on and checking out each of the science instruments, and carrying out calibration activities for both the spacecraft and the instruments," Jalosky explained.
The probe can now conduct its regular observations of the Martian upper atmosphere, ionosphere, and solar-wind interactions.
Over the course of its one-Earth-year primary mission, MAVEN will observe all of Mars' latitudes from its elliptical orbit at altitudes ranging from a low point (periapsis) of about 150 km (93 miles) above the surface to an upper point (apoapsis) as high as about 6220 km (3800 miles).
MAVEN is the first spacecraft from Earth dedicated to exploring the tenuous upper atmosphere of Mars.
It actually began collecting some science measurements within eight hours of orbit capture because the probe will never again be at its initially high orbit and because of the completely unplanned and unexpected close flyby of the Oort cloud comet Siding Spring in mid-October.
"This period also included the close approach of Comet Siding Spring, which whizzed by Mars at a distance of only ~135,000 km on October 19," says Jakosky.
So the current beginning of science observations is actually a "soft start."
"The instruments started making science measurements almost as soon as we were in orbit, and some instrument calibration activities will be continuing throughout the mission," elaborates Jakosky.
"From this capture orbit, which took the spacecraft to much higher altitudes than our science-mapping orbit will, we used the Imaging Ultraviolet Spectrograph (IUVS) instrument to observe the extended clouds of hydrogen, carbon, and oxygen surrounding the planet. These "coronae" extend out to more than ten planetary radii, and this orbit allowed us to make measurements of the clouds' spatial extent to higher altitudes than we can during the primary mission."
The primary mission includes five "deep-dip" campaigns, in which MAVEN's periapsis, or lowest orbit altitude, will be lowered from 93 miles (150 kilometers) to about 77 miles (125 kilometers). This marks the lower boundary of the planet's upper atmosphere.
These "deep-dip" measurements will provide information down to where the upper and lower atmospheres meet, giving scientists a full profile of the upper tier.
The 5,400-pound MAVEN probe carries nine sensors in three instrument suites to study why and exactly when did Mars undergo the radical climatic transformation.
The Particles and Fields Package, provided by the University of California at Berkeley with support from CU/LASP and NASA's Goddard Space Flight Center in Greenbelt, Md., contains six instruments to characterize the solar wind and the ionosphere of Mars. The Remote Sensing Package, built by CU/LASP, will determine global characteristics of the upper atmosphere and ionosphere. The Neutral Gas and Ion Mass Spectrometer, built by Goddard, will measure the composition of Mars' upper atmosphere.
"I'm really looking forward to starting our science!" Jakosky said.
MAVEN aims to discover the history of water and habitability stretching back over billions of years on Mars. It will answer key questions about the evolution of Mars, its geology, and the potential for the evolution of life.
The science instruments will measure current rates of atmospheric loss to determine how and when Mars lost its atmosphere and water.
"MAVEN is an astrobiology mission," says Jakosky.
Mars was once wet billions of years ago, but no longer. Now it's a cold arid world, not exactly hospitable to life.
"We want to determine what were the drivers of that change?" said Jakosky. "What is the history of Martian habitability, climate change and the potential for life?"
MAVEN thundered to space a year ago, on Nov. 18, 2013, following a flawless blastoff from Cape Canaveral Air Force Station's Space Launch Complex 41 atop a powerful United Launch Alliance Atlas V rocket.
MAVEN, along with India's newly arrived and first ever interplanetary probe the Mars Orbiter Mission (MOM), joins a record-breaking armada of seven Earth spacecraft exploring the Red Planet.
Scientists from MAVEN, MOM, Curiosity, Opportunity, and all the orbiters will work in concert utilizing all the data to elucidate the history of Mars potential for supporting life—past and present.
For more on the construction of NASA's next Mars lander—InSight—launching in 2016, read here.
Stay tuned here for continuing developments regarding Earth's "Missions to Mars."
Want to keep up-to-date with all things space? Be sure to "Like" AmericaSpace on Facebook and follow us on Twitter: @AmericaSpace