In the world of space enthusiasts and collectors, one couldn't find someone more dedicated than the late Leon Ford, who passed away suddenly in 2014. Ford's passion and openness gained him friends such as Mercury/Gemini/Apollo nurse Dee O'Hara and Apollo 15 astronaut Al Worden. In addition, he was a dedicated patron of the Astronaut Scholarship Foundation (ASF). Ford was instrumental in bringing in Louisiana State University (LSU), his alma mater, as one of its partnering universities. Lawrence McGlynn, a fellow space enthusiast, spoke of his friend's legacy: "Leon had one of the major collections in the world. He knew many of the astronauts personally through his collecting. Leon also advocated for children's education in math and the sciences. That is why he supported the ASF so strongly. His support of the ASF will be one his legacies."
This week, Ford's legacy will be celebrated in a live auction consisting of rare and hard-to-find items from his estate. On Thursday, June 25, RR Auction will hold a live sale at the Royal Sonesta Hotel, located in Cambridge, Mass., beginning at 1 p.m. EDT (at present time, interested parties can also bid in an online auction). In addition, on Wednesday, June 24, a fundraiser dinner will be held to benefit Ford's beloved ASF at Davio's Northern Italian Steakhouse, located at 75 Arlington St. in Boston.
Ford's collection to be auctioned boasts items such as Charles "Pete" Conrad's flown-in-space Apollo 12 backpack strap, a flown American flag patch worn by Al Worden during Apollo 15, a checklist used by Gene Cernan during his Gemini 9A spacewalk, and Buzz Aldrin's Personal Preference Kit (PPK) flown on Apollo 11, among many other notable items, including scores of autographs. These items have been authenticated and, in some cases, double authenticated.
McGlynn spoke of Ford's impressive collection; while many space enthusiasts collect items such as autographs and patches, Ford was described often as a completist: "Leon collected based on the theory of quality over quantity. He had some of the very best material out in the hobby. Leon was also one of the first collectors to share his collection with the public via the Internet. He had some extremely rare artifacts in his collection. The definition of rare being one of a few available objects of a similar type. The astronauts may have carried many flags and patches to the Moon, but only a rare few backpack straps ever came back to Earth."
A fellow enthusiast (and co-author of the book Marketing the Moon), Richard Jurek, also discussed Ford's unique credentials as a collector: "Leon was a consummate collector, in that it all appealed to him. Some collectors tend to specialize in certain sub-genres, like autographs and manuscripts, flags, Robbins medallions or flown hardware … that sort of thing. Not Leon. He collected it all: Autographs, manuscripts, hardware, Robbins medallions, maps, flags … you name it. At one point, he had one of the finest collections in the hobby. But Leon didn't just collect things; Leon also collected experiences. For him, the objects were part of the passion, but the other (perhaps more important) part for him was the experience of researching and acquiring the artifact, talking to the astronauts about it, and sharing those experiences with fellow collectors."
Another facet of Ford's love of spaceflight and space "experiences" involved ASF. Tammy Knowles, ASF's executive director, discussed how Ford aided the foundation for years: "He had been a longtime supporter. He was the type of guy … he'd come to the event and the first question he'd have for staff was not, 'What am I getting out of this?' He'd ask them, 'Do you need something to drink? Can I pick you up something?' He was always thinking about how everyone else around him was feeling. [In terms of collecting] he was the leader. He was the 'grandfather' to all of those who collected space items." Before his passing, there were talks of Ford being admitted to ASF's Board of Trustees.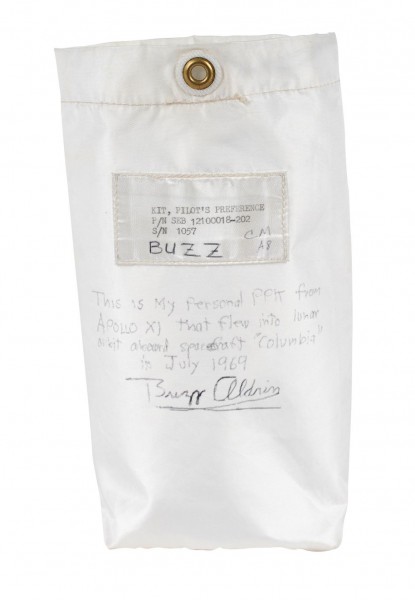 Bobby Livingston, executive vice president of RR Auctions, underscored the historical significance of Ford's collection, and his legacy: "Leon Ford had a very keen eye for the highest quality pieces and devotion to building complete sets, resulting in one of the most comprehensive space assemblages—not only in size, but its scope and quality. Beyond that he will be remembered having touched all who knew him [and by] giving back to the field that meant so much to him.
"When it comes to collecting space memorabilia, pieces that have been on the lunar surface, with an astronaut, are by far the most highly sought after and significant. Conrad became the third human to step onto the lunar surface and knowing that this backpack strap was used on the lunar surface during both of his moonwalks, for nearly eight hours—makes it a truly remarkable piece. … It is a very important responsibility when one takes ownership of such museum quality pieces. That's why we take such great care and effort in our role to help preserve these items for future generations to enjoy."
Livingston added: "Ford was what we call a 'completist.' His collection painstakingly includes and recognizes those who played a critically important role in helping to achieve some of the greatest technological and engineering achievements of the 20th Century. There is an incredible amount of interest and enthusiasm in the space genre—it is by far one of our most popular offerings." Moreover, Livingston stated that part of the auction's profits will go to aiding Ford's widow, Donna, while the proceeds from the dinner will benefit ASF; they are hoping to raise $10,000 for LSU, in a bid to start a scholarship in his name.
Besides being a consummate collector and space buff, Ford has left a void in his friends' lives in other ways. Another close friend, Steve Wirth, related: "[Leon] would always ask you, 'Is everything okay?' He would always ask that. He was the kind of guy who was always concerned about how you were doing. He was more concerned about others than himself, actually … He really got me into space collecting, and all sorts of things. But he was just a wonderful, caring, compassionate guy who would do anything for you, and [he was] very unassuming. He was never one to be boastful or have braggadocio, if you will." It seems very fitting that the man who asked very little for himself will now be remembered for how his collection, and legacy, benefited students' lives for the better.
Video Credit: RR Auction/Mike Graff. For more information about the Leon Ford auction, please visit RR Auction online.
Be sure to "Like" AmericaSpace on Facebook and follow us on Twitter: @AmericaSpace