Astronaut Kevin Ford—who piloted one of the twilight missions of shuttle Discovery's glittering career, before commanding the International Space Station (ISS) for over 100 days—departed NASA on Friday, 29 January. The retired Air Force colonel had spent more than 15 years as a member of the Astronaut Office and, including his extensive military career, had spent more than three decades in U.S. Government service. Ford served as pilot of STS-128 in August-September 2009, which delivered more than 15,000 pounds (6,800 kg) of equipment and supplies to the ISS and performed a rotation of long-duration U.S. crew members, before returning to the space station in October 2012 as part of Expedition 33. A month later, he rotated into the command of Expedition 34, leading an increment which he had dubbed "Off the Earth … For the Earth," through March 2013. All told, Ford accrued more than 157 days in orbit, across his two space missions.
"Kevin has served the office in a number of ways over the years, and we will certainly miss him," reflected Chief Astronaut Chris Cassidy. "I had the pleasure of serving as his backup for his space station mission and consequently spent many weeks in Russia and Kazakhstan with him. Personally, I will miss his sense of humor and special insight into technical issues. He is a great American and true friend. We all wish him well and have no doubt that he will bring a great deal of valuable experience to all of his future endeavors."
Kevin Anthony Ford was born in Portland, Ind., on 7 July 1960, but grew up in the small town of Montpelier, in the northeast corner of the state. "It's a rural community; about 2,000 people, a very much hometown USA kind of thing," he told a NASA interviewer, years later. "I was lucky enough to get to know most of the people in the town, while I lived there, all the way through high school and just a great community with things like volunteer fire department, just a few churches. I could see my elementary school from my front porch and my middle school and, you know, one doctor, one dentist, that sort of thing. It was just a really nice, close-knit community and a really great place to grow up."
In his formative years, Ford was signed up by his father to help bale hay in the summer and developed an innate love of exploration. Aged about 13, he stumbled upon Carrying the Fire—the memoir of Apollo 11 Command Module Pilot (CMP) Mike Collins—and was fascinated by its aviation and test-piloting aspects, as much as its spacefaring core. "That made me start to put my eyes on the skies," he rememebered, "and my brother, who had owned that book, was also a private pilot." David Ford took him for his first airplane ride, "and I just really, really loved it", before receiving a job at a local grocers as a means of paying for flying lessons. "I made about $54 a week and spent it on two flying lessons every week at the age of 16 and was able to get a license then pretty early." An aviation career certainly beckoned for Ford, and although he was aware of space travel, by his own admission "it was really kind of beyond my dreams … at that point in my life."
He graduated from high school in 1978, with a keen idea of where he intended his future career to take him. "As a pilot, it's one kind of level of knowledge to be able to operate an airplane," Ford said later, "but really what makes them tick also interested me and I wanted to fly, but I also wanted to learn all I could about aviation and just make aviation my life." He received an Air Force Reserve Officers Training Corps (ROTC) scholarship to study aerospace engineering at the University of Notre Dame and, upon receiving his degree in 1982, was commissioned into the Air Force. He undertook primary jet training at Columbus Air Force Base, Miss., before transitioning to the F-15 Eagle and deploying to Bitburg Air Base in Germany from 1984-1987 as part of the 22nd Tactical Fighter Squadron. Ford's next assignment was to the 57th Fighter Interceptor Squadron at Keflavik Naval Air Station Iceland, through 1989. At the height of Cold War, Ford could never have imagined that he would one day fly aboard a Russian Soyuz spacecraft; indeed, whilst based in Iceland, on several occasions he "joined up on the wings" of Tupolev Tu-95 Bear bombers, whilst flying in the North Atlantic Ocean.
"I was lucky enough while I was in the Air Force to have a tuition assistance program," he remembered, "where you could get advanced degrees, so I took advantage of that for a couple of advanced degrees on my own time." In 1989, he earned a master's credential in international relations from Troy State University, followed by a second master's in aerospace engineering in 1994 from the University of Florida. Dovetailed into these academic studies was his ongoing military career, which carried him through Test Pilot School (TPS) at Edwards Air Force Base, Calif., in 1990—graduating with distinction—and saw him fly test missions in the F-16 Fighting Falcon at Eglin Air Force Base, Fla., through 1994. One of Ford's contemporaries at TPS was Eileen Collins, who went on to become an astronaut and America's first female shuttle commander. It was Collins' example which led him to realize that "almost all" test pilots apply for NASA. "We heard that NASA usually looks at people with the test pilot ticket to take those jobs," said Ford.
His work at Eglin involved F-16 "flutter" testing, development of the ALE-47 Countermeasures Dispenser System and multiple safe separation, ballistics and air-to-air missile development tests, including the first Advanced Medium-Range Air-to-Air Missile (AMRAAM) shot from the F-16 Air Defense Fighter variant. By now a major, he was offered the opportunity to study for his doctorate at the Air Force Institute of Technology at Wright-Patterson Air Force Base, near Dayton, Ohio, and graduated in 1997 with a PhD in astronautical engineering. During this period, Ford put in applications to NASA for each recruitment cycle, but was rejected for both the 15th astronaut class in December 1994 and the 16th class in May 1996. "I'm kind of one of those stories about persistence," he said.
Following his PhD, Ford served as Director of Plans and Programs at Edwards, as well as a flight and academics instructor, from 1997 through 2000, during which time he taught flight-test techniques on the F-15 and F-16, as well as gliders. He also received the David B. Barnes Outstanding Flight Instructor Award during this timeframe. At length, in July 2000, and by now a lieutenant-colonel, he was selected as one of seven shuttle pilots in NASA's 18th group of astronaut candidates. This made him only the second shuttle pilot (after Scott "Doc" Horowitz) to hold a PhD. He undertook two years of initial training and subsequently worked technical duties in the Astronaut Office, focusing on advanced exploration issues and tests of the shuttle cockpit avionics upgrade. In the aftermath of the Columbia disaster and the subsequent downtime, Ford served as NASA's manager of operations at the Star City training center, on the forested outskirts of Moscow, through 2004, before becoming a Capcom at the Johnson Space Center (JSC) in Houston, Texas from 2005-2008, during which he provided the voice of Mission Control for six shuttle flights—STS-115, STS-116, STS-117, STS-120, STS-122, and STS-123—ahead of his first mission assignment.
In July 2008, a month after retiring from the Air Force with the rank of colonel, Ford was named as pilot for STS-128. Originally targeted for launch at the end of July 2009, the mission—designated Assembly Flight 17A and tasked with delivering cargo and supplies aboard the Leonardo Multi-Purpose Logistics Module (MPLM)—eventually rose to orbit on 28 August and accomplished a smooth docking at the space station two days, under the deft control of Ford and Commander Rick "C.J." Sturckow. Over the course of Discovery's 14 days in orbit, Ford oversaw the robotic removal of the Leonardo MPLM from the payload bay and its installation onto the Earth-facing (or "nadir") port of the Harmony node, as well as supporting a trio of EVAs by astronauts John "Danny" Olivas, Nicole Stott, and Sweden's Christer Fuglesang. The flight exchanged Shuttle-Rotating Crew Members (ShREC), delivering Stott to the ISS for a long-duration increment and bringing Tim Kopra home after more than eight weeks in orbit.
Ford was unable to see his hometown whilst aloft. "One of the interesting things about orbital dynamics is we had an orbit that took us into the darkness as we crossed the equator, northbound, and then into the daylight as we crossed the equator, southbound, for the whole two weeks," he said. As a result, everything in the northern hemisphere was in darkness and everything in the southern hemisphere was sunlit. That said, he was able to pick out Indianapolis, Fort Wayne, Lake Michigan, and Chicago.
Returning to Earth on 11 September, Ford's first space mission had seen him accrue 13 days, 20 hours, and 54 minutes aloft, including 219 circuits of the Home Planet. Although the shuttle program was entering its homestretch, he transitioned into long-duration ISS training and in July 2010 was announced as a member of the Expedition 33/34 crews, targeted to launch to the space station in October 2012. The assignment would see Ford initially serve as part of Expedition 33, under the command of NASA's Sunita Williams, before rotating into the command of Expedition 34, through March 2013. Flying into orbit aboard Soyuz TMA-06M, Ford would be joined by "rookie" Russian cosmonauts Oleg Novitsky and Yevgeni Tarelkin. Expedition 34 would be restored to six-man strength with the November 2012 arrival of the Soyuz TMA-07M crew of Russia's Roman Romanenko, U.S. astronaut Tom Marshburn, and Canada's Chris Hadfield.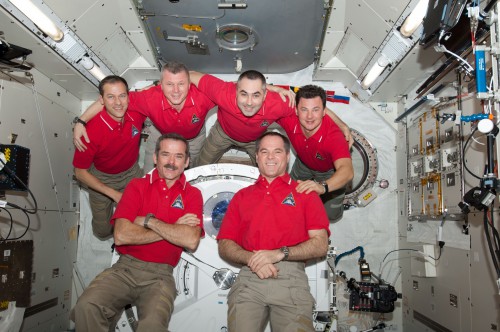 Before the launch of Soyuz TMA-06M, as a test pilot, Ford particularly looked forward to flying to the station aboard a quite distinct spacecraft—with ascent, rendezvous and re-entry profiles offering a polar opposite to shuttle—which he described as a "whole different way to skin the cat." He also noted that the "very high tempo" of his shuttle-centered role on STS-128 offered him precious little time to explore the ISS and that he looked forward to a long-duration flight and the opportunity to spend Sunday afternoons watching the Home Planet from on high.
Soyuz TMA-06M rocketed away from Baikonur Cosmodrome in Kazakhstan on 23 October 2012 and docked smoothly at the station two days later, folding into the incumbent Expedition 33 crew of Williams, Russian cosmonaut Yuri Malenchenko, and Japan's Aki Hoshide. A week later, Ford supported Williams and Hoshide on U.S. EVA-20, during their effort to resolve an ammonia coolant leak from Power Channel 2B on the station's P-6 truss, and in mid-November he took command of the ISS. Following the return of Williams' crew to Earth, Ford, Novitsky, and Tarelkin operated as a three-man increment for almost five weeks—during which time they celebrated Thanksgiving in orbit—and were joined by Soyuz TMA-07M and Romanenko, Hadfield, and Marshburn on 21 December.
All told, more than 240 experiments were conducted during Ford's Expedition 34, including 80 "new" investigations and technology demonstrations. In addition to an expansive workload of scientific research, Expedition 34 featured the departure and arrival of two Russian Progress cargo freighters, as well as the capture and berthing of SpaceX's second dedicated Commercial Resupply Services (CRS-2) Dragon in early March 2013. At length, Ford relinquished command to Hadfield, who would helm Expedition 35 as Canada's first ISS commander, and prepared for his return to Earth, alongside Novitsky and Tarelkin, on 15 March 2013. Touching down in north-central Kazakhstan, he had spent 143 days, 16 hours, and 15 minutes in space—and completed more than 2,200 orbits—which brought his career total to more than 157 days.
Be sure to "Like" AmericaSpace on Facebook and follow us on Twitter: @AmericaSpace