After more than a half-year on the ground, undergoing analysis and modification to recertify her for additional launches, SpaceX's most experienced in-service Falcon 9 will rise from the East Coast early Sunday for a record-breaking 16th time. Veteran B1058—first used to launch Demo-2 astronauts Doug Hurley and Bob Behnken aboard Dragon Endeavour in May 2020—is targeting liftoff at 4:36 a.m. EDT Sunday from storied Space Launch Complex (SLC)-40 at Cape Canaveral Space Force Station, Fla., laden with a payload of 22 Starlink low-orbiting internet communications satellites.
According to SpaceX, five T-0 points are available on early Sunday: if the initial 4:36 a.m. launch time is missed, backup options are spaced a little shy of an hour apart, at 5:27 a.m., 6:17 a.m., 7:08 a.m. and 7:58 a.m. And if tomorrow morning's weather proves unfavorable, four more opportunities are available after sunset tomorrow at 8:36 p.m., 9:27 p.m., 10:17 p.m. and 11:58 p.m.
Mother Nature is pledging her favor for a morning launch, with a 90-percent likelihood of acceptable conditions. "A late afternoon sea breeze collision will likely occur just west of the area each afternoon, with some storms pushing back across the Spaceport through the early evening hours," noted the 45th Weather Squadron at Patrick Space Force Base in a Friday update. "Though convection will generally end within an hour or two of sunset, leftover clouds may linger into the overnight hours.
"This will be the case late Saturday night, leading into the primary launch attempt early Sunday morning," it was added. "However, given the time of morning, lingering clouds are expected to be limited, with overall quiet weather concerns for launch as offshore flow keeps most nocturnal showers offshore."
This highly optimistic morning weather picture is expected to shift later on Sunday to hover somewhere between 60-percent favorability early in the "evening" window to 90-percent favorability closer to its end. "The remainder of Sunday will likely be a repeat, with few changes in the pattern," the 45th concluded. "The earlier timeframe will see a higher threat for remnant anvils and perhaps a surviving shower or storm in the vicinity. These should diminish through the window, with a lower threat by late evening."
In readiness for tomorrow's launch, the East Coast-based Autonomous Spaceport Drone Ship (ASDS), "Just Read the Instructions"—which has already retrieved 12 Falcon 9 cores this year to date—put to sea out of Port Canaveral overnight Wednesday, bound for a recovery position about 400 miles (640 kilometers) offshore in the Atlantic Ocean. It will be the 37th drone-ship landing overall so far in 2023.
But the star of the show will undoubtedly be B1058, which most recently became the first Falcon 9 to log a 15th launch last December, when she smoothly delivered a 54-strong Starlink stack, totaling 36,800 pounds (16,700 kilograms), into low-Earth orbit. Since the fleet-leaders were certified for a maximum of 15 flights, both B1058 and fellow life-leader B1060—which flawlessly executed her own 15th launch in January—saw their "active" status paused for a period of several months, as certification got underway to extend their lifetimes to as many as 20 flights.
B1058 has a chequered history and got off to a starring start on 30 May 2020, when she launched Dragon Endeavour and "Bob and Doug" on the United States' first human space mission in almost nine years, since the retirement of the Space Shuttle fleet. Hurley and Behnken spent nine weeks aboard the International Space Station (ISS) and supported dozens of research experiments and four sessions of Extravehicular Activity (EVA) with the incumbent Expedition 63 crew before returning home to a parachute-assisted splashdown—and the first U.S. water landing in more than four decades—off the Florida Coast, the following 2 August.
B1058 went on to fly 14 more times between July 2020 and last December, delivering 471 Starlinks, the ISS-bound CRS-21 Cargo Dragon, the multi-payload Transporter-1 and Transporter-3 rideshare missions and the ANASIS-II military communications satellite for the South Korean Armed Forces. And with her two Transporter missions featuring a total of 248 payloads between them, with her 16th launch tomorrow B1058 has deployed in excess of 700 large and small spacecraft during the course of her ongoing career.
Along the way, she established a new empirical record—now broken—of only 51 days between a pair of launches by the same orbital-class booster. Notably, her Transporter-1 mission in January 2021 orbited the largest number of separate payloads (143) ever lifted to orbit by a single U.S. orbital rocket. And last year, she became the first Falcon 9 in the fleet to fly a 14th and a 15th time.
It remains to be seen, of course, if B1058 will remain operational for up to 20 flights or beyond. During her first year of service, her mission-to-mission turnaround times averaged about seven weeks, with a personal best of only 27 days attained between a pair of flights in March and April 2021. As her flight-rate increased beyond her tenth launch in early 2022, however, spacing between missions increased from two to three months and more than a half-year has now passed since she most recently took to the skies.
Tomorrow's launch will deliver 22 of SpaceX's V2 "Mini" satellites uphill, marking the fifth batch of these downsized Starlinks to have been orbited since February. The Minis boast three to four times greater "usable" bandwidth than earlier Starlink iterations.
"V2 Minis include key technologies—such as more powerful phased-array antennas and the use of E-Band for backhaul—which will allow Starlink to provide 4x more capacity per satellite than earlier iterations," SpaceX explained. "Among other enhancements, V2 Minis are equipped with new argon Hall thrusters for on-orbit maneuvering."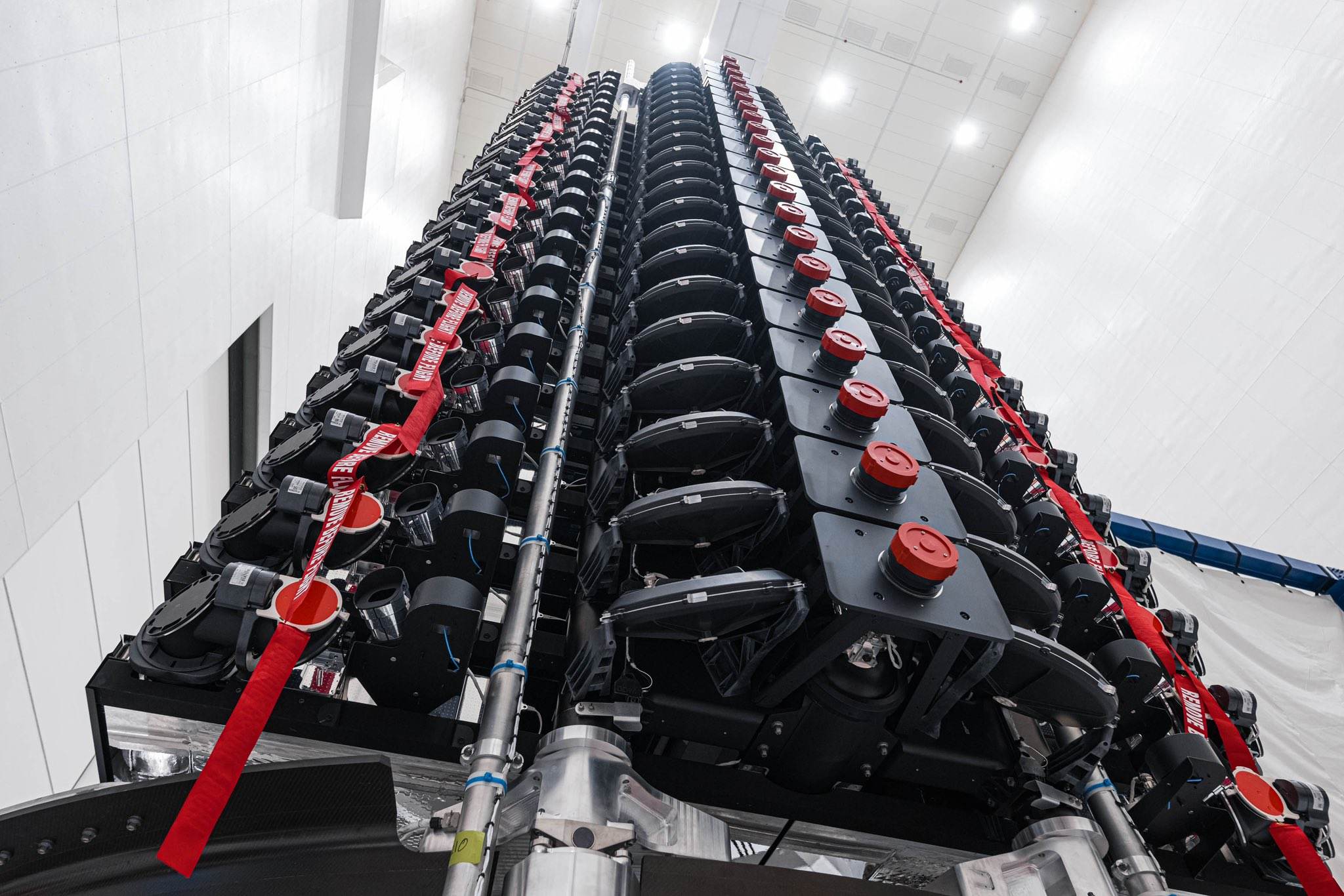 As a network, Starlink facilitates high-speed and low-latency internet provision across 56 sovereign nations and international markets in North and South America, Europe, Asia, Oceania and Africa. In recent weeks, Panama, Mozambique and Trinidad and Tobago signed up the network. And Florida-based intercity operator Brightline adopted Starlink on its trains earlier this year, the first passenger rail service in the world to do so.
Additionally, El Salvador's Ministry of Education has begun integrating Starlink capability into its schools to help close the digital divide between urban and remote rural communities. And SpaceX tweeted last month that 50 Rwandan schools are now connected via Starlink's high-speed internet service.
So far this year, 1,080 Starlinks have placed into orbit on 23 Falcon 9 missions, bringing the grand total of these flat-packed satellites launched since May 2019 to well north of 4,500. Deployment of Sunday's stack is anticipated about 62 minutes after launch.