After passing on eight T-0 points in the pre-dawn and post-sunset hours of Sunday, SpaceX successfully launched a record-breaking Falcon 9 just two minutes prior to midnight, laden with a stack of 22 Starlink low-orbiting internet communications satellites. Veteran core B1058—SpaceX's own "Sweet Sixteen"—turned night into day across the Space Coast, roaring uphill from storied Space Launch Complex (SLC)-40 at Cape Canaveral Space Force Station, Fla., at 11:58 p.m. EDT, to wrap up the third Falcon 9 mission of July.
In so doing, the booster which first entered service more than three years ago to launch Demo-2 astronauts Doug Hurley and Bob Behnken aboard Dragon Endeavour in May 2020 became the first to record as many as 16 missions. Last December, she became the inaugural Falcon 9 to log a 15th launch, but since the fleet-leaders were certified for a maximum of 15 flights, both B1058 and fellow life-leader B1060—which flawlessly executed her own 15th launch in January—saw their "active" status paused for several months, as certification got underway to extend their lifetimes to as many as 20 flights.
It remains to be seen, of course, if B1058 will remain active for 20 flights or beyond. During her first year of service, mission-to-mission turnaround times averaged about seven weeks, with a personal best of only 27 days attained between a pair of flights in March and April 2021. As her flight-rate increased beyond her tenth launch in January 2022, though, spacing between missions increased from two to three months and more than a half-year has now passed since she most recently took to the skies.
B1058 got off to a starring start on 30 May 2020, when she launched Dragon Endeavour and "Bob and Doug" on the United States' first human space mission in nearly nine years, since the retirement of the Space Shuttle fleet. Hurley and Behnken spent nine weeks aboard the International Space Station (ISS) and supported dozens of research experiments and four sessions of Extravehicular Activity (EVA) with the incumbent Expedition 63 crew before returning home to a parachute-assisted splashdown—and the first U.S. water landing in more than four decades—off the Florida Coast, the following 2 August.
Since then, and including last night's launch, she flew a further 15 times, delivering 546 Starlinks on 11 missions, as well as the ISS-bound CRS-21 Cargo Dragon, the multi-payload Transporter-1 and Transporter-3 rideshare missions and the ANASIS-II military communications satellite for the South Korean Armed Forces. And with her pair of Transporter hauls totaling 248 discrete payloads between them, B1058 has now deployed nearly 800 large and small spacecraft, crewed and uncrewed, during the course of her burgeoning career.
Along the way, she established a new empirical record—now broken—of only 51 days between a pair of launches by the same orbital-class booster, eclipsing an old Space Shuttle record that had stood for more than three decades. Notably, her Transporter-1 mission in January 2021 orbited the largest number of separate payloads (143) ever lifted to orbit by a single U.S. orbital rocket. And last year, she became the first Falcon 9 in the fleet to fly a 14th and a 15th time.
Last night's launch was SpaceX's third Falcon 9 in July's first nine days, following the Euclid deep-space telescope for the European Space Agency (ESA) on the first day of the month and a Starlink mission from Vandenberg Space Force Base, Calif., last Friday. In readiness for launch, the Autonomous Spaceport Drone Ship (ASDS), "Just Read the Instructions", put to sea out of Port Canaveral overnight last Wednesday, bound for a recovery position some 400 miles (640 kilometers) offshore in the Atlantic.
With weather trending around 90-percent-favorable for five T-0 points in Sunday's pre-dawn darkness, SpaceX elected to skip them all and opt instead for 8:36 p.m. EDT, the first of four instantaneous launch opportunities after sunset. It later announced that it was targeting the last of those T-0 points at two minutes shy of midnight.
This made sense, as the evening weather outlook pledged somewhere between 60-90 percent favorability, with improved conditions at the very end. "The earlier timeframe will see a higher threat for remnant anvils and perhaps a surviving shower or storm in the vicinity," noted the 45th Weather Squadron at Patrick Space Force Base. "These should diminish through the window, with a lower threat by late evening."
B1058 took flight precisely on time at 11:58 p.m. EDT, the dazzle of her nine Merlin 1D+ engines turning night into day across the sleeping Space Coast. Two and a half minutes later, as she had done 15 prior times, those Merlins fell silent, right on time, and she separated from the stack to begin a pirouette-like descent to land on the JRTI deck.
"Falcon 9's first stage has landed on the Just Read the Instructions drone ship," SpaceX tweeted with a measure of triumph at 12:08 a.m. EDT Monday, "completing the first 16th launch and landing of a booster."
Elsewhere, the Merlin 1D+ Vacuum engine of the second stage came alive and burned for six minutes to deliver the 22-strong stack of V2 "Mini" satellites uphill, the fifth batch of these downsized Starlinks to have been orbited since February. The Minis boast three to four times greater "usable" bandwidth than earlier Starlink iterations.
"V2 Minis include key technologies—such as more powerful phased-array antennas and the use of E-Band for backhaul—which will allow Starlink to provide 4x more capacity per satellite than earlier iterations," SpaceX explained. "Among other enhancements, V2 Minis are equipped with new argon Hall thrusters for on-orbit maneuvering."
As a network, Starlink facilitates high-speed and low-latency internet provision across 56 sovereign nations and international markets in North and South America, Europe, Asia, Oceania and Africa. In recent weeks, Panama, Mozambique and Trinidad and Tobago signed up the network. And Florida-based intercity operator Brightline adopted Starlink on its trains earlier this year, the first passenger rail service in the world to do so.
Additionally, El Salvador's Ministry of Education has begun integrating Starlink capability into its schools to help close the digital divide between urban and remote rural communities. And SpaceX tweeted last month that 50 Rwandan schools are now connected via Starlink's high-speed internet service.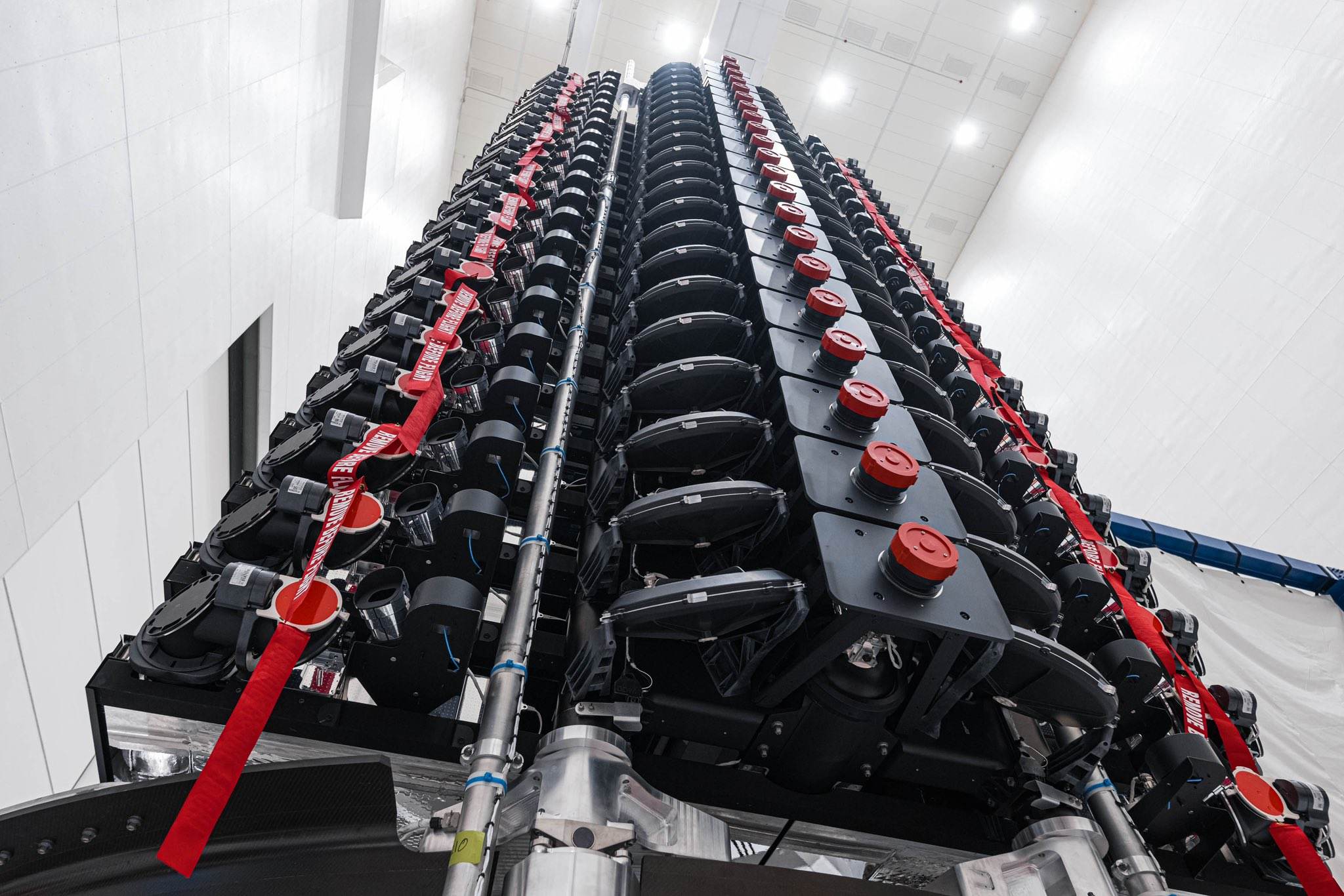 So far this year, 1,080 Starlinks have placed into orbit on 23 Falcon 9 missions, bringing the grand total of these flat-packed satellites launched since May 2019 to well north of 4,500. Deployment occurred 62 minutes after launch.
With three Falcon 9 flights of July thus complete, SpaceX now looks ahead to an action-filled rest of the month. Two more Starlink-toting missions—the first slated to fly as early as Thursday morning—will be accompanied by as many as five others, which might just end July as the Hawthorne, Calif.-headquartered organization's first month to record nine and ten launches, as well as securing the 50th Falcon-class flight of the year.
Of note is the third outing of 2023 by the triple-barreled Falcon Heavy, provisionally booked for the final week of July, which will lift the 20,000-pound (9,200-kilogram) Jupiter-3 Ultra-High-Density Satellite (UHDS) to orbit on behalf of EchoStar, Corp. Built by Maxar and set to be redesignated "EchoStar-24" when in orbit, the satellite will showcase miniaturized electronics, solid-state amplifiers and a high-efficiency antenna architecture for "more concentrated capacity over high-use areas".
The satellite, whose high-efficiency Ka-band antennas will enable data throughput rates of up to 500 gigabits per second, departed Maxar's Palo Alto, Calif., factory and arrived at the Cape on the last day of June. Its upcoming launch will mark the third Falcon Heavy flight of 2023, following on the heels of ViaSat-3 in late April and the U.S. Space Force's USSF-67 in mid-January to make this the "heaviest" year so far in terms of Heavy missions.
Also chomping at the bit for its own launch later this month is a third pair of Boeing-built O3b mPOWER broadband satellites, targeting a 5,000-mile-high (8,000-kilometer) Medium Earth Orbit (MEO). Two previous mPOWER pairs were lofted atop Falcon 9s last December and April, as part of a growing network of high-throughput, low-latency satellites which will generate around 30,000 fully reshapeable and electronically "steerable" beams to be dynamically shifted in real time to serve customers across a multitude of markets, ranging from telecom and cloud to communications-on-the-move and government.
Additional missions aiming for July launches include a pair of WorldView Legion satellites, bound for insertion into Sun-synchronous orbit for Westminster, Colo.-based Earth imagery provider, DigitalGlobe. The Maxar-built Legion will double DigitalGlobe's capacity to gather high-resolution geospatial imagery by resolving surface details as small as only 12 inches (30 centimeters). And the Space Development Agency (SDA) anticipates a Falcon 9 launch later this month of the second batch of satellites for its Tranche-0 Transport and Tracking Layer (TTL) constellation.
With Sunday night's launch, SpaceX has now flown 46 orbital-class missions so far in 2023, including 44 Falcon 9s and a pair of Falcon Heavies, raising the likelihood that it may pass its 50th flight of the year before month's end. It took until the first week of November to attain 50 launches in 2022.