SpaceX has successfully launched its 100th dedicated "batch" of Starlink internet communications satellites, in a rousing pre-dawn Falcon 9 flight out of Vandenberg Space Force Base, Calif. The veteran B1061 core—making her life-leading 15th trek uphill—soared from mountain-ringed Space Launch Complex (SLC)-4E at 2:37 a.m. PDT Tuesday and satisfactorily delivered her 21-strong Starlink payload into low-Earth orbit a little more than an hour later.
Eight minutes after launch, B1061 pirouetted to a smooth touchdown on the expansive deck of the Autonomous Spaceport Drone Ship (ASDS), "Of Course I Still Love You", situated offshore in the Pacific Ocean. The Falcon 9's second stage meanwhile performed a pair of "burns" to lift the Starlink payload to its deployment altitude.
Tonight's launch came several days later than planned. Originally targeted as part of a mission "double-header" last Thursday, which might have seen it fly only five hours after another Falcon 9 from the Space Coast—potentially creating a second-best turnaround between pairs of Falcon 9 launches—these hopes ultimately came to nought, thanks to the depradations of Hurricane Hilary off the California Coast.
Hilary, which originated south of Mexico last week, before tracking northwestwards and intensifying into a Category Four hurricane with sustained winds of 145 mph (235 km/h), made landfall in Baja California on Sunday and retained its tropical characteristics until Monday morning. Hilary thus became the first tropical storm to enter California in more than a quarter-century, since Nora in September 1997.
This dynamic meteorological outlook induced a fair amount of to-and-fro for SpaceX's West Coast-based Autonomous Spaceport Drone Ship (ASDS), "Of Course I Still Love You", which initially put to sea out of Port of Long Beach on Monday of last week, bound for her 14th Falcon 9 "catch" of the year. Launch was routinely slipped to Friday, before being called off entirely and postponed until no sooner than Monday evening, as the drone ship diverted back to port in San Diego.
Heading into tonight's launch attempt, SpaceX first aimed for an opening T-0 at 12:45 a.m. PDT Tuesday but added that additional opportunities existed later in the pre-dawn timeframe at 1:36 a.m. and 2:26 a.m. Ultimately, teams elected to aim for the latter of these T-0 points to launch the 54th Falcon 9 of the year and the sixth of August, before announcing a revised liftoff time of 2:37 a.m.
Flying tonight's Vandenberg mission was B1061, a "coast-hopping" Falcon 9, which launched nine times from the East Coast between November 2020 and June of last year, before being transported to the West Coast for the second half of her career, chalking up five additional flights between August 2022 and last May. She is now SpaceX's fourth booster to have hit a life-leading 15 launches.
B1061 entered service almost three years ago to lift Dragon Resilience and her Crew-1 complement of NASA astronauts Mike Hopkins, Victor Glover and Shannon Walker, together with Japan's Soichi Noguchi, for their six-month Expedition 64/65 increment to the ISS. That opening launch marked the first U.S. human spaceflight in the hours of darkness since the end of the Space Shuttle Program and Glover became the first African-American spacefarer to embark on a long-duration mission.
She went on to launch NASA's Shane Kimbrough and Megan McArthur, France's Thomas Pesquet and Japan's Aki Hoshide aboard Dragon Endeavour for Crew-2 in April 2021, kicking off a multi-month ISS increment which concluded after 199 days the following November as the longest single mission ever undertaken by a U.S. crewed vehicle. This saw B1061 become the first "reused" Falcon 9 to carry crew.
Her human-hauling duties over, B1061 settled into a more regular routine as a payload lifter. She launched SiriusXM's heavyweight SXM-8 broadcasting satellite in June 2021, SpaceX's CRS-23 Cargo Dragon to the ISS the following August and NASA's Imaging X-ray Polarimetry Explorer (IXPE) in December 2021.
Six additional missions followed in 2022, as she lifted a pair of Starlink batches—95 satellites in total—in February and August and the Transporter-4 and 5 rideshare "stacks" on April Fool's Day and late May. This was followed by a Globalstar-2 global mobile communications satellite and a possible payload for an undisclosed U.S. Government customer in June and Israel's EROS-C3 electro-optical surveillance satellite on the second-to-last day of December. Her 2023 duties on quartet of missions in March, April, May and tonight saw her lift four more Starlink payloads.
With tonight's mission, SpaceX has flown 100 full batches of Starlinks since May 2019, delivering just shy of 5,000 of these flat-packed internet communications satellites into low-Earth orbit. Nineteen Falcon 9 boosters have been used, including fleet-leaders B1058 and B1060 which both wrapped up their 11th Starlink missions apiece just last month.
As a network, Starlink facilitates high-speed and low-latency internet provision to over 60 sovereign nations and international markets in North and South America, Europe, Asia, Oceania and Africa. Last month alone, Cyprus, Guatemala, Kenya, Malaysia and Malawi have signed up to the network and the Bahamas came online earlier in August.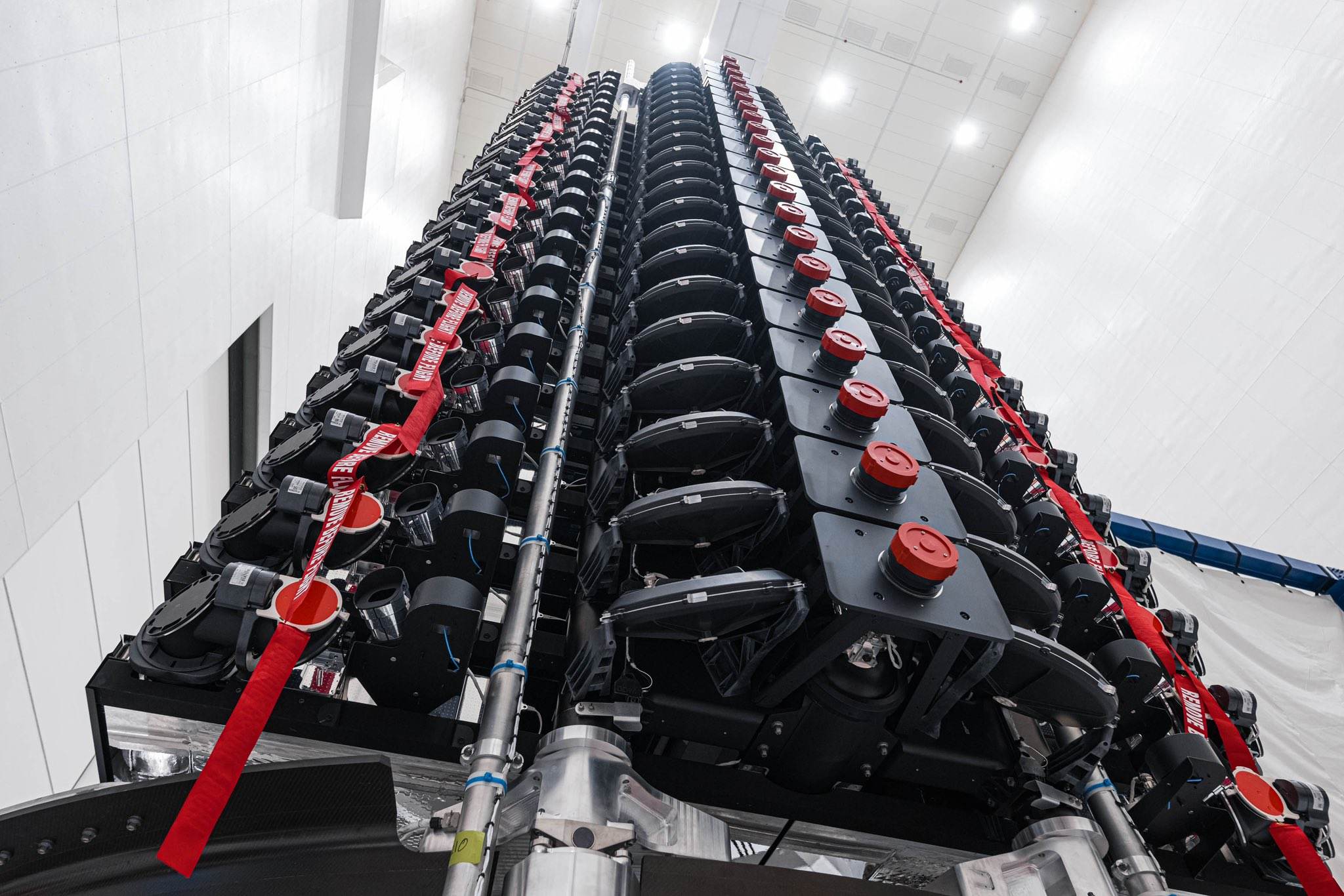 Florida-based intercity operator Brightline adopted Starlink on its trains earlier in 2023, the first passenger rail service in the world to do so. Additionally, El Salvador's Ministry of Education has begun integrating Starlink capability into its schools to help close the digital divide between urban and remote rural communities and 50 Rwandan schools are now connected via Starlink's high-speed internet service.
With the completion of tonight's mission, SpaceX has now flown six times inside the first three weeks of August. Attention now turns to historic Pad 39A at the Kennedy Space Center (KSC), where the brand-new B1081 core—the fourth single-stick Falcon 9 to come online so far in 2023—stands poised for Friday's 3:49 a.m. EDT liftoff with Dragon Endurance and the Crew-7 quartet of Commander Jasmin Moghbeli of NASA, Denmark's Andreas Mogensen of the European Space Agency (ESA), Satoshi Furukawa of the Japan Aerospace Exploration Agency (JAXA) and Roscosmos cosmonaut Konstantin Borisov for a six-month stay aboard the International Space Station (ISS).
As noted last night by AmericaSpace, SpaceX and NASA teams yesterday wrapped up the Crew-7 Flight Readiness Review (LRR) and declared a definitive "Go" to proceed with Friday's pre-dawn launch attempt. An on-time launch will see Dragon Endurance dock autonomously at the space-facing (or "zenith") port of the station's Harmony node at about 2:02 a.m. EDT Saturday.
A five-day handover with the outgoing Crew-6 complement of NASA's Steve Bowen and Warren "Woody" Hoburg, Russia's Andrei Fedyayev and Sultan Al-Neyadi of the United Arab Emirates (UAE) will take place. Bowen and his men will then board their own Dragon Endeavour crew ship and undock from the sprawling orbital complex for a parachute-assisted splashdown, off the Florida Coast, presently targeted to occur no sooner than Friday, 1 September, wrapping up 183 days in space.
At the time that this story was being prepared, Moghbeli, Mogensen, Furukawa and Borisov were due to perform a "Dry Dress Rehearsal" of their day-of-launch activities on Tuesday, suiting up in their customized SpaceX launch and entry suits, traveling out to Pad 39A and ingressing and egressing Dragon Endurance. A six-second Static Fire Test of B1081's nine Merlin 1D+ engines is also expected, as is customary ahead of the maiden outing of any Falcon 9 booster.