Under "pristine" Space Coast skies, SpaceX successfully wrapped up a Saturday double-header of missions, when one of the newest members of its Falcon 9 fleet sprang from storied Space Launch Complex (SLC)-40 at Cape Canaveral Space Force Station, Fla., at 10:17 p.m. EDT. Launch occurred right on the opening of the first of six designated T-0 points and Mother Nature smiled with over 95-percent favor on SpaceX's seventh flight inside October's third week.
Last night's launch comes on the coattails of six prior flights so far this month—four from the East Coast and two from the West—which have delivered over 130 Starlink low-orbiting internet communications satellites into orbit and NASA's Psyche deep-space mission to explore a potato-shaped, metal-rich asteroid of the same name. And with two Falcon 9s flying a mere 18 hours apart, it marked the second time in October and the seventh occasion so far in 2023 that pairs of boosters have launched within a day of each other, with March's double-header of four hours and 12 minutes holding the empirical SpaceX record.
Saturday's impressive launch campaign began in the pre-dawn darkness at Space Launch Complex (SLC)-4E at Vandenberg Space Force Base, Calif., when a record-tying booster rose at 1:23 a.m. PDT with a "stack" of 21 Starlinks, tipping the scales at 37,000 pounds (16,800 kilograms). B1061 completed her 16th trek to the edge of space by returning to a smooth touchdown on the expansive deck of the Autonomous Spaceport Drone Ship (ASDS), "Of Course I Still Love You", situated offshore in the Pacific Ocean.
Twenty-three hundred miles (3,700 kilometers) to the southeast, as the crow flies, at the Cape's SLC-40, stood B1080, one of the newest members of the Falcon 9 fleet, having come online back in May and with three previous missions to her credit. She represents one of only four new boosters to have joined the fleet in 2023, delivering Dragon Freedom and her Ax-2 crew of Commander Peggy Whitson, Pilot John Shoffner and Mission Specialists Ali Al-Qarni and Rayyanah Barnawi on the first leg of their nine-day research flight to the International Space Station (ISS) earlier this year.
B1080 went on to launch Europe's Euclid deep-space observatory on the first day of July and a batch of 22 Starlinks in late August. In readiness for her fourth mission last night, the East Coast-based drone ship, "A Shortfall of Gravitas", put to sea out of Port Canaveral last Wednesday, bound for a recovery position about 390 miles (630 kilometers) out into the Atlantic Ocean.
Weather conditions last night were exceptionally fine, with a 95-percent probability of being acceptable. "By the evening hours, it will be difficult to find a cloud in the sky besides a few upper-level cirrus clouds," noted the 45th Weather Squadron at Patrick Space Force Base, "and the only concern is the very small chance of bumping up against liftoff wind constraints due to the westerly flow."
As such, SpaceX teams aimed for 10:17 p.m. EDT, the first of six T-0 points last night. "Propellant load has started and our team is counting down to today's second Falcon 9 launch of @Starlink satellites," SpaceX tweeted on X. "Launch weather in Florida is pristine."
Rising into the darkness atop a column of golden flame, B1080 performed with customary perfection, her nine Merlin 1D+ engines burning for the opening 2.5 minutes of ascent, ahead of a crisp, on-time shutdown and separation. The four-times-used booster then pirouetted back home, entry and landing burns supporting a precise touchdown on ASOG's deck at 8.5 minutes past liftoff.
Meanwhile, the single Merlin 1D+ Vacuum engine of the rocket's second stage executed a standard six-minute burn to insert the 23 Starlinks—an estimated payload mass around 40,600 pounds (18,400 kilograms)—smoothly into orbit. Deployment was confirmed a little over an hour after launch, bringing to 1,665 the total number of these flat-packed satellites to have flown aboard 49 Falcon 9 missions so far this year.
As a network, Starlink facilitates high-speed and low-latency internet provision to over 60 sovereign nations and international markets in North and South America, Europe, Asia, Oceania and Africa, with Zambia becoming the sixth African nation to sign up to the network earlier this month. The "downsized" Starlink V2 Minis, first flown in February, boast three to four times greater "usable" bandwidth than earlier Starlink iterations.
"V2 Minis include key technologies—such as more powerful phased-array antennas and the use of E-Band for backhaul—which will allow Starlink to provide 4x more capacity per satellite than earlier iterations," SpaceX explained. "Among other enhancements, V2 Minis are equipped with new argon Hall thrusters for on-orbit maneuvering."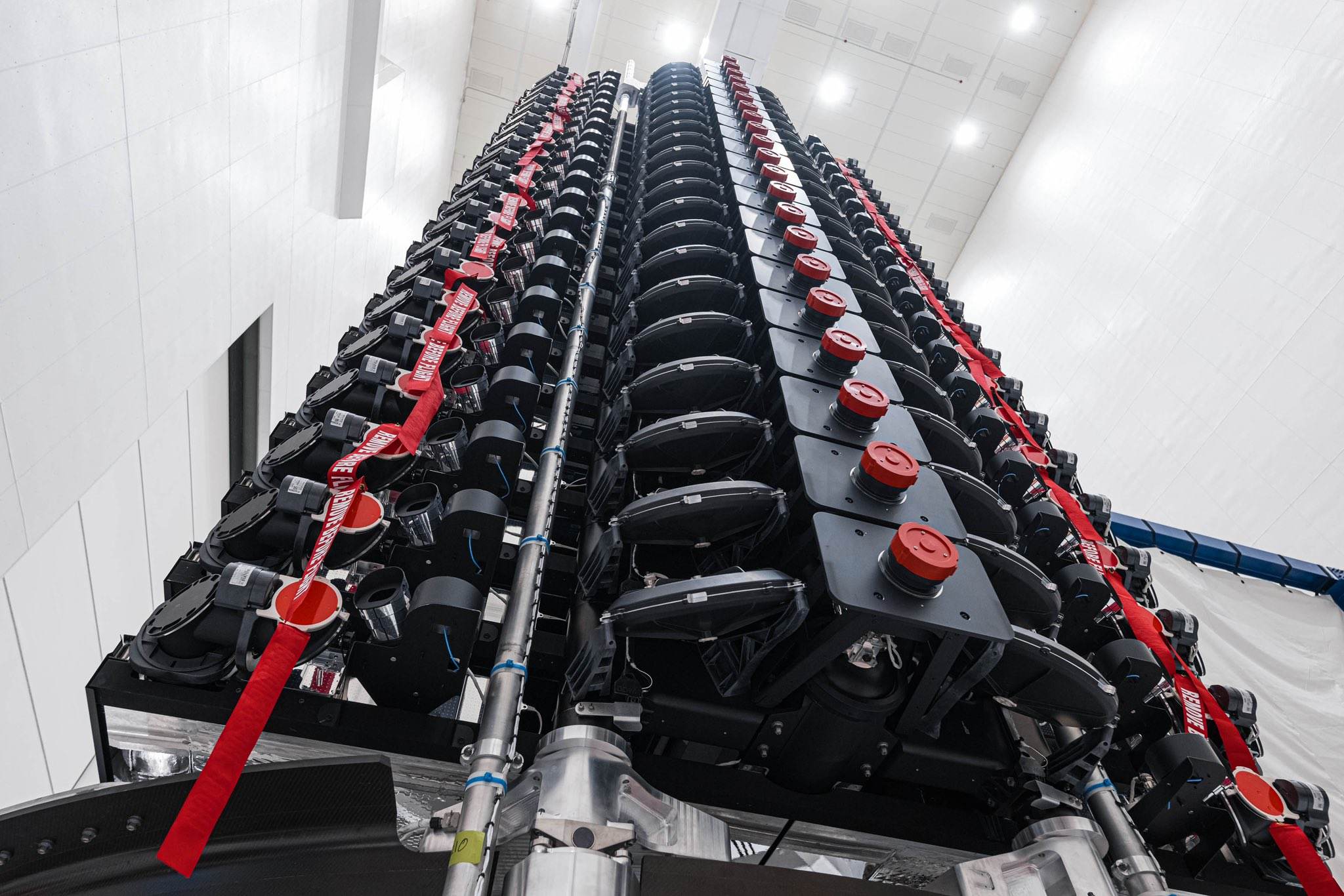 Florida-based intercity operator Brightline adopted Starlink on its trains earlier in 2023, the first passenger rail service in the world to do so. Additionally, El Salvador's Ministry of Education has begun integrating Starlink capability into its schools to help close the digital divide between urban and remote rural communities and 50 Rwandan schools are now connected via Starlink's high-speed internet service.