SpaceX successfully launched its 75th orbital-class mission of 2023 early Saturday, in a rousing, just-past-midnight flight out of Vandenberg Space Force Base, Calif. The veteran B1061 core—a "coast-hopping" Falcon 9, making a record-tying 16th trek uphill—rose from mountain-ringed Space Launch Complex (SLC)-4E at 1:23 a.m. PDT, laden with 21 Starlink low-orbiting internet communications satellites.
Attention now turns to storied Space Launch Complex (SLC)-40 at Cape Canaveral Space Force Station, Fla., where one of SpaceX's newest Falcon 9s stands ready to lift another 23 Starlinks no sooner than 10:17 p.m. EDT Saturday. A successful launch tonight will bring to 1,665 the total number of these flat-packed satellites emplaced in orbit so far this year.
Eight minutes after leaving Vandenberg, B1061 pirouetted to a smooth touchdown on the expansive deck of the West Coast-based Autonomous Spaceport Drone Ship (ASDS), "Of Course I Still Love You", situated offshore in the Pacific Ocean. The Falcon 9's second stage, powered by a single Merlin 1D+ Vacuum engine, meanwhile executed a pair of "burns" to raise the 37,000-pound (16,800-kilogram) Starlink stack to orbit.
As has become customary in recent Starlink launches, Saturday's launch benefited from multiple T-0 opportunities: four in total, extending from 12:47 a.m. PDT through 3 a.m. Six backup options were also available overnight Saturday/Sunday, opening at 11:26 p.m. Saturday and closing at 2:50 a.m. Sunday., with teams ultimately settling on a T-0 point at 1:23 a.m.
It was the 22nd Vandenberg launch of the year so far, continuing a record-breaking pace which has already long surpassed 2022's achievement of 13 flights from the West Coast launch site. Those 22 launches have been accomplished using only four boosters—including the brand-new B1075, which came online in January—and have trucked a grand total of 633 Starlinks into orbit, together with a pair of multi-payload Transporter stacks, two Tranche 0 Transport and Tracking Layer (TTL) missions for the Space Development Agency (SDA) and the first batch of Iridium NEXT global mobile communications satellites to be orbited by SpaceX in more than four years.
Flying Saturday's mission was B1061, a "coast-hopping" Falcon 9 which launched nine times from the East Coast between November 2020 and June of last year, before being transported to the West Coast for the second half of her career, chalking up seven added flights between August 2022 and last night. She is now SpaceX's fourth booster to hit a life-leading 16 launches.
B1061 entered service almost three years ago to lift Dragon Resilience and her Crew-1 complement of NASA astronauts Mike Hopkins, Victor Glover and Shannon Walker, together with Japan's Soichi Noguchi, for their six-month Expedition 64/65 increment to the ISS. That opening launch marked the first U.S. human spaceflight in the hours of darkness since the end of the Space Shuttle Program and Glover became the first African-American spacefarer to embark on a long-duration mission.
She went on to launch NASA's Shane Kimbrough and Megan McArthur, France's Thomas Pesquet and Japan's Aki Hoshide aboard Dragon Endeavour for Crew-2 in April 2021, kicking off a multi-month ISS increment which concluded after 199 days the following November as the longest single mission ever undertaken by a U.S. crewed vehicle. This saw B1061 become the first "reused" Falcon 9 to carry crew.
Her human-hauling duties over, B1061 settled into a more regular routine as a payload lifter. She launched SiriusXM's heavyweight SXM-8 broadcasting satellite in June 2021, SpaceX's CRS-23 Cargo Dragon to the ISS the following August and NASA's Imaging X-ray Polarimetry Explorer (IXPE) in December 2021.
Six additional missions followed in 2022, as she lifted a pair of Starlink batches in February and August and the Transporter-4 and 5 rideshare "stacks" on April Fool's Day and late May. This was followed by a Globalstar-2 global mobile communications satellite and a possible payload for an undisclosed U.S. Government customer in June and Israel's EROS-C3 electro-optical surveillance satellite on the second-to-last day of December. Her 2023 duties on quintet of missions in March, April, May, August and last night saw her lift four more Starlink payloads.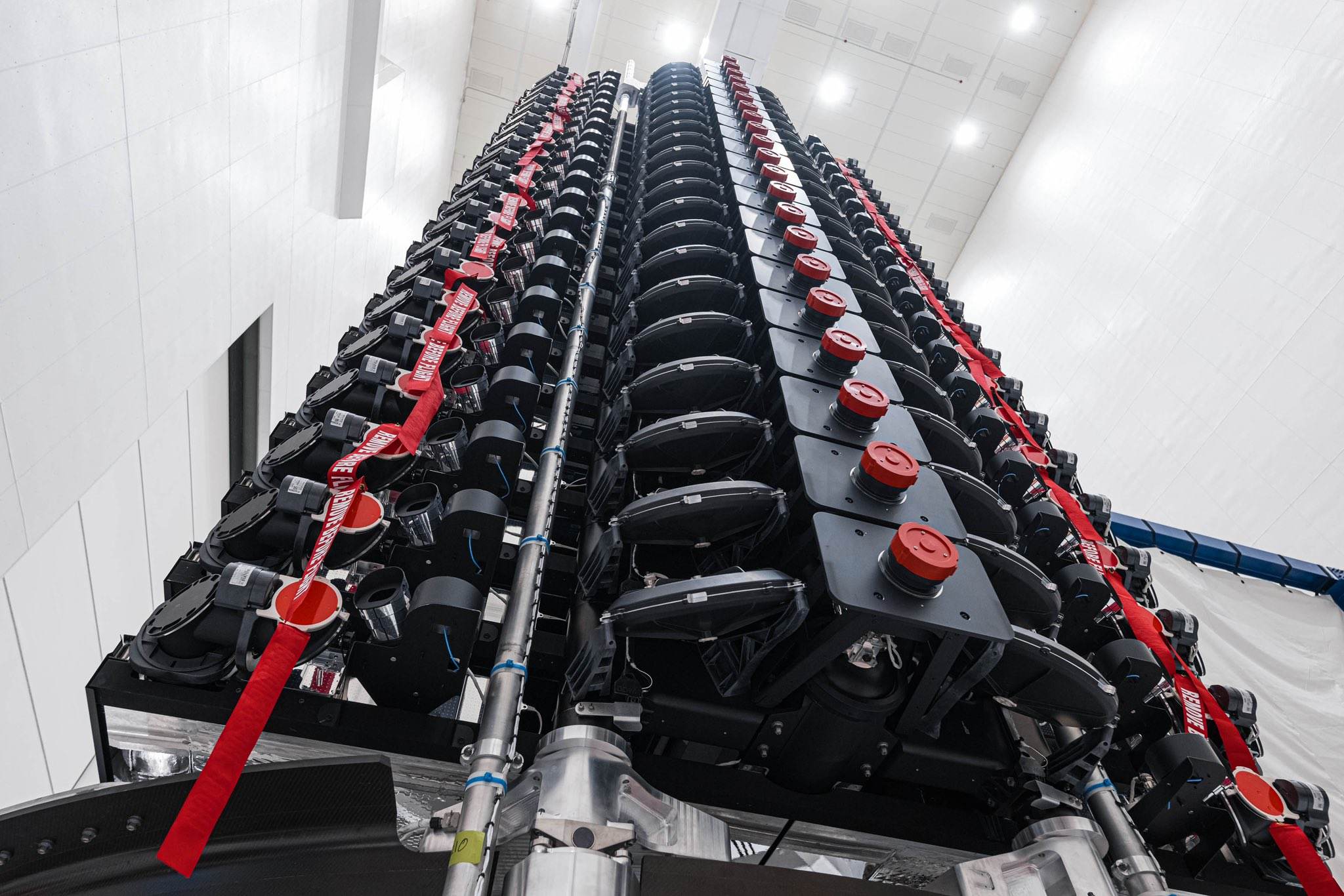 Sixty-two minutes after last night's flight, the 21 miniaturized "V2 Mini" Starlinks were successfully deployed, bringing to more than 1,600 the total number of these flat-packed internet communications satellites orbited so far this year. As a network, Starlink facilitates high-speed and low-latency internet provision to over 60 sovereign nations and international markets in North and South America, Europe, Asia, Oceania and Africa.
The Starlink V2 Minis, first flown in February, boast three to four times greater "usable" bandwidth than earlier Starlink iterations. "V2 Minis include key technologies—such as more powerful phased-array antennas and the use of E-Band for backhaul—which will allow Starlink to provide 4x more capacity per satellite than earlier iterations," SpaceX explained. "Among other enhancements, V2 Minis are equipped with new argon Hall thrusters for on-orbit maneuvering."
As a network, Starlink facilitates high-speed and low-latency internet provision to over 60 sovereign nations and international markets in North and South America, Europe, Asia, Oceania and Africa. The Bahamas came online in August and Zambia became the sixth African nation to sign up to the network earlier this month.
Florida-based intercity operator Brightline adopted Starlink on its trains earlier in 2023, the first passenger rail service in the world to do so. Additionally, El Salvador's Ministry of Education has begun integrating Starlink capability into its schools to help close the digital divide between urban and remote rural communities and 50 Rwandan schools are now connected via Starlink's high-speed internet service.
Last night also marked SpaceX's 75th orbital mission of the year, counting 71 "single-stick" Falcon 9 flights and four outings by the triple-barreled Falcon Heavy. Those 75 launches have been accomplished using 11 Falcon 9 boosters, four disposable Heavy center cores and four Heavy side-boosters at a pace of one flight every 3.9 days or so, a substantial uptick on last year's average of a mission every 5.9 days.
Weather on the Space Coast, meanwhile, looks highly favorable, with a 95-percent likelihood of acceptable conditions for both Saturday night's primary launch window and a backup opportunity late Sunday. Teams are currently aiming for six T-0 points extending from 10:17 p.m. Saturday through 2:15 a.m. Sunday, with six further opportunities from 9:51 p.m. Sunday through 1:50 a.m. Monday.
"Overall, launch weather conditions look very favorable for a launch attempt this weekend," noted the 45th Weather Squadron at Patrick Space Force Base on Friday. "A deep mid-level trough is digging into the Southeast and an associated weak cold front will move through the area tonight into tomorrow morning.
"By the evening hours, it will be difficult to find a cloud in the sky besides a few upper-level cirrus clouds," the 45th added. "And the only concern is the very small chance of bumping up against liftoff wind constraints due to the westerly flow."
Flying the 72nd Falcon 9 mission of the year will be B1080, making her fourth launch after having previously lofted Dragon Freedom and Ax-2 Commander Peggy Whitson, Pilot John Shoffner and Mission Specialists Ali Al-Qarni and Rayyanah Barnawi in May, Europe's Euclid deep-space observatory on the first day of July and a 22-strong Starlink batch at the end of August. It will be the 49th mission of 2023 totally dedicated to Starlink, which will bring to 1,665 the total number of satellites emplaced into orbit so far.