Six minutes apart may not have been possible, but two launches from opposite seaboards of the United States within only two hours of one another is an impressive feat. Early Thursday, SpaceX successfully flew a veteran Falcon 9 booster from Vandenberg Space Force Base, Calif., laden with 47 Starlink internet communications satellites, followed 119 minutes later by the second-to-final United Launch Alliance (ULA) Delta IV Heavy from Cape Canaveral Space Force Station, Fla., carrying the highly secretive NROL-68 payload for the National Reconnaissance Office.
Hopes of launching the two missions within six minutes of one another ultimately came to nought. Although SpaceX flew right on time at 12:19 a.m. PDT (3:19 a.m. EDT), ULA elected to realign its T-0 from an original 3:25 a.m. EDT target to 5:18 a.m. EDT.
First out of the barn was a four-times-flown Falcon 9 from Space Launch Complex (SLC)-4E, carrying 47 Starlink internet communications satellites for emplacement into low-Earth orbit. The B1075 core—a relative newcomer to SpaceX's fleet, having only entered service in January—powered smoothly into the Vandenberg darkness, before returning eight minutes later to alight with pinpoint grace on the deck of the Autonomous Spaceport Drone Ship (ASDS), "Of Course I Still Love You", situated offshore in the Pacific Ocean.
B1075 is one of only three brand-new "single-stick" Falcon 9s to have been brought online since the beginning of 2023. On her first flight in January, she lofted 51 Starlinks from Vandenberg, then repeated the same feat just last month; between those two missions, in early April, she delivered the initial members of the Tranche-0 Transport and Tracking Layer (TTL) constellation for the Space Development Agency (SDA).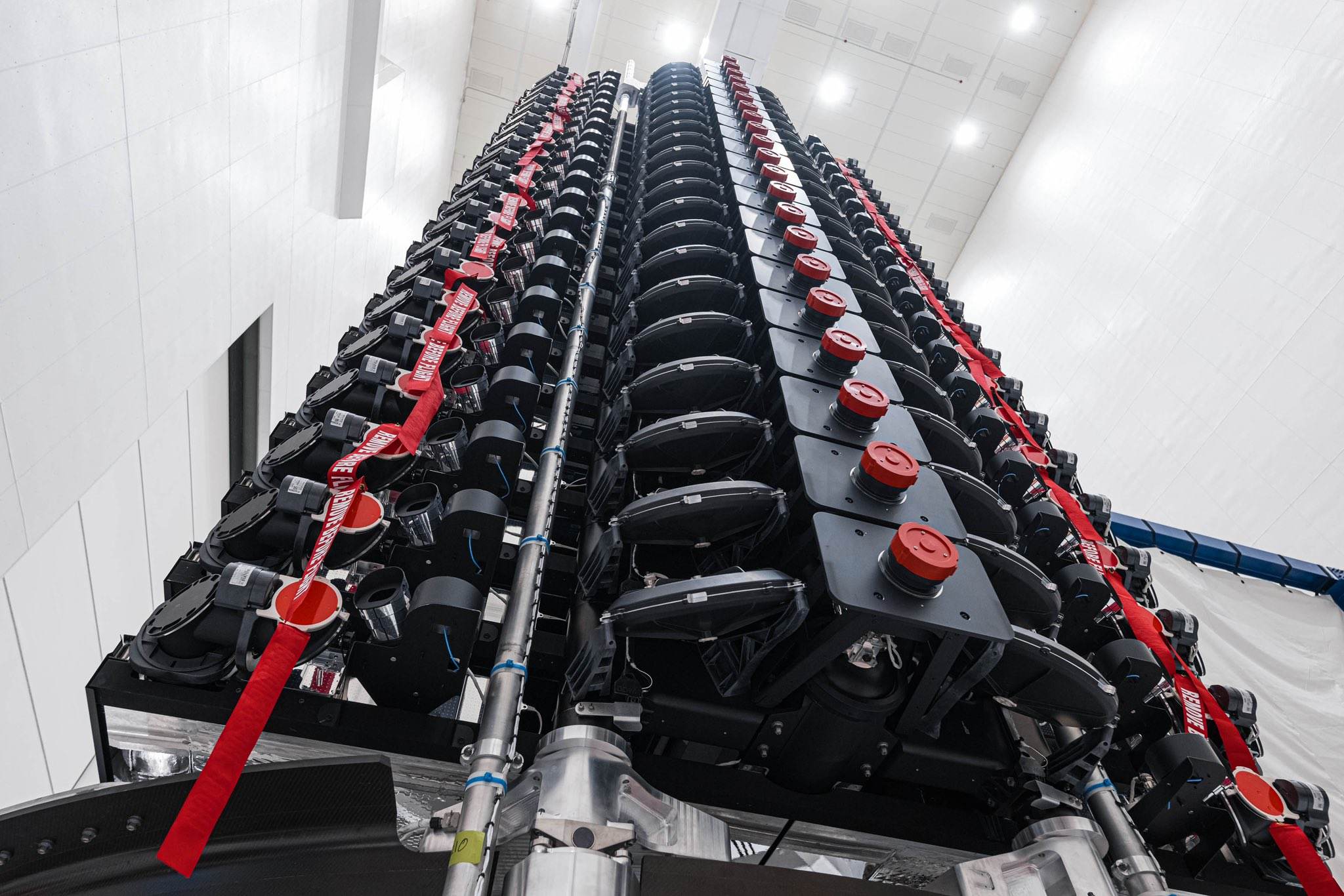 With B1075's job done, the second stage of the Falcon 9 ignited its Merlin 1D+ Vacuum engine for a customary six minutes to lift the Starlink payload, which totals some 32,000 pounds (14,500 kilograms), into orbit. Deployment of the stack occurred less than 19 minutes after Thursday's liftoff, bringing to 976 the total number of these flat-packed satellites launched so far this year and over 4,500 since May 2019.
Starlink facilitates high-speed, low-latency internet provision across 56 sovereign nations and international markets in North and South America, Europe, Asia, Oceania and Africa. In recent weeks, Panama, Mozambique and Trinidad and Tobago have officially signed up the network. And Florida-based intercity operator Brightline adopted Starlink on its trains earlier this year, becoming the first passenger rail service in the world to do so. Additionally, El Salvador's Ministry of Education has begun integrating Starlink capability into its schools to help close the digital divide between urban and remote rural communities.
This morning's just-past-midnight launch also marked the 40th Falcon 9 mission inside 2023's first half: a rate of one flight each 4.3 days or so, a significant uptick on last year's accomplishment of one every 5.9 days. And with 2022 having ended with a new "personal best" for SpaceX of 61 launches in a single calendar year, 2023's pace looks set to greatly exceed that record by the time the New Year's Eve bell next tolls.
Those 40 Falcon 9 missions so far have been executed using only 13 boosters, five of which—including today's flight by B1075—have now launched four times apiece since the start of the year. Half of those 40 missions have been devoted entirely to expanding the Starlink constellation, including four batches of downsized "V2 Mini" satellites, which boast three to four times greater "usable" bandwidth than earlier iterations.
Other missions delivered seven geostationary-bound communications satellites on behalf of Hispasat, Inmarsat, SES, Intelsat, Arabsat and Indonesia's Pasifik Satelit Nusantara (PSN), as well as three Transporter "rideshares" in January, April and earlier this month—which lofted a grand total of 238 CubeSats, microsats and orbital transfer vehicles—and one flight apiece for the SDA and the U.S. Space Force. Supporting ongoing International Space Station (ISS) operations, two Crew Dragons were launched atop Falcon 9s in March and May and a pair of Cargo Dragons in March and June.
With the first mission of Thursday thus completed, attention reverted to the Space Coast, where ULA's second-to-last Delta IV Heavy was being readied to fly from Space Launch Complex (SLC)-37B at Cape Canaveral Space Force Station, carrying the highly classified NROL-68 payload for the National Reconnaissance Office. An opening launch attempt in the pre-dawn hours of Wednesday was scrubbed due to a malfunctioning ground-side pneumatic valve and T-0 was realigned for 3:25 a.m. EDT Thursday.
Clocks began ticking from the T-8-hour point at 6:55 p.m. EDT Wednesday, with a pair of 15-minute built-in holds planned in the countdown: the first just ahead of fueling at T-4 hours and 15 seconds and the second shortly ahead of the Terminal Count at T-4 minutes. After a weather delay which impacted the rollback of the Mobile Service Tower (MST), the 33-story, ten-million-pound (4.5-million-kilogram) tower began to retract at 9:14 p.m. EDT and was declared "hard-down" and secured its launch position by 9:55 p.m. EDT.
With the tower thus retracted away, the 235-foot-tall (72-meter) Delta IV Heavy—who first-stage "business end" consists of three Common Booster Cores (CBCs), each fed by a single RS-68A engine—was exposed to the glare of floodlights. Fueling of the beast with 470,000 gallons (2.1 million liters) of liquid oxygen and hydrogen got underway in the early hours of Thursday morning, transitioning from slow-fill to fast-fill.
Shortly after 1 a.m. EDT, ULA Launch Director Tom Heter III instructed his team to co-ordinate a new T-0 of 5:18 a.m. EDT. Weather was initially trending towards 80-percent-favorable, but by 2:50 a.m. EDT Launch Weather Officer Mark Burger amended this forecast to 90 percent.
"The outlook includes scattered low and broken mid-level clouds, southerly winds 15-20 knots and a temperature in the mid-70s," noted ULA. "The only slight concern for launch time would be anvil and cumulus cloud rule violations."
Entering the final 15-minute built-in hold at 4:59 a.m. EDT, the ULA control team was polled for their readiness to proceed and returned a unanimous "Go" and permission to launch was granted by NRO Mission Director Col. Chad Davis. The clock resumed counting at 5:14 a.m. EDT, officially kicking off the "Terminal Count", during which time the Flight Termination System (FTS) was placed onto internal power and armed, the propellant tanks attained their requisite flight levels and pressures and three RS-68A engines were confirmed "Ready" to support the launch.
At T-15 seconds, the sparkler-like Radial Outward Firing Igniters (ROFIs) came alive to burn off excess gases dumped through the engine nozzles, prior to ignition. And at staggered intervals, first the starboard CBC roared to life, then the port and center cores, and the second-to-final Delta IV Heavy sprang from SLC-37B under a combined thrust of 2.1 million pounds (1 million kilograms).
Launches of Heavies are always disconcerting to the uninitiated in their opening seconds, as the vast quantities of hydrogen being dumped through the engines to condition them—ahead of opening the liquid oxygen valves and commanding the ignition sequence—generates a colossal fireball which appears to set the rocket's orange-colored insulation alight as it departs the pad.
Seconds after liftoff, the triple-barreled rocket began a computer-commanded pitch, roll and yaw program maneuver to establish itself onto the proper azimuth to insert NROL-68 into its highly optimized orbit. The vehicle surpassed Mach 1, eclipsing the speed of sound, about 80 seconds into ascent.
Four minutes after liftoff, their propellant depleted, the port and starboard CBCs were discarded, as the center core ramped up to full power. Its single RS-68A engine continued to burn for a further 90 seconds, before shutting down at 5.5 minutes into the flight. The core was jettisoned shortly afterwards.
This left the 45-foot-long (13.7-meter) Delta Cryogenic Second Stage (DCSS) and its single RL10-B-2 engine, which came alive with a thrust of 24,750 pounds (11,250 kilograms) to begin the process of delivering NROL-68 to its targeted operational orbit. During the burn, payload fairing was discarded, exposing the payload—thought to be an Orion/Mentor Signals Intelligence (SIGINT) satellite, bound for geostationary orbit—to the harsh environment of space for the first time.
NROL-68 forms part of a $1.18 billion contract modification agreed between ULA and the Space and Missile Systems Center (SMC) at Los Angeles Air Force Base, back in September 2019. That modification covered five NROL missions, three of which rode previous Delta IV Heavies into orbit between December 2020 and last September.
After NROL-68, the NROL-70 mission is scheduled for 2024. And it will mark not only the final flight of the Delta IV Heavy, but the swansong of the entire Delta rocket family, closing out a remarkable 380-plus-launches over more than six decades.
NROL-68's nature remains unknown, but its mission patch features an infant dragon, "symbolizing," explained the NRO, "the birth of a new capability in space". The hatchling, it was added, "has its mother watching over it as it sets its eyes on first flight". The emblem's symbology adds a further layer of mystique with the Latin legend "Nusquam Celare": Nowhere to Hide.
As is customary on classified missions, the precise length of the RL10-B-2 "burn" was not announced and ULA ended its live broadcast shortly after the Delta IV Heavy's three-piece ("trisector") payload fairing was jettisoned. By this stage, the vehicle weighed less than six percent of its liftoff mass.