SpaceX and United Launch Alliance (ULA) are preparing for a pair of missions only six minutes apart in the opening hours of Thursday morning, as a Falcon 9 stands primed to fly at 12:19 a.m. PDT (3:19 a.m. EDT) from Vandenberg Space Force Base, Calif., laden with 47 Starlink internet communications satellites, and the second-to-last Delta IV Heavy—delayed from Wednesday, following an issue with a ground system pneumatic valve—follows from Cape Canaveral Space Force Station, Fla., at 3:25 a.m. EDT. Aboard the Heavy is the highly classified NROL-68 payload for the National Reconnaissance Office.
Kicking off tomorrow's pre-dawn proceedings is the B1075 core, a relative newcomer to SpaceX's Falcon 9 fleet, which only entered service in January and yet is embarking on her fourth launch before the end of 2023's first half. Three prior missions in January, April and last month delivered 149 Starlinks and the initial members of the Tranche-0 Transport and Tracking Layer (TTL) of satellites for the Space Development Agency (SDA).
Targeting liftoff at 12:19 a.m. PDT Thursday from Vandenberg's Space Launch Complex (SLC)-4E, the mission carries 47 Starlinks, totaling some 32,000 pounds (14,500 kilograms), which will form part of a steadily growing network of satellites in low-Earth orbit to facilitate high-speed, low-latency internet provision across 56 sovereign nations and international markets in North and South America, Europe, Asia, Oceania and Africa.
In recent weeks, Panama, Mozambique and Trinidad and Tobago have officially signed up to Starlink. Florida-based intercity operator Brightline also adopted the network on its trains earlier this year, becoming the first passenger rail service in the world to do so.
And El Salvador's Ministry of Education has begun integrating Starlink capability into its schools to help close the digital divide between urban and remote rural communities. Since May 2019, over 4,500 production-design Starlinks have been inserted into orbit, with 929 flown this year alone.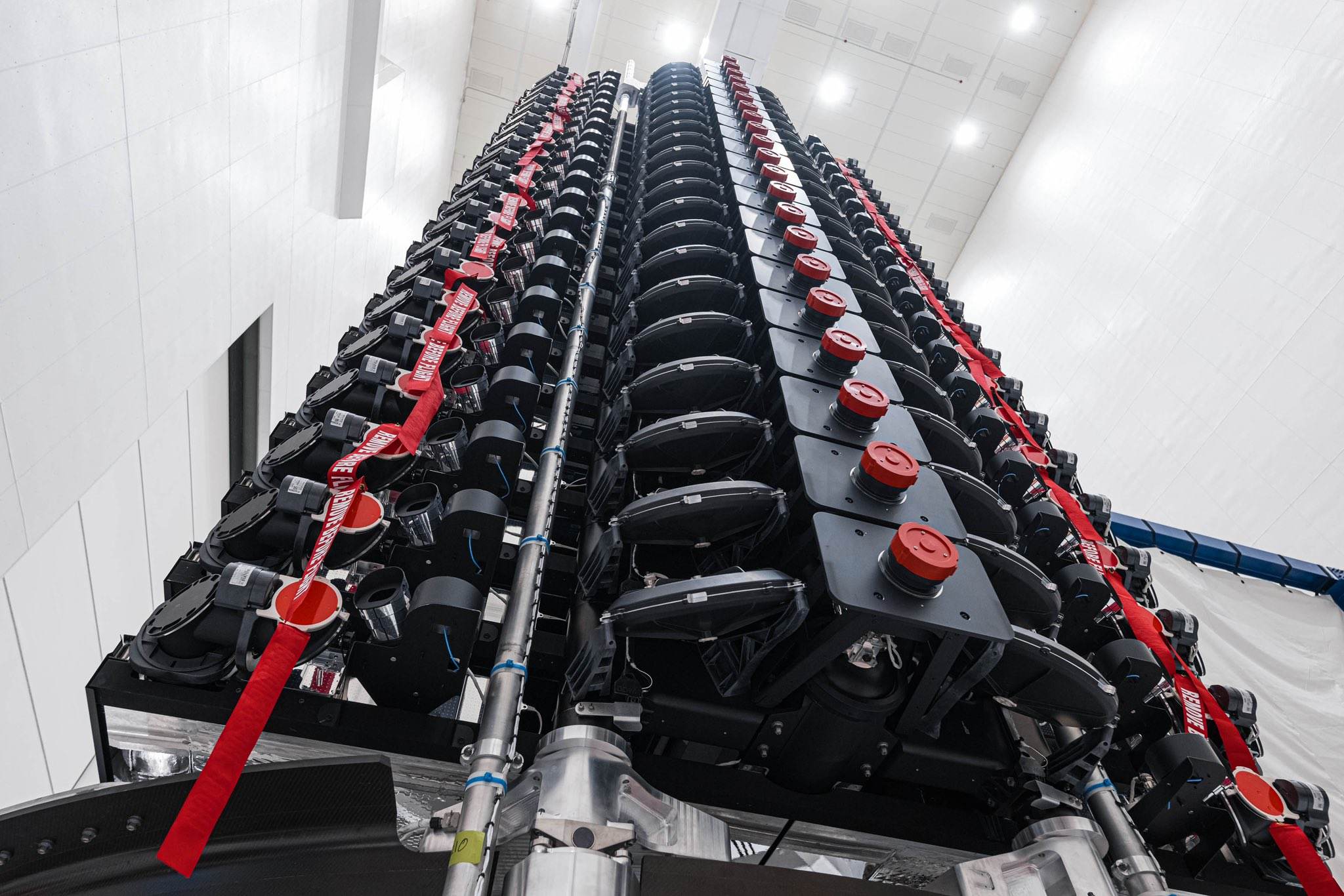 Tomorrow's just-past-midnight launch will also mark the 40th flight of a Falcon 9 booster in 2023. Last year—which ended on a personal-best-beating 61 annual launches for the fleet—SpaceX took until early September to reach 40 flights. And in 2021, the Hawthorne, Calif.-headquartered organization managed 31 missions across the entire year.
Half of 2023's Falcon 9 flights so far have been devoted entirely to the expansion of the Starlink constellation, both from the United States' eastern and western seaboards. The remainder included seven geostationary-bound communications satellites, a pair of Transporter "rideshare" missions, two Crew Dragons in March and May, two Cargo Dragons in March and June—all headed for the International Space Station (ISS)—and one flight apiece for the SDA and the U.S. Space Force.
Six minutes later, and 2,400 miles (3,800 kilometers) as the crow flies to the east, ULA will make a second effort to get its triple-barreled Delta IV Heavy airborne from the Cape's Space Launch Complex (SLC)-37B at 3:25 a.m. EDT. Aboard the giant rocket is NROL-68, a highly classified payload for the National Reconnaissance Office which forms part of a $1.18 billion contract modification agreed between ULA and the Space and Missile Systems Center (SMC) at Los Angeles Air Force Base, back in September 2019.
That contract modification covered five NROL missions, three of which rode previous Delta IV Heavies into orbit between December 2020 and last September. After NROL-68, the NROL-70 mission is scheduled for 2024 and it will mark not only the final flight of the Delta IV Heavy, but the swansong of the entire Delta rocket family, closing out a remarkable 380-plus-launches over more than six decades.
NROL-68's nature remains unknown, although it has been suggested that it could be the latest member of the Orion/Mentor fleet of Signals Intelligence (SIGINT) satellites for emplacement into Geostationary Earth Orbit (GEO). But tantalizingly, NROL-68's mission patch features an infant dragon, "symbolizing," explained the NRO, "the birth of a new capability in space".
Unsurprisingly, that capability remains unclear. The dragon hatchling, it was added, "has its mother watching over it as it sets its eyes on first flight". The emblem's symbology adds a further layer of mystique with the Latin legend "Nusquam Celare": Nowhere to Hide.
Liftoff of NROL-68 was originally targeted for 3:29 a.m. EDT Tuesday and after a pause in the countdown due to weather concerns, the 33-story Mobile Service Tower (MST) was retracted to expose the Delta IV Heavy on the pad. But it was not to be ULA's night, as a "high threat" of showers and storms caused the MST rollback to be postponed, which in turn impacted a highly intricate campaign to chill down propellant lines and begin fueling the booster with 470,000 gallons (2.1 million liters) of liquid oxygen and hydrogen.
ULA Launch Conductor Scott Barney polled his team of launch controllers and gave a unanimous "Go" to commence fueling. This was precipitated by the chilling of the propellant lines and it was at around this point in last night's countdown that an unplanned hold was called for additional pre-launch checks.
After an uncomfortable 90-minute silence, ULA elected to scrub the launch and enter a 24-hour recycle. But ULA CEO Tory Bruno seemed upbeat and optimistic that another attempt early Thursday was feasible.
"Malfunctioning pneumatic valve on the ground," he tweeted, shortly after the scrub. Then Mr. Bruno added: "See you tomorrow."
Florida's intractable weather currently promises 80-percent favorability for both the pre-dawn hours of Thursday and the same time Friday. "A subtle shift" to a surface boundary over North Florida is expected to unfold "during the latter portions of the week," noted the 45th Weather Squadron at Patrick Space Force Base, "leading to somewhat more favorable overnight launch weather."
Dovetailed into that forecast, overnight sustained winds, though remaining elevated, should ease as the week draws toward its end. All told, the remains a "high threat" for nearby showers and storms during tonight's MST rollback and "the potential for remnant anvil and cumulus clouds persisting later into the night".