SpaceX will fly its 50th Falcon 9 mission at the start of the year's 33rd week, when a former crew-carrying booster lifts off tonight from storied Space Launch Complex (SLC)-40 at Cape Canaveral Space Force Station, Fla. The three-times-used B1078 core—one of a trio of brand-new "single-stick" Falcon 9s to have entered the fleet in 2023 alone—is set to soar at the stroke of 9 p.m. EDT Sunday, laden with 22 Starlink "V2 Mini" internet communications satellites, destined for emplacement into low-Earth orbit.
B1078 roared onto the scene back in March, when it lifted Crew-6 Commander Steve Bowen, Pilot Warren "Woody" Hoburg and Mission Specialists Andrei Fedyayev and Sultan Al-Neyadi into orbit to begin their ongoing six-month stay aboard the International Space Station (ISS). The booster went on to launch a pair of Boeing-built o3B mPOWER broadband satellites in late April, targeting a 5,000-mile-high (8,000-kilometer) Medium Earth Orbit (MEO), followed by a 22-strong Starlink "stack" in early June.
Those three opening launches of B1078's career saw her land with pinpoint grace on the deck of the Autonomous Spaceport Drone Ship (ASDS), "Just Read the Instructions". But tonight's landing will occur on SpaceX's second East Coast-based drone ship, "A Shortfall of Gravitas", which put to sea out of Port Canaveral last Thursday, bound for a recovery position about 390 miles (630 kilometers) offshore in the Atlantic Ocean.
SpaceX is targeting up to five T-0 points tonight, the first at 9 p.m., followed by four others between 9:50 p.m. and 12:22 a.m. Monday, with five more scheduled for the backup opportunity tomorrow night, starting at 8:35 p.m. and closing at 11:57 p.m. Monday. And these multiple T-0s might be called into action, for the 45th Weather Squadron at Patrick Space Force Base is predicting only a 30-percent probability of acceptable conditions early in the "window", improving to as high as 80 percent nearer to their end.
"A series of upper-level troughs passing through the Eastern U.S. into next week will act to suppress the subtropical surface ridge axis well south of the Spaceport," noted the 45th in a Saturday morning update. "The resultant deep southwesterly flow combined with above-normal atmospheric moisture and daily sea-breeze development will trigger numerous showers and storms during the late afternoon and evening hours across the eastern portion of the Florida peninsula each day this weekend through the middle of next week.
"Thus, the probability for weather violations will be rather high for both the primary day and backup day attempts, specifically during the front end of each window, when active thunderstorms and their associated cloud cover are more likely to be in close proximity to the pad," it added. "Later in the window, thunderstorms are expected to diminish or more offshore, with remnant cloud cover gradually thinning."
An on-time launch will see B1078 power the stack uphill for the first 2.5 minutes of ascent, before returning to alight on ASOG's expansive deck. The Merlin 1D+ Vacuum engine of the rocket's second stage will then ignite for a pair of "burns"—a standard six-minute burn, ending at 8.5 minutes after launch, followed by a short burn shortly before Starlink deployment—to pre-position the payload for release.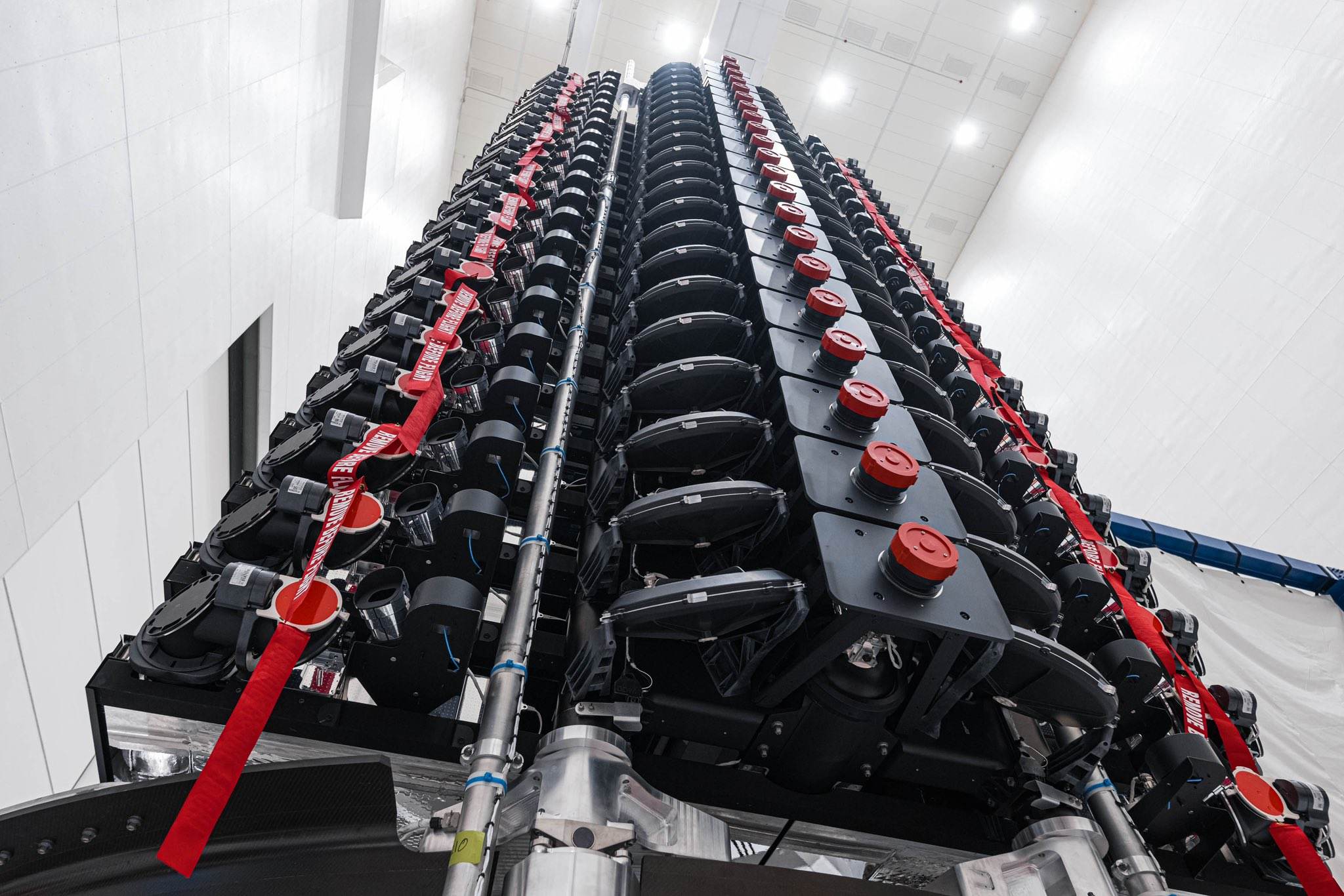 Aboard this mission are 22 "V2 Minis", marking the ninth batch of these downsized Starlinks to have been launched so far in 2023. They boast three to four times greater "usable" bandwidth than earlier iterations.
"V2 Minis include key technologies—such as more powerful phased-array antennas and the use of E-Band for backhaul—which will allow Starlink to provide 4x more capacity per satellite than earlier iterations," SpaceX explained. "Among other enhancements, V2 Minis are equipped with new argon Hall thrusters for on-orbit maneuvering."
As a network, Starlink facilitates high-speed and low-latency internet provision across more than 60 sovereign nations and international markets in North and South America, Europe, Asia, Oceania and Africa. Last month alone, Cyprus, Guatemala, Kenya, Malaysia and Malawi have signed up to the network.
Florida-based intercity operator Brightline adopted Starlink on its trains earlier in 2023, the first passenger rail service in the world to do so. Additionally, El Salvador's Ministry of Education has begun integrating Starlink capability into its schools to help close the digital divide between urban and remote rural communities and 50 Rwandan schools are now connected via Starlink's high-speed internet service.
Significantly, tonight's launch marks the 50th single-stick Falcon 9 to head uphill this year. Last month, SpaceX passed a total of 50 launches achieved so far 2023, counting a record-breaking trio of Falcon Heavy missions, as well as triumphantly completing the fleet's first quarter-millennium of flights with last week's 250th overall launch.
Fifty Falcon 9 missions in the year's 33rd week have been accomplished using 14 boosters, two of which have already attained five flights apiece since January. That number includes the first pair of cores to log 16th launches and the shortest interval on record—a mere four hours and ten minutes—between back-to-back Falcon 9s.
Putting that number into context, it took SpaceX until November to hit 50 single-stick Falcon 9 missions in 2022, the first year that this number was passed. And when 2022 ended on a record-breaking 61 launches, the Hawthorne, Calif.-headquartered organization achieved a flight every 5.9 days, an achievement narrowed to only 4.2 days so far this year.
That figure included 28 Starlink missions—tonight's will be the 29th—which have so far placed more than 1,200 of these flat-packed internet satellites into orbit. Dovetailed into this almost-weekly Starlink to-and-fro manifest have been two cargo-laden and two crew-carrying vehicles, bound for the ISS, seven geostationary missions, three payload-laden Transporter stacks and Europe's Euclid deep-space observatory.
Looking beyond tonight's mission, SpaceX and NASA recently announced a further delay of the launch of Dragon Endurance and her four-person Crew-7 complement—NASA astronaut Jasmin Moghbeli, Denmark's Andreas Mogensen, Russian cosmonaut Konstantin Borisov and Japan's Satoshi Furukawa—on their six-month voyage to the ISS. Previously targeted to fly around mid-month, the Crew-7 launch slipped initially to the 21st and is currently No Earlier Than (NET) 3:49 a.m. EDT on the 25th, as teams work to reconfigure historic Pad 39A at Florida's Kennedy Space Center (KSC) following its most recent duty, launching a Falcon Heavy with the heavyweight Jupiter-3 Ultra-High-Density Satellite (UHDS) in late July.
Moghbeli's crew will support hundreds of research investigations aboard the ISS during their increment, which will encompass the final weeks of Expedition 69 and the bulk of Expedition 70. And the latter will see Mogensen rotate into the position of station commander, becoming the first Dane to helm the orbital outpost, as well as marking the first Crew Dragon to include four representative sovereign nations aboard.