SpaceX has successfully wrapped up its 50th Falcon-class mission of 2023 in the year's 30th week, as one of its most flight-seasoned boosters roared uphill from storied Space Launch Complex (SLC)-40 at Cape Canaveral Space Force Station, Fla., moments after midnight. But hopes of flying a pair of flights less than an hour apart came to nought, as the launch of a triple-barreled Falcon Heavy from neighboring Pad 39A at the Kennedy Space Center (KSC) was called off for the second night in a row.
B1062, making her 15th flight and her fourth of 2023 alone, headed skyward in a blaze of fire, light and ear-splitting noise at 12:01 a.m. EDT, on the third and final T-0 point for the night, after SpaceX had earlier opted to skip two prior launch opportunities at 10:20 p.m. and 11:10 p.m. Mother Nature proved an overarching concern, as weather was predicted to take a noticeable downturn from 85-percent favorability on Wednesday to only about 40-percent-acceptable last night.
A key driver in the gloomy weather picture was the predicted arrival of a weak tropical wave, bringing with it increased moisture and the possibility of scattered showers and isolated thunderstorms along the Space Coast. That wave is expected to retreat eastwards later on Friday to yield an improved picture of 65-percent favorability.
But SpaceX has a history of threading the needle successfully, even in seemingly poor weather conditions, and last night proved no exception, as B1062 completed a picture-perfect, just-past-midnight climb to space and return home. She now becomes only the third Falcon 9 core to reach a life-leading 15 flights and sits behind her older sisters B1058—the one-time ride of "Bob and Doug"—and B1060, which both made their record-setting 16th launches earlier this month.
B1062 entered service in November 2020, when she lifted the fourth Block III Global Positioning System (GPS III-04) satellite on behalf of the U.S. Space Force, followed by GPS III-05 the following June. Last year, she logged eight missions, the highest number of launches ever attained by a single booster in a single calendar year, notably flying twice in April 2022 alone, setting a new empirical record of only 21 days between flights by the same orbital-class booster.
She also stands as one of only three Falcon 9s to have launched as many as two crews of astronauts. B1062 flew the historic, all-civilian Inspiration4 crew of Shift4Payments billionaire Jared "Rook" Isaacman and crewmates Sian Proctor, Hayley Arceneaux and Chris Sembroski aboard Dragon Resilience in September 2021 and Ax-1 crewmen Mike Lopez-Alegria, Larry Connor, Mark Pathy and Eytan Stibbe on the first leg of their 17-day mission to the ISS for Houston, Texas-based AxiomSpace, Inc., in April of last year.
Added to that impressive list, she has now launched 393 Starlink internet communications satellites on eight dedicated missions, together with 40 broadband satellites for London, England-based OneWeb and a pair of geostationary-bound payloads, one for Egypt in June 2022 and another for Saudi Arabia, last May.
As a dedicated "East Coast Falcon", ten of her launches occurred from SLC-40, the remainder from KSC, and B1062 has returned smoothly homeward to execute 14 drone-ship landings and a single touchdown on solid ground at the Cape's Landing Zone (LZ)-1.
Last night's 15th payload for this workhorse booster comprised the eighth total batch of Starlink "V2 Mini" satellites, which boast three to four times greater "usable" bandwidth than earlier iterations. "V2 Minis include key technologies—such as more powerful phased-array antennas and the use of E-Band for backhaul—which will allow Starlink to provide 4x more capacity per satellite than earlier iterations," SpaceX explained. "Among other enhancements, V2 Minis are equipped with new argon Hall thrusters for on-orbit maneuvering."
As a network, Starlink facilitates high-speed and low-latency internet provision across more than 60 sovereign nations and international markets in North and South America, Europe, Asia, Oceania and Africa. Just this month, Cyprus, Guatemala, Kenya, Malaysia and Malawi have signed up to the network.
Florida-based intercity operator Brightline adopted Starlink on its trains earlier in 2023, the first passenger rail service in the world to do so. Additionally, El Salvador's Ministry of Education has begun integrating Starlink capability into its schools to help close the digital divide between urban and remote rural communities and 50 Rwandan schools are now connected via Starlink's high-speed internet service.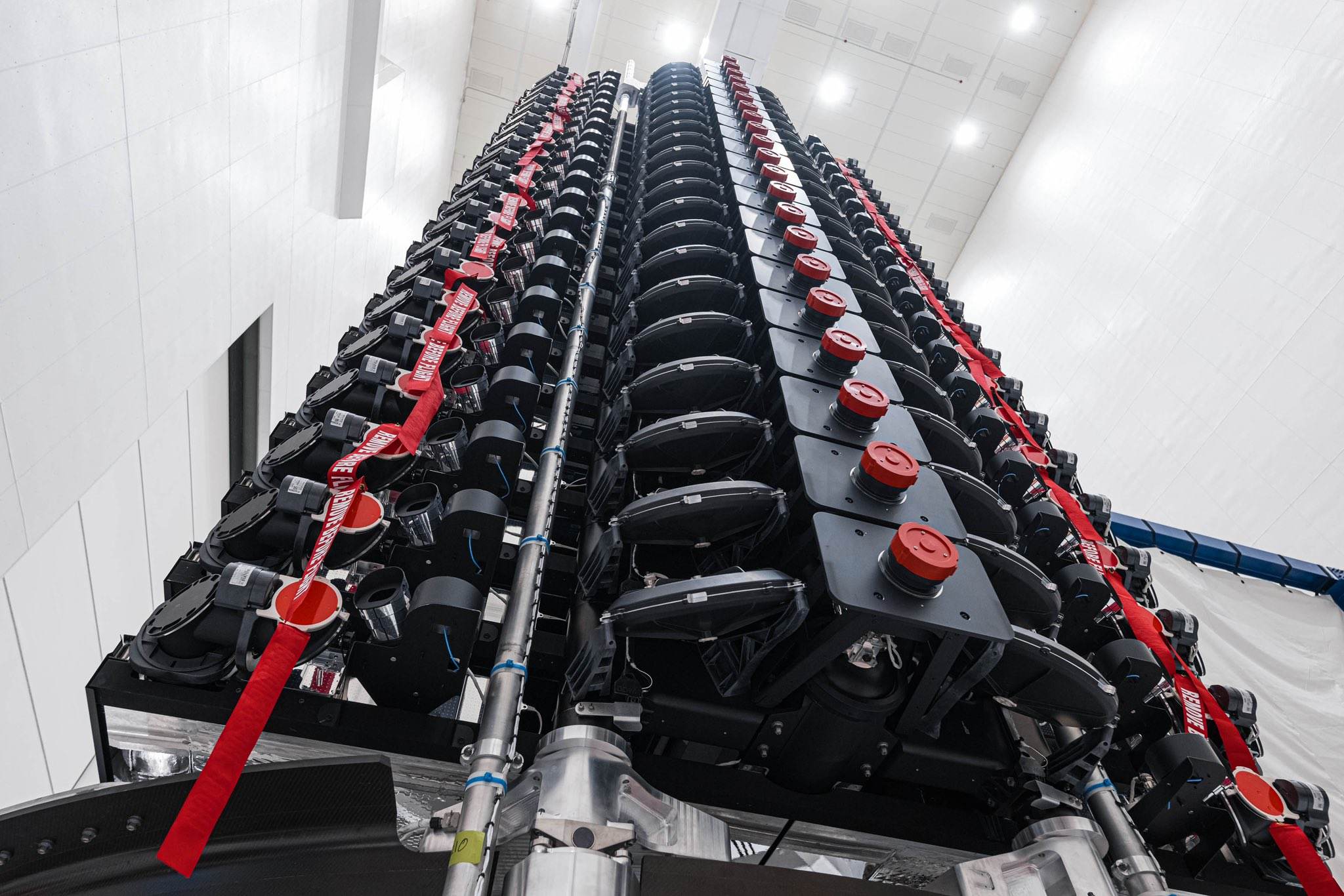 Following last night's liftoff, B1062 powered the 230-foot-tall (70-meter) Falcon 9 for the first 2.5 minutes of flight, then separated and returned to alight on the deck of the Autonomous Spaceport Drone Ship (ASDS), "A Shortfall of Gravitas", situated offshore in the Atlantic Ocean. Meanwhile, the Merlin 1D+ second-stage engine performed a standard six-minute "burn" to lift the 22-strong Starlink stack to orbit, deploying its payload at 65 minutes and 17 seconds into the mission.
However, still awaiting launch is the triple-barreled Falcon Heavy, which continues to wait at Pad 39A with the heavyweight Jupiter-3 Ultra-High-Density Satellite (UHDS). Flying on behalf of Inverness, Colo.-headquartered EchoStar, Corp., the 20,000-pound (9,200-kilogram) communications satellite will be the heaviest ever lifted to Geostationary Transfer Orbit (GTO) by a Heavy.
Built by Maxar and set to be redesignated EchoStar-24 when in orbit, it will showcase miniaturized electronics, solid-state amplifiers and a high-efficiency antenna architecture for "more concentrated capacity over high-use areas". The satellite's high-efficiency Ka-band antennas will enable data-throughput rates of up to 500 gigabits per second. It departed Maxar's facility in Palo Alto, Calif., late last month and arrived at the Cape on the final day of June.
An initial launch attempt on Wednesday evening was scrubbed at T-65 seconds, just prior to "startup"—the point at which the Falcon Heavy's on-board flight computers were set to take command of the countdown—in response to a "violation of abort criteria". Teams realigned for a backup opportunity at 11:04 p.m. EDT Thursday, but that attempt also was called off more than an hour before the opening of the 99-minute 'window', with SpaceX noting its desire "to complete vehicle checkouts" and await improved weather.
Weather late Friday night looks set to improve to as high as 65-percent favorability, as most afternoon storms are predicted to head inland. However, the 45th Weather Squadron at Patrick Space Force Base has cautioned that coastal convective activity "may linger" close to the Spaceport during tonight's 99-minute window, which again opens at 11:04 p.m.
But with last night's successful launch, SpaceX has now flown 50 Falcon-class orbital missions in the year's 30th week, counting 48 single-stick Falcon 9s and a pair of Falcon Heavy flights in January and April. That equates to a launch every 4.18 days, a substantial uptick over last year's personal-best-beating achievement of 5.98 days.
Putting that into context, SpaceX took until early November in 2022 to reach 50 launches. And in 2021, the Hawthorne, Calif.-based organization achieved "only" 31 flights across the span of an entire calendar year.
So far in 2023, a total of 28 dedicated flights have launched 1,200-plus flat-packed Starlinks, including eight V2 Mini batches. Eight geostationary-bound missions successfully delivered eight large communications satellites—two of which were dual-stacked on a single mission—and a highly classified payload for the Space Force.
Two crewed and a pair of uncrewed flights have headed to the International Space Station (ISS), including historic Ax-2 in late May, the first all-private orbital mission commanded by a woman. Other accolades included the first booster cores to log a 16th launch, the shortest interval ever achieved—just four hours—between pairs of missions, the first eight-launch months and a record-setting cadence of flights out of Vandenberg Space Force Base, Calif.