In what is becoming an increasing blur of Falcon 9 musical chairs, dozens more Starlink internet communications satellites are expected to head uphill tonight, via a pair of back-to-back flights from opposing coasts of the United States, on launches spaced less than seven hours apart. Two veteran boosters which already boast 26 prior missions between them will turn the darkened Florida and California coastlines into instant daylight: the first from storied Space Launch Complex (SLC)-40 at Cape Canaveral Space Force Station, Fla., no sooner than 8:14 p.m. EDT Wednesday and the second from Space Launch Complex (SLC)-4E at Vandenberg Space Force Base, Calif., no earlier than 12:01 a.m. PDT Thursday.
If both fly as timelined, and at their earliest possible T-0 points, approximately six hours and 47 minutes will expire between them. This will mark the third-shortest gap between pairs of SpaceX missions, with tonight's flights sitting just behind the seven hours and ten minutes set between two Falcon 9s last October—including Crew-5, which ferried NASA astronauts Nicole Mann and Josh Cassada, Japan's Koichi Wakata and Russian cosmonaut Anna Kikina to the International Space Station (ISS)—and a more recent double-header in March, which holds the current empirical record of four hours and 12 minutes.
Leading tonight's impressive line-up of launches is B1067, making her 13th flight in a little more than two years, which is tracking an opening launch attempt from SLC-40 at 8:14 p.m. EDT tonight. Four additional backup T-0 opportunities are also available, extending from 9:07 p.m. through midnight, with another four tries opening tomorrow night from 7:49 p.m. through 11:11 p.m.
In readiness for launch, the East Coast-based Autonomous Spaceport Drone Ship (ASDS), "A Shortfall of Gravitas", put to sea out of Port Canaveral on Sunday, bound for a recovery position some 400 miles (640 kilometers) offshore in the Atlantic Ocean. And on the United States' opposite seaboard, early Monday the West Coast drone ship, "Of Course I Still Love You", also departed Port of Long Beach for its own spot in the Pacific Ocean to pick up its 14th returning Falcon 9 core of the year so far.
B1067 first flew back in June 2021 to lift the CRS-22 Cargo Dragon to the ISS for a month-long research stay at the sprawling orbital complex. She then went on to deliver eight astronauts from the United States, Germany and Italy to the station as part of the Crew-3 and Crew-4 missions in November 2021 and April 2022, followed by the CRS-25 Cargo Dragon last summer.
Added to that list, B1067 lofted a geostationary communications satellite for Turkey, 222 Starlinks, a pair of O3b mPOWER broadband satellites and the Hotbird 13G communications satellite. Most recently in June, she carried Satria, a Very High Throughput Satellite (VHTS), built by Thales Alenia Space for Indonesia's Pasifik Satelit Nusantara (PSN), targeting a location at 146 degrees East longitude for an estimated 15-year operational lifetime.
Interestingly, her Türksat mission in December 2021 helped establish a new record between pairs of Falcon 9 flights at less than 16 hours. That record has now been eclipsed several times over.
In November of last year, her Hotbird 13G launch marked the first time that SpaceX had executed as many as 50 Falcon 9 missions in a single calendar year. And in January, her 56-strong Starlink tipped the scales at 38,400 pounds (17,400 kilograms) as the heaviest Falcon 9 payload ever orbited at that time.
However, tonight's weather picture for the Cape looks decidedly iffy, with a 20-percent probability of acceptable conditions near the start of the "window", improving marginally to 65-percent-favorability close to the end. The culprit is an active weather pattern across the Space Coast, induced by the southward movement of the Atlantic surface ridge.
"The mid-level ridge that helped limit the storm coverage last week will continue to break down as a trough digs into the Southeast," explained the 45th Weather Squadron at Patrick Space Force Base in its L-1 update, issued Tuesday. "This mid-level support, combined with deep moisture and the southwest flow, will bring a high coverage of thunderstorms across East Central Florida on both Wednesday and Thursday afternoons.
"The storms and associated cloud cover will likely persist into the opening of the window and slowly dissipate as we approach midnight," it was added. "For both the primary and backup days, the Probability of Violation is significantly higher at the start of the window and decrease as the window progresses, with the main concerns being the cloud cover associated with the evening showers and storms."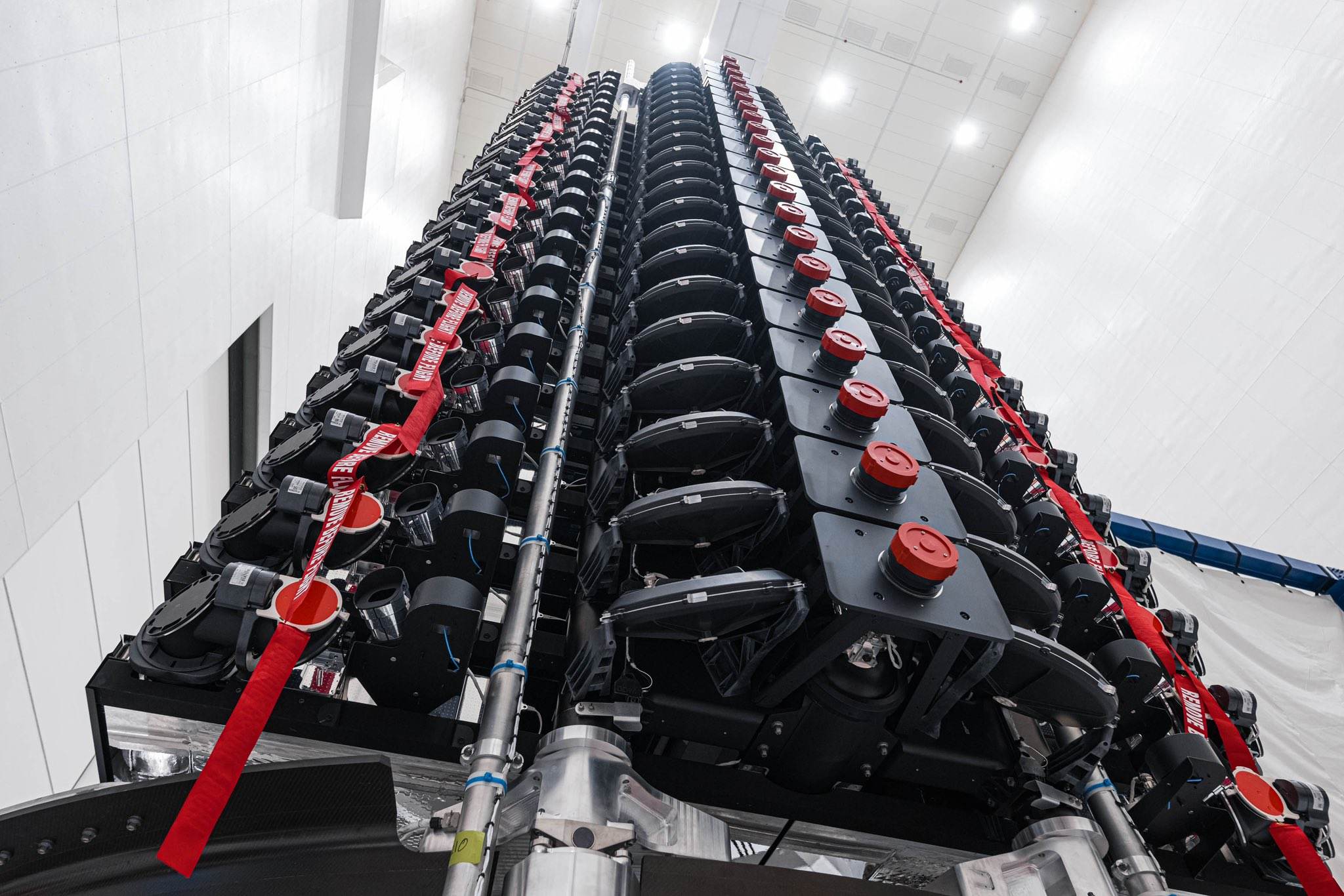 Assuming an on-time liftoff, B1067 will lift 22 Starlink "V2 Mini" satellites uphill, with deployment targeted about 65 minutes into the flight. An almost mirror-image mission from the West Coast—featuring the life-leading B1061 booster, making her 15th flight—is expected to fly from Vandenberg as soon as 12:01 a.m. Thursday with her own haul of 21 Starlinks, bringing the total number of these flat-packed internet communications satellites orbited so far in 2023 to over 1,200.
And if both flights fly as manifested, the second of the pair will mark the 100th full batch of Starlink satellites to be launched since May 2019. So far, a total of 4,882 satellites have been launched, with tonight's missions—43 Starlinks all told—set to push that figure inexorably closer to 5,000.
Both flights will fly downsized V2 Minis, which boast three to four times greater "usable" bandwidth than earlier Starlink iterations. "V2 Minis include key technologies—such as more powerful phased-array antennas and the use of E-Band for backhaul—which will allow Starlink to provide 4x more capacity per satellite than earlier iterations," SpaceX explained. "Among other enhancements, V2 Minis are equipped with new argon Hall thrusters for on-orbit maneuvering."
As a network, Starlink facilitates high-speed and low-latency internet provision across more than 60 sovereign nations and international markets in North and South America, Europe, Asia, Oceania and Africa. Last month alone, Cyprus, Guatemala, Kenya, Malaysia and Malawi have signed up to the network and the Bahamas came online earlier in August.
Florida-based intercity operator Brightline adopted Starlink on its trains earlier in 2023, the first passenger rail service in the world to do so. Additionally, El Salvador's Ministry of Education has begun integrating Starlink capability into its schools to help close the digital divide between urban and remote rural communities and 50 Rwandan schools are now connected via Starlink's high-speed internet service.
Flying tonight's Vandenberg mission is B1061, a "coast-hopping" Falcon 9, which flew nine times from the East Coast between November 2020 and June of last year, before being transported to the West Coast for the second half of her career, chalking up five additional flights between August 2022 and last May. She is now set to become SpaceX's fourth booster to hit a life-leading 15 launches.
B1061 entered service almost three years ago to lift Dragon Resilience and her Crew-1 complement of NASA astronauts Mike Hopkins, Victor Glover and Shannon Walker, together with Japan's Soichi Noguchi, for their six-month Expedition 64/64 increment to the ISS. That opening launch marked the first U.S. human spaceflight in the hours of darkness since the end of the Space Shuttle Program and Glover became the first African-American spacefarer to embark on a long-duration mission.
She went on to launch NASA's Shane Kimbrough and Megan McArthur, France's Thomas Pesquet and Japan's Aki Hoshide aboard Dragon Endeavour for Crew-2 in April 2021, kicking off a multi-month ISS increment which concluded after 199 days the following November as the longest single mission ever undertaken by a U.S. crewed vehicle. This saw B1061 become the first "reused" Falcon 9 to carry crew.
Her human-hauling duties over, B1061 settled into a more regular routine as a payload lifter. She launched SiriusXM's heavyweight SXM-8 broadcasting satellite in June 2021, SpaceX's CRS-23 Cargo Dragon to the ISS the following August and NASA's Imaging X-ray Polarimetry Explorer (IXPE) in December 2021.
Six additional missions followed in 2022, as she lifted a pair of Starlink batches—95 satellites in total—in February and August and the Transporter-4 and 5 rideshare "stacks" on April Fool's Day and late May. This was followed by a Globalstar-2 global mobile communications satellite and a possible payload for an undisclosed U.S. Government customer in June and Israel's EROS-C3 electro-optical surveillance satellite on the second-to-last day of December.
Her 2023 duties on a trio of missions in March, April and May saw her lift three more Starlink payloads and so far she has ferried 244 of these satellites aloft. Late last summer, she moved west to become a "Vandenberg Falcon" as SpaceX's launch tempo from SLC-4E intensified, last week passing a record-breaking 16 flights so far in 2023.