Only days after SpaceX successfully completed its 50th Falcon-class launch of the year, and its 50th "single-stick" Falcon 9 launch of the year, it has edged ever closer to a cumulative 50 flights out of Vandenberg Space Force Base, Calif. A five-times-used booster sprang from mountain-ringed Space Launch Complex (SLC)-4E at 8:57 p.m. PDT (11:57 p.m. EDT) Monday, laden with 15 Starlinks, pushing the total number of these flat-packed internet communications satellites flown out of the West Coast to north of 1,000.
It was also SpaceX's third launch in August's first week, coming on the heels of two former crew-carrying boosters—Crew-5's B1077 and Crew-6's B1078—which successfully lofted 22 Starlinks and Intelsat's powerful Galaxy-37 C-band-clearing geostationary satellite from the Space Coast. Those flights saw the Hawthorne, Calif.-headquartered organization pass 50 Falcon 9 launches in 2023 and observe a cumulative quarter-millennium of missions across the fleet's 13-year lifetime.
B1075 was making her fifth mission, having entered SpaceX's burgeoning fleet of boosters earlier this year. Flying in January, April, May, June and last night, she has now delivered over 160 Starlinks and the inaugural members of "Tranche 0" of the Transport and Tracking Layer (TTL) of satellites for the Space Development Agency (SDA), ending four of those missions with on-point touchdowns on the expansive deck of the West Coast-based Autonomous Spaceport Drone Ship (ASDS), "Of Course I Still Love You", and one on solid ground at Landing Zone (LZ)-4.
Last night's final pre-launch minutes saw B1075 enshrouded in Vandenberg's characteristic thick fog, the instant of T-0 only visible as the murk at SLC-4E instantaneously changed, firstly from a dull gray to a reddish-orange hue and finally to a blinding glow which turned night to day. Powering through the low-lying cloud deck, the veteran booster's nine Merlin 1D+ engines burned for 2.5 minutes, before she separated from the stack and returned to a perfect middle-of-the-night landing on OCISLY.
Meanwhile, the Merlin 1D+ Vacuum engine of the Falcon 9's second stage ignited for a standard six-minute "burn" to deliver 15 Starlinks—totaling 26,000 pounds (12,000 kilograms—into orbit. At one point, early in the burn, the glowing engine competed for brightness with a glittering orbital sunrise.
As a network, Starlink facilitates high-speed and low-latency internet provision across more than 60 sovereign nations and international markets in North and South America, Europe, Asia, Oceania and Africa. Last month alone, Cyprus, Guatemala, Kenya, Malaysia and Malawi have signed up to the network.
Florida-based intercity operator Brightline adopted Starlink on its trains earlier in 2023, the first passenger rail service in the world to do so. Additionally, El Salvador's Ministry of Education has begun integrating Starlink capability into its schools to help close the digital divide between urban and remote rural communities and 50 Rwandan schools are now connected via Starlink's high-speed internet service.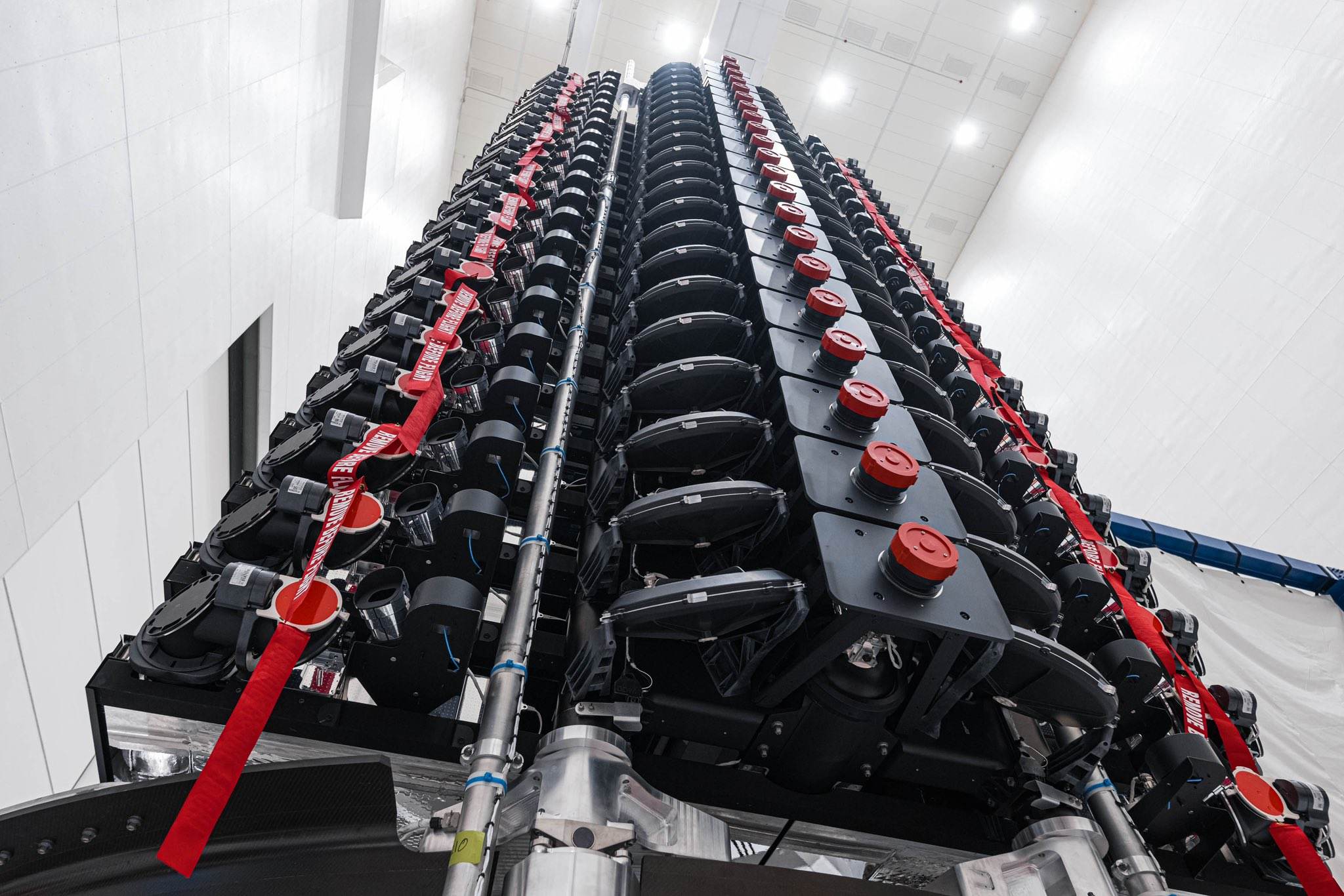 With last night's mission, more than 1,000 Starlinks have been successfully orbited by SpaceX out of Vandenberg in 2023. It has also edged ever closer to a cumulative 50 Falcon 9 launches out of the West Coast since its maiden outing back in September 2013. Last night's flight marked the 48th total Vandenberg mission and the 16th so far this year.
And the flight cadence has increased over the years, from a 28-month gap between SpaceX's first and second West Coast launches to flying two missions in a single calendar month for the first time in February 2022 and three times in a single calendar month this past April. The fleet's per-annum launch rate has also expanded, from five flights in 2017 to six in 2018 to a record-breaking 13 last year.
Booster reusability has played a significant role in enabling these numbers. SpaceX achieved its first dual-use of a Falcon 9 core out of Vandenberg in December 2017, but one booster in particular—B1063—dramatically ramped up the records, becoming the first Falcon 9 to fly three times out of Vandenberg in February 2022 and going on to fly repeatedly over the next year. As of today, she has logged 11 missions from the West Coast, with fellow "Vandenberg Falcon" B1071 not far behind on ten launches.
This year's impressive tally of 16 flights and counting has been achieved using only four boosters. Three have logged four flights apiece, one has launched three times and B1075 has now recorded five missions since January.
As SpaceX approaches the tenth anniversary of its first launch from Vandenberg in September, 13 Falcon 9 cores have executed 48 flights, their plethora of missions ranging from ocean altimetry to Earth observations, from global mobile communications to internet provision and a pair of highly classified payloads on behalf of the National Reconnaissance Office. Two multi-customer Transporter hauls have headed uphill from Vandenberg's hills, as did the NASA-led Double Asteroid Redirection Test (DART) to explore the binary asteroid 65803 Didymos and deploy a high-velocity kinetic impactor to impact its tiny companion, Dimorphos.