Barely a week since the successful launch of the TurkmenÄlem52E/MonacoSat payload to Geostationary Transfer Orbit (GTO), SpaceX will again rock Space Launch Complex (SLC)-40 at Cape Canaveral Air Force Station, Fla., to the roar of rocket engines on Wednesday, 6 May, when it executes the long-awaited Pad Abort Test of its soon-to-be-crewed Dragon spacecraft. The test forms one of SpaceX's Commercial Crew integrated Capability (CCiCap) requirements, ahead of its 2017 goal of returning U.S. astronauts to the International Space Station (ISS), aboard a U.S. spacecraft, and from U.S. soil, for the first time since the end of the shuttle era. Earlier today (Friday, 1 May), two key figures—NASA Commercial Crew Program Partner Manager Jon Cowart and SpaceX Vice President of Mission Assurance Hans Koenigsmann—spoke at length about the intricacies of the test and its importance in the Commercial Crew endeavor. Follow AmericaSpace's Launch and Events Tracker for updates and live coverage of the Pad Abort Test.
The test was originally scheduled for early-April, but was postponed due to schedule slippage of the higher-priority TurkmenÄlem52E/MonacoSat, following the discovery of an issue with a batch of Falcon 9 v1.1 helium pressurization bottles during testing. As a precautionary measure, the TurkmenÄlem52E/MonacoSat mission slipped until late-April, with the Pad Abort Test anticipated a few days thereafter. Both events were slated to originate from SLC-40. "We have more flexibility with the Pad Abort schedule," SpaceX told AmericaSpace recently, "so we're evaluating the best dates in light of the two missions." The Dragon spacecraft assigned to the Pad Abort Test was delivered to the Cape in February 2015 for final processing, ahead of integration with a supporting truss structure at SLC-40.
Last month, it was announced that the test would occur no sooner than Tuesday, 5 May, during a four-hour "window," due to open at 9:30 a.m. EDT. "The ability to abort from a launch or pad emergency and safely carry crew members out of harm's way is a critical element for NASA's next generation of crew spacecraft," it was explained in NASA's Media Accreditation literature. "SpaceX will perform the test under its Commercial Crew integrated Capability (CCiCap) agreement with NASA, but can use the data gathered during the development flight as it continues on the path to certification. Under a separate Commercial Crew transportation Capability (CCtCap) contract, NASA's Commercial Crew Program will certify SpaceX's Crew Dragon, Falcon 9 rocket, ground and mission operations systems to fly crews to and from the International Space Station." Earlier this week, however, it was announced that SpaceX would be targeting the second opportunity, on Wednesday, 6 May, for the test, which is anticipated to get underway at 7 a.m. EDT, at the opening of a four-hour window.
In his opening remarks from the TV Press Site Auditorium at the Kennedy Space Center (KSC), Fla., Dr. Koenigsmann exulted that he was "super-excited about this test" and that it represents "what SpaceX was basically founded for: human spaceflight." He noted that it would demonstrate a "revolutionary system for the safety of the astronauts." Mr. Cowart added that NASA and SpaceX have been "working towards this point for four years," ever since the initial award of the CCiCap contract. "These are the days we live for," he told his KSC audience, pointing out that "there's gonna be some smoke and fire," but cautioning that it was a development test, "not a shiny, well-polished Space Shuttle launch." However, the importance of the Pad Abort Test is inescapable. "Let's go test!" exclaimed Mr. Cowart. "One good test is worth a thousand expert analyses."
As already described to AmericaSpace by SpaceX, the test will be a short and rapid one, lasting under two minutes from pad departure through splashdown in the Atlantic Ocean, with most of that distance covered in the initial 25-30 seconds. "I can hold my breath the entire time!" quipped Dr. Koenigsmann. The instrumented Dragon crew module—whose payload includes a crash test dummy, named "Buster"—and the unpressurized trunk will be mounted atop a simulated upper segment of the Falcon 9 v1.1 rocket and a steel truss framework, which has been installed directly over the flame trench aperture on SLC-40. The overall weight of the stack will be in excess of 21,000 pounds (9,525 kg), plus around 3,500 pounds (1,590 kg) of propellant. The steel catenary lines at SLC-40, which are normally utilized as a high-level lightning protection mechanism during Falcon 9 v1.1 launches, have been removed for the purposes of the Pad Abort Test.
Wednesday will be the first time that a full complement of eight SuperDraco thrusters for the piloted variant of Dragon have ever been ignited together. Fueled by a combination of storable monomethyl hydrazine and nitrogen tetroxide, each of these 3D-printed thrusters is capable of around 16,400 pounds (7,440 kg) of thrust—thereby punching out a total propulsive yield in excess of 120,000 pounds (54,430 kg)—which Dr. Koenigsmann described with a charismatic grin as "a lot of kick." By comparison, the SuperDraco is around 200 times more powerful than the Draco thrusters currently used by the unpiloted Dragon cargo spacecraft. Last May, SpaceX announced that it had completed qualification testing of the SuperDraco at its Rocket Development Facility in McGregor, Texas, during which the thruster was put through a range of conditions, including multiple starts and extended-duration firings, as well as exposing it to extremely off-nominal propellant flow and temperature scenarios.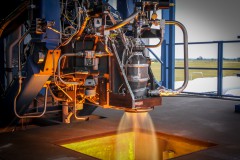 Unlike previous launch abort systems, which were typically discarded a few minutes after liftoff, the SuperDraco thrusters are built into the side walls of the Dragon spacecraft and are available for use not only as an escape mechanism for the crew in the event of a contingency, but also can be employed throughout the later stages of ascent or for a propulsive landing. Responding to questions at today's press briefing, Dr. Koenigsmann explained that it is "different to run thrusters in the air, under atmospheric pressure" and added that the Pad Abort Test is "a development test; it's a brand-new vehicle." Meanwhile, Mr. Cowart—who will serve as NASA Mission Manager for SpaceX's first crewed Dragon V-2 mission in early 2017—concluded that Wednesday's test will be the first occasion that more than two SuperDracos have been fired in unison. "All the indications are that it's going to do a super job," he said.
Since the Pad Abort Test will not utilize a Falcon 9 v1.1 booster, the Dragon will be launched "almost from ground level," according to Mr. Cowart, with water from the 53 nozzles of the Niagara sound suppression system flowing inward from the sides. An early-morning flight was preferable, in the context of historical Florida weather, although Dr. Koenigsmann pointed out that wind speeds will be a carefully monitored concern. Under the propulsive influence of the eight SuperDracos, the Dragon crew module and unpressurized trunk will be boosted at high velocity away from SLC-40, pitching toward the east and reaching an altitude of 5,000 feet (1,500 meters) within just a handful of seconds.
Although the ascent will be rapid, Mr. Cowart explained that from a Range Safety Officer (RSO) perspective, "compared to a rocket it can't get very far" and that the flight would likely occur within a relatively small radius of about 2.2 miles (3.5 km). A couple of seconds after reaching apogee, the trunk will be jettisoned from the crew module. The latter will then begin the process of deploying a pair of reefed drogue parachutes, followed by a trio of main canopies about 30 seconds later, which will effect a splashdown in the Atlantic Ocean, somewhere between 90 seconds and two minutes after leaving SLC-40. Splashdown is expected to occur about 6,000 feet (1,800 meters) to the east of SLC-40, which will place its impact point about 3,000 feet (900 meters) out to sea.
Notwithstanding the fact that the crew module is heavily instrumented for this test—specifically, with gyroscopes, temperature sensors on the exterior hull to measure heat fluxes, acoustic sensors, and cameras—a great deal of interest has centered on the presence of a crash test dummy, which will be strapped into a seat aboard Dragon. The other six seats will be weighted to simulate the presence of a full crew. It is expected that the dummy will be subjected to peak G-loads of up to 4.5 G during the most extreme points of the ascent. Last week, Voice of America reported that the dummy is nicknamed "Buster" and its contribution and those of the other instrumentation will be a critical asset as SpaceX and NASA move toward full certification of the spacecraft, which is expected to fly unpiloted in late 2016 and in a crewed capacity sometime early the following year.
Looking beyond Wednesday's test, Dr. Koenigsmann and Mr. Cowart were questioned about the kind of success criteria they expected to see and how this will factor into future plans, most notably for the upcoming In-Flight Abort. The latter will employ the same Dragon crew module as that used in the Pad Abort Test, but will venture to an altitude of 40,000 feet (12,200 meters) in what Dr. Koenigsmann described as "a very elaborate test" to investigate its performance under high aerodynamic loads at "Max Q." The two panelists replied that this second test—which SpaceX intends to stage later in the summer from Space Launch Complex (SLC)-4E at Vandenberg Air Force Base, Calif.—will offer an opportunity to repeat any necessary tasks.
"There's all gray areas in success," noted Mr. Cowart, drawing an apt analogy with the famously oxymoronic description of Apollo 13 as a successful failure. "No matter what happens on test day, we're going to learn a lot," he emphasised, adding "We're doing something historic here."
Want to keep up-to-date with all things space? Be sure to "Like" AmericaSpace on Facebook and follow us on Twitter: @AmericaSpace
Missions
»
ISS
»
CCDev
»
Crew Dragon PAT
»