SpaceX has successfully conducted its long-awaited Pad Abort Test of a mockup Crew Dragon spacecraft, ahead of the In-Flight Abort, later this summer, and its eventual plan to deliver U.S. astronauts to the International Space Station (ISS), aboard a U.S.-manufactured spacecraft, and from U.S. soil, for the first time since the end of the shuttle era. Delayed since early April, the test got underway with spectacular speed at 9 a.m. EDT Wednesday, 6 May, as the spacecraft punched away from Space Launch Complex (SLC)-40 at Cape Canaveral Air Force Station, Fla., rising to a predicted altitude of 5,000 feet (1,500 meters) in a matter of a few seconds, before its crew capsule separated from the unpressurized "trunk" and completed a parachute-assisted splashdown in the Atlantic Ocean. Early indications are that the 102-second test—which showcased a system that SpaceX and NASA fervently hope they will never need to use with a crew aboard—ran without a wrinkle.
As described in AmericaSpace's two-part preview/history article—and in our recent portfolio of imagery of the Dragon vehicle at the pad—this critical test has been a long time coming. Originally targeted to occur in early April, it was pushed back by more than a month, due to an issue with helium pressurization bottles aboard Falcon 9 v1.1 hardware, which forced a prudent SpaceX to delay an earlier mission, carrying the TurkmenÄlem52E/MonacoSat payload to Geostationary Transfer Orbit (GTO). Since both missions required the use of SLC-40, the delays had a ripple-like effect on the Pad Abort Test.
In the immediate aftermath of the TurkmenÄlem52E/MonacoSat launch on 27 April, efforts to reconfigure SLC-40 for the ground-level installation of the Crew Dragon capsule and unpressurized trunk got underway. On 30 April, the high-level catenary lines for lightning protection were removed and a truss structure to support the spacecraft at ground level was installed over SLC-40's flame trench. At about the same time, the target date for the Pad Abort Test was moved 24 hours to the right, to Wednesday, 6 May, with weather conditions anticipated to be 70 percent favorable. The 7.5-hour "window" was scheduled to open at 7 a.m. EDT, about 22 minutes after local sunrise.
In readiness for the test, SpaceX highlighted that the primary Eastern Range weather constraints centered upon the risks posed by "Phase II Lightning"—a warning for which is typically issued when lightning is either imminent or occurring within 5 miles (8 km) of the launch site, requiring the termination of all lightning-sensitive operations—as well as the possibility of winds in excess of 25 knots.
"Winds have become gusty out of the east and will remain so for the next couple of days as a low-pressure area develops south-east of Central Florida," it was highlighted by the 45th Weather Squadron at Patrick Air Force Base in an update on Monday. "The increase in winds also increases the threat of showers along the Space Coast. Showers will be most prevalent in the morning hours and typically diminish after noon. On Wednesday, the low-pressure area will drift north and east, relaxing the pressure gradient, which will result in lower wind speeds over the Spaceport." Maximum winds to 5,000 feet (1,500 meters) were expected to be easterly at 20 knots, producing a 70 percent likelihood of acceptable conditions on Wednesday. That probability was expected to improve to 80 percent favorable on the backup day on Thursday, as the low-pressure region continues to move northwest and winds continue to weaken. In the event of a 24-hour scrub, it was expected that the maximum winds to 5,000 feet (1,500 meters) on Thursday will be north-easterly at 17 knots.
Yesterday (Tuesday), the 21,000-pound (9,525-kg) Crew Dragon vehicle was transported to SLC-40 and completed a satisfactory Static Fire Test of the eight SuperDraco thrusters, embedded within its side walls. These hypergolic thrusters, which completed their qualification testing in May 2014 at SpaceX's Rocket Development Facility in McGregor, Texas, produce a combined impulse in excess of 120,000 pounds (54,430 kg) and in the event of an abort scenario are designed to pluck the Dragon spacecraft away from its failed booster and propel it safely away to an altitude of about 5,000 feet (1,500 meters) in just six seconds. This would be followed by the separation of the trunk and crew capsule, the latter of which would parachute to a safe oceanic landing, about 6,000 feet (1,800 meters) to the east, guided by drogues and three main canopies.
With a 7.5-hour window in which to accomplish the short Pad Abort Test, SpaceX opted to refine T-0 from 7 a.m. to 9 a.m., pending the weather situation. "The weather is currently Go for today's #PadAbortTest," noted AmericaSpace's Twitter profile at 8:30 a.m. "Controllers are currently working no technical constraints. #SpaceX."
Opening SpaceX's live webcast a few minutes later, Falcon 9 Product Director John Insprukter told his audience that the team was "Go for Launch," but stressed that "we continue to watch cloud levels and the possibility of lightning in the area." By this stage in the countdown, final checks aboard the Dragon vehicle itself, including Radio Frequency (RF) tests, had been completed. At T-13 minutes, in a fashion which closely mirrored the business end of a Falcon 9 v1.1 countdown, came the standard "Go/No-Go" poll of all flight controllers, with all stations reporting their readiness as "Go," with a note of caution from the Launch Director, pending resolution of range weather. Mr. Insprukter explained that the "charged atmosphere around the launch complex" posed a lightning risk, adding that if the Terminal Countdown did not commence at T-10 minutes, the clock would likely be recycled back out to T-20 minutes for a follow-up attempt, later in Wednesday's window.
However, despite increasingly gloomy skies over the Cape, the Terminal Countdown kicked off at 8:50 a.m. and the Inertial Measurement Units (IMUs) were confirmed in proper alignment about 60 seconds later. At 8:54 a.m., Dragon was placed onto internal power. Finally, at T-2 minutes, the Launch Director issued a definitive "Go for Launch." Keenly aware of the sheer speed with which the Dragon would punch away from the launch complex, all cameras and eyes were intensely focused on the small, bullet-shaped spacecraft, as it entered the last seconds before its most complex test to date. As had been anticipated, the event itself was brief, but spectacular, and also spectacularly successful.
"Launch!" came the call at T-0 and all eight SuperDracos flared instantaneously to life from the side walls of the spacecraft, propelling it directly upwards to about 5,000 feet (1,500 meters) at a much faster rate of ascent than normally seen during rocket launches. This severely tested the reaction times and camera reflexes of the assembled photojournalists.
"I was forced to frame the remote cameras 'wider' than usual, just to give myself more chance of actually capturing a shot or two of Dragon getting off the pad," explained AmericaSpace Editor Mike Killian, in response to a query about his camera set-up preparations. "With a rocket, those first five seconds or so is a slow ascent, but Crew Dragon … will jump off and be at altitude and near engine cutoff in the same amount of time. Since there is a delay between the sound trigger and camera's first shot, and considering the one second Dragon will be in frame of the remotes, I'm hoping just to get anything. It will be that fast!" AmericaSpace's John Studwell handled the photography in a similar fashion to his prior experience covering rocket and shuttle launches: "Only thing I consciously did was raise my ISO and likewise my shutter speed to accommodate the quick ascent," he said. "However, I really didn't experience much of a difference from a status quo launch."
The events of the following seconds brought back memories of the words of Dr. Hans Koenigsmann, SpaceX's Vice President of Mission Assurance,
in his remarks at the Kennedy Space Center (KSC), last Friday
:
"I can hold my breath the entire time!"
Just a half-second after departing SLC-40, the Dragon pitched eastwards toward the Atlantic Ocean as the SuperDracos throttled to control its trajectory, in line with real-time sensor measurements. By five seconds into the ascent, it had already attained an altitude of 1,640 feet (500 meters). At 15 seconds, the cylindrical trunk separated from the crew capsule—whose only "crew" consisted of a heavily instrumented crash test dummy, popularly known as "Buster," but actually granted anonymity by SpaceX—to begin the descent back toward the Atlantic. After completing a slow rotation, with its base heat shield facing the ground, the drogue parachutes were deployed just after 20 seconds to slow and steady the spacecraft, whose swinging descent toward a wave-lapped Florida shoreline was captured from on-board cameras. The drogues were followed by three red and white main canopies, which guided the bullet-shaped capsule to a perfect splashdown, within sight of the SLC-40 launch facilities, at about T+102 seconds. As SpaceX closed its webcast, a mere 3.5 minutes after liftoff, the first recovery vessel could already be seen approaching the capsule.
The response on Twitter, including comments from current and former astronauts, was virtually immediate. "Looked very survivable," remarked Canada's first ISS Commander, Chris Hadfield with admiration, whilst Expedition 36/37 crew member Karen Nyberg added a humorous note from her young son, who was fearful that the capsule might be struck by a whale in the ocean. With characteristic enthusiasm, former shuttle and ISS astronaut Garrett Reisman—who now serves as SpaceX's Director of Crew Operations—tweeted: "That was Friggin awesome!!! Go Dragon!!!"
Specific focal points for today's test included Sequencing, Closed-Loop Control, Trajectory, and External and Internal Environments. It will have sought to demonstrate the Dragon's proper sequencing of an on-pad abort timeline and the execution of multiple commands within a very few seconds. Moreover, no more than two SuperDracos had ever been fired in unison before today's test and trajectory data and measurements of external and internal conditions aboard the spacecraft "to help ensure safe conditions for crew transport" were of primary importance.
Although today's test appeared to pass with perfection, the in-depth engineering analysis will likely take several weeks, ahead of SpaceX's next goal of an In-Flight Abort, using the same Dragon capsule, later this summer. Yet the Pad Abort Test is a significant milestone as the Hawthorne, Calif.-based launch services provider aims to deliver U.S. astronauts to the International Space Station (ISS), aboard a U.S.-built spacecraft, and from U.S. soil, for the first time since the close of the shuttle era.
Whilst highly successful, and certainly visually spectacular, today's test actually served to validate a mechanism which, although potentially life-saving, would only ever be used in the most harrowing of circumstances. And it is the fervent hope and prayer of SpaceX, NASA, and the astronauts who will someday fly Crew Dragon that the mechanism never needs to be used for real with a crew aboard.

BELOW PHOTOS CREDIT: AmericaSpace / Alan Walters / Mike Killian / John Studwell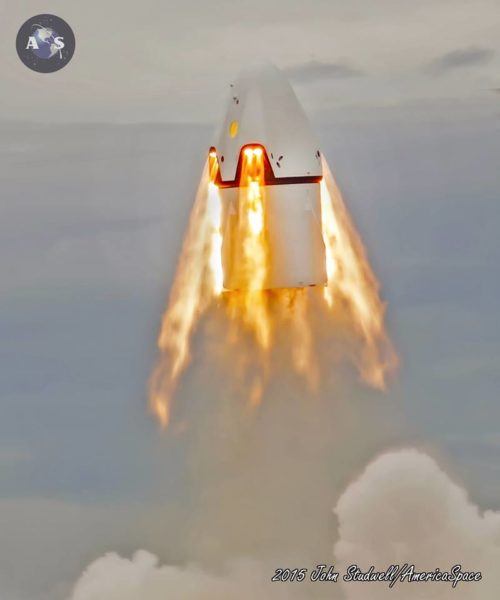 Want to keep up-to-date with all things space? Be sure to "Like" AmericaSpace on Facebook and follow us on Twitter: @AmericaSpace
Missions
»
ISS
»
CCDev
»
Crew Dragon PAT
»