Not since 8 July 2011 and the final launch of the Space Shuttle Program—during which Atlantis delivered the STS-135 crew of Commander Chris Ferguson, Pilot Doug Hurley, and Mission Specialists Sandy Magnus and Rex Walheim to the International Space Station (ISS)—has Pad 39A resounded to the roar of rocket engines carrying humans into space. Last weekend, almost 19 months since NASA signed over to SpaceX control and oversight of the only launch facility from which humans departed Earth to physically touch the face of another world, the massive Transporter-Erector (TE) for future use by the Hawthorne, Calif.-based launch services organization was raised into position for two days of testing. In parallel developments, NASA's Commercial Crew Program (CCP) announced Tuesday that SpaceX had completed testing of the SuperDraco launch-abort propulsion system for its Crew Dragon spacecraft, which is currently scheduled to support an unpiloted test flight in the fall of 2016.
NASA revealed this week that the SuperDraco apparatus had been successfully test-fired 27 times at SpaceX's facility in McGregor, Texas. Operating in four pairs—which SpaceX calls "jetpacks"—a total of eight hypergolic-fed and 3D-printed SuperDracos will be positioned radially at 90-degree intervals around the perimeter of the Crew Dragon, carrying the potential to generate 120,000 pounds (54,430 kg) of propulsive yield. According to NASA, such thrust is sufficient "to accelerate a Crew Dragon from zero to 100 mph (160 km/h) in 1.2 seconds," thereby enabling "the ability to lift the crew a safe distance off the launch pad or far enough away from a booster failing on the way to orbit." In May 2015, as outlined in an AmericaSpace article and portfolio of images, SpaceX conducted a long-awaited Pad Abort Test (PAT) of a Crew Dragon mockup and functional SuperDraco system from Space Launch Complex (SLC)-40 at Cape Canaveral Air Force Station, Fla.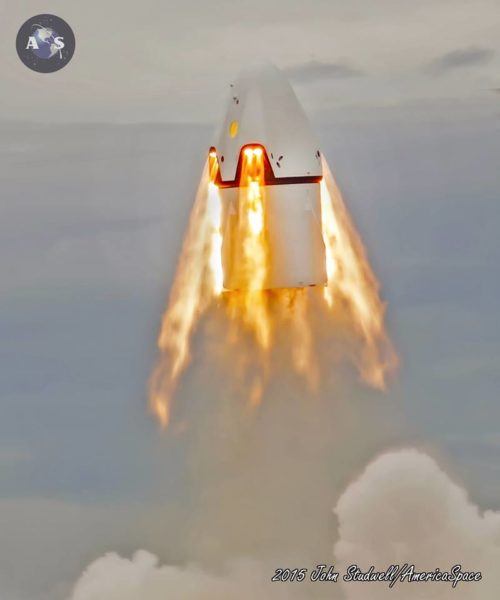 Of course, it is hoped that the capability of the SuperDracos will never be needed to pluck a crew of astronauts to safety in a real situation, although a robust Launch Escape System (LES) is mandatory and renewed fears over the Falcon 9's reliability were kindled following the loss of the CRS-7 cargo mission on 28 June. "A normal launch of the Crew Dragon atop a Falcon 9 rocket would not offer the SuperDracos anything to do during the mission," NASA explained, "since their only responsibility is to fire in an emergency to rescue the crew on-board." It was highlighted that SpaceX intends to use the SuperDracos as a propulsive landing mechanism, in place of parachutes, for the Crew Dragon. "After the development cycle," NASA concluded, "the propulsion system and SuperDracos will continue evaluations at the company's test stand to qualify them for use on operational missions."
In the meantime, Pad 39A has proven a hive of activity since it was formally handed over by NASA to SpaceX in April 2014, under the terms of a 20-year lease. Last weekend's arrival of the TE for two days of tests was the latest in a series of significant developments for a pad which can trace its heritage back to the earliest days of the space program. Capped, patriotically, by a fluttering U.S. flag, the TE was transported from the neighboring Horizontal Integration Facility (HIF)—situated astride the crawlerway— to the pad and raised last Saturday (7 November) for tests and fit-checks, before returning to a horizontal configuration on Monday.
A SpaceX spokesperson told AmericaSpace that the TE—which was fabricated in-place in Florida, with a few subassemblies constructed elsewhere—measures approximately 240 feet (73.1 meters) in length and, when fully loaded with a Falcon 9, is expected to carry a "rolling mass" of 1.3 million pounds (590,000 kg). It was explained that the same TE would be utilized for both Falcon 9 and Falcon Heavy launches, with all Pad 39A modifications expected to be complete by year's end. With this significant milestone completed, and the assembly of several other key SpaceX facilities well underway at the site, the stage is almost set for Pad 39A's 95th mission, expected to be the maiden voyage of the mammoth Falcon Heavy, in the Second Quarter of 2016.
Since its inaugural use to launch the unpiloted Apollo 4 on 9 November 1967—which also marked the maiden voyage of the Saturn V, the largest and most powerful rocket ever to attain operational status—Pad 39A has supported 94 missions, of which all but three were conducted with astronauts aboard.
VIDEO:
Crew Dragon SuperDraco Test Fire Nov 10, 2015. Credit: SpaceX
Pad 39A saw the first Saturn V launch—and, by default, its own first launch—in an unmanned capacity. On the stroke of 7:00 a.m. EST on 9 November 1967, the entire Cape received a jolt as the five F-1 first-stage engines of the Saturn V ignited. A year later astronauts Frank Borman, Jim Lovell, and Bill Anders became the first humans to rise from Earth from the site, embarking on the first piloted voyage to the Moon. Over the course of the next four years, through Apollo 17 and America's first piloted night launch in December 1972, nine Apollo crews left Pad 39A, eight of whom voyaged to our closest celestial neighbor. And of those eight, six missions succeeded in placing a dozen humans onto the dusty lunar surface.
Twelve Saturn V missions were staged between November 1967 and May 1973 and the site's next launch came on 12 April 1981, when Columbia roared aloft on STS-1, the first shuttle flight. Over the following 30 years, no fewer than 82 shuttle missions ascended from Pad 39A. It is therefore hardly surprising that, in January 2000, Pad 39A was added as a Site to the U.S. National Register of Historic Places (NRHP).
Six months before the final shuttle mission, in January 2011, NASA began the process of identifying assets which were no longer required after the conclusion of the program (including Pad 39A) and a Notice of Availability (NOA) was issued to gauge potential industry interest. An Announcement for Proposals (AFP) for the pad was released in May 2013 and, at its due date in July, NASA had received responses from SpaceX and from Amazon founder Jeff Bezos' Kent, Wash.-based aerospace company, Blue Origin.
Original plans called for the potential bidders to begin Pad 39A operations no later than October 2013, but following the Selection Statement in September—which favored SpaceX—Blue Origin filed a protest against NASA with the Government Accountability Office (GAO), raising concerns about the competitive process. Although the GAO overturned the protest, it was not until December 2013 that NASA formally announced the selection of SpaceX to begin negotiations on leasing Pad 39A for its Falcon 9 and Falcon Heavy vehicles. Finally, in April 2014, NASA Administrator Charlie Bolden, SpaceX President Gwynne Shotwell, and Kennedy Space Center (KSC) Director Bob Cabana announced the 20-year lease. Since then, earlier this year, the Horizontal Integration Facility (HIF) has taken shape, astride the historic "crawlerway," at Pad 39A's perimeter, although it is expected that the Rotating Service Structure (RSS) and Fixed Service Structure (FSS) will remain in place for the foreseeable future.
Be sure to "Like" AmericaSpace on Facebook and follow us on Twitter: @AmericaSpace
.
Missions
»
ISS
»
CCDev
»
Crew Dragon PAT
»