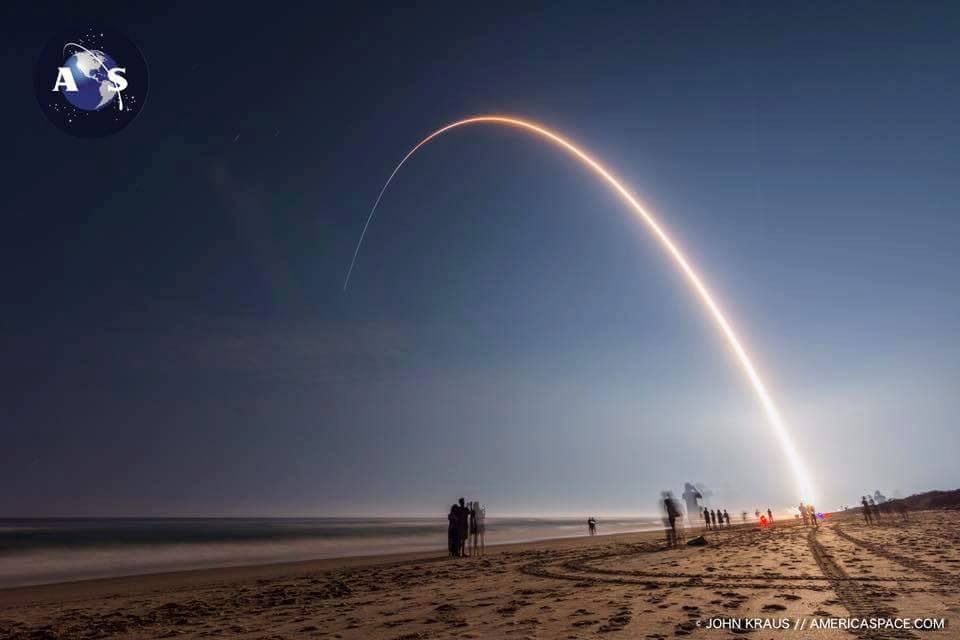 Just eight days after it boosted the WorldView-4 commercial Earth-watcher to orbit from the West Coast, United Launch Alliance (ULA) has despatched the latest Geostationary Operational Environmental Satellite—initially known as "GOES-R", but numerically redesignated "GOES-16" when it enters active service—from the East Coast. Liftoff of ULA's workhorse Atlas V booster took place at 6:42 p.m. EST Saturday, 19 November, from Space Launch Complex (SLC)-41 at Cape Canaveral Air Force Station, Fla.
Blessed by near-perfect weather conditions, the mighty Atlas rose from Earth an hour later than scheduled, due to an issue with the booster and an issue on the Air Force 45th Space Wing controlled Eastern Range. Only two flights now remain on ULA's 2016 manifest, with the next Wideband Global Satcom (WGS-8) and the EchoStar-19 commercial communications satellite expected to wrap up a busy year in December.
"Congratulations to ULA, NASA, NOAA and the entire integrated team who ensured the success of this launch," said Col. Walt Jackim, 45th Space Wing vice commander and mission Launch Decision Authority. "This successful launch, the first since Hurricane Matthew tore through the Space Coast, is a testament to our dedication, resiliency and perseverance."
"The launch of GOES-R represents a major step forward in terms of our ability to provide more timely and accurate information that is critical for life-saving weather forecasts and warnings," said Thomas Zurbuchen, associate administrator for NASA's Science Mission Directorate in Washington. "It also continues a decades-long partnership between NASA and NOAA to successfully build and launch geostationary environmental satellites."
As detailed in AmericaSpace's GOES-R preview, the 6,170-pound (2,800 kg) satellite has been built by Lockheed Martin and is based upon the L2100A "bus". This modular design has been employed by several communications satellites and the configuration used by GOES-R can provide up to four kilowatts of electrical power for spacecraft and payload operations, via a pair of paddle-like solar arrays.
"Our nation now has a new weather sentinel, and the data it will produce will soon be vital to our severe storm prediction and warnings," said Lisa Callahan, vice president and general manager of Civil Space at Lockheed Martin Space Systems. "The data will not only keep our citizens out of harm's way but will also be used across the Americas."
Although 15 previous GOES missions have been successfully orbited between October 1975 and March 2010, GOES-R represents a quantum leap in capability, with three times more spectral information, four times greater spatial resolution, five times faster coverage and significantly enhanced functionality in terms of providing advance warning of storms, tornadoes, hurricanes and solar-induced events, ranging from geomagnetic storms to Coronal Mass Ejections (CMEs).
Originally targeted to fly last fall, the launch slipped by several months and eventually settled on a target date in early October 2016. This became untenable, in part due to the recent ravages of Hurricane Matthew, and subsequent problems with the Atlas V vehicle led to the GOES-R launch moving to no sooner than 19 November. In readiness for launch, GOES-R arrived in Florida in late August and, after testing and fueling, was encapsulated within the two-piece (or "bisector") payload fairing in late October, ahead of mounting atop the Atlas V inside the Vertical Integration Facility (VIF) at SLC-41, earlier this month.
For tonight's mission, the Atlas V flew in its rarely used "541" configuration, the second-most-powerful variant of ULA's workhorse. Equipped with a 17-foot-diameter (5-meter) Short Payload Fairing, four side-mounted, solid-fueled rocket boosters and a single-engine Centaur upper stage, the 541 carries the potential to deliver 38,450 pounds (17,440 kg) into low-Earth orbit and up to 18,270 pounds (8,290 kg) to geostationary altitude. First used in November 2011 to launch NASA's Mars-bound Curiosity rover, the 541 has since been employed to deliver a pair of National Reconnaissance Office classified payloads—NROL-67 in April 2014 and NROL-35 in December 2014—and after GOES-R is slated to fly at least four more missions through 2020, including GOES-S and the Mars 2020 rover.
With the Short Payload Fairing atop the vehicle, the 197-foot-tall (60-meter) 541 looked comically top-heavy as it was rolled the quarter-mile (400-meter) distance from the VIF to the SLC-41 pad surface on Friday. When the vehicle was "hard-down" on the pad, it was carefully centered and propellant umbilicals and electrical and data connections were established. The track mobiles from the Mobile Launch Platform (MLP) were removed and ULA engineers set to work preparing for formal countdown operations, tracking a launch at 5:42 p.m. EST Saturday, at the opening of a 60-minute "window".
Weather conditions for both the primary launch attempt on Saturday and a backup opportunity on Sunday were expected to be excellent, with a 90-percent acceptable outlook deteriorating to 80-percent favorable by the close of the weekend. "On launch day, high pressure persists over Central Florida as the next relatively dry cold front pushes into the Florida panhandle," noted the 45th Weather Squadron in its L-3 briefing on Wednesday. "Weather remains favorable during the count and window, with a small isolated shower threat. Winds will be from the north and north-northwest, with gusts in the mid to upper teens during the count and mid-teens during the window." Although solar weather was expected to have little impact, the primary violating factor for both Saturday and Sunday was cumulus clouds, with conditions deteriorating on the backup day, as the cold front was expected to push into Central Florida and bring with it "limited moisture" and a heightened possibility of isolated showers.
The positive meteorological outlook clearly enthused the ULA team, as they pressed ahead with initiating flight control systems, bringing ground command, control and communications instrumentation online and verifying interfaces between the Atlas V and the Launch Control Center (LCC).
At the base of the Common Core Booster (CCB), the Russian-built RD-180 engine roared to life at T-2.7 seconds, quickly ramping up to its full 860,000 pounds (390,000 kg) of propulsive yield. At zero, the four side-mounted solid-fueled boosters ignited, punching the 1.2-million-pound (540,300 kg) Atlas V 541 stack off SLC-41 with a combined thrust in excess of 2.3 million pounds (1.07 million kg). Passing Mach 1 at 35 seconds after liftoff, the vehicle encountered a period of maximum aerodynamic turbulence (known as "Max Q") on its airframe a few seconds later. The four boosters—each measuring 55.7 feet (17 meters) in height—burned for approximately 110 seconds in total, before separating in pairs; each separation event occurred about 1.5 seconds apart.
With the boosters gone, the Atlas V continued powering uphill under the raging thrust of the RD-180. At 3.5 minutes into the flight, the Short Payload Fairing was jettisoned, exposing GOES-R and the attached Centaur upper stage to the space environment for the first time. Finally, the RD-180 shut down at 4.5 minutes and the vehicle coasted for a few seconds, before the 106.5-foot-long (32.4-meter) CCB was discarded. The stage was now set for no fewer than three "burns" by the Centaur's restartable RL10C-1 engine. Fueled by liquid oxygen and hydrogen, this engine ignited at four minutes and 37 seconds and burned for over 7.5 minutes, before shutting down. The GOES-R/Centaur combo then coasted for several minutes, before the Aerojet Rocketdyne built RL10C-1 upper-stage engine ignited, barely 22 minutes after the Atlas V departed Cape Canaveral.
The Centaur again fell silent after 5.5 minutes and entered a much longer period of coasting, due to last exactly three hours. The final RL10C-1 burn was due to begin at three hours and 28 minutes after launch. This time, it would be a short firing of only 93 seconds, but would serve to refine the orbit and enable the separation of the GOES-R payload at just under three hours and 32 minutes into the flight.
"Weather is constantly changing, and the faster scientists can predict those changes, the better communities can prepare for severe conditions and phenomena, such as forest fires and volcanic ash. Aerojet Rocketdyne is honored to help launch this critical satellite that will help keep people and their neighborhoods safe," said Aerojet Rocketdyne CEO and President Eileen Drake.
If all goes well, the orbital altitude at spacecraft separation should reach a perigee of 5,032 miles (8,100 km) and a apogee of 21,925 miles (35,284 km).
"We are honored that NASA and NOAA have entrusted ULA with the launch of the GOES-R satellite and grateful for the phenomenal teamwork that made today's launch a success," said Laura Maginnis, ULA vice president of Custom Services.
Over the next several months, GOES-R will undergo an extensive period of checkout, preparatory to around a decade of operational service.
Be sure to "Like" AmericaSpace on Facebook and follow us on Twitter: @AmericaSpace
.
Missions
»
GOES-R
»