One week from today, at 4:33 p.m. EDT on Wednesday, 27 May, the man who piloted the final Space Shuttle mission and a former chief of NASA's astronaut corps will buckle aboard a Crew Dragon and launch atop a Falcon 9 booster from historic Pad 39A at the Kennedy Space Center (KSC) in Florida. In so doing, seasoned shuttle pilot Doug Hurley and veteran spacewalker Bob Behnken will become the first U.S. astronauts to launch aboard a U.S. spacecraft, atop a U.S. rocket, and from U.S. soil, since the end of the shuttle era in July 2011.
The duo will dock with the International Space Station (ISS) early Thursday, 28 May, about 19 hours after launch, and will join the Expedition 63 crew of Commander Chris Cassidy of NASA and Russian cosmonauts Anatoli Ivanishin and Ivan Vagner, forming a five-man increment. According to NASA, Hurley and Behnken will remain aboard the station for at least a month and perhaps as long as 119 days, the projected lifespan of the solar-cells on their Crew Dragon spacecraft.
Earlier today, the astronauts arrived on a NASA Gulfstream plane from Houston, Texas to Kennedy Space Center in Florida, where they have a busy week ahead before their historic launch to kick off a new era of human spaceflight.
"We're thankful for that opportunity," Behnken said. "We view it as an opportunity, but also, a responsibility – for the American people, for the SpaceX team, for all of NASA – who put this opportunity together and entrusted us with it."
"I happen to have been one of the four astronauts who landed here almost nine years ago in T-38s on the 4th of July in 2011 to close out the Space Shuttle Program. It's incredibly humbling to be here to start out the next [crewed] launch from the United States," Hurley said. "I also want to thank the incredible men and women of SpaceX that have put so many thousands of hours of work into this rocket and spacecraft. We're looking forward to getting up close and personal with Falcon 9 and Crew Dragon in just a few days."
"This will be the fifth time in American history when we have launched American astronauts on a brand-new vehicle. We did it in Mercury, Gemini, Apollo, we did it with the space shuttles, and now we're going to do it with a SpaceX Falcon 9 rocket and Crew Dragon capsule; and it's these gentlemen that are going to have the opportunity to pioneer once more for the United States of America," said NASA Administrator Jim Bridenstine. Turning to the crew, he added, "You're the best that America has to offer."
To put it mildly, it has been a long and tortured journey for NASA and SpaceX to reach this point. Following former President Barack Obama's April 2010 space policy directive—which called for fabricating the super-heavylift Space Launch System (SLS) booster for deep-space missions and courting commercial players to build ISS crew vehicles—a cadre of organizations were awarded Commercial Crew Development (CCDev) funding, as part of an ongoing drive to stimulate the U.S. aerospace industry to develop and demonstrate human spaceflight capabilities. In April 2011, SpaceX won $75 million for a crewed variant of its Dragon cargo ship through the second round of CCDev solicitations.
By the summer of the following year, joint NASA-SpaceX teams had thoroughly evaluated Crew Dragon's proposed capabilities, including environmental control and life-support systems, conceptual displays and controls, cargo racks and interior systems and seating and lighting provisions.
"Human-factors" evaluations were conducted by veteran shuttle astronauts Rex Walheim, Tony Antonelli, Tim Kopra and Eric Boe, who practiced entering and exiting a Crew Dragon mockup under nominal and contingency situations, as well as reaching and handling spacecraft controls.
SpaceX was one of three finalists—alongside Boeing and Sierra Nevada Corp. (SNC)—to win coveted Commercial Crew integrated Capability (CCiCap) funding in August 2012. The Hawthorne, Calif.-headquartered launch services organization was awarded a contract worth $440 million, as part of an effort which should have seen U.S. astronauts return to space aboard a U.S. spacecraft, atop a U.S. rocket and from U.S. soil by 2017.
As NASA commended SpaceX's "diligence" and SpaceX founder Elon Musk expressed personal confidence that piloted Crew Dragon flights would be underway by the middle of the decade, the Congressional funding reality for the Commercial Crew Program was far less optimistic and it became clear that such schedules were unachievable.
In 2010 and 2011, NASA contracted extensively (and expensively) with Russia for seats aboard its Soyuz spacecraft to assure U.S. access to the space station in the 2013-2016 timeframe and was obliged to do so again in April 2013 to cover the 2016-2017 period. More recently, in August 2015, as the Commercial Crew effort continued to receive ever-lower levels of funding, a clearly frustrated NASA Administrator Charlie Bolden was forced to purchase additional Soyuz seats to cover the timeframe through 2019.
Nevertheless, the CCiCap finalists pressed on with the maturation of their spacecraft designs. SpaceX completed its first three milestones—a technical baseline review of the Crew Dragon and its Falcon 9 booster, an overall CCiCap milestone achievability review and an integrated systems requirements review to demonstrate its processes and procedures for designing, building and testing the spacecraft—by November 2012.
By the end of that year, the first phase of a multi-phase campaign to certify the spacecraft against NASA's flight safety and cost-effectiveness requirements began in earnest. This process included reviews of the ground systems, ascent, on-orbit and entry phases of a Crew Dragon mission and in November 2013 NASA and SpaceX engineers and safety specialists turned their attention to the integrated Falcon 9 booster. Early the following year, SpaceX signed a 20-year lease for historic Pad 39A to launch Crew Dragon spacecraft and commercial missions.
Finally, in September 2014, SpaceX and Boeing were formally picked by NASA to progress towards actually building the spacecraft. "Today, we are one step closer to launching our astronauts from U.S. soil on American spacecraft and ending the nation's sole reliance on Russia by 2017," said Bolden. "Turning over low-Earth orbit transportation to private industry will also allow NASA to focus on an even more ambitious mission: sending humans to Mars."
All told, the Commercial Crew transportation Capability (CCtCap) contracts totaled $6.8 billion, of which $2.6 billion went to SpaceX to finish developing the Crew Dragon. Under the terms of the contract, both partners—with Boeing fabricating its CST-100 Starliner for Commercial Crew operations—would conduct at least one piloted test-flight, with NASA astronauts aboard, to verify their ability to launch aboard a fully integrated rocket and spacecraft system, maneuver in orbit, rendezvous and dock with the ISS and return safely to Earth.
By December 2014, SpaceX satisfactorily completed a certification baseline review of its Crew Dragon hardware, outlining its spacecraft fabrication methodologies and—in the words of NASA Commercial Crew Program manager Kathy Lueders—setting "pace for the rigorous work ahead". The company also described its approach to securing NASA certification for flying astronauts and the newly-leased Pad 39A was formally identified as the launch site for the first Crew Dragon missions.
First utilized for the maiden voyage of the Saturn V lunar rocket, back in November 1967, the 39A complex had seen off all but one of the Moon-bound crews of Apollo astronauts, together with the Skylab space station and dozens of shuttle flights, including the last one, STS-135.
When the certification process was complete, Boeing and SpaceX could anticipate at least two (and as many as six) dedicated crew-rotation missions to the space station, supporting ISS residents as a lifeboat for up to seven months at a time. Under the terms of those contracts, the two organizations would each conduct a piloted test-flight and at least two long-duration crew-rotation flights to the ISS, known as "Post-Certification Missions" (PCMs). At that time, it was hoped that the first flights of Crew Dragon and the CST-100 Starliner might occur as soon as late 2017, but a multitude of technical and funding problems conspired against the Commercial Crew Program.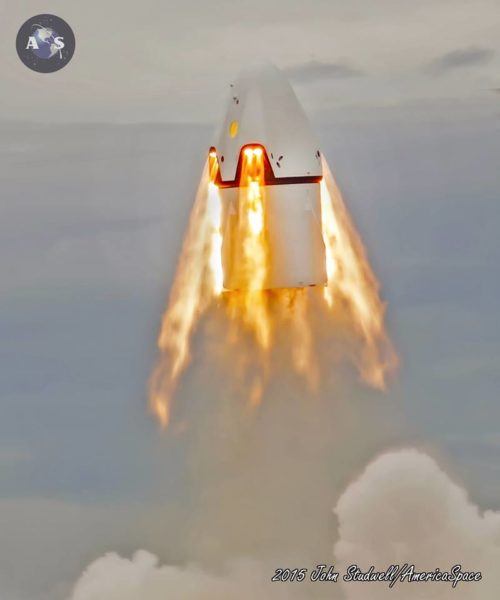 Only months after the CCtCap decision, in May 2015 SpaceX completed a Pad Abort Test (PAT) of a mockup Crew Dragon from Space Launch Complex (SLC)-40 at Cape Canaveral Air Force Station, Fla. As detailed by AmericaSpace at the time—through a two-part report and portfolio of images—the 102-second test saw Crew Dragon boost itself away from a ground-level platform and achieve a peak altitude of 3,561 feet (1,187 meters), under the 120,000 pounds (54,400 kg) of thrust afforded by the eight SuperDraco thrusters mounted in its sidewalls. As planned, Crew Dragon's pressurized capsule separated from the unpressurized trunk at altitude, before descending to a splashdown in the Atlantic Ocean under three red-and-white parachutes.
But with significant underfunding year-on-year, the wait for Commercial Crew to come online has yielded a far longer "gap" in U.S. human access to space than the time which elapsed between the return of Apollo-Soyuz crewmen Tom Stafford, Vance Brand and Deke Slayton in July 1975 and the first flight of the shuttle program in April 1981. If Doug Hurley and Bob Behnken launch on time on 27 May, almost nine years—3,233 days or more than 106 months—will have passed since an American was last in space, aboard an American spacecraft, launched by an American rocket from American soil.
A month after the completion of the PAT, in June 2015, SpaceX was awarded a $30 million milestone payment from NASA as part of its CCtCap certification. And only a few weeks later, NASA formally identified veteran astronauts Suni Williams, Doug Hurley, Eric Boe and Bob Behnken as the first members of a Commercial Crew "cadre" to support the continued development and testing of both Crew Dragon and the CST-100 Starliner. In November 2015, NASA awarded SpaceX the first of its guaranteed PCMs, followed by a second in July 2016.
However, the targeted maiden launch in late 2017 had fallen increasingly into doubt. "If NASA does not receive the full requested funding for CCtCap contracts in fiscal year 2016 and beyond," it was cautioned, "the agency will be forced to delay future milestones for both U.S. companies and continue its sole reliance on Russia to transport American astronauts to the space station." Nevertheless, progress continued and in August 2016 Expedition 48 spacewalkers Jeff Williams and Kate Rubins installed the Boeing-built International Docking Adapter (IDA)-2 onto the forward end of the station's Harmony node, ready to receive its Commercial Crew visitors in due course. And a backup docking port, IDA-3, was installed onto the space-facing (or "zenith") side of Harmony by Expedition 60 spacewalkers Nick Hague and Drew Morgan last summer.
In August 2018, with significant fanfare, Vice-President Mike Pence announced the names of nine veteran and first-time astronauts to fly the Crew Dragon and CST-100 Starliner piloted test flights and the first PCMs for both organizations. On the SpaceX vehicles, Hurley and Behnken would ride the Crew Dragon test flight, with Mike Hopkins and Victor Glover assigned to the first PCM. And in March 2020, NASA announced that veteran astronaut Shannon Walker and Soichi Noguchi of the Japan Aerospace Exploration Agency (JAXA) would join Hopkins and Glover's crew. It is currently expected that they will launch no sooner than a month after Hurley and Behnken return to Earth to begin their own long-duration stay aboard the ISS.
The uncrewed Demo-1 test flight of Crew Dragon was launched successfully in early March 2019 and performed an automated rendezvous and docking onto IDA-2 the next day. It undocked and returned to Earth less than a week later and with plans to execute an In-Flight Abort Test the following summer expectations were high that Hurley and Behnken would fly their test flight as soon as July 2019.
Unfortunately, Demo-1 exploded on the test stand in late April 2019 during a static firing of its SuperDraco thrusters. The failure was traced to a leaky valve which introduced volatile nitrogen tetroxide into high-pressure helium tubes and a fully successful static fire test was conducted last November.
The In-Flight Abort Test—in which a Crew Dragon was boosted aloft atop a Falcon 9 rocket, then simulated a high-altitude abort and parachute-assisted return to Earth—was successfully completed last January. It simulated a hair-raising eventuality that everyone hoped would never be executed for real: the catastrophic failure of a booster at the point of peak aerodynamic turbulence. With the In-Flight Abort Test done, efforts entered high gear for Demo-2 to carry Hurley and Behnken into space aboard Crew Dragon. Last month, NASA and SpaceX formally identified 27 May as the targeted launch date.
Originally envisaged as a short "visiting" mission of one or two weeks, discussions to extend Hurley and Behnken's stay on the ISS to several months—up to the Demo-2 capsule's expected in-orbit lifetime of 119 days, determined by the capability of its power-producing solar panels—have been in work since last fall. Following the return of Expedition 62 crew members Oleg Skripochka, Drew Morgan and Jessica Meir in mid-April, there is currently only one U.S. resident aboard the space station. Expedition 63 Commander Chris Cassidy is accompanied by Russian crewmates Anatoli Ivanishin and Ivan Vagner, although NASA is keen to reduce the length of time that the station remains minimally staffed.
As such, Hurley and Behnken will expand Expedition 63 to a five-man increment through the summer, before Hopkins, Glover, Walker and Noguchi arrive in the September-October timeframe to boost the station's crew to seven long-duration members for the first time in ISS operational history.
Tomorrow, NASA and SpaceX managers will conduct a flight readiness review at Kennedy to determine whether the Crew Dragon and its systems are ready for the mission. A news conference will follow at approximately 6 p.m., or one hour after the review concludes.
Watch it live on our Launch Tracker HERE
.
.
FOLLOW AmericaSpace on Facebook and Twitter!
.
.
Missions
»
ISS
»
CCDev
»
DM-2
»