SpaceX has wrapped up a seven-launch June by delivering its 1,000th Starlink internet communications satellite of the year safely into orbit. An eight-times-used Falcon 9 booster—flying for her fourth time in 2023 alone—took flight from storied Space Launch Complex (SLC)-40 at Cape Canaveral Space Force Station, Fla., at 11:35 a.m. EDT Friday and at the time this AmericaSpace story was published, its 56-strong Starlink stack was due to be deployed an hour later.
In so doing, the Hawthorne, Calif.-headquartered organization closes out its fourth consecutive month to have seen at least seven launches. Two missions originated from Vandenberg Space Force Base, Calif.—including another Starlink launch in the early hours of yesterday morning—and the remainder from either the Cape's SLC-40 or historic Pad 39A at the Kennedy Space Center (KSC).
Including Friday's launch, they have lifted a Cargo Dragon bearing science, supplies and new solar arrays for the International Space Station (ISS), as well as 177 Starlinks, the 72-payload Transporter-8 "rideshare" mission and a powerful geostationary communications satellite for Indonesia's Pasifik Satellit Nusantara (PSN). Notably, June also saw the 200th successful landing and recovery of a Falcon-class booster since December 2015.
With today's flight, SpaceX wraps up the first half of 2023 with a total of 43 Falcon-class launches, including two missions by the triple-barreled Falcon Heavy. That equates to a flight rate across the fleet of one launch every 4.2 days or so, a significant uptick over last year's 5.9 days. And with 2022 having ended with a new "personal best" for SpaceX of 61 launches across an entire calendar year, 2023's pace looks set to greatly exceed that record by the time the New Year's Eve bell next tolls.
SpaceX announced Thursday afternoon that it was targeting a pair of T-0 points for its final launch of the month: a first at 9:56 a.m. EDT and a second at 11:35 a.m. EDT. The first opportunity of the day was missed, as weather trended around 40-percent favorable, prompting mission teams to head instead for the second T-0 point.
B1069 becomes the sixth Falcon 9 core to have logged a fourth launch in 2023 alone, following a pair of previous flights in early February and on St. Patrick's Day. Those missions passed a pair of significant milestones: the first marked the 200th fully successful mission for the Falcon 9 fleet, whilst the second helped establish a new record of only four hours and 12 minutes between a pair of SpaceX launches. Most recently, she also delivered a batch of Starlinks to orbit early in May.
However, B1069's early adventures proved somewhat less stellar. She entered the fleet back in December 2021 but was almost lost in a hair-raising Autonomous Spaceport Drone Ship (ASDS) touchdown at the close of her maiden voyage. This necessitated substantial repairs—including a brand-new suite of Merlin 1D+ first-stage engines—before B1069 re-entered service to log three missions in the second half of last year: emplacing 54 Starlinks to orbit in August, Eutelsat's Hotbird 13F geostationary communications satellite in October and 40 broadband satellites in December for London, England-based OneWeb.
In readiness for Friday morning's launch, the ASDS "Just Read the Instructions" departed Port Canaveral earlier this week, bound for a recovery position some 400 miles (640 kilometers) offshore in the Atlantic Ocean.
Following a smooth liftoff at 11:35 a.m. EDT Friday, B1069 powered smoothly uphill for the first 2.5 minutes of flight, then returned safely to JRTI's expansive deck for the 34th drone ship landing of the year. Meanwhile, the Falcon 9's second stage executed a pair of "burns" by its single Merlin 1D+ Vacuum engine—the first running for six minutes and a second, scheduled for later in the ascent, for just a handful of seconds—to deliver the 56-strong Starlink stack into low-Earth orbit.
As this AmericaSpace story was being prepared, deployment was set to occur 65 minutes after launch, bringing to 1,032 the total number of these flat-packed satellites launched so far this year and over 4,500 since May 2019. Starlink facilitates high-speed and low-latency internet provision across 56 sovereign nations and international markets in North and South America, Europe, Asia, Oceania and Africa.
In recent weeks, Panama, Mozambique and Trinidad and Tobago have officially signed up the network. And Florida-based intercity operator Brightline adopted Starlink on its trains earlier this year, becoming the first passenger rail service in the world to do so.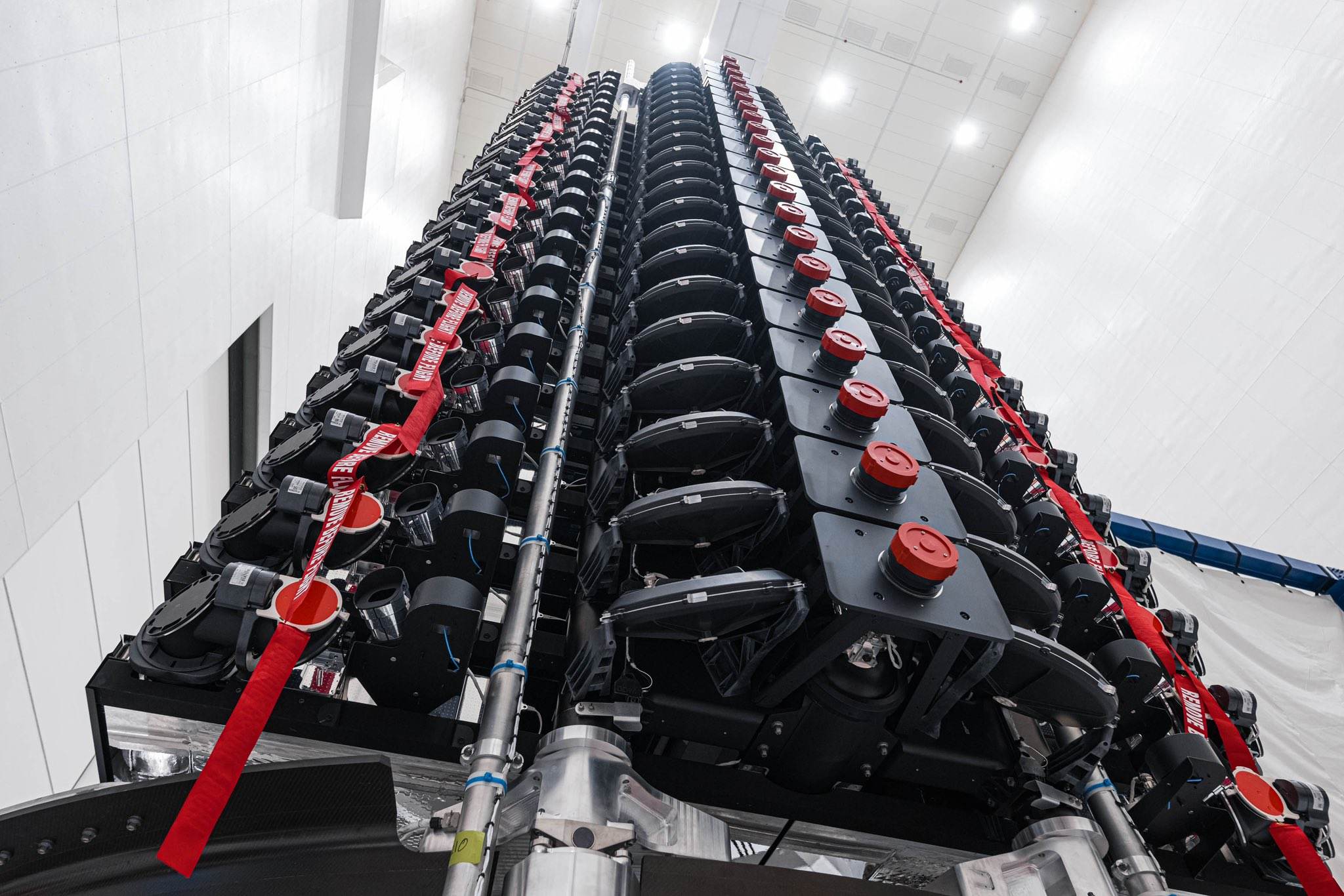 Additionally, El Salvador's Ministry of Education has begun integrating Starlink capability into its schools to help close the digital divide between urban and remote rural communities. And SpaceX tweeted Thursday that 50 Rwandan schools are now connected via Starlink's high-speed internet service.
SpaceX now looks ahead to a launchless final week of June, as it readies for its first major challenge of July: lofting the 4,700-pound (2,100-kilogram) Euclid near-infrared space telescope for the European Space Agency (ESA) on the first day of the new month. Euclid has been in development for more than a decade and was originally scheduled to fly a Russian Soyuz rocket out of the Guiana Space Center in Kourou, French Guiana, prior to President Vladimir Putin's February 2022 invasion of Ukraine.
It will spend 30 days traveling to the L2 Lagrangian Point, some 930,000 miles (1.5 million kilometers) beyond Earth. There, it will utilize its suite of visible and near-infrared instruments to observe galaxies at a variety of distances from Earth, over an area of the sky that covers more than 35 percent of the celestial sphere.
Euclid will examine the acceleration of the Universe to derive a better understanding of dark matter and dark energy. Led by prime contractor Thales Alenia Space, which also built its Service Module (SVM), the mission also features strong participation from Airbus Defence & Space, which fabricated the Payload Module (PLM) and Euclid's four-foot-long (1.2-meter) telescope.
The mission features participation from NASA and a consortium of 13 European nations: Austria, Denmark, France, Finland, Germany, Italy, the Netherlands, Norway, Spain, Switzerland, Portugal, Romania and the United Kingdom. Euclid is expected to remain operational at L2 for about six years.