SpaceX successfully flew its 60th "single-stick" Falcon 9 of the year last night, as the second booster to launch a sixth time in 2023 took to the skies past sunset Friday. Liftoff of B1076—making her seventh mission overall, having entered the burgeoning fleet last November—occurred at 11:12 p.m. EDT from storied Space Launch Complex (SLC)-41 at Cape Canaveral Space Force Station, Fla., laden with 22 Starlink internet communications satellites destined for emplacement into low-Earth orbit.
Last night's flight marked the 63rd overall Falcon-class mission of the year, when one also counts a record-setting trio of triple-barreled Falcon Heavy launches in January, April and July. With two prior launches so far in early September, the first which saw SpaceX equal its record of 61 annual Falcon flights, set at the end of 2022, and the second which eclipsed it, the Hawthorne, Calif.-headquartered organization is heading into a flight-heavy fall.
All told, 63 missions using 11 boosters by the year's 251st day equates to a launch every 3.9 days, a substantial uptick on 2022's flight on average each 5.9 days. To illustrate that rapid pace, SpaceX hit its tenth launch of 2023 by 12 February, its 20th by late March, its 30th in the second week of May, its 40th in mid-June and its 50th and 60th at the tail-ends of July and August, respectively.
Setting that against last year, it took the fleet until the second week of March 2022 to hit ten flights, mid-May to reach 20, mid-July to achieve 30, early September to get to 40 and the beginning of November to pass 50. With 2022's total of 61 launches achieved by New Year's Eve, a quick back-of-the-envelope calculation makes it not unreasonable to expect in excess of 90 missions before the curtain falls on 2023.
As well as these empirical annual records, others have fallen like ninepins, too. SpaceX achieved its first eight-launch month in March and its first nine-launch month in August, set a new record of only four hours and 12 minutes between pairs of flights earlier in the spring and in July the veteran B1058 booster became the first to log a 16th mission.
More than half of this year's 63 launches—37, to be exact—have been dedicated Starlink flights, successfully deploying more than 1,360 of these flat-packed internet communications satellites into low-Earth orbit. Last night's mission carried a further 21 downsized Starlink "V2 Mini" satellites, totaling 38,800 pounds (17,600 kilograms), releasing them into space about 65 minutes after liftoff.
The V2 Minis, first flown in February, boast three to four times greater "usable" bandwidth than earlier Starlink iterations. "V2 Minis include key technologies—such as more powerful phased-array antennas and the use of E-Band for backhaul—which will allow Starlink to provide 4x more capacity per satellite than earlier iterations," SpaceX explained. "Among other enhancements, V2 Minis are equipped with new argon Hall thrusters for on-orbit maneuvering."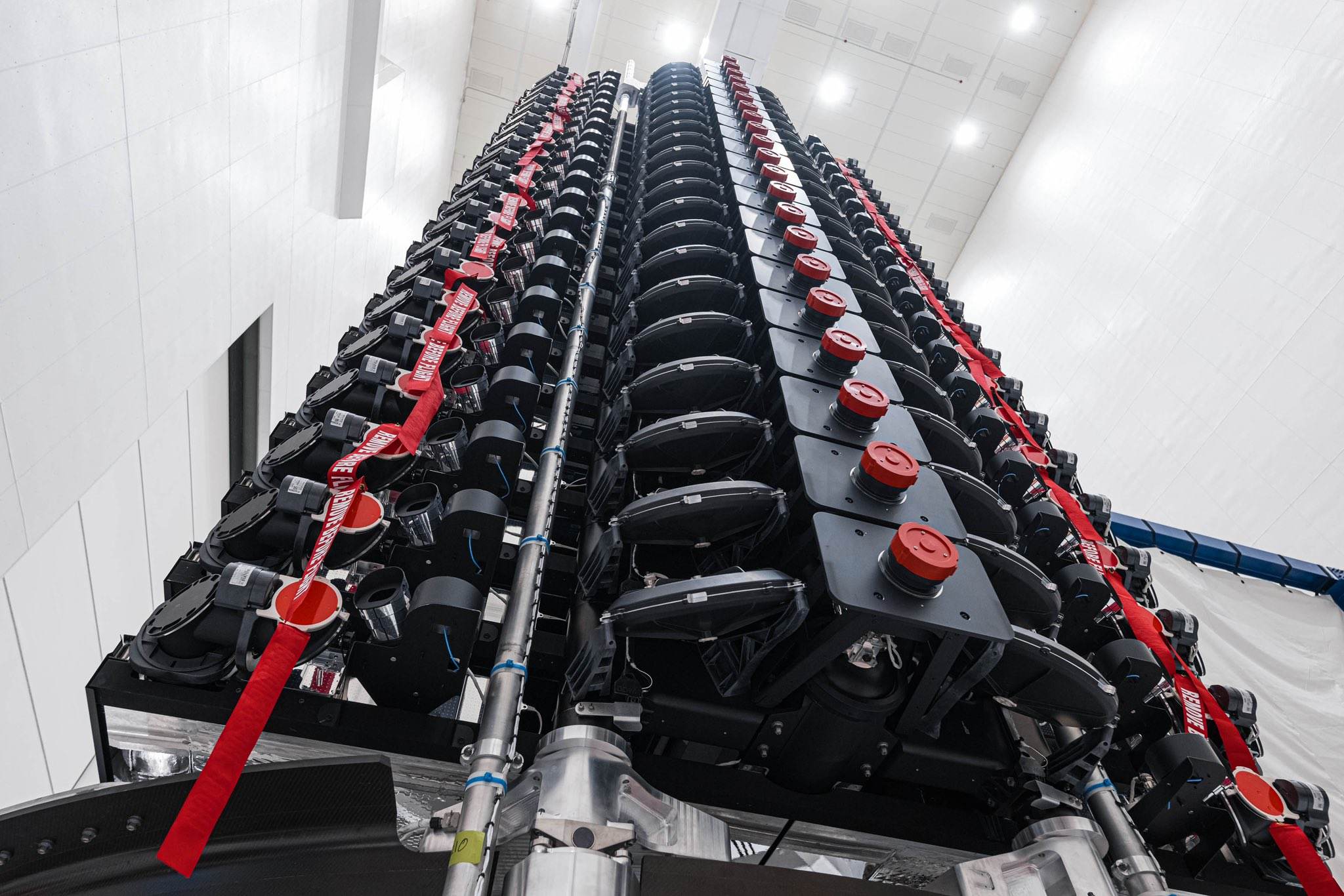 As a network, Starlink facilitates high-speed and low-latency internet provision to over 60 sovereign nations and international markets in North and South America, Europe, Asia, Oceania and Africa. Last month alone, Cyprus, Guatemala, Kenya, Malaysia and Malawi have signed up to the network and the Bahamas came online earlier in August.
Florida-based intercity operator Brightline adopted Starlink on its trains earlier in 2023, the first passenger rail service in the world to do so. Additionally, El Salvador's Ministry of Education has begun integrating Starlink capability into its schools to help close the digital divide between urban and remote rural communities and 50 Rwandan schools are now connected via Starlink's high-speed internet service.
Flying last night's mission was B1076, the first Falcon 9 core to log a sixth launch so far this year. She entered service last November, lofting the CRS-26 Cargo Dragon for a six-week berth at the International Space Station (ISS), then heaved 40 broadband satellites uphill for London, England's OneWeb in the second week of January, followed by the heavyweight Intelsat 40e geostationary communications satellite—co-manifested with NASA's Tropospheric Emissions: Monitoring of Pollution (TEMPO) payload—in early April and four batches of Starlinks in February, May, July and last night.
This impressive tempo of flights saw B1076 execute five Autonomous Spaceport Drone Ship (ASDS) landings and a single on-point touchdown at Landing Zone (LZ)-1 at Cape Canaveral Space Force Station. She was also responsible for completing the 30th Falcon 9 flight of 2023 and the hundredth consecutive successful booster landing since SpaceX's last landing failure, more than two years ago.
In readiness for last night's flight, the East Coast-based drone ship, "A Shortfall of Gravitas", put to sea out of Port Canaveral earlier this week, bound for a recovery position offshore in the Atlantic Ocean. Three T-0 points existed on Friday evening, at 7:56 p.m., 11:12 p.m. and 11:30 p.m., followed by a further three on Saturday night, running from 7:25 p.m. until 10:59 p.m.
But the weather outlook both for Friday and Saturday presented a mixed-bag picture, averaging 60-70 percent favorability for the opportunities earlier in the evening, improving to between 85-90 percent favorability later. "Thunderstorm development is likely tomorrow afternoon along sea-breeze boundaries in Central Florida," noted the 45th Weather Squadron in its Friday update.
"This could become a Surface Electric Fields Rule or Lightning Rule concern towards the beginning of the window on Friday," it added. "The primary concern will be the Cumulus Cloud Rule and Anvil Rules, as westerly upper-level flow may push anvils over the Space Coast from thunderstorm development in Central Florida."
But SpaceX has defeated iffy odds in the past and B1076 successfully threaded the needle between these patches of improbable weather, rocketing uphill at 11:12 p.m., on the second opportunity of Friday. Less than nine minutes, she returned from the edge of space to alight with pinpoint precision on ASOG's deck, wrapping up the 60th single-stick Falcon 9 launch of the year.
Although often overshadowed whenever its big brothers, the Falcon Heavy and of course the Starship/Super Heavy, enter the headlines, the Falcon 9 has provided a benchmark of "bread-and-butter" reliability and regularity, completing its 250th successful mission late last month. So far this year, it has flown 37 Starlink batches, eight geostationary communications satellites, five Cargo or Crew Dragons to the ISS, three multi-customer Transporter hauls, two Tranche 0 payloads for the Space Development Agency's (SDA) Transport and Tracking Layer, a single Block III Global Positioning System (GPS) navigation and timing satellite for the U.S. Space Force and Europe's Euclid deep-space observatory.