NASA's newest Mars mission, the Mars Atmosphere and Volatile Evolution (MAVEN) spacecraft, successfully entered orbit around the Red Planet just hours ago, on Sunday, Sept. 21, 2014, at 10:24 p.m. EDT, to conduct the first detailed study of the planet's tenuous upper atmosphere and to unlock mysteries on its habitability.
The MAVEN spacecraft completed the crucial Mars Orbit Insertion (MOI) maneuver this evening after firing its six braking thrusters for approximately 34 minutes and 26 seconds.
"You only get one shot at Mars Orbit Insertion and we nailed it," said David Mitchell, MAVEN project manager from NASA's Goddard Space Flight Center, Greenbelt, Md., at a post-MOI media briefing at the Lockheed Martin operations center in Littleton, Colo,. where the spacecraft was built. "It was about 11 seconds longer than planned. My thanks to all who worked so hard on this project."
"A post-MOI assessment indicated we are in a stable capture orbit of approximately 35-hour duration."
"Five additional burns will reduce that to the planned 4.5-hour science mapping orbit," Mitchell noted.
MAVEN arrived after a trouble-free and fantastic 10-month interplanetary voyage of 442 million miles from Earth to the Red Planet.
"As the first orbiter dedicated to studying Mars' upper atmosphere, MAVEN will greatly improve our understanding of the history of the Martian atmosphere, how the climate has changed over time, and how that has influenced the evolution of the surface and the potential habitability of the planet," said NASA Administrator Charles Bolden, in a statement.
"It also will better inform a future mission to send humans to the Red Planet in the 2030s."
NASA is currently building the Orion crew spacecraft and SLS rocket to send humans on deep space destinations to asteroids and Mars.
MAVEN joins an armada of five spacecraft already exploring Mars in great detail but with different science goals.
"NASA has a long history of scientific discovery at Mars and the safe arrival of MAVEN opens another chapter," said John Grunsfeld, astronaut and associate administrator of the NASA Science Mission Directorate at the agency's Headquarters in Washington.
"Maven will complement NASA's other Martian robotic explorers—and those of our partners around the globe—to answer some fundamental questions about Mars and life beyond Earth."
"Stepping back and thinking what this represents it amazing to think about what has been accomplished," Grunsfeld said at the briefing.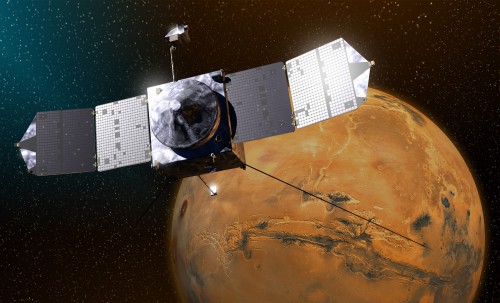 "We are now in orbit at Mars after 11 years of hard work," said Bruce Jakosky, MAVEN principal investigator with the Laboratory for Atmospheric and Space Physics at the University of Colorado, Boulder (CU/LASP), gleefully at the briefing.
"My heart is about ready to start again. We had an absolutely flawless performance tonight."
"Over the next six weeks we will do the commissioning work to prepare the spacecraft for its science mission. Four booms need to be deployed and one cap need to be broken off."
"Early November is the official start of the science mission. But we'll have five days of bonus science with the unexpected flyby of Comet Siding Spring in mid-October."
The primary mission includes five "deep-dip" campaigns, in which MAVEN's periapsis, or lowest orbit altitude, will be lowered from 93 miles (150 kilometers) to about 77 miles (125 kilometers). These measurements will provide information down to where the upper and lower atmospheres meet, giving scientists a full profile of the upper tier, according to NASA.
MAVEN will investigate Mars transition from its ancient, water-covered past, to the cold, dry, dusty world it has become today.
MAVEN is NASA's first orbiter specifically dedicate to investigate the planet's thin upper atmosphere and to begin solving the riddles of Mars' climate mysteries, atmospheric and water loss, and habitability.
"Where did the water go, and where did the carbon dioxide go from the early atmosphere? What were the mechanisms?" notes Jakosky.
The 5,400-pound MAVEN probe carries nine sensors in three instrument suites to study why and exactly when did Mars undergo the radical climatic transformation.
"I'm really looking forward to getting to Mars and starting our science!" Jakosky said.
MAVEN thundered to space on Nov. 18, 2013, following a flawless blastoff from Cape Canaveral Air Force Station's Space Launch Complex 41 atop a powerful Atlas V rocket, and thus began a 10-month interplanetary voyage from Earth to the Red Planet.
Two days from now, India's Mars Orbiter Mission (MOM) mission arrives at the Red Planet.
"We wish a successful MOI for MOM," said Jakosky.
Scientists from MAVEN, Curiosity, Opportunity, and all the orbiters will work in concert utilizing all the data to elucidate the history of Mars potential for supporting life—past and present.
Stay tuned here for continuing developments regarding Earth's "Missions to Mars."
 – Want to keep up-to-date with all things space? Be sure to "Like" AmericaSpace on Facebook and follow us on Twitter: @AmericaSpace
Missions
»
MAVEN
»