With its 50th Falcon 9 of the year, SpaceX last night established a new turnaround record between launches out of storied Space Launch Complex (SLC)-40 at Cape Canaveral Space Force Station, Fla. The four-times-used B1078 core—one of a trio of brand-new "single-stick" Falcon 9s to have entered the fleet in 2023 alone—turned darkness into daylight at 10:41 p.m. EDT Sunday, rocking SLC-40 to its second mission in less than four days and delivering a 22-strong batch of Starlink internet satellites to low-Earth orbit.
Coming three days, 21 hours and 41 minutes since another Falcon 9 lifted Intelsat's heavyweight Galaxy-37 geostationary communications satellite from the same pad, the launch marked another milestone in SpaceX's reusability and turnaround statistics. Already this year, the Hawthorne, Calif.-headquartered organization has logged over 50 missions in 2023's first eight months, flown as many as eight times in a single calendar month—and done so on three occasions—and set a new record of only four hours and 12 minutes between pairs of flights back in March.
Counting last night's mission, the Falcon fleet—inclusive of both the "single-stick" Falcon 9 and the triple-barreled Falcon Heavy—have now recorded 53 flights since 2023 began. That equates to one launch every 4.1 days, a significant uptick over last year's pace of a flight every 5.9 days, which still produced a new record for SpaceX of no fewer than 61 missions by the time the New Year's Eve bell tolled at the end of December 2022.
Those 53 flights have seen a new record of as many as three Falcon Heavy launches, delivering a pair of high-energy geostationary-bound communications satellites and a classified payload for the U.S. Space Force. Two more Heavies are slated to fly in October, one devoted to the Space Force's USSF-52 mission, the other flying an ambitious mission on the first leg of a multi-year trek to investigate the metal-rich asteroid, Psyche.
But if the Heavy has lifted its fair share of payload mass this year, the lion's contribution has come from the Falcon 9, which just last week helped complete the first quarter-millennium of launches with last week's 250th overall mission. Fourteen of these single-stick rockets have now flown a grand total of 50 flights, with two Falcon 9s having attained five flights apiece since January, including the first pair of cores to log 16th launches.
Flying last night's mission—the second of August from SLC-40—was B1078, which roared onto the scene back in March, when it lifted Crew-6 Commander Steve Bowen, Pilot Warren "Woody" Hoburg and Mission Specialists Andrei Fedyayev and Sultan Al-Neyadi into orbit to begin their ongoing six-month stay aboard the International Space Station (ISS). The booster went on to launch a pair of Boeing-built o3B mPOWER broadband satellites in late April, targeting a 5,000-mile-high (8,000-kilometer) Medium Earth Orbit (MEO), followed by a 22-strong Starlink "stack" in early June.
Those three opening launches of B1078's career saw her land with pinpoint grace on the deck of the Autonomous Spaceport Drone Ship (ASDS), "Just Read the Instructions". But last night's landing occurred instead on SpaceX's second East Coast-based drone ship, "A Shortfall of Gravitas", which put to sea out of Port Canaveral last Thursday, bound for a recovery spot about 390 miles (630 kilometers) offshore in the Atlantic Ocean.
SpaceX targeted multiple T-0 points last night, opening at 9 p.m. Sunday and closing at 12:22 a.m. Monday, with a doubtful probability of acceptable weather earlier in the evening (about 30-percent-favorable), improving towards a predicted 80-percent-favorability nearer to the end of the "launch window". Five additional T-0 points were offered for Monday night as backup opportunities.
The 45th Weather Squadron at Patrick Space Force Base outlined "above-normal atmospheric moisture and daily sea-breeze development" as a potential trigger of numerous showers and storms across eastern Florida throughout the second half of the weekend and into the early part of the new week. It was noted that the probability for weather violations would be "rather high", both on Sunday and Monday nights, "specifically during the front end of each window, when active thunderstorms and their associated cloud cover are more likely to be in close proximity to the pad".
Threading the needle, as it often does, through a seemingly intractable meteorological picture, SpaceX successfully launched at 10:41 p.m. EDT, as the weather outlook reached 90-percent-favorable. Powering smoothly into the night, B1078 performed with its usual perfection, separating from the stack at 2.5 minutes into flight and returning to a smooth touchdown on ASOG's deck, about 8.5 minutes after liftoff.
The second stage's single Merlin 1D+ Vacuum engine subsequently executed a pair of "burns" to deliver the 22 Starlink "V2 Mini" satellites—totaling about 38,800 pounds (17,600 kilograms)—towards low-Earth orbit.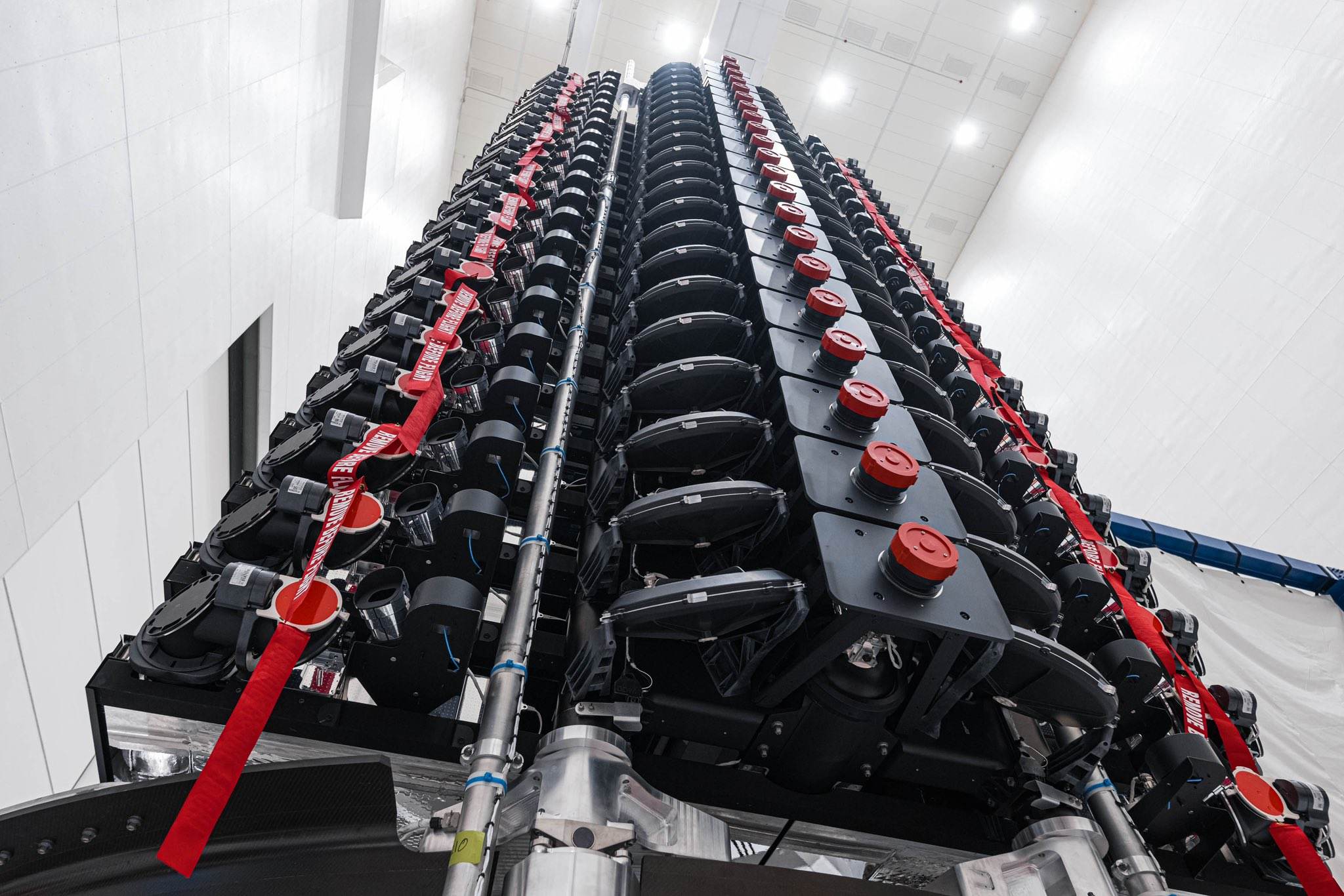 Aboard this mission are 22 "V2 Minis", marking the ninth batch of these downsized Starlinks to have been launched so far in 2023. All told, more than 1,200 of these flat-packed internet communications satellites have been launched so far this year on 29 launches.
The V2 Minis, first launched back in February, boast three to four times greater "usable" bandwidth than earlier Starlink iterations. "V2 Minis include key technologies—such as more powerful phased-array antennas and the use of E-Band for backhaul—which will allow Starlink to provide 4x more capacity per satellite than earlier iterations," SpaceX explained. "Among other enhancements, V2 Minis are equipped with new argon Hall thrusters for on-orbit maneuvering."
As a network, Starlink facilitates high-speed and low-latency internet provision across more than 60 sovereign nations and international markets in North and South America, Europe, Asia, Oceania and Africa. Last month alone, Cyprus, Guatemala, Kenya, Malaysia and Malawi have signed up to the network.
Florida-based intercity operator Brightline adopted Starlink on its trains earlier in 2023, the first passenger rail service in the world to do so. Additionally, El Salvador's Ministry of Education has begun integrating Starlink capability into its schools to help close the digital divide between urban and remote rural communities and 50 Rwandan schools are now connected via Starlink's high-speed internet service.
Also on Sunday, SpaceX static-fired Booster Nine—targeted to lift a Starship/Super Heavy stack later this year on the program's second integrated test flight—at Starbase in Boca Chica, Texas. Last month, the booster was transported to the pad for tests, with an expectation that it will loft Ship 25 on a transatmospheric flight, closely mirroring the trajectory envisaged for its unsuccessful first integrated test last April.
As reported earlier this year by AmericaSpace, the fallout from April's much-publicized test included dramatic damage to the launch pad and the failure of three of the 33 Raptor engines within seconds of clearing the tower. The 394-foot-tall (120-meter) booster powered out of Starbase under an estimated 16.7 million pounds (4.5 million kilograms) of thrust, the highest liftoff impulse of any orbital-class vehicle in history.
Three more Raptors, which are fed by liquid methane and liquid oxygen, also went out later in April's ascent, before the entire stack began to tumble a couple of minutes into the flight and was remotely destroyed by the Range Safety Officer (RSO). According to AmericaSpace's Mike Killian, writing in the last week of April, the absence of a flame trench—difficult to install at Boca Chica, due to the shallow nature of the local water-table—was expected to be one area of focus in the Federal Aviation Administration's (FAA) mishap investigation, expected to last weeks or months.