After already demonstrating an impressive flight cadence with three Falcon 9 flights inside August's opening week, SpaceX showcased an impressive pad-turnaround cadence early Friday, when storied Space Launch Complex (SLC)-40 at Cape Canaveral Space Force Station, Fla., reverberated to her third launch inside the month's first two weeks. Veteran B1069—a booster almost lost at the close of her maiden voyage, nearly two years ago—took flight for the ninth time at 1:17 a.m. EDT, laden with 22 Starlink internet communications satellites, destined for insertion into low-Earth orbit.
Tonight's opening launch attempt benefited from five T-0 points between 9:55 p.m. Thursday and 1:17 a.m. Friday, with another five opportunities available the following night from 9:30 p.m. Friday through 12:52 a.m. Saturday. Weather conditions were expected to hover around 60-percent-favorable near the start of Thursday's window, improving to around 90-percent "Go" towards the end.
"Expect continued hot and humid conditions with daily afternoon and evening thunderstorms across Central Florida through Thursday," noted the 45th Weather Squadron at Patrick Space Force Base in its L-1 update. "The thunderstorms will favor the Atlantic side of Florida as the subtropical ridge axis remains south of the Space Coast.
"Luckily, the launch window extends past the typical life span of the convection, creating good chances weather will clear by the end of the window," it added. "The primary launch weather concerns…are the Anvil and Cumulus Cloud Rules associated with the day's storms, which will diminish through the window."
In readiness for launch, the Autonomous Spaceport Drone Ship (ASDS), "Just Read the Instructions", departed Port Canaveral on Monday, bound for a position about 400 miles (640 kilometers) offshore in the Atlantic Ocean. And B1069 was rolled out to SLC-40 yesterday for the ninth mission of her career and her record-tying fifth outing of 2023.
It has already been an impressive first half of August, with the Space Coast having seen off two batches of Starlinks—one just last week and a second tonight—and Intelsat's heavyweight Galaxy-37 geostationary-bound communications satellite. All three rose from SLC-40, with last week's launches setting a new pad-cadence turnaround record of three days and 21 hours between a pair of flights and last night's mission came a little more than four days beyond that. Added to the list was August's first flight out of Vandenberg Space Force Base, Calif., whose own record-breaking tally of launches in 2023 has now passed 15 since January.
Originally targeting five T-0 points between 9:55 p.m. Thursday and 1:17 a.m. Friday, the changeable weather situation prompted SpaceX to aim for right at the end tonight's launch window. And B1069 did not disappoint, spearing into the darkened Florida sky and powering smoothly uphill for the opening 2.5 minutes of ascent, before returning to land with pinpoint grace and precision on JRTI's expansive deck.
It was her fifth voyage of the year, two of which have contributed to a pair of significant milestones for SpaceX. The first in early February marked the 200th fully successful mission for the Falcon 9 fleet, whilst the second on St. Patrick's Day helped to establish a new personal best of only four hours and 12 minutes—a record which still stands tonight—between pairs of SpaceX launches.
Also in 2023, B1069 has deployed three more Starlink stacks in early May, late June and tonight. But her adventures did not enjoy a particularly stellar start.
She entered the fleet back in December 2021, delivering the CRS-24 Cargo Dragon on the first leg of its month-long trek to the International Space Station (ISS). But she was almost lost in a hair-raising drone-ship touchdown at the close of her maiden voyage.
This necessitated substantial repairs—including a brand-new suite of Merlin 1D+ first-stage engines—before B1069 re-entered service to log three missions in the second half of last year: emplacing 54 Starlinks to orbit in August, Eutelsat's Hotbird 13F geostationary communications satellite in October and 40 broadband satellites in December for London, England-based OneWeb.
Following her smooth JRTI touchdown tonight, the Merlin 1D+ Vacuum engine of the Falcon 9's second stage burned for a standard six minutes to lift the year's tenth batch of 22 Starlink "V2 Mini" satellites towards orbit. As this AmericaSpace story was being prepared, deployment was targeted about 65 minutes into flight.
The V2 Minis, first launched back in February, boast three to four times greater "usable" bandwidth than earlier Starlink iterations. "V2 Minis include key technologies—such as more powerful phased-array antennas and the use of E-Band for backhaul—which will allow Starlink to provide 4x more capacity per satellite than earlier iterations," SpaceX explained. "Among other enhancements, V2 Minis are equipped with new argon Hall thrusters for on-orbit maneuvering."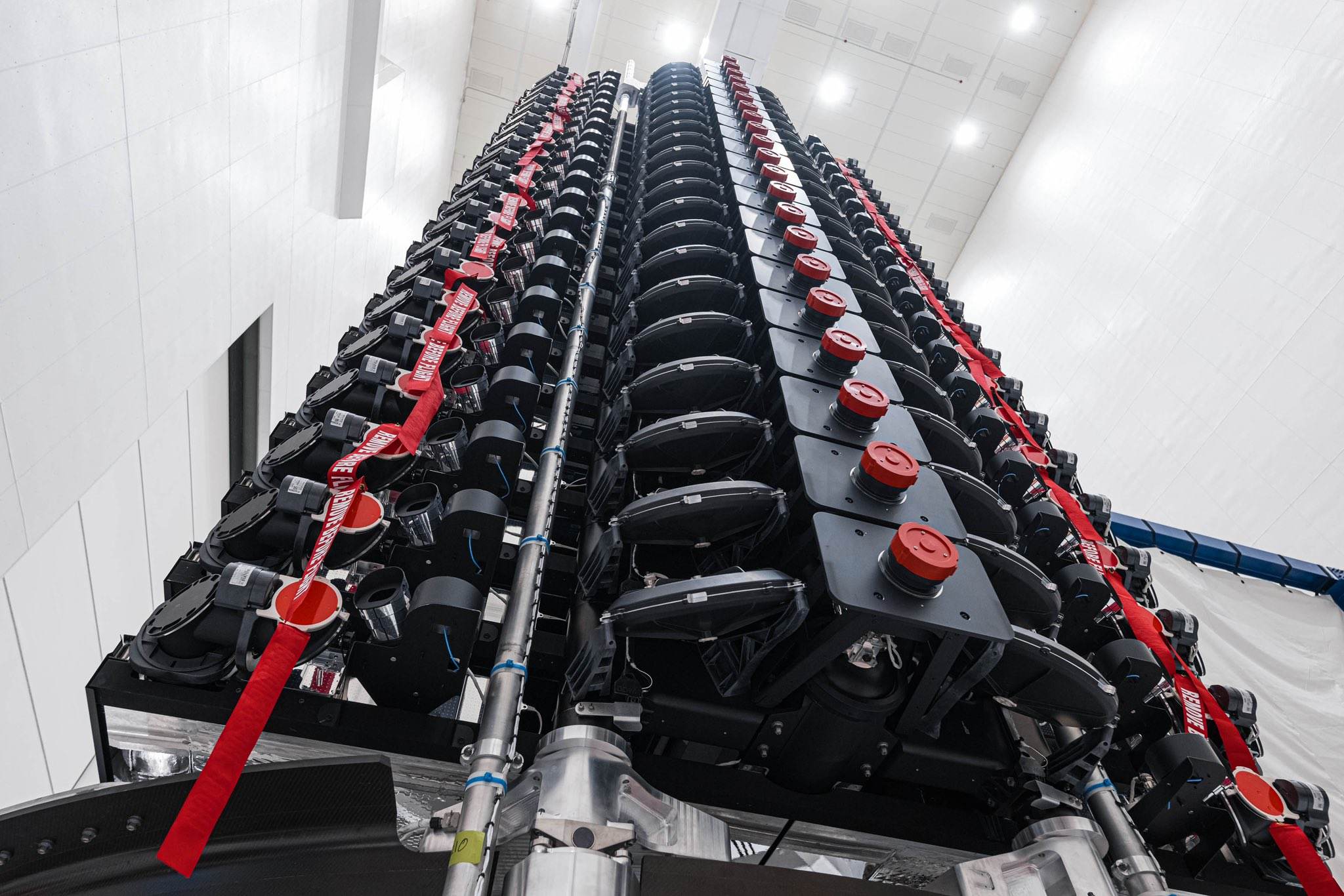 As a network, Starlink facilitates high-speed and low-latency internet provision across more than 60 sovereign nations and international markets in North and South America, Europe, Asia, Oceania and Africa. Last month alone, Cyprus, Guatemala, Kenya, Malaysia and Malawi have signed up to the network and the Bahamas came online earlier in August.
Florida-based intercity operator Brightline adopted Starlink on its trains earlier in 2023, the first passenger rail service in the world to do so. Additionally, El Salvador's Ministry of Education has begun integrating Starlink capability into its schools to help close the digital divide between urban and remote rural communities and 50 Rwandan schools are now connected via Starlink's high-speed internet service.
Four launches inside the first two weeks of a calendar month also represents a new personal best for SpaceX, as the Hawthorne, Calif.-headquartered organization heads squarely to eclipse last year's record-setting total of 61 missions. Last night's flight was the 55th Falcon-class launch of 2023, counting 52 "single-stick" Falcon 9s and three triple-barreled Falcon Heavies.
With three more Starlink-laden launches planned over the next couple of weeks from the East and West Coasts—the first possibly as soon as Wednesday 16 August—and the delayed flight of Dragon Endurance with the Crew-7 quartet of NASA astronaut Jasmin Moghbeli, Denmark's Andreas Mogensen, Russian cosmonaut Konstantin Borisov and Japan's Satoshi Furukawa for their six-month Expedition 69/70 increment to the space station scheduled for the 25th, SpaceX is already looking to close out August on at least a record-tying eight overall launches.
But with a pair of O3b mPOWER broadband satellites for Luxembourg-based SES, the second pair of SARah radar-imaging satellites for the German Armed Forces, the second flight of the Transport and Tracking Layer (TTL) for the Space Development Agency (SDA) and a pair of Maxar-built WorldView Legion Earth-imaging satellites for DigitalGlobe also manifested for August, there remains an outside possibility that this month might achieve as many as 12 launches.
Judging from SpaceX's breathtaking pace so far this year, all bets are off.