SpaceX is gearing up to close out September as its second nine-launch month, as the 11th Falcon 9 in history to fly a tenth mission prepares to rise from storied Space Launch Complex (SLC)-40 at Cape Canaveral Space Force Station, Fla. Liftoff of B1069—a booster almost lost at the close of her maiden voyage, nearly two years ago—is targeted for 7:28 p.m. EDT Thursday, carrying a 22-strong Starlink "stack" which will bring to over 1,500 the total number of these flat-packed internet communications satellites inserted into low-Earth orbit so far in 2023.
With two boosters having logged record-setting 16th and 17th flights earlier this summer, ten launches now seems relatively tame in comparison, but there is no denying SpaceX's remarkable reusability statistics. Fifteen "single-stick" Falcon 9s have completed 65 missions, with four brand-new cores entering the fleet between January and last month, and three boosters have already launched as many as six times this year.
Added to that list, a record-breaking cadence of three outings by the triple-barreled Falcon Heavy—a classified U.S. Space Force mission in January and two high-powered commercial geostationary satellites in April and July—brought SpaceX's total number of launches in 2023 to 68. Tonight will be No. 69 and 5 October's planned flight of a fourth Falcon Heavy on an ambitious mission to deliver NASA's Psyche spacecraft on the first leg of a multi-year trek to investigate the eponymous metal-rich asteroid will make 2023 the first year that the Hawthorne, Calif.-headquartered organization has attained 70 orbital launches.
If reusability has gone through the roof in 2023, so too has pace. For the first time in March, SpaceX flew eight times in a single calendar month and achieved its first nine-launch month in August. Earlier this spring, the company flew a pair of Falcon 9s just four hours and 12 minutes apart, a new personal best, then passed its 250th launch last month.
Flying tonight's mission is B1069, making her sixth flight of the year and the tenth of her career so far. She entered the fleet in December 2021, delivering the CRS-24 Cargo Dragon on the first leg of its month-long trek to the International Space Station (ISS). But she was almost lost in a hair-raising drone-ship touchdown at the close of her maiden voyage.
This necessitated substantial repairs—including a brand-new suite of Merlin 1D+ first-stage engines—before B1069 re-entered service to log three missions in the second half of last year: emplacing 54 Starlinks to orbit in August, Eutelsat's Hotbird 13F geostationary communications satellite in October and 40 broadband satellites in December for London, England-based OneWeb.
Tonight, she will become only the fourth Falcon 9 to have logged six launches in 2023. Between February and August, she lifted four Starlink batches, totaling 187 satellites, to low-Earth orbit, as well as the dual-stacked SES-18 and SES-19 geostationary communications satellites for Luxembourg-based provider SES, back in March.
In readiness for tonight's launch, the Autonomous Spaceport Drone Ship (ASDS), "A Shortfall of Gravitas", put to sea out of Port Canaveral on Monday, bound for a recovery position some 400 miles (640 kilometers) offshore in the Atlantic Ocean. But the weather outlook for Thursday's four T-0 points between 7:28 p.m. and 10:48 p.m. EDT and Friday's four backup opportunities from 6:39 p.m. until 10:15 p.m. EDT look increasingly pessimistic, with a 70-80 percent chance that Mother Nature will not play ball.
"Deep tropical moisture continues to funnel across the peninsula as showers and thunderstorms will develop with heating of the day once again," noted the 45th Weather Squadron at Patrick Space Force Base in its L-1 update, issued Wednesday. "For launch day, a weak frontal boundary sags into the state, enhancing precipitation across the area, so widespread showers and storms are expected.
"Conditions will slowly improve through the window, however, showers and storms will likely remain along the coast well into the evening hours," it added. "Thus, the primary concerns will be the Lightning, Cumulus and Anvil Cloud Rules." There is a slightly reduced risk of violating the Cumulus and Anvil Cloud Rules on Friday night.
Assuming a launch occurs tonight, B1069's nine Merlin 1D+ engines will power the opening 2.5 minutes of ascent, before returning to land on the drone ship's expansive deck. The booster's second stage will execute a standard, six-minute "burn" of its single Merlin 1D+ Vacuum engine to lift the Starlink "V2 Mini" stack to orbit, with deployment timed at 65 minutes and 19 seconds into the mission.
The V2 Minis, first launched back in February, boast three to four times greater "usable" bandwidth than earlier Starlink iterations. "V2 Minis include key technologies—such as more powerful phased-array antennas and the use of E-Band for backhaul—which will allow Starlink to provide 4x more capacity per satellite than earlier iterations," SpaceX explained. "Among other enhancements, V2 Minis are equipped with new argon Hall thrusters for on-orbit maneuvering."
As a network, Starlink facilitates high-speed and low-latency internet provision across more than 60 sovereign nations and international markets in North and South America, Europe, Asia, Oceania and Africa. In July alone, Cyprus, Guatemala, Kenya, Malaysia and Malawi have signed up to the network and the Bahamas came online vfin August.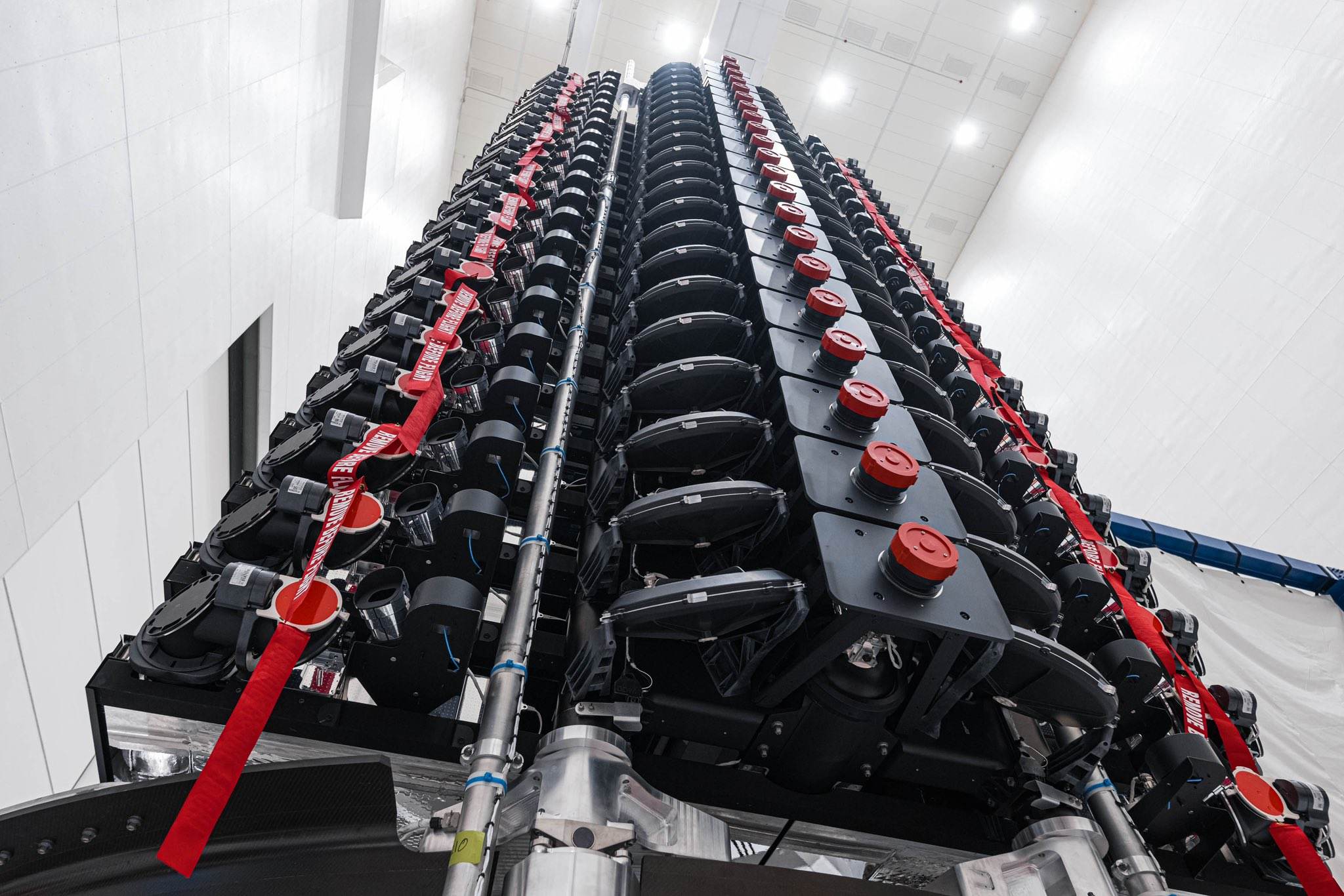 Florida-based intercity operator Brightline adopted Starlink on its trains earlier in 2023, the first passenger rail service in the world to do so. Additionally, El Salvador's Ministry of Education has begun integrating Starlink capability into its schools to help close the digital divide between urban and remote rural communities and 50 Rwandan schools are now connected via Starlink's high-speed internet service.