SpaceX has successfully wrapped up its second nine-launch month, following last night's flight of a ten-times-used Falcon 9 out of storied Space Launch Complex (SLC)-40 at Cape Canaveral Space Force Station, Fla. Despite poor forecasted weather along the Space Coast, liftoff of B1069—a booster almost lost at the close of her maiden voyage, nearly two years ago—occurred without incident at 10 p.m. EDT Friday and successfully delivered 22 Starlink internet communications satellites into low-Earth orbit.
Originally slated to fly late Thursday, a measly 20-percent probability of acceptable weather forced SpaceX to call off the opening launch opportunity. Friday offered no fewer than four discrete T-0 points, from 6:39 p.m. through 10:15 p.m. EDT, facilitating a deployment of the Starlink payload about 65 minutes after launch.
But although Mother Nature promised a better picture than Thursday, there was still only a 40-percent probability of acceptable conditions on Friday, deteriorating slightly to 35-percent-favorable on Saturday. In its summary, the 45th Weather Squadron at Patrick Space Force Base highlighted risks of violating the Cumulus Cloud Rule, the Anvil Cloud Rule and the Surface Electric Fields Rule, thanks to a southward-moving frontal boundary.
"For launch day, the boundary will continue to slowly move southward, however, models aren't in full agreement as to how far," the 45th reported. "Nevertheless, the Spaceport will likely see at least some drying in the atmosphere."
With two boosters having logged record-setting 16th and 17th flights earlier this summer, ten launches now seems relatively tame in comparison, but there is no denying SpaceX's remarkable reusability statistics. Fifteen "single-stick" Falcon 9s have now completed 66 missions, with four brand-new cores entering the fleet between January and last month, and three boosters have already launched six times apiece this year.
Added to that list, a record-breaking pace of three outings by the triple-barreled Falcon Heavy—a classified U.S. Space Force mission in January and two high-powered commercial geostationary satellites in April and July—brought SpaceX's total number of launches in 2023 to 68. Tonight will be No. 69 and 5 October's planned flight of a fourth Falcon Heavy on an ambitious mission to deliver NASA's Psyche spacecraft on the first leg of a multi-year trek to investigate the eponymous metal-rich asteroid will make 2023 the first year that the Hawthorne, Calif.-headquartered organization has passed 70 orbital launches.
If reusability has gone through the roof in 2023, so too has cadence. For the first time in March, SpaceX flew eight times in a single calendar month and achieved its first nine-launch month in August. Earlier this spring, it flew a pair of Falcon 9s just four hours and 12 minutes apart, a new personal best, then passed its 250th Falcon 9 launch last month.
Flying Friday night's mission was B1069, making her sixth flight of the year and the tenth of her career so far. She entered the fleet in December 2021, delivering the CRS-24 Cargo Dragon on the first leg of its month-long trek to the International Space Station (ISS). But she was almost lost in a hair-raising drone-ship touchdown at the close of her maiden voyage.
This necessitated substantial repairs—including a brand-new suite of Merlin 1D+ first-stage engines—before B1069 re-entered service to log three missions in the second half of last year: emplacing 54 Starlinks to orbit in August, Eutelsat's Hotbird 13F geostationary communications satellite in October and 40 broadband satellites in December for London, England-based OneWeb.
Last night, she became the fourth Falcon 9 to log six launches in 2023. Between February and August, she lifted four Starlink batches, totaling 187 satellites, to low-Earth orbit, as well as the dual-stacked SES-18 and SES-19 geostationary communications satellites for Luxembourg-based provider SES, back in March.
In readiness for last night's launch, the Autonomous Spaceport Drone Ship (ASDS), "A Shortfall of Gravitas", put to sea out of Port Canaveral on Monday, bound for a recovery position some 400 miles (640 kilometers) offshore in the Atlantic Ocean. But the weather outlook for Thursday's four T-0 points between 7:28 p.m. and 10:48 p.m. EDT and Friday's four backup opportunities from 6:39 p.m. until 10:15 p.m. EDT looked pessimistic, with a high likelihood that Mother Nature would not play ball.
As circumstances transpired, SpaceX called off Thursday's opening attempt several hours before fueling of the 230-foot-tall (70-meter) Falcon 9 even commenced. "Now targeting Friday, September 29 for Falcon 9's launch of @Starlink satellites," the Hawthorne, Calif.-headquartered organization tweeted on X.
Liftoff occurred at 10 p.m. EDT, close to the end of Friday's quartet of T-0 points, the nine Merlin 1D+ engines of the Falcon 9's first stage flaring in the darkness as B1069 powered uphill. Two and a half minutes later, the core separated, as planned, from the stack, and began a graceful descent homeward, to alight on ASOG's deck about 8.5 minutes after liftoff.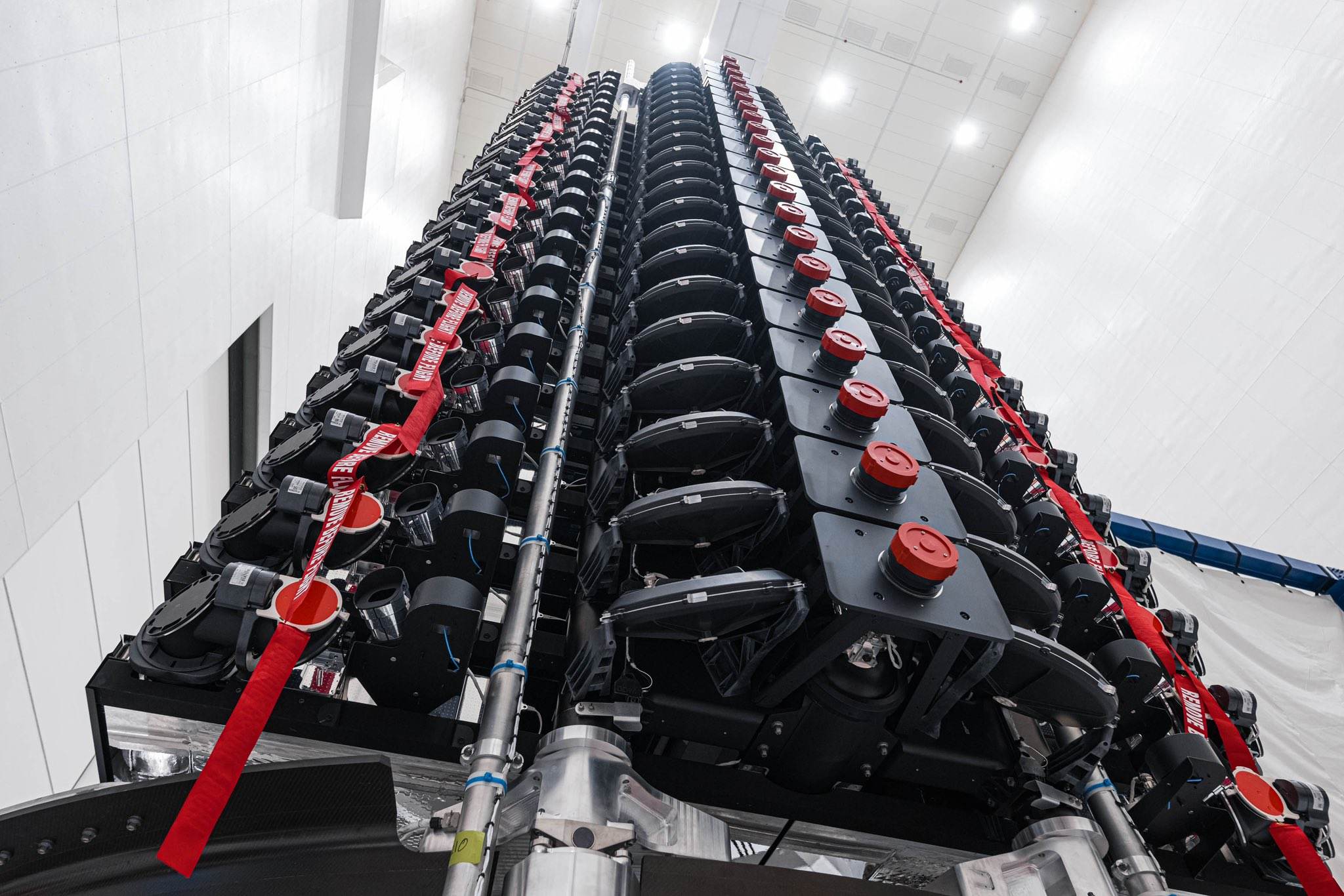 Meanwhile, the single Merlin 1D+ Vacuum engine of the rocket's second stage conducted a standard six-minute "burn" to lift the 22 Starlink "V2 Minis" into orbit. Deployment occurred about 65 minutes and 19 seconds into the mission, bringing to 1,534 the total number of flat-packed Starlinks lofted so far this year.
Notably, the V2 Minis, first launched back in February, boast three to four times greater "usable" bandwidth than earlier Starlink iterations. "V2 Minis include key technologies—such as more powerful phased-array antennas and the use of E-Band for backhaul—which will allow Starlink to provide 4x more capacity per satellite than earlier iterations," SpaceX explained. "Among other enhancements, V2 Minis are equipped with new argon Hall thrusters for on-orbit maneuvering."
As a network, Starlink facilitates high-speed and low-latency internet provision across more than 60 sovereign nations and international markets in North and South America, Europe, Asia, Oceania and Africa. In July alone, Cyprus, Guatemala, Kenya, Malaysia and Malawi have signed up to the network and the Bahamas came online vfin August.
Florida-based intercity operator Brightline adopted Starlink on its trains earlier in 2023, the first passenger rail service in the world to do so. Additionally, El Salvador's Ministry of Education has begun integrating Starlink capability into its schools to help close the digital divide between urban and remote rural communities and 50 Rwandan schools are now connected via Starlink's high-speed internet service.
Almost two weeks will now pass before the planned launch of NASA's Psyche mission to the metal-rich asteroid of the same name. Previously scheduled to fly from historic Pad 39A at Florida's Kennedy Space Center (KSC) on 5 October, NASA announced Thursday that launch has been rescheduled for 10:16 a.m. EDT on the 12th, to complete verifications of the parameters used to control the Psyche spacecraft's nitrogen cold-gas thrusters.
As part of these verifications, simulations will be re-run and adjustments made to flight parameters and procedures. In the meantime, on Friday SpaceX tweeted images of Psyche's giant Falcon Heavy in the Horizontal Integration Facility (HIF), near Pad 39A, being readied for rollout for a Static Fire Test of its 27 Merlin 1D+ engines on Saturday.
The images reveal a stark juxtaposition between brand-new and previously-flown boosters. The Heavy's center core (B1079) has not flown before, nor will it be used again, for its role boosting Psyche on its journey demands that it be expended. However, the two side-boosters—B1064 and B1065—are both making their fourth launches, having powered three earlier Heavies uphill last November, January and July.
They will be recovered after this mission, touching down in synchronized unison on Landing Zones (LZ)-1 and 2 at Cape Canaveral Space Force Station, Fla., about 8.5 minutes after 12 October's launch. B1064 and B1065 are expected to then be recycled to fly a fifth time on another Heavy mission in late November, carrying the classified USSF-52 payload on behalf of the U.S. Space Force.