At 1:39 p.m. EDT today, Expedition 69's Frank Rubio will officially become holder of the empirical record for the greatest amount of time ever spent in space by a U.S. astronaut during a single mission. He will pass the 355 days, three hours and 45 minutes established by fellow NASA astronaut Mark Vande Hei in March 2022, but will not stop there: for when Rubio returns to Earth later this month, he will become the first American to complete an entire year—a full orbit of the Sun—on a single, continuous voyage.
And on the all-time list of experience among worldwide spacefarers, Rubio and Russian cosmonaut Dmitri Petelin—both of whom are making their first flights—now sit in joint 53rd place, surpassed by 38 Russians, nine Americans, two Italians and one apiece from Germany, France and Japan. Included in the list ahead of Rubio and Petelin are their Expedition 69 crewmate Sergei Prokopyev, who flew a 196-day ISS increment in 2018 and whose running total now stands at over 550 cumulative days, as well as U.S. astronauting heavyweight Peggy Whitson and Russia's Valeri Polyakov, holder of the longest single mission ever undertaken in human history.
Nor is a combined year in space necessarily a rarity these days, for 32 souls from Russia, the United States, France, Japan and Italy have spent more than 365 days off the home planet during their careers. Ten more have passed 18 cumulative months, whilst six Russians have accrued over two years in orbit across their cosmonauting careers.
When Russia's Oleg Kononenko—already a four-flight veteran with over 736 days in space—launches next week to begin his planned year-long ISS stay, he will return a dozen months hence as the first human to pass cumulative 1,000 days off the planet. Depending on exactly how long his next increment lasts, Kononenko might edge his career total just past the 1,095-day threshold to pass three years in space.
But for single missions to surpass a full year is far less commonplace. Soviet cosmonauts Vladimir Titov and Musa Manarov spent 365 days aboard the Mir space station between December 1987 and December 1988, after which Polyakov logged his world-record-breaking 437-day stay between January 1994 and March 1995 and Sergei Avdeyev flew a pair of back-to-back increments, lasting 379 days, between August 1998 and August 1999.
During the International Space Station (ISS) era, three Americans—Scott Kelly, Christina Koch and Mark Vande Hei—together with Russian cosmonauts Mikhail Kornienko and Pyotr Dubrov have approached a year in space on single missions, but the timings of their respective returns to Earth have caused them to fall shy of 365 days. Indeed, when Prokopyev, Petelin and Rubio launched from Russia's Baikonur Cosmodrome aboard Soyuz MS-22 at 6:54 p.m. local time (9:54 a.m. EDT) on 21 September 2022, a standard six-month ISS increment lay ahead.
Or so they thought.
"A sunset start," intoned NASA's Rob Navias as their rocket speared uphill, the flare of its center core and four tapering side-boosters turning back the encroaching Kazakh evening. Three hours and 12 minutes and two Earth orbits later, Prokopyev, Petelin and Rubio docked safely at the ISS, to be welcomed aboard the sprawling orbital complex by Expedition 67 Commander Oleg Artemyev, his Russian crewmates Denis Matveev and Sergei Korsakov, U.S. astronauts Kjell Lindgren, Bob "Farmer" Hines and Jessica Watkins, together with Italy's Samantha Cristoforetti.
A week later, Artemyev, Matveev and Korsakov returned to Earth aboard their Soyuz MS-21 spacecraft, wrapping up a six-month stay. And on 5 October Dragon Endurance launched from Pad 39A at the Kennedy Space Center (KSC) in Florida, bearing the multi-national Crew-5 quartet of NASA astronauts Nicole Mann and Josh Cassada, Japan's Koichi Wakata and Russian cosmonaut Anna Kikina.
Less than ten days after Crew-5's arrival, Lindgren, Hines, Watkins and Cristoforetti boarded their Dragon Freedom spacecraft and returned to Earth to wrap up 170 days in orbit. At this stage—with Expedition 68 now underway—it was confidently anticipated that Prokopyev, Petelin and Rubio would spend 182 days aloft, targeting their own undocking and homeward-bound journey in late March 2023.
Under Prokopyev's command lay several busy months in support of around 250 research investigations, ranging from modeling how the human brain adapts to microgravity to growing dwarf tomato plants and from hearing and ultrasound eye scans to 3D-printing of organ-like tissues. Six sessions of Extravehicular Activity (EVA)—from the U.S. Operational Segment (USOS) and the Russian Operational Segment (ROS)—took place between November 2022 and last February, including three by Rubio, totaling 21 hours and 24 minutes, to continue installing Boeing-built ISS Roll-Out Solar Arrays (iROSAs).
But plans for an end-of-March return for Prokopyev, Petelin and Rubio stalled on 14 December, when ground teams observed "significant" leakage from the aft end of Soyuz MS-22. A coolant loop leak was pinpointed, emerging from the external radiator.
Temperatures and humidity levels inside Soyuz MS-22 remained within acceptable parameters and inspections using the station's 57.7-foot-long (17.6-meter) Canadarm2 robotic arm on 18 December revealed a small hole and discolouration on the radiator's surface, suggestive of a Micrometeoroid Orbital Debris (MMOD) impact.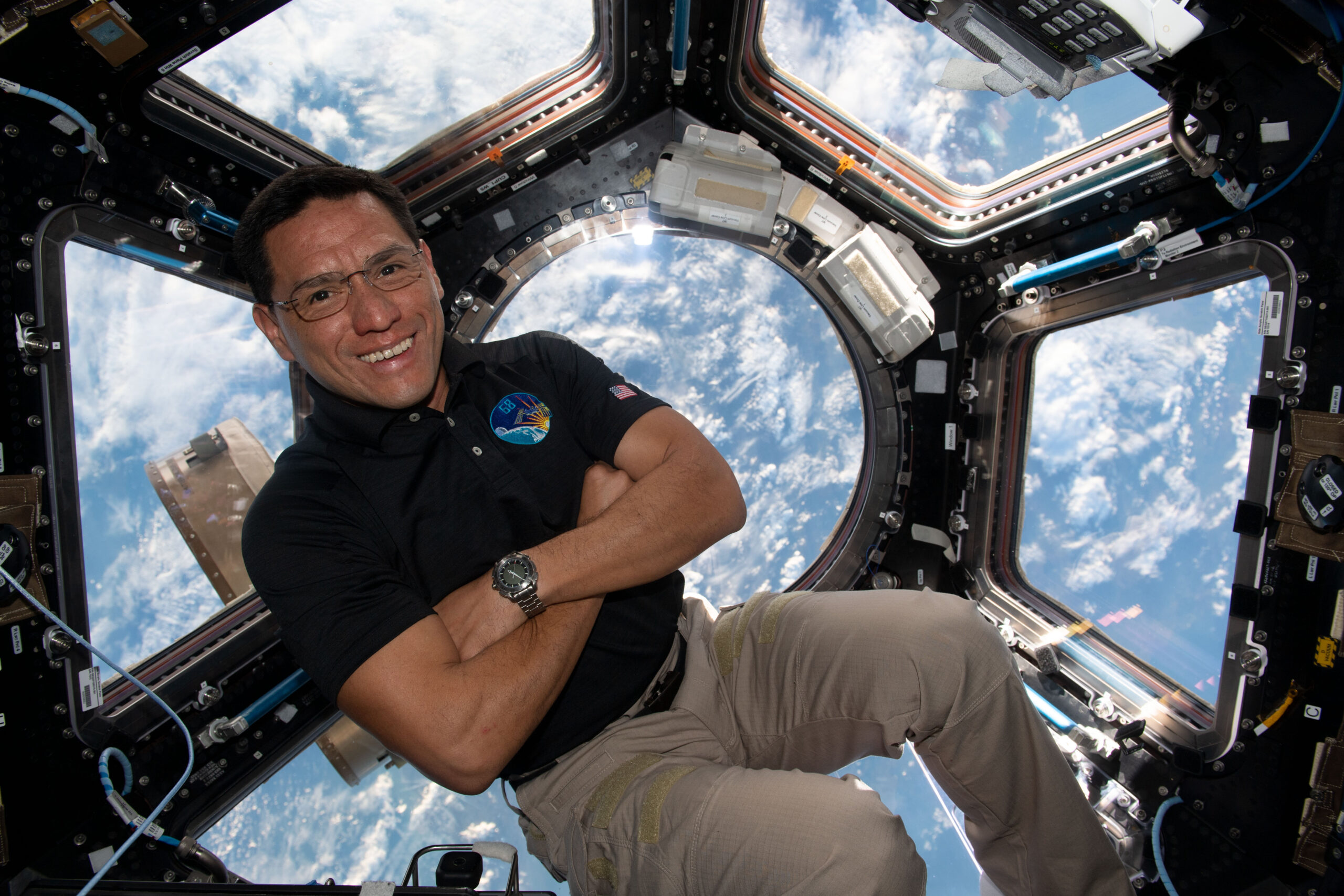 As 2023 began, it became obvious that although the spacecraft could be used in the event of an emergency return of the crew, it was not viable for the "nominal" return of Prokopyev, Petelin and Rubio. In mid-January, NASA and Roscosmos determined that a "replacement" ship, Soyuz MS-23, would launch uncrewed in February.
To facilitate an enhanced "lifeboat" capability, Rubio's seat liner was transferred from Soyuz MS-22 over to Dragon Endurance on 17-18 January, with an expectation that it would be installed—along with Prokopyev and Petelin's seat liners—aboard Soyuz MS-23 following its arrival. The replacement crew vehicle launched from Baikonur on 23 February and docked autonomously at the ISS two days later, carrying 946 pounds (429 kilograms) of payloads and supplies.
Seat liners for Prokopyev, Petelin and Rubio were transferred over to Soyuz MS-23 over the next few days and the ailing Soyuz MS-22 undocked in an uncrewed capacity on 28 March, parachuting safely back to Earth on 28 March after 188 days. It was reported that temperatures likely reached 50 degrees Celsius (122 degrees Fahrenheit) on landing, somewhat more favorable than the worst-case scenarios contemplated by mission planners, although further data remains to be seen.
With the next Russian crewed vehicle, Soyuz MS-24, now scheduled to launch from Baikonur on 15 September—carrying the "original" Soyuz MS-23 crew of Russian cosmonauts Oleg Kononenko and Nikolai Chub, together with NASA astronaut Loral O'Hara—the stay time of Prokopyev, Petelin and Rubio correspondingly lengthened to more than a full year. Their return has now been pegged for 27 September 2023, which will see the three men return after 371 days, the third-longest human flight ever conducted in the annals of space exploration.