America's first astronaut to spend more than a full year in orbit is safely home, following the touchdown of Soyuz MS-23 in south-central Kazakhstan early Wednesday with Russian cosmonauts Sergei Prokopyev and Dmitri Petelin and NASA veteran Frank Rubio. The trio landed about 90 miles (140 kilometers) southeast of the Kazakh city of Dzhezkazgan at 5:17 p.m. local time (7:17 a.m. EDT), wrapping up the third-longest human-carrying space voyage in history after 370 days, 21 hours and 23 minutes in flight, 157 million miles (252 million kilometers) traveled and 5,936 orbits of Earth.
"Frank's record-breaking time in space is not just a milestone, it's a major contribution to our understanding of long-duration space missions," said NASA Administrator Bill Nelson. "Our astronauts make extraordinary sacrifices away from their homes and loved to further discovery.
"NASA is immensely grateful for Frank's dedicated service to our nation and the invaluable scientific contributions he made he made on the International Space Station," the administrator continued. "He embodies the true pioneer spirit that will pave the way for future exploration of the Moon, Mars and beyond."
After rain showers impacted the landing site earlier today, the Soyuz MS-23 descent module—descending beneath its orange-and-white parachute—drifted through broken clouds, overcast skies and light winds to alight on the desolate Kazakh steppe, where temperatures hovered around 20 degrees Celsius (69 degrees Fahrenheit). Seconds prior to touchdown, Prokopyev, Petelin and Rubio were instructed to brace and the six solid-fueled landing rockets in the descent module's base ignited to cushion the moment of impact at about 3.3 mph (5.3 km/h).
Soyuz MS-23 undocked from the Prichal module of the International Space Station (ISS) at 3:54 a.m. EDT Wednesday, to commence the multi-hour return to Earth. And following a picture-perfect deorbit "burn", the spacecraft's spherical orbital module and cylindrical instrument module were automatically discarded at 6:52 a.m. EDT, leaving the bell-shaped descent module alone to withstand the furnace of atmospheric re-entry.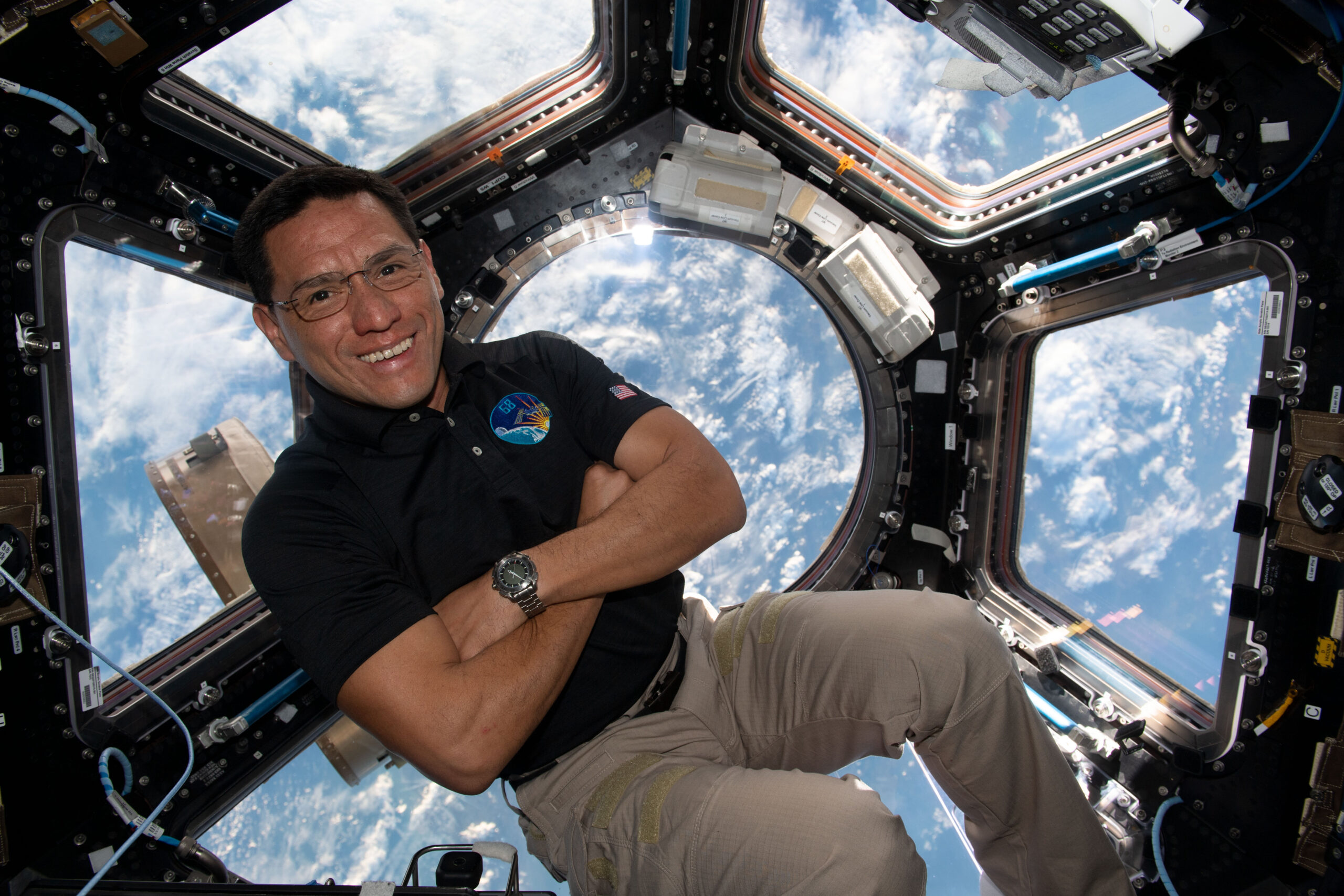 "Entry Interface"—the point at which Soyuz MS-23 began to feel the tenuous effects of Earth's sensible atmosphere—came a couple of minutes later. The spacecraft passed through peak aerodynamic heating and safely exited the "plasma regime" shortly after 7 a.m. EDT.
By this time, search and rescue forces had reached the landing site and adopted a "racetrack" pattern, circling the predicted touchdown location. Descending beneath its huge parachute, Soyuz MS-23 hit terra firma right on time and apparently rolled onto its side, a final moment of drama for the first humans in the 21st century to spend more than one continuous solar orbit off the planet. There to greet them were a gaggle of recovery personnel and many recognizable faces, including ISS Program Manager Joel Montalbano and Chief Astronaut Joe Acaba.
With today's landing, Prokopyev, Petelin and Rubio bring to seven the total number of humans who have logged over a year in space on a single mission. Past ultra-long-duration spacegoers included Vladimir Titov and Musa Manarov, who spent almost 366 days aboard the Soviet-era Mir space station between December 1987 and December 1988, Sergei Avdeyev who recorded 379 days between August 1998 and August 1999 and the all-time record-holder, Valeri Polyakov, who flew a 437-day, 6,900-orbit mission between January 1994 and March 1995.
And with Prokopyev having also flown a six-month ISS increment between June and December 2018, his career total now stands at more than 567 days, putting him in 12th place on the world list of most experienced spacefarers. Petelin and Rubio, meanwhile, carve for themselves a joint record for the longest "rookie" mission of any astronaut or cosmonaut: Manarov was the previous record-holder in this respect, having logged 366 days on the first flight of his career in December 1988; Titov, Avdeyev and Avdeyev had already flown before their ultra-long-duration missions.
Two weeks ago, Rubio eclipsed the 355-day record of fellow NASA astronaut Mark Vande Hei for the longest single spaceflight ever undertaken by a U.S. citizen. And in a touching tribute on Day 355, Vande Hei and Rubio had the opportunity to chat for a few minutes about records set, fun had and sacrifices made.
"On behalf of the country, thanks for extending our record beyond 355 days," Vande Hei told Rubio. "Every day for us is a record until you come home."
Aware that a year had passed since Rubio last did any real Soyuz landing training, old-hand Vande Hei offered a useful tip. "I succeeded in keeping my mouth shut when we hit the ground," he joked, "so I didn't bite my tongue off."
Responding, Rubio noted that one of the best experiences was spending his year in space with 28 other people from seven sovereign nations: U.S. astronauts Kjell Lindgren, Bob "Farmer" Hines, Jessica Watkins, Nicole Mann, Josh Cassada, Steve Bowen, Warren "Woody" Hoburg, Jasmin Moghbeli, Loral O'Hara and Ax-2's Peggy Whitson and John Shoffner, Russian cosmonauts Oleg Artemyev, Sergei Korsakov, Denis Matveev, Anna Kikina, Andrei Fedyayev, Konstantin Borisov, Oleg Kononenko and Nikolai Chub, together with Sultan Al-Neyadi of the United Arab Emirates (UAE), Japan's Koichi Wakata and Satoshi Furukawa, Italy's Samantha Cristoforetti and Saudi Arabia's Ali Al-Qarni and Rayyanah Barnawi.
Added to that list, of course, were his one-year crewmates, Prokopyev and Petelin, plus Denmark's Andreas Mogensen, who assumed command of the ISS yesterday and formally kicked off Expedition 70. In his change-of-command remarks, Mogensen praised the "resilience, professionalism and grace" of the three men "in the face of unexpected challenges and significant uncertainty".
Mogensen continued: "It's one thing to launch to space, knowing that you're going to be up here for a year"—a nod, perhaps, to Russia's Kononenko and Chub, launched two weeks ago, who are expected to remain aboard the ISS until September 2024—"but it's a completely different thing for you and your families to find out, towards the end of your six-month mission, that you're going to be spending an additional six months in space. But you took it upon your shoulders and you excelled."
Excelled, indeed, for Prokopyev, Petelin and Rubio rose to space aboard Soyuz MS-22 from Kazakhstan's Baikonur Cosmodrome at 6:54 p.m. local time (9:54 a.m. EDT) on 21 September 2022, docking at the ISS three hours and two orbits later, to be welcomed by the seven-strong Expedition 67 crew. A week later, three Russian crewmen returned to Earth, followed by the arrival of SpaceX's four-strong Crew-5 in early October and the departure of the four-person Crew-4 at mid-month, kicking off Expedition 68 under Prokopyev's command.
At this stage, it was intended for Prokopyev, Petelin and Rubio to spend 182 days in orbit, returning to Earth late in March 2023. Those plans changed abruptly last December, when ground teams observed "significant" leakage from Soyuz MS-22's aft section, later traced to a hole, discoloration and a coolant leak in an external radiator, likely caused by a Micrometeoroid Orbital Debris (MMOD) impactor.
As 2023 began, it became readily apparent that although Soyuz MS-22 could be used in the dire eventuality of an emergency return, it was not safe for a "nominal" re-entry. And in mid-January NASA and Roscosmos determined that a "replacement" ship, Soyuz MS-23, would fly uncrewed to the station.
Soyuz MS-23 arrived safely on 23 February and Prokopyev, Petelin and Rubio transferred their seat liners over to the new ship, before the old Soyuz MS-22 was remotely undocked and returned autonomously to Earth in late March. It parachuted to a safe landing in Kazakhstan, although temperatures inside the spacecraft reportedly peaked at close to 50 degrees Celsius (122 degrees Fahrenheit), rather more favorable than the worst-case scenarios envisaged by flight planners.
With a double-duty increment ahead of them, Expedition 68 transitioned into Expedition 69 and it became obvious that Prokopyev, Petelin and Rubio would pass a full year in space, the first humans of the ISS era and the first people in the 21st century to do so. In mid-September, their replacements—Soyuz MS-24's Oleg Kononenko, Nikolai Chub and Loral O'Hara—launched from Baikonur and arrived safely at the station. Current plans are for O'Hara to return to Earth next March, with Kononenko and Chub expected to remain in space for a full year until September 2024.