At 9:54 a.m. EDT Thursday, the first American to complete a full year—an entire Solar Orbit—in space will cross the magical Day Three-Six-Five aboard the Earth-circling International Space Station (ISS). Astronaut Frank Rubio and his Russian crewmates Sergei Prokopyev and Dmitri Petelin launched last 21 September, anticipating a standard six-month increment aboard the sprawling orbital complex. But fate had other cards in store.
Although 48 astronauts and cosmonauts (including two women) from Russia, the United States, Japan, France and Italy have crossed a cumulative 365 days in space across multiple missions, the number of souls to have logged a continuous year off the Home Planet on a single flight is far fewer. In fact, when they return to Earth aboard Soyuz MS-23 on 27 September after 371 days in space, Prokopyev, Petelin and Rubio will bring to just seven the total number of humans to have entered this exclusive "Year-Long Club".
The first members of the club were Vladimir Titov and Musa Manarov, who occupied the Mir space station for a year between December 1987 and December 1988, wrapping up 365 days, 22 hours and 38 minutes in flight and completing 5,790 orbits of Earth. The cosmonauts welcomed three visiting crews—including citizens of Bulgaria, Afghanistan and France—as well as three uncrewed cargo ships and completed three sessions of Extravehicular Activity (EVA), totaling 13 hours and 47 minutes in vacuum.
A decade later, as the curtain began to fall on Mir's stellar career, Russian cosmonaut Sergei Avdeyev logged 379 days, 14 hours and 51 minutes in space and circled the globe on 6,007 occasions. Launched in August 1998, Avdeyev should have returned home the following spring, but when Russia sold a pair of Soyuz seats to Slovakia and France the cosmonaut was required to accept a double-duration assignment, finally coming back to Earth in August 1999.
During his long stay, Avdeyev welcomed four uncrewed Progress resupply freighters and a single visiting crew and supported four EVAs, totaling 17 hours and 53 minutes. Upon his return home, he also secured a cumulative career record of 747 days in orbit across three space missions.
But the current record-holder for the longest single human spaceflight is Russian physician Valeri Polyakov, who launched to Mir shoulder-to-shoulder with fellow cosmonauts Viktor Afanasyev and Yuri Usachev in January 1994. Afanasyev and Usachev returned to Earth the following July, to be replaced by a new crew of Yuri Malenchenko and Talgat Musabayev, who remained aboard the station until November, to be themselves replaced by a third crew of Aleksandr Viktorenko and Yelena Kondakova and again by cosmonauts Vladimir Dezhurov, Gennadi Strekalov and U.S. astronaut Norm Thagard in March 1995.
As such, Polyakov's long stay saw him joined by no less than four crews, as well as Germany's Ulf Merbold, who spent a month aboard Mir in the fall of 1994. By the time Polyakov returned to Earth in late March 1995, he had spent a continuous 437 days, 17 hours and 58 minutes off the planet, completing 6,927 orbits.
And although several astronauts and cosmonauts have exceeded the 300-day mark on a single mission—Yuri Romanenko in 1987, Sergei Krikalev in 1992, Scott Kelly and Mikhail Kornienko in 2016, Christina Koch in 2020 and Mark Vande Hei and Pyotr Dubrov only last year—no others have completed a full solar orbit in one go. Ironically, achieving a full year in space was not the original goal of Prokopyev, Petelin and Rubio.
Launched aboard Soyuz MS-22 from Kazakhstan's Baikonur Cosmodrome at 6:54 p.m. local time (9:54 a.m. EDT) on 21 September 2022, the trio docked at the ISS three hours and two orbits later to be welcomed aboard the complex by the seven-strong Expedition 67 crew. A week later, three Russian crewmen returned to Earth, followed by the arrival of SpaceX's four-strong Crew-5 in early October and the departure of the four-person Crew-4 around mid-month, kicking off the new Expedition 68.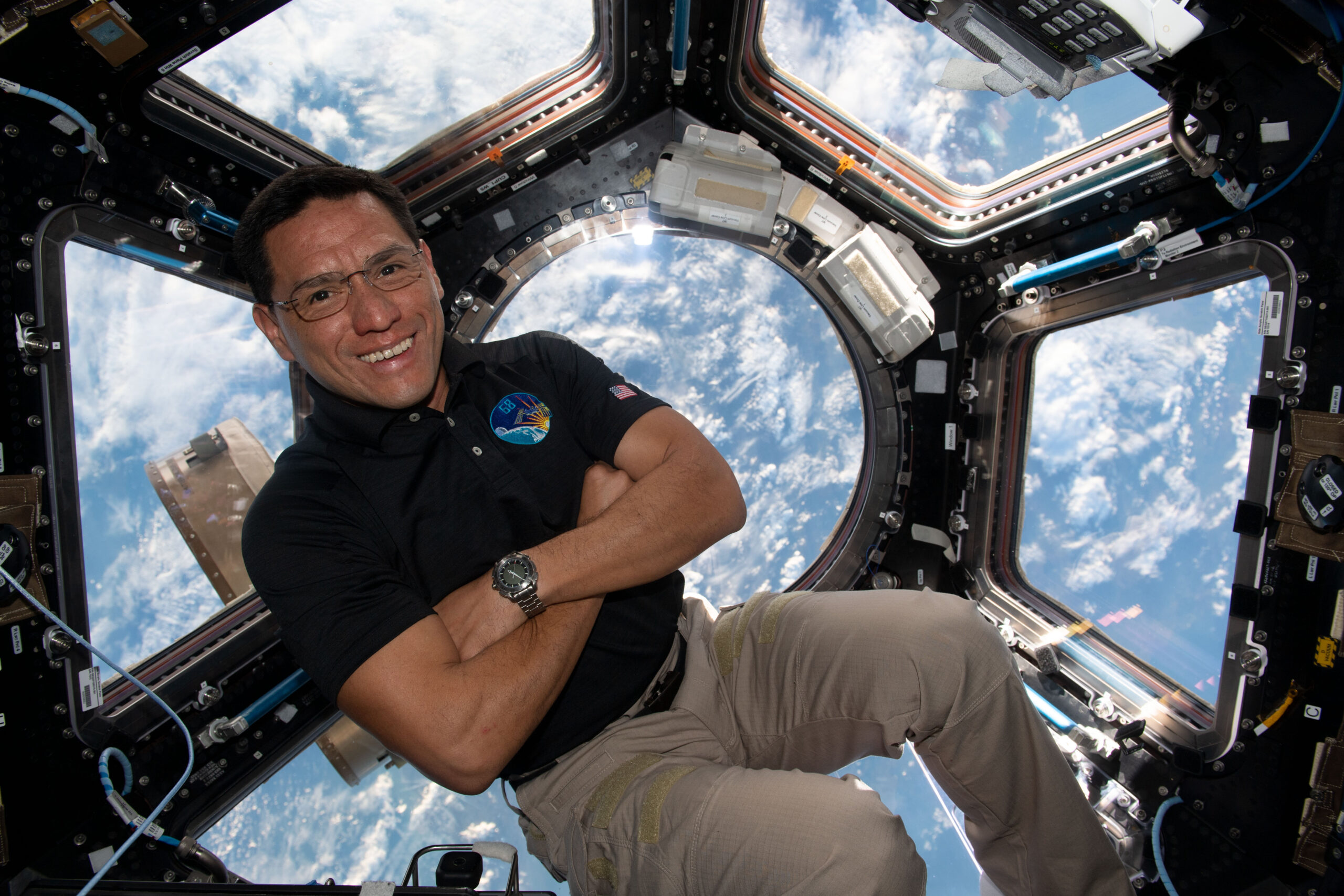 At this stage, it was intended for Prokopyev, Petelin and Rubio to spend 182 days in orbit, returning to Earth in late March 2023. Those plans changed abruptly last December, when ground teams observed "significant" leakage from Soyuz MS-22's aft section, later identified as a coolant leak in an external radiator.
Inspections revealed the presence of a small hole and discoloration of the radiator's surface, indicative of a potential Micrometeoroid Orbital Debris (MMOD) impact. As 2023 began, it became readily apparent that although Soyuz MS-22 could be used in the dire eventuality of an emergency return, it was not safe for a "nominal" re-entry and in mid-January NASA and Roscosmos determined that a "replacement" ship, Soyuz MS-23, would fly uncrewed to the station.
Soyuz MS-23 arrived safely on 23 February and Prokopyev, Petelin and Rubio transferred their seat liners over to the new ship, before the old Soyuz MS-22 was remotely undocked and returned autonomously to Earth in late March. It parachuted to a safe landing in Kazakhstan, although temperatures inside the spacecraft reportedly peaked at close to 50 degrees Celsius (122 degrees Fahrenheit), rather more favorable than the worst-case scenarios envisaged by flight planners.
With a double-duty increment ahead of them, it became obvious that Prokopyev, Petelin and Rubio would pass a full year in space, the first humans of the ISS era to do so. Last week, their replacements—Soyuz MS-24's Oleg Kononenko, Nikolai Chub and Loral O'Hara—launched from Baikonur and arrived safely at the station.
So it is that at 9:54 a.m. EDT on Thursday, Prokopyev, Petelin and Rubio will pass 365 full days away from the home planet, the first humans to do so since Sergei Avdeyev, almost a quarter-century ago. And with Prokopyev having also completed a 197-day ISS increment back in 2018, his career total now stands at 561 days, placing him in 12th place on the list of the world's most seasoned spacefarers.
Passing a continuous year on the first flights of their respective careers, Petelin and Rubio jointly reside in 49th place, but will leap jointly to 46th place by the time they return to Earth after 371 days next week. Rubio is currently the United States' tenth most experienced spacefarer and will jump to ninth place—passing fellow astronaut Don Pettit's cumulative 369 days—by the time his feet touch terra firma in the coming days.