SpaceX has successfully launched a record-breaking 17-times-used Falcon 9 booster out of Cape Canaveral Space Force Station, Fla., as well as wrapping up the 40th dedicated Starlink mission of 2023 and lifting the 400th downsized "V2 Mini" member of this low-orbiting internet satellite constellation into orbit. Liftoff of the blackened and scorched B1060 core—which entered service back in June 2020—occurred from the Cape's storied Space Launch Complex (SLC)-40 at 11:38 p.m. EDT Tuesday, marking SpaceX's sixth Falcon 9 launch of the month and its 66th orbital mission of the year so far.
As outlined in AmericaSpace's preview story, SpaceX teams aimed for five discrete T-0 points, the first at 10:47 p.m., followed by four others between 11:38 p.m. and 1:46 a.m. Thursday. But Mother Nature proved one to watch, promising only a 60-percent probability of acceptable conditions last night, before deteriorating to only 30-percent-favorable for another batch of five T-0 opportunities overnight Thursday/Friday.
The culprit was a southward-pushing weather front over Central Florida. This was expected to stall to the south of the launch site but was predicted to introduce a threat "for showers rolling off the Atlantic waters and onto the coast, particularly during the night and morning hours", with a lessened risk of thunderstorms, according to the 45th Weather Squadron at Patrick Space Force Base.
The subsequent evolution of the front, added the 45th, carried "significant uncertainty" during the latter part of the week, "with a good potential of it moving back northward, leading to a much higher risk of unsettled weather locally". A violation of the Cumulus Cloud Rule was therefore expected for both launch attempts, with the Thursday night window also complicated by a chance of impacting the Anvil Cloud Rule.
Nevertheless, the intrepid SpaceX teams—having already launched five Falcon 9 missions inside September's first two weeks, delivering 86 Starlink satellites, totaling more than 150,000 pounds (68,000 kilograms) of payload mass, and the second batch of Tranche 0 Transport and Tracking Layer (TTL) spacecraft for the Space Development Agency (SDA), safely uphill—pressed into Tuesday's launch attempt with gusto. The Autonomous Spaceport Drone Ship (ASDS), "A Shortfall of Gravitas", had already put to sea out of Port Canaveral last Saturday, bound for a recovery position about 400 miles (640 kilometers) offshore in the Atlantic Ocean.
2023 has proven record-setting for SpaceX on many fronts. In March and August, the Hawthorne, Calif.-headquartered organization completed its first months with as many as eight and nine launches, respectively, and across the year so far February was the "lightest" month, with six Falcon 9s flown; January, April and June each saw seven launches, whilst March, May and July saw eight apiece.
The year has also seen a record-setting cadence of three missions by the triple-barreled Falcon Heavy in January, April and July, as well as the shortest interval on record—a gap of just four hours and 12 minutes—between pairs of Falcon 9 flights in March. Earlier this month, SpaceX eclipsed last year's empirical record of 61 annual missions and launching on average every 3.9 days (as opposed to every 5.9 days in 2022) makes it not unreasonable to expect 90 flights by the time the New Year's Eve bell tolls.
Those records ramped up yet further when life-leading boosters B1058 and B1060 completed their record-breaking 16th missions within day of each other in July. Having both undergone months of inspections to recertify them for additional flights beyond a 15-launch baseline, it appears that—despite their "age", in terms of missions, at least—their potential to achieve a rapid flight cadence is undiminished, with B1060 observing only 66 days between her most recent pair of orbital outings.
B1060 entered service on 30 June 2020, on a voyage which deployed the third Block III Global Positioning System (GPS) navigation and timing satellite for the U.S. Space Force, bound for eventual insertion into Medium Earth Orbit (MEO). Since then, she went on to loft Turkey's powerful Türksat 5A geostationary communications satellite, more than 600 Starlinks, the multi-payload Transporter-2 and Transporter-6 "rideshare" missions and the Galaxy 33/34 dual-stacked geostationary communications satellites last fall.
This impressive raft of flights saw B1060 mark out her territory as the first Falcon 9 core to log a 13th launch in June 2022. And she also established a new record—now broken—of just 27 days between pairs of launches by the same booster in spring 2021.
Flying last night's mission was a "stack" of 22 "V2 Mini" Starlink satellites, weighing around 38,800 pounds (17,600 kilograms). This was the 40th total batch of these low-orbiting internet satellites to have been launched so far in 2023 and pushed just past 400 the total number of downsized V2 Minis emplaced into orbit, which boast three to four times greater "usable" bandwidth than earlier Starlink iterations.
"V2 Minis include key technologies—such as more powerful phased-array antennas and the use of E-Band for backhaul—which will allow Starlink to provide 4x more capacity per satellite than earlier iterations," SpaceX explained. "Among other enhancements, V2 Minis are equipped with new argon Hall thrusters for on-orbit maneuvering."
Those 40 dedicated missions—more than any previous year, including 2022, which saw 34 Starlink batches lifted uphill—have delivered almost 1,500 satellites into orbit, including over 420 V2 Minis. As a network, Starlink facilitates high-speed and low-latency internet provision to over 60 sovereign nations and international markets in North and South America, Europe, Asia, Oceania and Africa. In July alone, Cyprus, Guatemala, Kenya, Malaysia and Malawi signed up to the network and the Bahamas came online in August.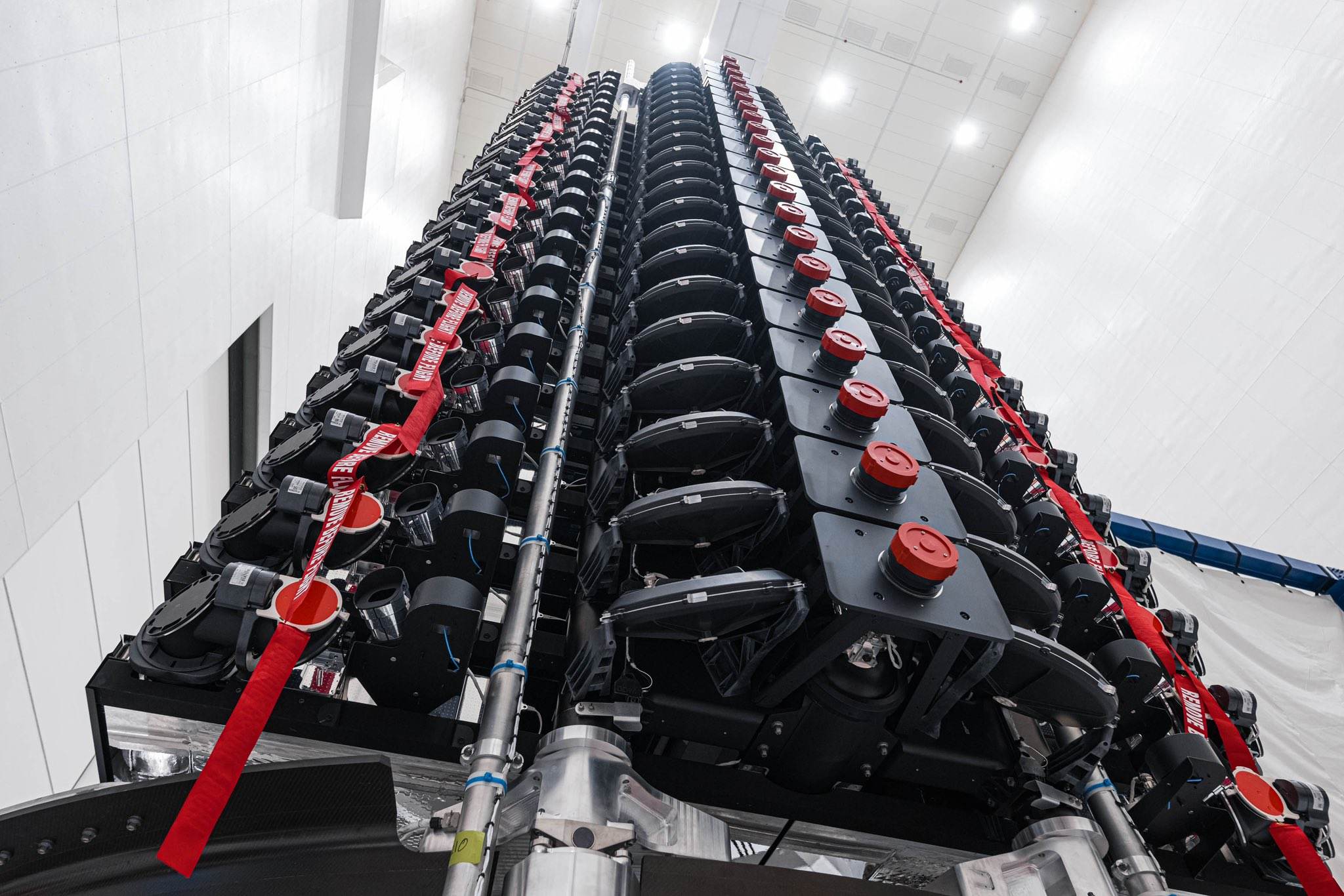 Florida-based intercity operator Brightline adopted Starlink on its trains earlier in 2023, the first passenger rail service in the world to do so. Additionally, El Salvador's Ministry of Education has begun integrating Starlink capability into its schools to help close the digital divide between urban and remote rural communities and 50 Rwandan schools are now connected via Starlink's high-speed internet service.