The first 18-times-used Falcon 9 booster is safely back home after Friday's rousing post-sunset mission to deliver 23 Starlink internet communications satellites into low-Earth orbit. Liftoff of B1058—a booster which cemented her history-making credentials on her very first flight, back on 30 May 2020—took place at 8:37 p.m. EDT from storied Space Launch Complex (SLC)-40 at Cape Canaveral Space Force Station, Fla., kicking off the 75th outing by a "single-stick" Falcon 9 so far in a record-breaking 2023.
In launching an 18th time, B1058 is now officially the most-flown member of SpaceX's booster fleet, having come online more than three years ago to launch Dragon Endeavour and her Demo-2 crew of NASA astronauts Doug Hurley and Bob Behnken for their nine-week stay on the International Space Station (ISS). In doing so, she facilitated the first U.S. human spaceflight, launched atop a U.S. rocket, aboard a U.S. spacecraft, and from U.S. soil, since the end of the Space Shuttle Program in July 2011.
Following her return from Demo-2 duties, B1058 entered a regular cadence as a frequent-flying member of the fleet and under her watch the records continued to fall like ninepins. In July 2020, on only her second mission, she established a new empirical record—now broken—of only 51 days between pairs of launches by the same orbital-class booster, eclipsing an old Shuttle record that had stood for more than three decades.
Since then, she has lofted nearly 600 flat-packed Starlink satellites on 13 missions between October 2020 and last night, together with South Korea's ANASIS-II military communications satellite, the CRS-21 Cargo Dragon to the ISS and the Transporter-1 and Transporter-3 multi-customer "rideshares", totaling almost 800 discrete payloads. Flying Transporter-1 in January 2021, B1058 successfully launched the largest number of separate payloads (143) ever lifted to orbit by a single U.S. orbital rocket.
In September and December of last year, she became the first Falcon 9 to fly on a 14th and 15th occasion, but since the fleet-leaders were certified only to a maximum of 15 missions her "active" status was paused for several months as recertification got underway to extend her operational lifetime to as many as 20 flights. Returning to the fold last summer, B1058 went on to become the first booster to hit a 16th launch in July, a 17th in September and an 18th just last night.
It remains to be seen, of course, if B1058 will remain active for 20 flights, but with her mission-to-mission cadence now adopting a measure of normalcy it does not seem unreasonable to suppose that 20 could be achieved early next spring. During her first year of service (2020-2021), B1058's turnaround times averaged about seven weeks, with a personal best of only 27 days attained between a pair of flights in March and April 2021.
As her flight rate increased past her tenth launch in January 2022, spacing between missions increased from two to three months and—in response to the extended recertification campaign earlier in 2023—more than a half-year would elapse between her 15th and 16th outings. Turnaround times have since restabilized with less than two months having passed between her most recent flights.
Weather for Friday's launch attempt proved highly favorable, with the 45th Weather Squadron at Patrick Space Force Base noting an 80-percent likelihood of acceptable conditions, tempered by a slight chance of violating the Cumulus Cloud Rule and Liftoff Winds Rule and a possibility of a shower directly over SLC-40. Tracking no fewer than eight discrete T-0 points between 6:30 p.m. and 10:22 p.m., she went airborne at 8:37 p.m., roaring into the post-sunset darkness with her latest batch of Starlinks, which now pushes the total number of these flat-packed internet communications satellites emplaced into orbit by B1058 to a little more than 600.
As a network, Starlink facilitates high-speed and low-latency internet provision to over 60 sovereign nations and international markets in North and South America, Europe, Asia, Oceania and Africa. The Starlink "V2 Mini" satellites, first flown in February, boast three to four times greater "usable" bandwidth than earlier Starlink iterations.
"V2 Minis include key technologies—such as more powerful phased-array antennas and the use of E-Band for backhaul—which will allow Starlink to provide 4x more capacity per satellite than earlier iterations," SpaceX explained. "Among other enhancements, V2 Minis are equipped with new argon Hall thrusters for on-orbit maneuvering."
As a network, Starlink facilitates high-speed and low-latency internet provision to over 60 sovereign nations and international markets in North and South America, Europe, Asia, Oceania and Africa. The Bahamas came online in August and Zambia became the sixth African nation to sign up to the network last month.
Florida-based intercity operator Brightline adopted Starlink on its trains earlier in 2023, the first passenger rail service in the world to do so. Additionally, El Salvador's Ministry of Education has begun integrating Starlink capability into its schools to help close the digital divide between urban and remote rural communities and 50 Rwandan schools are now connected via Starlink's high-speed internet service.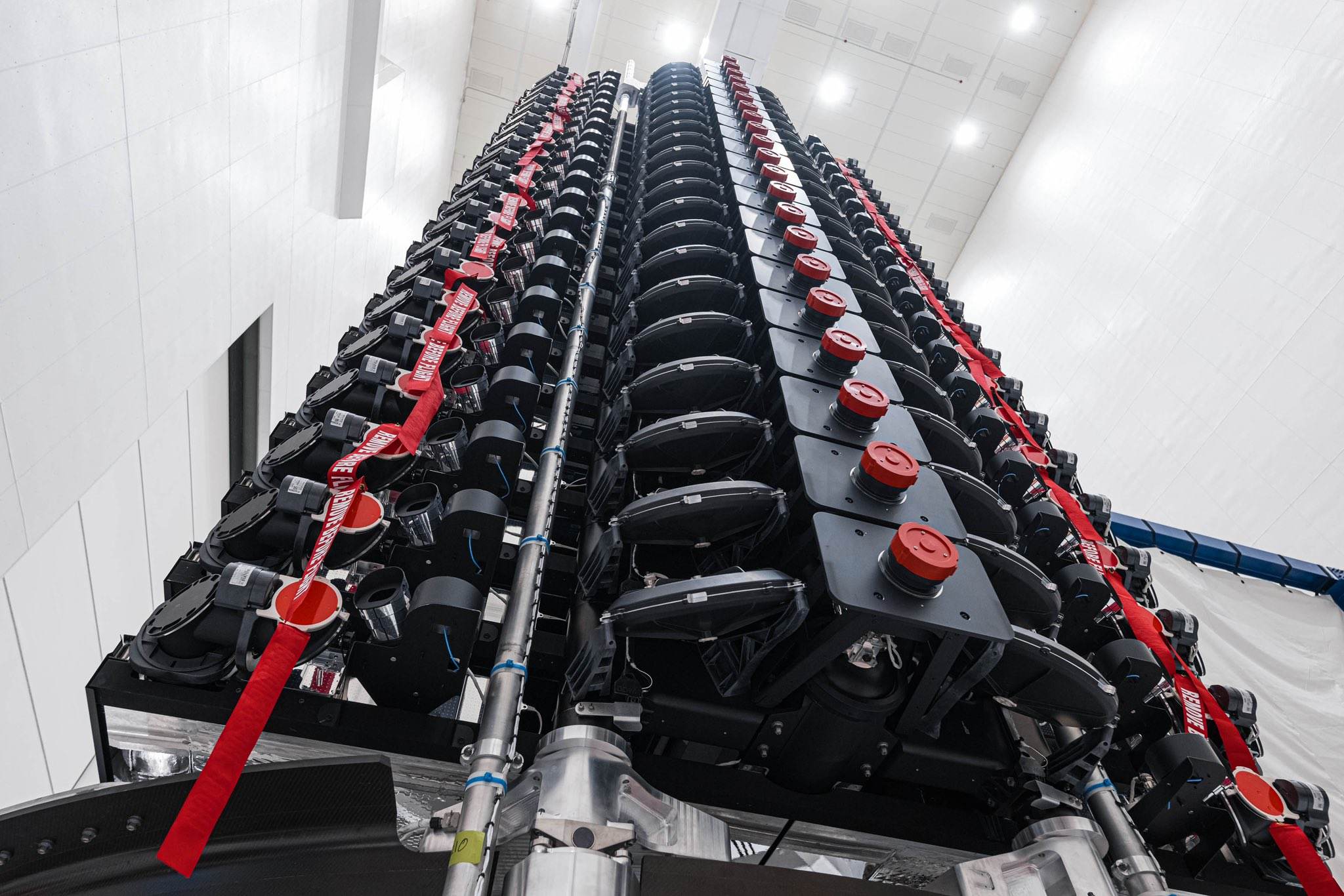 Last night's 23-strong stack, totaling around 40,600 pounds (18,400 kilograms), was successfully deployed about 65 minutes into the mission. Meanwhile, B1058 returned to a pinpoint touchdown on the expansive deck of the Autonomous Spaceport Drone Ship (ASDS), "A Shortfall of Gravitas", situated offshore in the Atlantic Ocean, marking the 17th drone ship landing of her career and her fifth on ASOG. One mission in January 2022 ended with a solid-ground touchdown on Landing Zone (LZ)-1 at the Cape.
With one SpaceX booster having reached 18 flights, the reusability credentials of the fleet continue to grow. Since May 2021, a total of 11 Falcon 9 cores have logged in excess of ten missions and since December of last year four have exceeded 15 launches.
Last night's flight also marked the 75th flight by a single-stick Falcon 9 so far in 2023, and the 79th SpaceX mission of the year, counting four outings by the triple-barreled Falcon Heavy, most recently last month. That equates to a rate of a flight every 3.88 days, a noticeable uptick on last year's average of a mission every 5.9 days.
As SpaceX gears up for a mission-filled fall, the Hawthorne, Calif.-headquartered organization revealed additional details late Friday of its forthcoming second test flight of the integrated Starship/Super Heavy "stack" out of Boca Chica, Texas. "The second test flight of a fully integrated Starship could launch as soon as mid-November," it tweeted last night, "pending regulatory approval."
On its initial launch in April, the 394-foot-tall (120-meter) Starship/Super Heavy ascended from Boca Chica under 16.7 million pounds (7.5 million kilograms) of thrust from its 33 Raptor engines, the highest liftoff impulse of any orbital-class booster in history. But after suffering multiple engine failures immediately after liftoff, the behemoth was remotely destroyed at an altitude of about 24 miles (39 kilometers) by the Autonomous Flight Safety System (AFSS) and a Federal Aviation Administration (FAA) investigation into the mishap was expected to take several months to complete.
According to SpaceX, "numerous lessons" were learned from April's mishap, which—in addition to the loss of the vehicle at altitude—also produced substantial damage to the Boca Chica launch facilities. Efforts have been implemented "significantly reinforce" the pad foundations and integrate a water-cooled steel flame deflector, together with other upgrades. A new electronic Thrust Vector Control (TVC) system will feature "fewer potential points of failure" and greater energy efficiency over traditional hydraulic systems.
More recently, in July the second Starship booster was transported to the pad for tests, with an expectation that it will loft Ship 25 on a transatmospheric flight closely mirroring the trajectory envisaged for its unsuccessful April mission. It underwent a successful Static Fire Test a few weeks later and in late October SpaceX teams conducted a single-engine test to demonstrate Starship's deorbit burn capability and loaded the entire vehicle with ten million pounds (4.5 million kilograms) of propellant in a flight-like launch day rehearsal.
Posted last night on its website, SpaceX explained that the second test flight will see the Super Heavy booster lift the stack uphill for the opening two minutes and 39 seconds, before the Starship's suite of Raptors ignite for a so-called "Hot-Staging" separation event. "Starship and Super Heavy are being upgraded to use a separation method called hot staging," SpaceX tweeted earlier this summer, "where Starship's second-stage engines will ignite to push the ship away from the booster."
Returning homeward, the discarded Super Heavy will execute a 54-second boostback burn, slowing to transonic speeds at 7.5 minutes after liftoff, then performing an 18-second landing burn for a vertical splashdown in the Gulf of Mexico, some 20 miles (32 kilometers) off the Texas Coast, a little more than eight minutes into the mission.
Meanwhile, after separation from the booster, the Starship will ignite its three Raptor engines for a little less than six minutes, before shutting down and coasting three-quarters of the way around the planet for the next 68 minutes. Like the Super Heavy, it is not intended for recovery on this inaugural test flight and will splash down—for what SpaceX describes hopefully as "an exciting landing"—in the Pacific Ocean, likely about 60 miles (100 kilometers) northwest of Kauai in Hawaii.