SpaceX achieved its second-shortest turnaround of a single booster so far in 2023 late last night, when an eight-times-used Falcon 9 ponderously rose out of storied Space Launch Complex (SLC)-40 at Cape Canaveral Space Force Station, Fla. Liftoff of B1076—laden with a 22-strong "stack" of Starlink internet communications satellites—took place at 1:36 a.m. EDT Thursday, marking SpaceX's first flight of October and its record-breaking 70th orbital mission of the year so far.
The Hawthorne, Calif.-headquartered organization took full advantage of a generally iffy weather picture, which offered only 50-50 odds of acceptability. Last night's launch benefited from five discrete T-0 points, running from 10:45 p.m. Wednesday through 1:57 a.m. EDT Thursday, with surface high pressure predicted "to reinforce breezy onshore flow locally", according to the 45th Weather Squadron at Patrick Space Force Base.
"Shallow moisture will begin to rebound…into Wednesday," it was noted. "This additional moisture, combined with robust onshore flow, will give rise to scattered low-topped showers rolling off the Atlantic and onto the coast, mainly during the night and morning hours tonight through Thursday."
SpaceX teams opted to forego the first trio of T-0 points, aiming instead for the fourth at 1:36 a.m. Thursday, with a final opportunity at 1:57 a.m. There were also six chances to launch late the following evening—between 10:29 p.m. Thursday and 1:49 a.m. Friday—which actually offered greater meteorological promise, with a 70-percent probability that Mother Nature might smile upon the proceedings.
And with a gap having opened in the Falcon launch schedule, thanks to the recent postponement of NASA's Psyche mission from 5 October until the 12th, SpaceX was clearly keen to get this latest Starlink batch airborne and on-orbit. Without further ado, B1076 speared into the darkened Florida sky at 1:36 a.m., lightning up the Space Coast in a brilliant blaze of fire, light and sound.
Eight and half minutes later, the core stage returned to alight with characteristic grace on the deck of the Autonomous Spaceport Drone Ship (ASDS), "Just Read the Instructions", situated offshore in the Atlantic Ocean. In wrapping up her eighth mission, she has landed on this particular drone ship three times, plus another four times on sister vessel "A Shortfall of Gravitas" and a single solid-ground touchdown at the Cape's Landing Zone (LZ)-1.
B1076 also becomes the first Falcon 9 to log a seventh flight in 2023. She entered service late last November, lofting the CRS-26 Cargo Dragon for a six-week berth at the International Space Station (ISS), then heaved 40 broadband satellites uphill for London, England's OneWeb in the second week of January, followed by the heavyweight Intelsat 40e geostationary communications satellite—co-manifested with NASA's Tropospheric Emissions: Monitoring of Pollution (TEMPO) payload—in early April and five batches of Starlinks in February, May, July, September and last night.
This impressive tempo of flights saw B1076 execute five Autonomous Spaceport Drone Ship (ASDS) landings and a single on-point touchdown at Landing Zone (LZ)-1 at Cape Canaveral Space Force Station. She was also responsible for completing the 30th Falcon 9 flight of 2023 and the hundredth consecutive successful booster landing since SpaceX's last landing failure, more than two years ago.
Two-thirds of this year's 70 launches—43, to be exact—have been dedicated Starlink flights, successfully lofting more than 1,500 of these flat-packed internet communications satellites. Last night's mission carried a further 22 downsized Starlink "V2 Mini" satellites, totaling 38,800 pounds (17,600 kilograms), and released them into space about 65 minutes after launch.
The V2 Minis, first flown in February, boast three to four times greater "usable" bandwidth than earlier Starlink iterations. "V2 Minis include key technologies—such as more powerful phased-array antennas and the use of E-Band for backhaul—which will allow Starlink to provide 4x more capacity per satellite than earlier iterations," SpaceX explained. "Among other enhancements, V2 Minis are equipped with new argon Hall thrusters for on-orbit maneuvering."
As a network, Starlink facilitates high-speed and low-latency internet provision to over 60 sovereign nations and international markets in North and South America, Europe, Asia, Oceania and Africa. In July alone, Cyprus, Guatemala, Kenya, Malaysia and Malawi have signed up to the network and the Bahamas came online in August.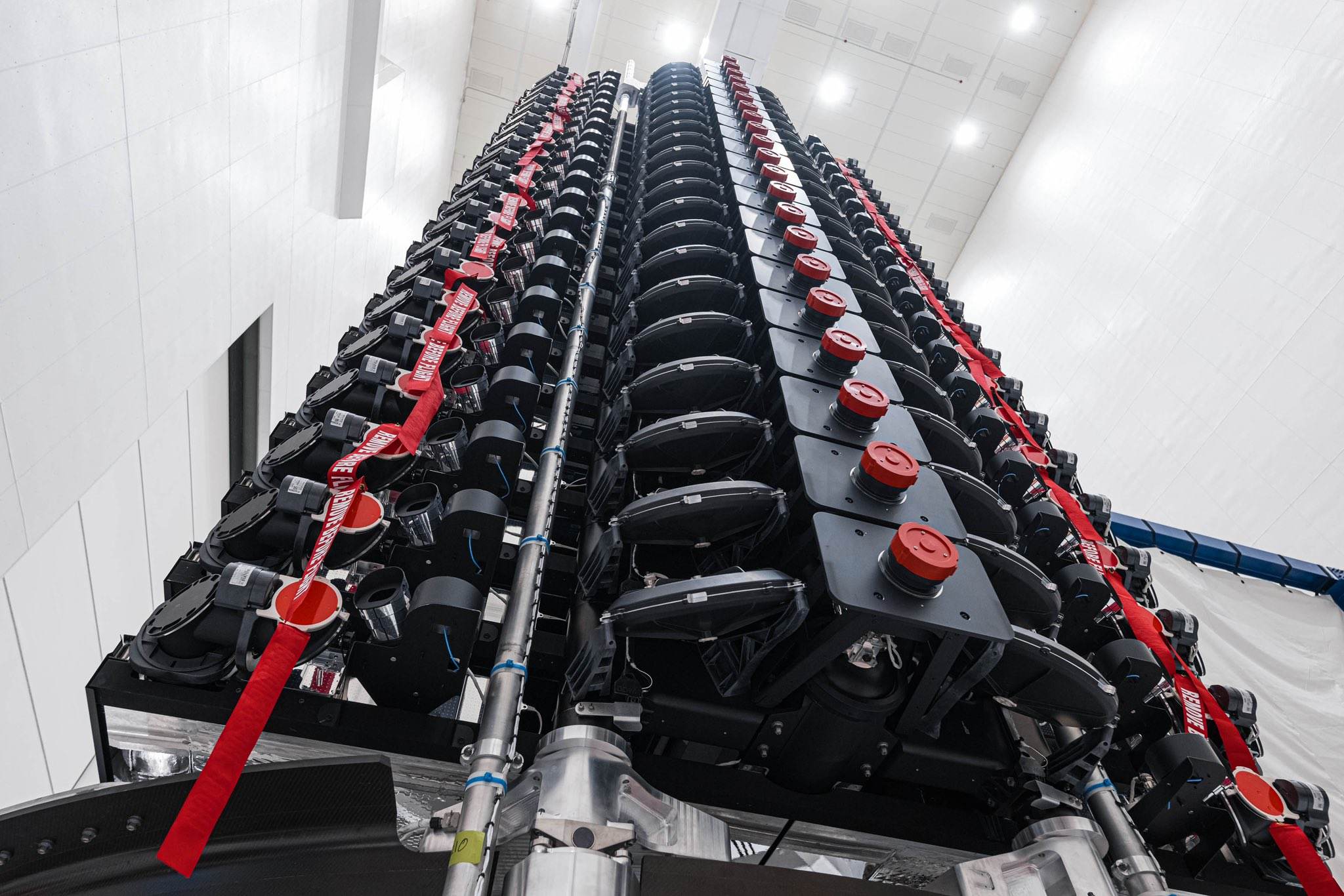 Florida-based intercity operator Brightline adopted Starlink on its trains earlier in 2023, the first passenger rail service in the world to do so. Additionally, El Salvador's Ministry of Education has begun integrating Starlink capability into its schools to help close the digital divide between urban and remote rural communities and 50 Rwandan schools are now connected via Starlink's high-speed internet service.
As the 70th flight of a Falcon-class vehicle, last night's launch adds to a steadily burgeoning tally which in early September saw the fleet quietly eclipse 2022's achievement of 61 launches across the whole year. That figure includes 67 Falcon 9 missions, flown by 15 reusable boosters, four of which had logged six flights apiece by the end of September, as well as three launches by the triple-barreled Falcon Heavy.
With her most recent mission, B1076 becomes the first in the fleet to fly a seventh time this year and does so a mere 26 days since her most recent outing in the second week of September. That marks the second-shortest turnaround by a single booster in 2023, slightly pipped by the 25 days which elapsed between a pair of missions by her sister B1062 in mid-February and early March.
In addition to Starlinks, the fleet has lofted ten geostationary-bound communications satellites, a flotilla for OneWeb, Iridium and O3b mPOWER, a trio of multi-customer Transporter hauls, two U.S. Space Force payloads, the initial members of the Tranche 0 Transport and Tracking Layer (TTL) for the Space Development Agency (SDA) and Europe's Euclid deep-space observatory. Added to that list, five missions—three Crew Dragons in March, May and August and a pair of Cargo Dragons in March and June—have headed to the International Space Station (ISS).
The breathtaking pace of these launches has been impressive to witness, as SpaceX achieved its first eight-launch month in March and its first nine-launch month in August, a feat it duplicated at the end of September. It also scored a new personal best in March of only four hours and 12 minutes between a pair of launches and across the year so far has flown missions every 3.9 days, a substantial uptick on 2022's average of 5.9 days, a cadence which looks likely to end 2023 on more than 90 flights.