SpaceX's record-setting year is set to continue tonight, when a Falcon 9 booster first used to launch Demo-2 astronauts Doug Hurley and Bob Behnken to the International Space Station (ISS) takes flight for the 18th time. Liftoff of B1058—which helped return human spaceflight capability to the United States for the first time since the retirement of the Space Shuttle fleet—will occur during a raft of eight T-0 points between 6:30 p.m. EDT and 10:22 p.m. EDT Friday, with another eight opportunities on Saturday evening.
According to the 45th Weather Squadron at Patrick Space Force Base, there exists an 80-percent likelihood of acceptable conditions on Friday, deteriorating slightly to 75-percent favorability on Saturday. Key factors which may step into the path of a successful launch include potential violations of the Cumulus Cloud and Liftoff Winds rules.
"A strong surface high is settling over the eastern United States and providing continuous onshore flow over the Space Coast," noted the 45th in a Thursday afternoon update. "The influence of this surface high will keep the mid-levels quite dry and confine moisture to the lower levels."
This is expected to produce a slight possibility that onshore showers may tonight move directly over Space Launch Complex (SLC)-40 at Cape Canaveral Space Force Station, Fla., where B1058 patiently awaits her record-breaking 18th mission. Saturday evening's raft of launch attempts are expected to pose a similar meteorological picture, albeit with a marginally heightened threat of violating the Cumulus Cloud Rule.
In readiness for launch, the Autonomous Spaceport Drone Ship (ASDS), "A Shortfall of Gravitas", put to sea out of Port Canaveral just past midday on Halloween, bound for a recovery position in the Atlantic Ocean. Tonight's mission also marks the 75th outing by a "single-stick" Falcon 9 booster so far in 2023 and SpaceX's 79th flight in total, counting four uphill treks by the triple-barreled Falcon Heavy, most recently in October.
And that makes 2023 SpaceX's first year that such a high flight cadence has been reached, far exceeding the record-setting 61 missions flown by the end of 2022. The 75 Falcon 9 launches have been achieved using only 11 core stages at a pace of one flight every 3.88 days or so, a substantial uptick on last year's average of 5.9 days.
Tonight's mission will also be the 52nd dedicated Starlink mission of the year, tasked to deploy 23 of these flat-packed internet communications satellites into low-Earth orbit. All told, the Starlink "stack" tips the scales at around 40,600 pounds (18,400 kilograms) and will bring to more than 1,700 the total number of satellites flown so far in 2023.
Other Falcon 9 customers included eight geostationary communications satellites, three multi-payload Transporter missions, three crew-carrying and two cargo-carrying Dragons to the ISS, a pair of dedicated payloads for the Space Development Agency (SDA) and Europe's Euclid deep-space observatory. Added to those accolades, SpaceX achieved its first eight-launch month in March and its first nine-launch month in August, set a new record of only four hours and 12 minutes between pairs of flights last spring and boosters have now logged 16th and 17th missions.
And B1058, which entered service more than three years ago to launch Demo-2 astronauts Doug Hurley and Bob Behnken aboard Dragon Endeavour in May 2020, will tonight become the first in the fleet to record an 18th flight. Last December, she became the inaugural Falcon 9 to log a 15th launch, but since the fleet-leaders were certified for a maximum of 15 flights, both B1058 and fellow life-leader B1060—which flawlessly executed her own 15th launch in January—saw their "active" status paused for several months, as certification got underway to extend their lifetimes to as many as 20 flights.
It remains to be seen, of course, if B1058 will remain active for 20 flights. During her first year of service, mission-to-mission turnaround times averaged about seven weeks, with a personal best of only 27 days attained between a pair of flights in March and April 2021. As her flight-rate increased beyond her tenth launch in January 2022, though, spacing between missions increased from two to three months and more than a half-year passed between her 15th and 16th outings.
B1058 got off to a stirring start on 30 May 2020, when she launched Dragon Endeavour and "Bob and Doug" on the United States' first human space mission in nearly nine years, since the retirement of the Space Shuttle fleet. Hurley and Behnken spent nine weeks aboard the International Space Station (ISS) and supported dozens of research experiments and four sessions of Extravehicular Activity (EVA) with the incumbent Expedition 63 crew before returning home to a parachute-assisted splashdown—and the first U.S. water landing in more than four decades—off the Florida Coast, the following 2 August.
Since then, she flew a further 16 times, delivering hundreds of Starlinks to orbit, as well as the ISS-bound CRS-21 Cargo Dragon, the multi-payload Transporter-1 and Transporter-3 rideshares and the ANASIS-II military communications satellite for the South Korean Armed Forces. And with her pair of Transporter hauls totaling 248 discrete payloads between them, B1058 has now deployed nearly 800 large and small spacecraft, crewed and uncrewed, during the course of her burgeoning career.
Along the way, she established a new empirical record—now broken—of only 51 days between a pair of launches by the same orbital-class booster, eclipsing an old Space Shuttle record that had stood for more than three decades. Notably, her Transporter-1 mission in January 2021 orbited the largest number of separate payloads (143) ever lifted to orbit by a single U.S. orbital rocket.
As a network, Starlink facilitates high-speed and low-latency internet provision to over 60 sovereign nations and international markets in North and South America, Europe, Asia, Oceania and Africa. The Starlink "V2 Mini" satellites, first flown in February, boast three to four times greater "usable" bandwidth than earlier Starlink iterations.
"V2 Minis include key technologies—such as more powerful phased-array antennas and the use of E-Band for backhaul—which will allow Starlink to provide 4x more capacity per satellite than earlier iterations," SpaceX explained. "Among other enhancements, V2 Minis are equipped with new argon Hall thrusters for on-orbit maneuvering."
As a network, Starlink facilitates high-speed and low-latency internet provision to over 60 sovereign nations and international markets in North and South America, Europe, Asia, Oceania and Africa. The Bahamas came online in August and Zambia became the sixth African nation to sign up to the network last month.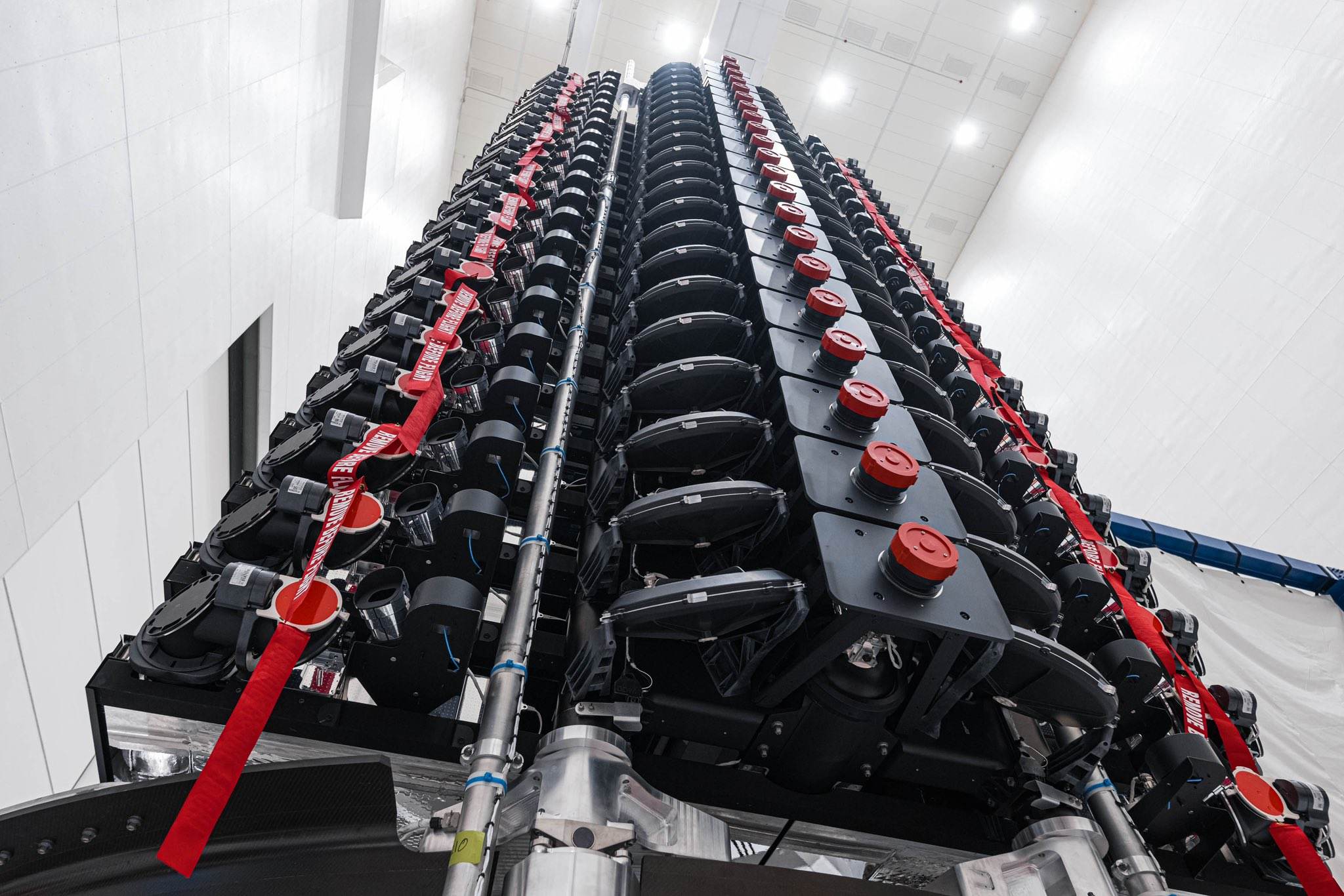 Florida-based intercity operator Brightline adopted Starlink on its trains earlier in 2023, the first passenger rail service in the world to do so. Additionally, El Salvador's Ministry of Education has begun integrating Starlink capability into its schools to help close the digital divide between urban and remote rural communities and 50 Rwandan schools are now connected via Starlink's high-speed internet service.
As SpaceX heads into November, its busy manifest shows no sign of abating, with the multi-payload Transporter-7 mission slated from Vandenberg Space Force Base, Calif., and a group of flights from the Space Coast, including the Space Force's highly classified USSF-52 atop a Falcon Heavy, a pair of O3b mPOWER broadband satellites for Luxembourg-based SES and the next Cargo Dragon to the ISS on Tuesday.