After close-to-perfect conditions for two launches earlier this month, SpaceX's next mission of May is facing a decidedly dicier weather picture. A four-times-used Falcon 9 booster is currently targeting liftoff from storied Space Launch Complex (SLC)-40 at Cape Canaveral Space Force Station, Fla., no sooner than 12:41 a.m. EDT Friday, although Mother Nature is threatening increased showers and thunderstorms as the weekend nears.
A late-seasoned boundary approaching Northern Florida over the next couple of days is expected to increase moisture and instability, according to the 45th Weather Squadron at Patrick Space Force Base. "This will create increased shower and thunderstorm chances along the Space Coast during the afternoon and evening," it noted.
And with the addition of a weak circulation center along the boundary, convection is expected to linger overnight Thursday/Friday, triggering potential violations of the Anvil Cloud Rule, Debris Cloud Rule and Cumulus Cloud Rule. "Most guidance indicates the circulation center will move north through the day Friday," the 45th added, "allowing any afternoon convection to dissipate by the backup opportunity's launch window, overnight Friday/Saturday."
As such, for tonight's four T-0 points—spaced a little under an hour apart, at 12:41 a.m. EDT, 1:31 a.m. EDT, 2:19 a.m. EDT and 3:09 a.m. EDT—the weather is predicted to creep no higher than 60-percent favorable. For the backup day, with T-0 points available at 12:27 a.m. EDT, 1:06 a.m. EDT, 2:02 a.m. and 2:48 a.m. EDT Saturday, the picture is expected to brighten to somewhere between 60 and 70 percent favorability.
Flying tonight's mission is B1076, which entered the Falcon 9 fleet last November to deliver the CRS-26 Cargo Dragon for a six-week berth at the International Space Station (ISS). And with this upcoming flight, she becomes the first booster to log a fourth mission in 2023.
So far, she has ferried 40 broadband satellites uphill for OneWeb in January's second week, the first 21 "downsized" Starlink V2 Mini satellites in late February and the Intelsat 40e geostationary communications satellite. That most recent payload was co-manifested with NASA's "hosted" Tropospheric Emissions: Monitoring of Pollution (TEMPO) and flew early in April.
In readiness for the flight, the Autonomous Spaceport Drone Ship (ASDS), "A Shortfall of Gravitas", put to sea out of Port Canaveral last weekend, headed for a recovery position some 400 miles (640 kilometers) offshore in the Atlantic Ocean.
Aboard tonight's mission is the third batch of 22 downsized Starlink V2 Mini satellites, which boast three to four times greater "usable" bandwidth than their predecessors. "V2 Minis include key technologies—such as more powerful phased-array antennas and the use of E-Band for backhaul—which will allow Starlink to provide 4x more capacity per satellite than earlier iterations," SpaceX explained. "Among other enhancements, V2 Minis are equipped with new argon Hall thrusters for on-orbit maneuvering."
Two previous V2 Mini batches, totaling 42 satellites, were launched in late February and last month. Tipping the scales at 37,300 pounds (16,900 kilograms) apiece, they represented one of the heaviest payload stacks ever lifted by a Falcon 9.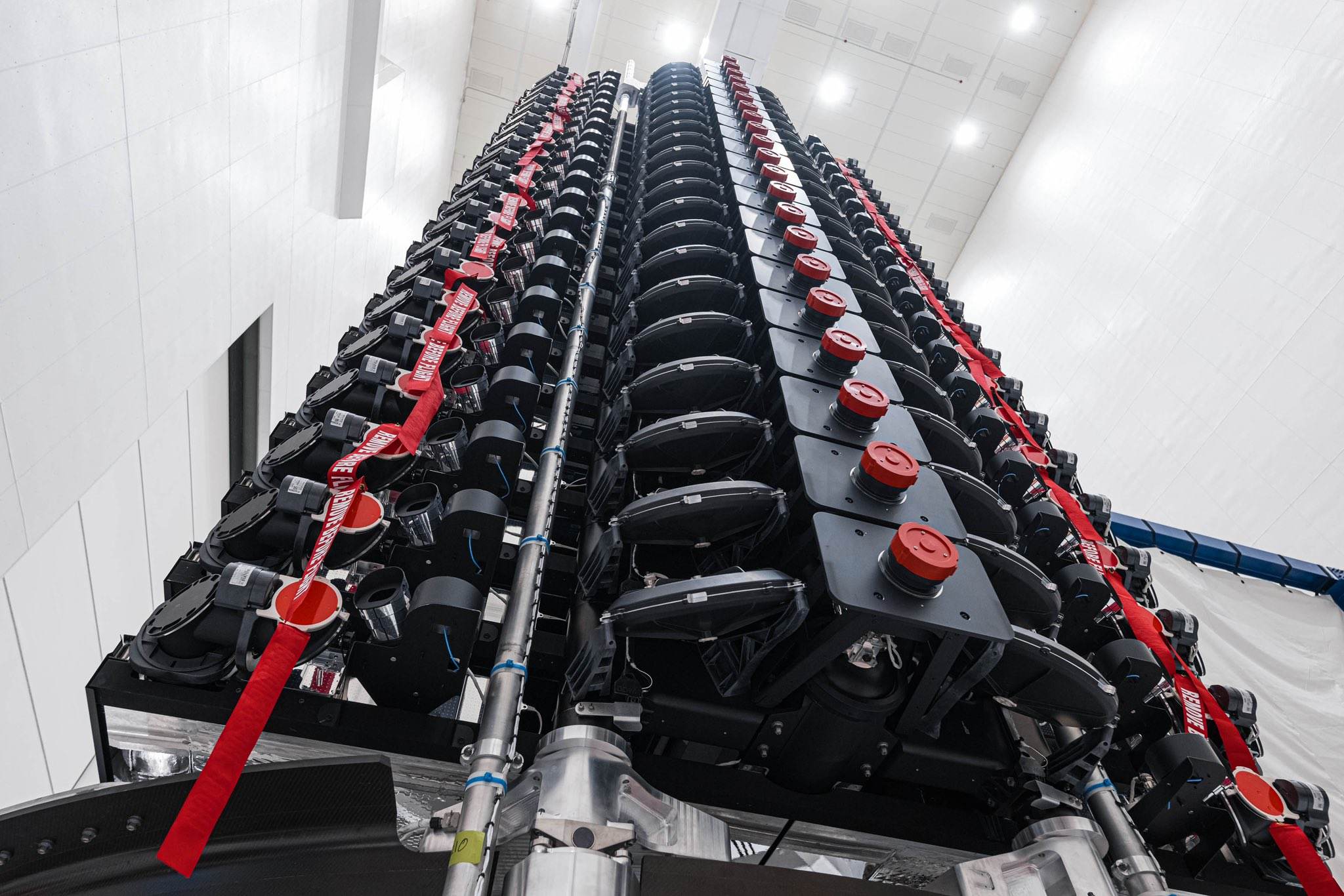 Between May 2019 and this morning, more than 4,300 production-design Starlinks have been launched into orbit, facilitating high-speed and low-latency internet provision across more than 50 sovereign nations and international markets spanning North and South America, Europe, Asia, Oceania and Africa. In the last few weeks alone, Haiti, Ecuador and El Salvador have officially signed up to Starlink.
Florida-based intercity operator Brightline revealed earlier this month that it has adopted the network on its trains, marking the first passenger rail service in the world to do so. And just last week, SpaceX noted that El Salvador's Ministry of Education has begun integrating Starlink capability into its schools to help close the digital divide.
Tonight's mission will be SpaceX's 30th Falcon 9 launch of 2023 and its fourth flight inside the third week of May. Across the year so far, that represents a mean total of one launch every 4.3 days or so, a substantial uptick over personal-best-beating 2022, which saw 61 missions between January and December, flying an average of every 5.98 days.
Twelve "single-stick" boosters have supported the year's 29 Falcon 9 flights so far, with B1076 expected to become 2023's fleet-leader, having launched four times since January. Those missions lifted 16 Starlink batches—totaling 781 satellites—plus six large geostationary communications satellites, two payloads for the U.S. Space Force and one for the Space Development Agency (SDA), a pair of multi-customer Transporter "rideshares" and crewed and uncrewed flights to the International Space Station (ISS).