SpaceX executed its fifth Falcon mission in October's first half yesterday, as a record-tying 16-times-used booster took flight at 8:39 p.m. EDT Tuesday from storied Space Launch Complex (SLC)-40 at Cape Canaveral Space Force Station, Fla. Under near-perfect weather conditions, B1062—a Falcon 9 which flew most recently in late July—rose on the first of six T-0 opportunities for the evening, laden with 22 Starlink internet communications satellites destined for emplacement into low-Earth orbit.
Approximately 65 minutes later, the Starlink payload, which totaled around 38,800 pounds (17,600 kilograms), was successfully deployed, marking the 47th launch of these flat-packed satellites so far this year. All told, including last night's mission, just over 1,600 Starlinks have been orbited since January.
Coming early in the month's third week, it was the fifth SpaceX flight of October, following three prior Starlink missions from the Space Coast and Vandenberg Space Force Base, Calif., as well as last Friday's highly anticipated return of the triple-barreled Falcon Heavy with the many-days-delayed Psyche deep-space mission to explore a metal-rich, potato-shaped asteroid of the same name.
SpaceX had an expansive plate of six T-0 points on Tuesday, opening at 5:20 p.m. and closing at 8:48 p.m., followed by another six on Wednesday afternoon and evening. Weather conditions for both days proved exceptionally favorable, with a probability of 90 percent or higher that Mother Nature would play ball at launch time and only "a weak chance" of infringing the Cumulus Cloud Rule.
"Northwesterly winds behind the cold front centered over the Bahamas has brought dry conditions and much cooler temperatures to the Space Coast," noted the 45th Weather Squadron at Patrick Space Force Base in a Monday update. "This regime should persist as a sharp upper-level trough lingers in the Atlantic through Thursday morning.
"Conditions for the primary launch window look very favorable, with low relative humidity values and a weak chance for a Cumulus Cloud Rule violation," it added. "The upper levels remain very dry as high pressure settles in today and tomorrow."
Flying yesterday's mission was B1062, a dedicated "East Coast Falcon" which becomes only the third "single-stick" Falcon 9 core to reach a life-leading 16th flight. She now sits in joint first place on the league table with her sisters B1058—the one-time ride of "Bob and Doug"—and B1060, both of which passed 16 launches in July and then each logged a 17th within days of each other, just last month.
Although initially certified for a maximum of 15 launches, lengthy deep-dive engineering inspections of B1058 and B1060 after both boosters reached this limit in late 2022 and early this year apparently yielded no major showstoppers to preclude a life extension to 20 missions. But whilst B1058 and B1060 remained ground-bound over six months following their 15th flights, B1062 enjoyed a more routine 81-day processing flow between her last voyage in late July and last night's mission.
B1062 entered service in November 2020, when she lifted the fourth Block III Global Positioning System (GPS III-04) satellite for the U.S. Space Force, followed by GPS III-05 the following June. In 2022, she logged eight missions, the highest number of launches ever attained by a single booster in a single calendar year, notably flying twice in April 2022 alone, setting a new empirical (still unbroken) record of only 21 days between flights by the same orbital-class booster.
She also stands as one of only a handful of Falcon 9s to have launched two crews of astronauts. B1062 flew the historic, all-civilian Inspiration4 crew of Shift4Payments billionaire Jared "Rook" Isaacman and crewmates Sian Proctor, Hayley Arceneaux and Chris Sembroski aboard Dragon Resilience in September 2021 and Ax-1 crewmen Mike Lopez-Alegria, Larry Connor, Mark Pathy and Eytan Stibbe on the first leg of their 17-day mission to the ISS for Houston, Texas-based AxiomSpace, Inc., in April of last year.
Added to that impressive list, she has now launched 415 Starlinks on nine dedicated missions, together with 40 broadband satellites for London, England-based OneWeb and a pair of geostationary-bound payloads, one for Egypt in June 2022 and another for Saudi Arabia last May.
Yesterday's 22-strong Starlink "V2 Mini" payload stack totaled 38,800 pounds (17,600 kilograms). These Minis, first flown in February, boast three to four times greater "usable" bandwidth than earlier Starlink iterations.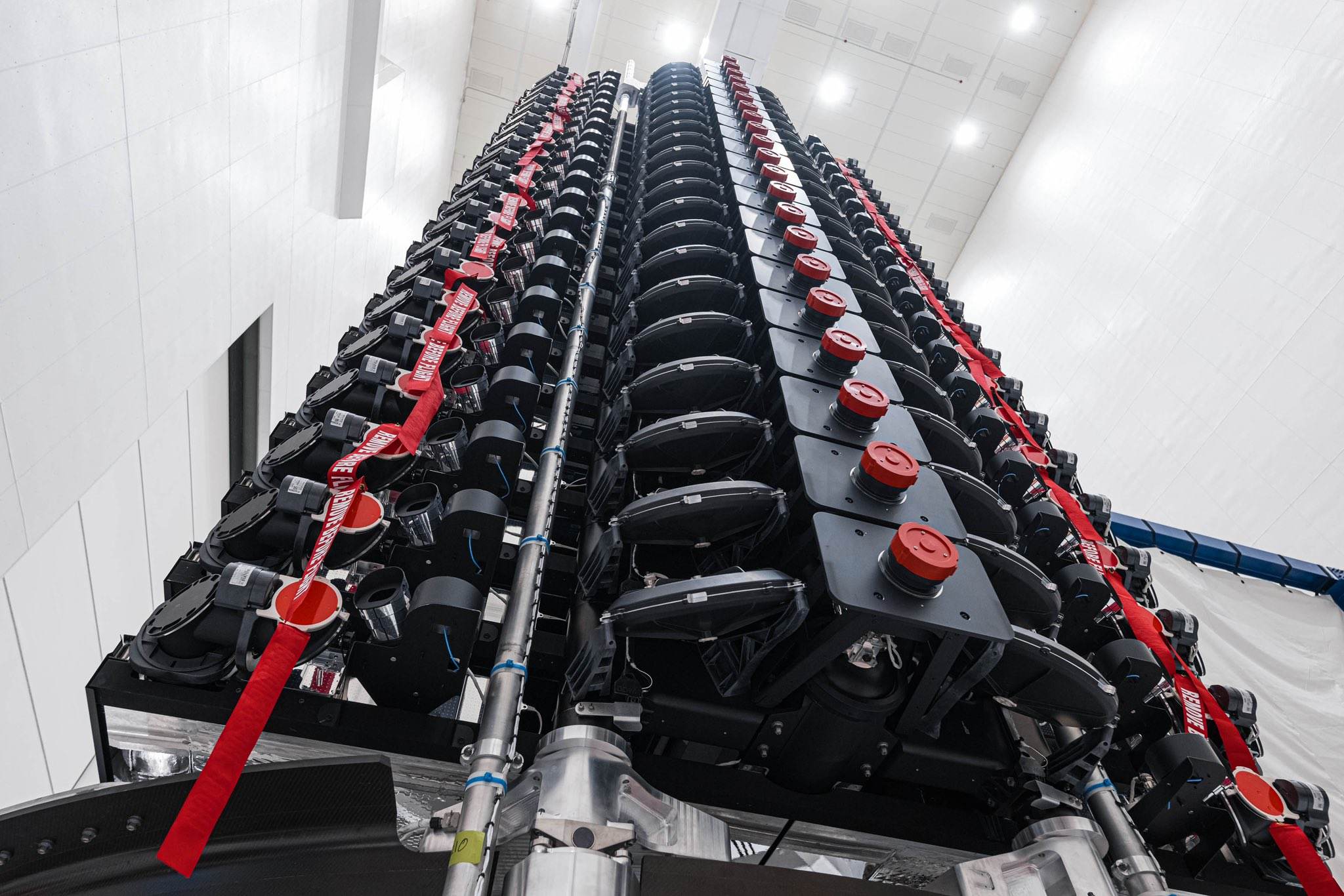 "V2 Minis include key technologies—such as more powerful phased-array antennas and the use of E-Band for backhaul—which will allow Starlink to provide 4x more capacity per satellite than earlier iterations," SpaceX explained. "Among other enhancements, V2 Minis are equipped with new argon Hall thrusters for on-orbit maneuvering."
As a network, Starlink facilitates high-speed and low-latency internet provision to over 60 sovereign nations and international markets in North and South America, Europe, Asia, Oceania and Africa. The Bahamas came online in August and Zambia became the sixth African nation to sign up to the network earlier this month.
Florida-based intercity operator Brightline adopted Starlink on its trains earlier in 2023, the first passenger rail service in the world to do so. Additionally, El Salvador's Ministry of Education has begun integrating Starlink capability into its schools to help close the digital divide between urban and remote rural communities and 50 Rwandan schools are now connected via Starlink's high-speed internet service.
Last night's flight also marked the 70th outing by a single-stick Falcon 9, marking out 2023 as the first year that such a high cadence has been achieved, far exceeding the record-breaking 61 overall missions set at the close of 2022. Those 70 launches have been accomplished using 11 Falcon 9 boosters at a pace of one flight every 3.9 days or so, a substantial uptick on last year's average of a mission every 5.9 days.
Forty-seven of those 70 Falcon 9 flights have been devoted to Starlink, with 1,621 satellites sent into low-Earth orbit since January. Other customers included eight geostationary communications satellites, three multi-payload, multi-customer Transporter "stacks", three crew-carrying and two cargo-laden Dragon vehicles to the International Space Station (ISS), a pair of dedicated missions for the Space Development Agency (SDA) and Europe's Euclid deep-space observatory.
Other records fell like ninepins, too. SpaceX achieved its first eight-launch month back in March and its first nine-launch month in August, set a new record of only four hours and 12 minutes between pairs of flights earlier in the spring and boosters have now flown on record-setting 16th and 17th occasions.
At the current cadence, it does not seem unreasonable for SpaceX to close 2023 on more than 90 launches. To illustrate that rapid pace (and inclusive of Falcon Heavy flights), the Hawthorne, Calif.-headquartered hit its tenth launch of 2023 by 12 February, its 20th by late March, its 30th in the second week of May, its 40th in mid-June and its 50th and 60th at the tail-ends of July and August, respectively.